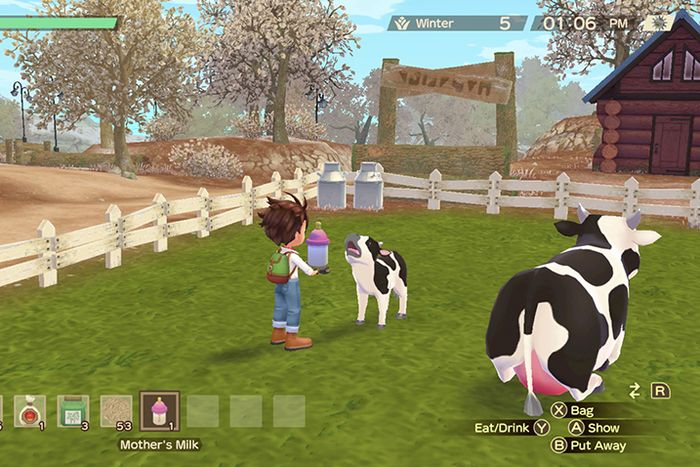 After two nonstop months of breathlessly playing Tears of the Kingdom, it's time to take a break from the chaos. Story of Seasons: A Wonderful Life is a remake of the popular 2003 GameCube game of a similar name, formerly Harvest Moon: A Wonderful Life, that thrives on simple gameplay and guided storytelling, with a few choices that can make replaying the game as easy as feeding your chickens.
In SOS:AWL, you play as a person who's tired of the city life and returns to their father's old farm in Forgotten Valley, ready to give the country-mouse life a try. Greeted by Takakura, your father's oldest friend who also lives in a cabin on the farm, you're given a brief introduction to farming life and a tour of your new property. You get a small house that expands with time, a chicken coop, a barn with a cow to get started with, and a few plots to garden. The town is physically very small, lacking a general store despite the many villagers, and has a café, inn, and a neighboring farm where you can buy seeds. Each "year" in the game, which takes about 6.5 hours to play, covers a certain era of the protagonist's life: Year one, you're settling into your farm and choosing a villager to woo. Daily activities vary from monthly festivals corresponding to each season, digging at the archaeology site, playing board games with twin firework fanatics Charlie and Cole, and typical farming-sim shenanigans like fishing and forging. Beginning in year two, Takakura gets a talking plant that looks straight out of a Mario Bros. game that helps you combine seeds to create new hybrid crops, a more inventive mechanic than the kind of simple maker machine you'd see in most farming sims.
Story of Seasons games are primarily narrative; A Wonderful Life focuses on creating a family and seeing your child discover their passion in life, with developments happening in every year. This gives the story a little more weight than the typical choose-your-own-adventure gameplay that has one main but technically optional goal, like completing the Community Center in Stardew Valley. The following year brings you a few years into farm life, with a spouse and a toddler and a few new neighbors in town. Every character noticeably ages, making it feel like you're writing a self-contained story instead of playing a never-ending game. By the end of the game, you discover what career path your child will choose, based on their interest and skill levels, which you can affect by interacting with your child or other villagers in town.
Despite some physical character changes, nothing in A Wonderful Life feels permanent like in other farming games; if you miss an event, that just gives you a moment to really soak in the slow-paced village life. It takes time to settle into the game and make consistent money through trial and error. I didn't realize you had to feed and milk your cows twice a day and, during the summer, water your plants twice a day as well (something that differs from most Harvest Moon/Story of Seasons games). It took Matthew, a grumpy plant lover, telling my character that he hates my cow's C-grade milk to realize something was up. Since I haven't played the game since 2004, I did not remember all these little details because I was 7 years old at the time (and admittedly, I was not good at the game then either). I could've used more direct instructions than just reading Takakura's notes or waiting for pointed comments from neighbors. Still, once I figured out how to get the hay bale rolling, it became a new exciting challenge to figure out what parts of the story I wanted to accomplish, since although parts of the game feel slow, it gives you a chance to "fix" any mistakes you might've made when starting out. I never felt like I missed out on anything in the beginning that would make me want to restart my game.
The gameplay in Story of Seasons is essentially the same as Harvest Moon, but updated, with more progressive features like having a nonbinary character and same-sex marriage; the player can choose to romance from eight bachelors and bachelorettes. Despite the more inclusive changes, the game still only has the option to use eight letters for your name, an important complaint from a nine-letter name like mine. There are more recipes to cook, events to discover, and more practical quality-of-life improvements like watering more plants at once. The small but thoughtful tweaks are familiar to gamers — Game Freak did something similar with Pokémon: Let's Go, Pikachu — but what the game's current publisher Marvelous is doing might make more sense to Swifties. The studio is essentially "Taylor's Version"–ing the franchise: changing a few things to modernize and reclaim it as its own.
Originally, the popular farming simulator known as Bokujo Monogatari in Japan was localized in the United States as Harvest Moon by publisher Natsume in 1997. However, by 2014, Marvelous, which acquired original Bokujo Monogatari developer Victor Interactive Software in 2003, ended its contract with Natsume and started localizing its games with XSEED. Natsume, the owners of the name Harvest Moon in the United States, started making games with the same familiar name and logo, but without any involvement from the Bokujo Monogatari team, causing confusion when the Harvest Moon games it was coming out with were … not great. However, Marvelous took it as a chance to reclaim its beloved franchise and make some much-needed updates, beginning with the remake Story of Seasons: Friends of Mineral Town in 2019. Now, with the second remake with a new name under its belt, it has a chance to lean into the nostalgia of playing old video games with a new console and graphics while appealing to new players that discovered farming simulators during lockdown with Animal Crossing: New Horizons and Stardew Valley.
However, Marvelous isn't just milking a cash cow by re-creating all of its old games. It's still coming out with original games in the franchise like Story of Seasons: Pioneers of Olive Town (which admittedly isn't my favorite of the franchise), but it's still exciting to see Marvelous try new ways to evolve a video-game series that's as old as I am.