While it would seem ideal to only game in a soundproof room, such an environment is unrealistic for the majority of PC and console users. Background noise, whether it's traffic or other people moving around and talking near a gamer, creates a need for an effective noise-cancelling headset. The problem is that there are several different noise-cancelling methods available, and it's not always clear which technology a headset employs to counter the annoying roar of car engines or the shouting of friends. Also, companies advertise the noise-isolating capabilities of their headsets, only for a buyer not to realize the feature functions on the microphone but not on the sound output of the device itself.
RELATED: The Best PC Gaming Headsets in 2023
Passive noise-cancellation relies on a secure fit and earcups that mold themselves to a gamer's ears to prevent outside sounds from interfering with playing games or watching movies. Active noise-cancelling headsets, which are generally more expensive, use microphones to monitor surroundings and activate tones to neutralize unwelcome sounds. Active noise-cancelling referred to as ANC, is present in a fairly limited number of gaming headsets, so wireless or budget-friendly options ideal for chaotic environments are frustratingly scarce. Nevertheless, there are numerous gaming headsets that meet these criteria and isolate a listener from their surroundings for a more immersive gaming experience.
SteelSeries Arctis Nova Pro Wireless
Best Overall Noise-Cancelling Gaming Headset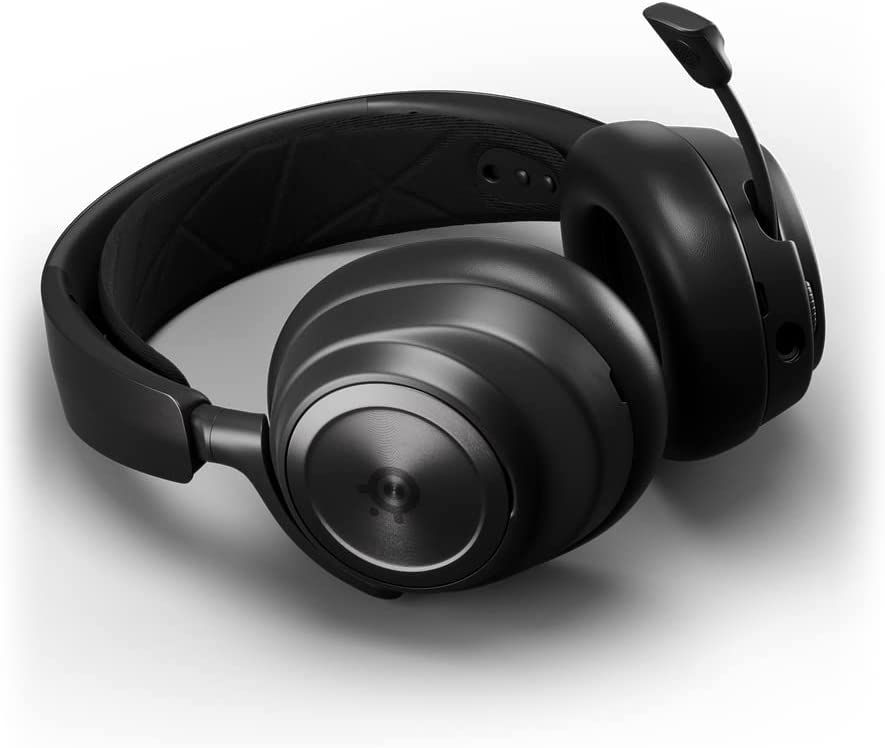 SteelSeries Arctis Nova Pro Wireless Gaming Headset
The Arctis Nova Pro Wireless gaming headset from SteelSeries is a serious gamer's tool. A gamer that wants the convenience and quality in a feature-rich wireless gaming headset might not want to look elsewhere. The headset's premium high-fidelity drivers deliver a clear soundscape with a fully customizable experience with the Sonar Software. It supports 360-degree spatial audio for a more immersive gaming experience and helps the user to hear every step around them clearly. 
With active noise-cancelling technology enhanced by a 4-mic hybrid system, gamers can use transparency mode to tune out any annoying background noises.
Microphone

Retractable, noise-cancelling

Compatability

PC, PS4, PS5, Xbox, Nintendo Switch

Brand

SteelSeries

Noise Cancellation

Active
Pros
Up to 36-hour battery life with swappable battery
Active noise-cancelling with transparency mode
Stunning audio quality
Cons
PC software required for some features
The SteelSeries Arctis Nova Pro Wireless is not only the best noise-cancelling headset on the market for gamers, but it also works with almost any console or device available. There are two different versions of the Arctis Nova Pro available for either the PC and PlayStation consoles or Xbox gamers, though the multi-system DAC is compatible with a wide range of sources in both models.
RELATED: Razer Releasing Noise-Canceling Wireless Earbuds for Xbox and PlayStation
This high-end Arctis headset employs active noise-cancellation intelligently drowning out background noises based on what its 4 microphones detect. A unique feature of the headset is transparency mode which allows listeners to select just how much outside noise they want to hear when gaming, so they aren't completely oblivious to their surroundings. The ClearCast Gen 2 microphone is not left out of the noise-cancelling party, with even the loudest keyboards softened to maintain clear communication during multiplayer gaming. The SteelSeries Arctis Nova Pro Wireless and its 360-degree spatial audio alerts players the instant an enemy is approaching, giving them an advantage over the competition. Considering its advanced noise-cancellation technology and surround sound which is also compatible with the PS5 and Xbox, it's hard not to recommend the SteelSeries Arctis Nova Pro Wireless to any gamer stuck in a noisy environment.
Bose QuietComfort 35 Series 2
Best Wireless Noise-Cancelling Gaming Headset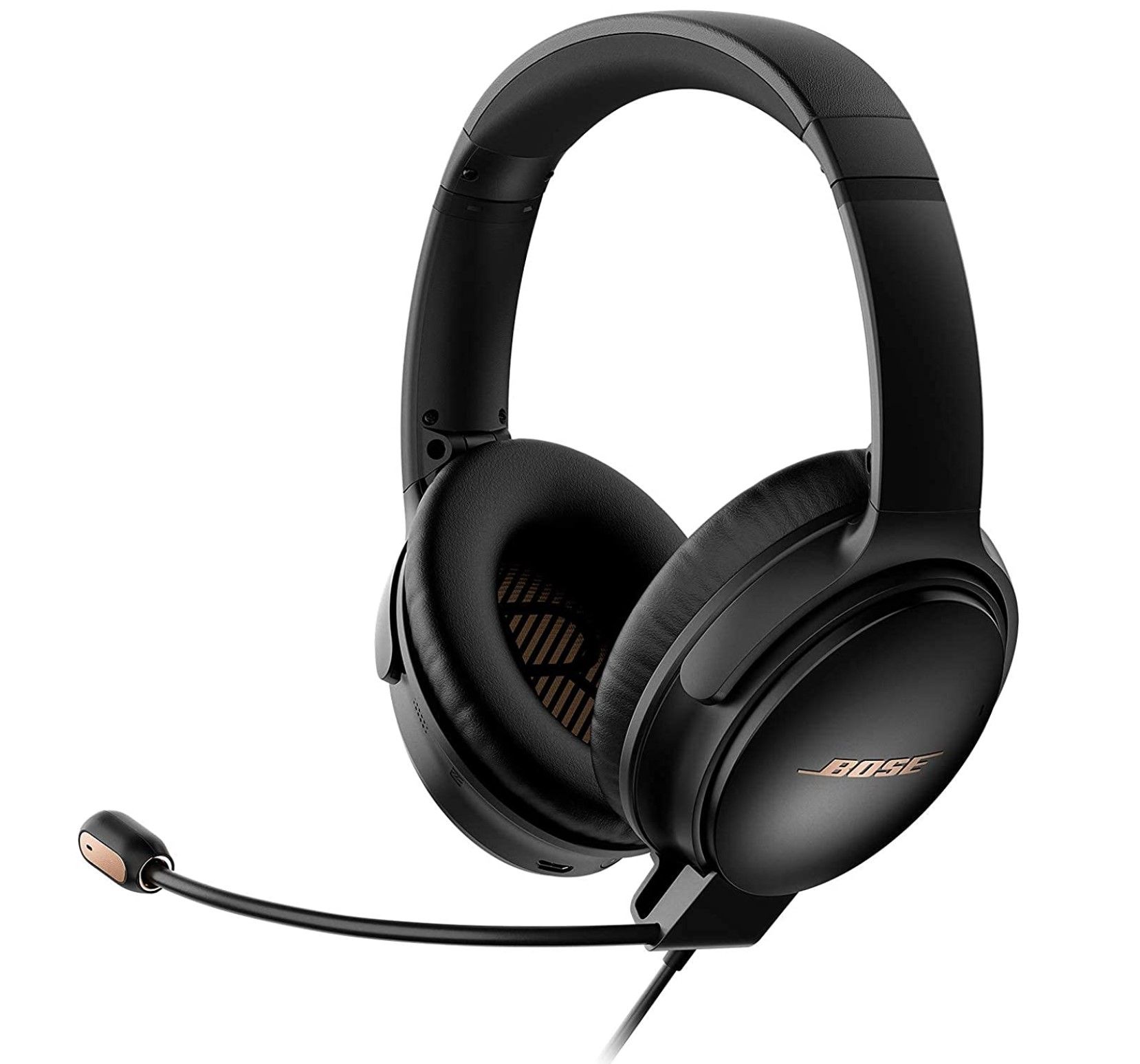 Bose QuietComfort 35 Series 2 Wireless Gaming Headset
Celebrated for their quality headphones, the QuietComfort 35 Series 2 Wireless Gaming Headset brings the company's high standards to the gaming world. Gamers will appreciate Bose's triple-level noise-cancellation system which removes annoying background sounds. With Bluetooth pairing, the QuietComfort 35 Series 2 can connect to a host of devices including desktops, laptops, and Xbox consoles. The class-leading microphone provides interference-free chat during multiplayer gaming sessions, ensuring teammates will stay in constant communication. 
Microphone

Detachable boom mic

Compatability

PC, Xbox, Mobile Devices

What's Included

Headset, cable, protective case, PC desktop controller

Brand

Bose

Noise Cancellation

Yes
Pros
Best-in-class noise-canceling technology
User-friendly volume controller
Long-lasting comfort
Cons
Difficult to find in stock
Not wireless compatible with PS5 and Xbox
While not known for its gaming peripherals, Bose is often credited as the leading innovator of noise-cancelling headsets. It was Dr. Amar Bose himself who first conceived of a way to block out background distractions while on an airplane in the late 1970s. Bose would eventually incorporate noise-reduction methods in its consumer-grade QuietComfort line of headphones, now on the market for nearly 40 years. Granted there is nothing about the basic sleek black appearance of the Bose QuietComfort 35 Series 2 that screams gamer, but the company has added a few features not normally found on its traditional headsets.
The Bose QuietComfort 35 Series 2 has a detachable boom mic which is noise-rejecting and both Discord and TeamSpeak certified for rock-solid multiplayer communication. Also included is a PC desktop controller, allowing gamers to adjust volume and microphone levels on the fly. Unfortunately, the PS5 and Xbox are not wireless compatible with Bose QuietComfort 35 Series 2, since the headset uses Bluetooth wireless technology. The Bose QuietComfort 35 Series 2 does work quite as well for console gamers when connected to game controllers through a wired analog cable. The crystal clear sound quality associated with other Bose noise-cancelling headphones shines on the Bose QuietComfort 35 Series 2 and when combined with its industry-leading noise-cancellation implementation, any gamer should consider this headset a top contender.
JBL Quantum One
Best Wired Noise-Cancelling Gaming Headset
JBL Quantum ONE Over-Ear Gaming Headset
The JBL Quantum One delivers the company's professional-level audio experience to gamers. JBL QuantumSound produces spatial sound with a rich listening experience powered by Hi-Res certified 50mm drivers. Active Noise-Cancelling effectively filters out distracting background noise while the detachable microphone with noise suppression ensures that a teammate never misses vital instructions. The JBL Quantum One includes stunning RGB effects and is compatible with PCs and most consoles. 
Microphone

Detachable, noise suppression

Compatability

PC, PS4, PS5, Xbox

Brand

JBL
Pros
Powerful and well-balanced sound
Effective noise-cancellation
Widespread compatibility with devices
Cons
Sound is not as adjustable with consoles
USB connection not compatible with Xbox
Even though the company's products have traditionally focused on movie and music listening, JBL made a strong impression on gamers when they released the Quantum One wired headset in 2020. Through a USB connection, gamers can reap the benefits of active noise-cancellation on the PC and PlayStation, though Xbox users will have to resort to a traditional audio cable connected to a controller. The noise-cancellation effects are easily switched on and off with a long press of a button on the headset. The microphone on the JBL Quantum One also does its part to remove background noise, with a voice focus feature to ensure that multiplayer teammates only hear a user's voice and not random yelling and screaming.
RELATED: JBL Quantum 300 Gaming Headset Review
Active noise-cancellation may seem unnecessary when the JBL Quantum One is on full blast since its Hi-Res certified 50mm neodymium drivers make it hard to focus on anything else. The sound output from the headset is both extremely loud and also well-balanced, with many adjustments available in the JBL Quantum Engine app. The headset also offers top-notch spatial sound during gaming, relying on QuantumSphere plus head tracking to replicate a gamer's positioning in a virtual space as accurately as possible. With its convincing sound isolation, booming sound, and spatial audio effects, the JBL Quantum One is among the best noise-cancelling headphones and headsets.
Razer Opus X
Best Budget Noise-Cancelling Gaming Headset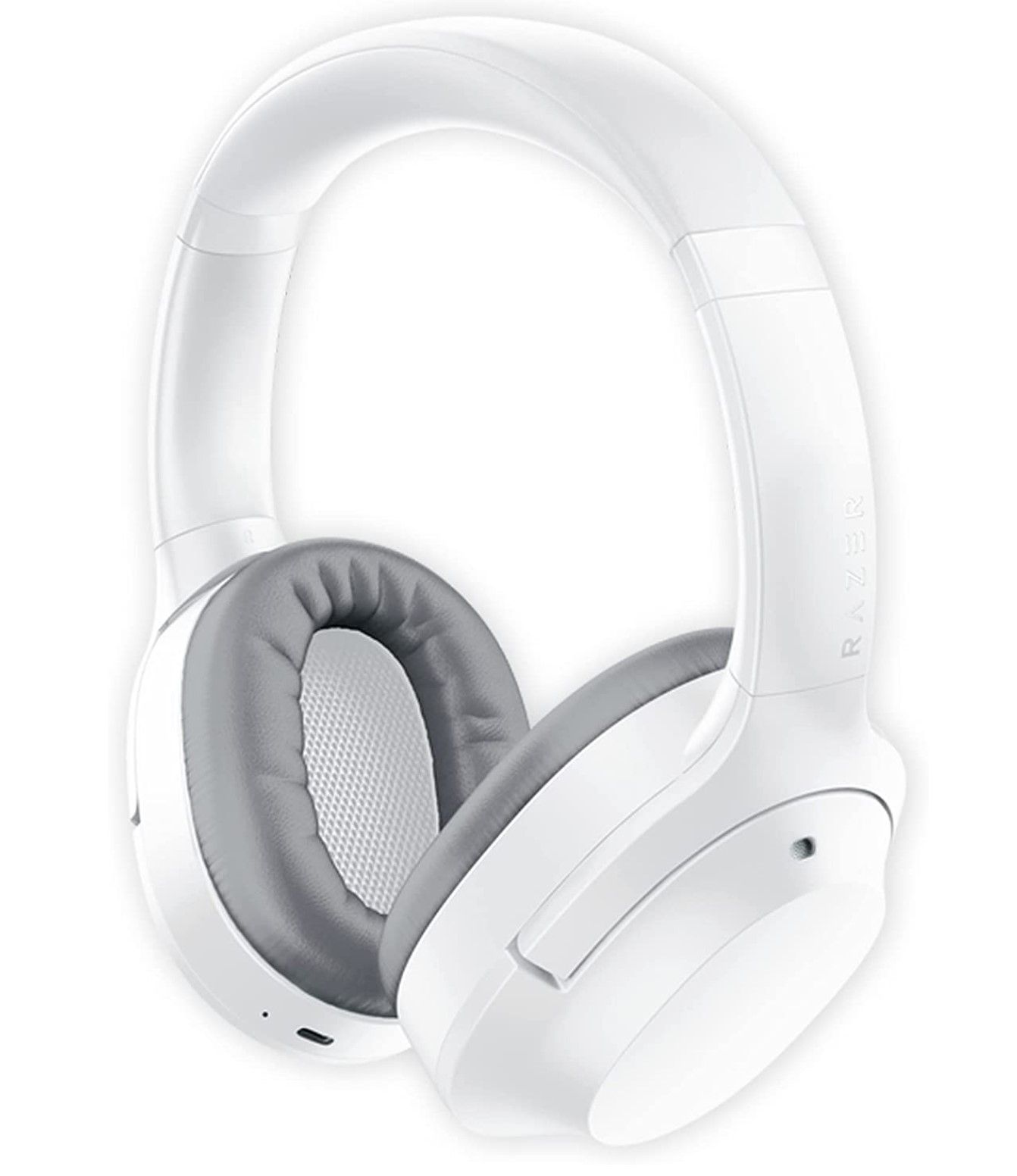 Razer Opus X Wireless
The Razer Opus X is a wireless headset focused on keeping the attention of listeners on their games and not distracting background noises. Utilizing a quick attention button, gamers can easily turn their attention back to their surroundings and disable active noise-cancellation.
The Opus X uses Bluetooth 5.0 to connect to mobile devices, PCs, and the Nintendo Switch for flawless low-latency audio that's also easy on power consumption. Despite its portability, the Opus X doesn't skimp on volume, with custom-tuned 40mm drivers providing a well-balanced soundstage.  
Microphone

Noise-cancelling

What's Included

Charging cable USB-A to USB-C

Brand

Razer

Compatbility

Android, PC, Nintendo Switch
Pros
Lengthy battery life
Very comfortable
Active noise-cancelling on a budget
Cons
Not compatible with Xbox and PlayStation
Limited customization
Usually, when it comes to budget gaming headsets, noise-cancellation is found on microphones only, rather than on the sound output through the earcups. The Razer Opus X is an exception to that rule, offering feedforward active noise-cancellation without a several hundred dollar investment. The tradeoff is that the Opus X is suitable more for mobile gamers than PC or console users, but the headset is compatible with any device using a Bluetooth connection. Weighing just 270 grams, the wireless headset is especially attractive for any student or traveler constantly on the move, and recharging is only required after 30 to 40 hours, depending on noise-cancellation usage.
RELATED: Best Accessories for Nintendo Switch
Many wireless gaming headsets rely on USB RF adapters for the best performance, rather than Bluetooth, which has a reputation for lower-quality and lagging audio. Razer attempts to combat the limitations of Bluetooth with a 60ms low latency gaming mode to ensure that gamers hear exactly what they see happening on screens instantaneously. Although it's disappointing that there is no way to connect the Opus X to a PlayStation or Xbox, the device is the best noise-cancelling headset for mobile gamers and Nintendo Switch owners.
Razer Opus Wireless
Best Mid-Range Noise-Cancelling Gaming Headset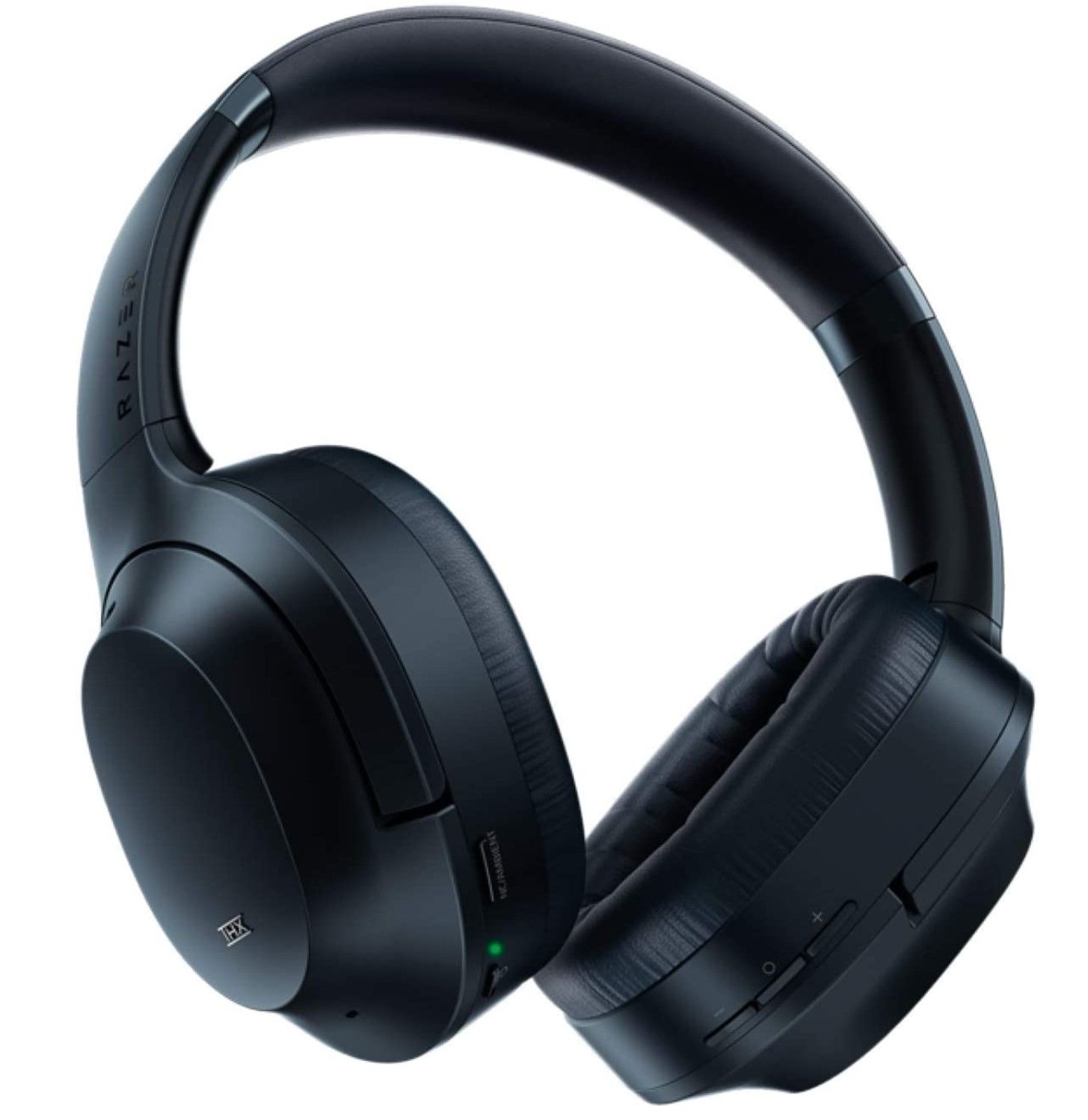 Razer Opus Wireless
The Razer Opus Wireless Active Noise-Cancelling Headphones are THX certified for high-fidelity balanced sound when gaming or watching movies. 4 internal microphones monitor environments and adjust noise-cancellation levels accordingly. Listeners can quickly press and hold the ANC button to hear more ambient noise when necessary. 
The Razer Opus uses a Bluetooth connection to connect with smartphones and other mobile devices, and a 3.5 mm analog audio jack makes it compatible with most PCs and consoles. 
Microphone

Internal

Compatability

PC, Android, PS4, PS5, Xbox

Noise Cancellation

Yes

Battery Life

25 hour

Brand

Razer
Pros
Solid build quality
Active noise-cancellation
3.5 mm analog audio jack
Cons
Limited customization
Can't connect wirelessly to Xbox, PS5
As a mid-range wireless headset, the Razer Opus offers some attractive upgrades over the budget-oriented Razer Opus X. The Razer Opus is THX certified, which means that it's approved for high-fidelity audio, particularly when listening to big-budget movie sound mixes. Like the Opus X, the standard Opus offers active noise-cancellation, but the feature is further enhanced by four internal microphones constantly monitoring surroundings for background noise and adjusting accordingly.
RELATED: How To Use Bluetooth Headphones with Nintendo Switch
A significant advantage for the Razer Opus over other wireless Bluetooth headsets like the Opus is the addition of a 3.5mm analog audio jack, which allows users to connect the device to an Xbox or PlayStation controller. Although the Opus is a rare Razer product that isn't marketed directly at gamers, its performance is more than acceptable with a rich well-balanced sound output, and its bass levels are surprisingly strong for a fairly portable Bluetooth headset. There is also a gaming mode that reduces latency over Bluetooth connections, keeping video and audio in sync when the Opus connects wirelessly with a PC or Nintendo Switch. Without an external boom mic, the audio during multiplayer chats is not as crystal clear, but the streamlined design of the Opus allows it to fit comfortably in the included carrying case. With its hybrid noise-cancellation system and versatility to connect to most PCs and consoles, the Razer Opus is among the best noise-cancelling headphones.
Sony INZONE H9 Gaming Headset
Best High-End Noise-Cancelling Gaming Headset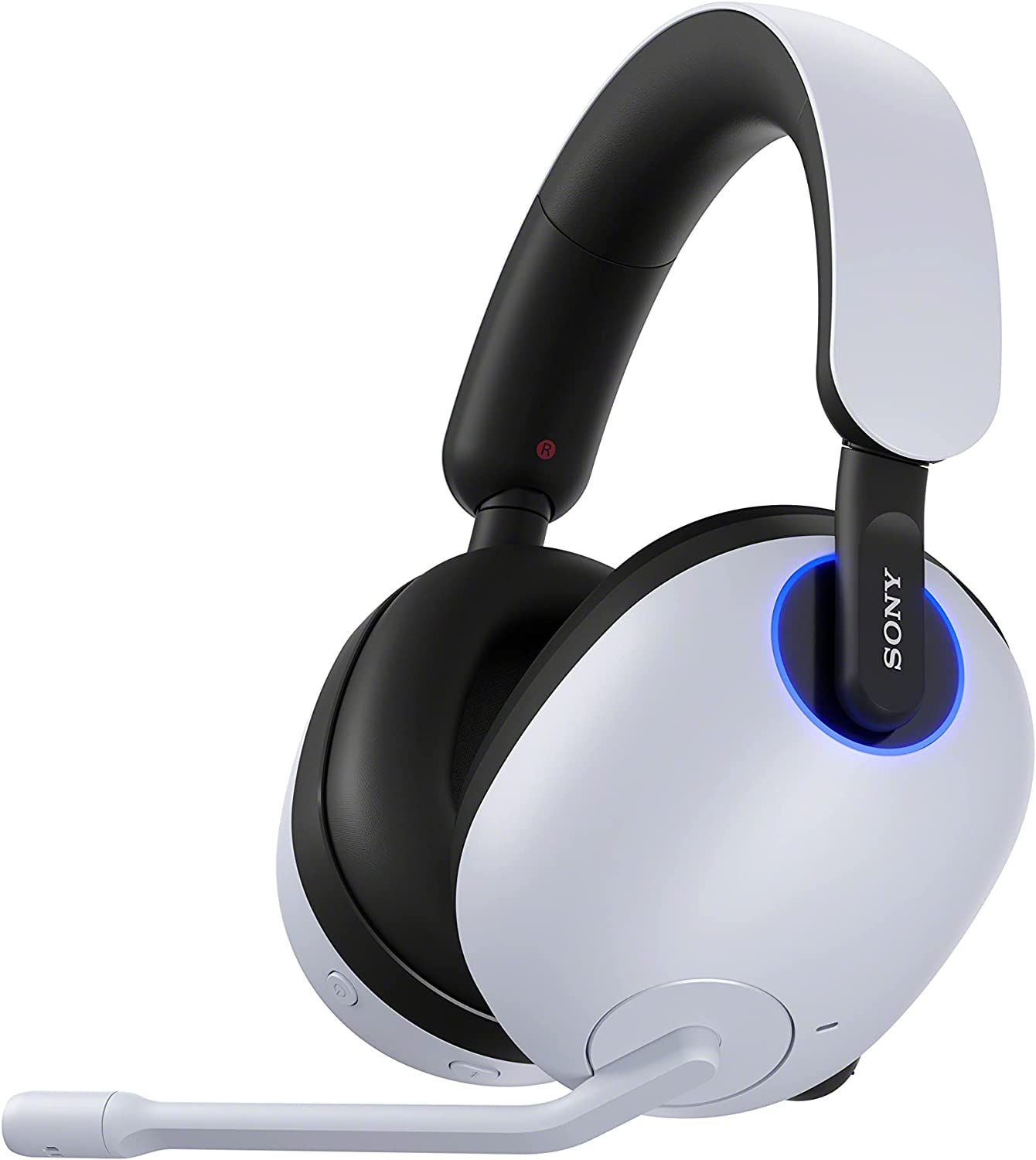 Sony INZONE H9 Gaming Headset
The Sony Inzone H9 is a gaming headset that offers 360 degree spatial sound and a dual sensor noise-canceling technology, which both removes unwanted background noise and keeps the user aware of ongoing chat when Ambient Sound Mode is enabled. The headset is Discord Certified to provide clear communications via the flexible boom microphone with a flip-to-mute function.
The headset supports Bluetooth connectivity for PC, PS5, and smartphones. Sony Inzone H9 is designed with comfort in mind and has a soft headband cushion and synthetic leather for the ear pads.
Microphone

Boom microphone

Compatability

PS4, PS5, PC

Brand

Sony

Noise Cancellation

Yes
Pros
Effective use of Sony's 3D Audio
Plush and comfortable
Surprisingly lightweight
Cons
Microphone disappoints for price
Desktop app needs improvement
The Sony Pulse 3D is the default choice for many PlayStation gamers, and while the wireless headset performs admirably, it lacks the active noise-cancellation abilities of the Sony INZONE H9. The passive noise-cancellation of the Pulse 3D relies on the earcups physically shielding gamers from outside distractions, but the method has its limitations. The much more expensive INZONE H9 employs the Dual Noise Sensor technology found on Sony's other premium headsets including the 1000X, using microphones to detect and block out interfering ambient noise.
The Sony INZONE H9 is compatible with the PS4, PS5, and PC, but sadly Xbox users have no way to connect to the wireless headset which lacks a wired port. Gamers who can use the INZONE H9 can experience a sound that's plenty powerful and a battery life of up to 32 hours, for more than a day's worth of play on a single charge. There are an ample amount of physical buttons on the undersides of both earcups, such as controls to enable noise-cancellation or ambient mode and adjust the audio mix between chat and game sound. Like the Pulse 3D, the INZONE H9 is fully compatible with the 3D sound on the PS5, and PC gamers can use the INZONE Hub app for extensive customization. The Sony INZONE H9 is among the best noise-cancelling headphones for PlayStation and PC gamers willing to make a substantial investment.
JBL Quantum 800
Best RGB Noise-Cancelling Gaming Headset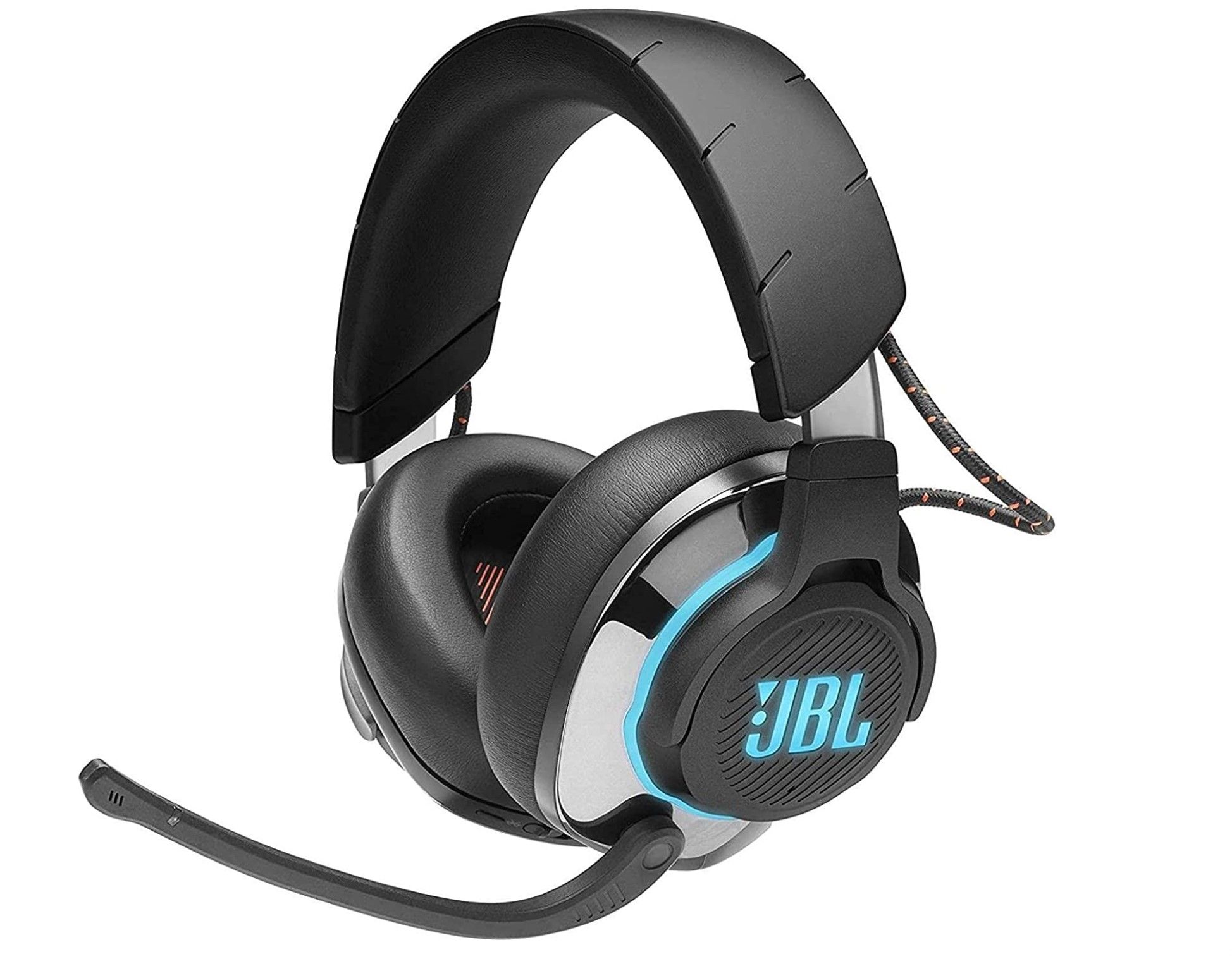 JBL Quantum 800
The JBL Quantum 800 Wireless Gaming Headset provides convincing active noise-cancellation at a fraction of the price of other gaming headsets with fewer features. The noise-cancelling features are specifically designed for gaming and work on the PC, PlayStation, and Mac to keep gamers focused on the action. 
JBL QuantumSurround further enhances gaming action by immersing players in a rich and dynamic soundscape. The Quantum 800 can connect wirelessly through a USB dongle or Bluetooth to PCs, PlayStation consoles, and mobile devices. The boom microphone on the JBL Quantum 800 filters out interferences, so teammates can always stay in constant communication. 
Brand

JBL

Battery Life

14 hours

Bluetooth

Yes

Noise Cancellation

Yes

Microphones

External boom, noise cancelling

Compatbility

PC, PS4, PS5, Xbox
Pros
Vivid RGB lighting
Best noise-cancelling in price range
Quality boom microphone
Cons
Mediocre battery life
Can't connect wirelessly to Xbox
Many noise-cancelling headsets are not designed specifically for gamers, and even fewer have RGB lighting effects that distinguish themselves from multipurpose headphones. However, the JBL Quantum 800 provides many of the same features as the more expensive Quantum One wired headset including customizable lighting adjustable in the JBL Quantum Engine software. When the RGB lighting illuminates around the JBL logo on each earcup, the Quantum 800 blends in perfectly with gaming rigs.
RELATED: Roccat Magma Mini RGB Keyboard Review
Compared to the Quantum One, the spatial sound features of the Quantum 800 are somewhat less advanced without QuantumSphere head tracking, but the active noise-cancelling actually performs marginally better. Considering the dramatically lower price and wireless functionality, the Quantum 800 is currently an irresistible value. Gamers should note that while the headset is compatible with the PC and most consoles through a wireless USB dongle, Xbox users must use an analog audio cable connected to a controller since the system lacks typical Bluetooth functionality. The Quantum 800 is also much lighter than it appears, yet exceptionally comfortable thanks to memory foam ear cushions that leave ears without pain even after grueling gaming sessions. With sound-blocking features that perform better than any gaming headset in its price range and generous compatibility with PC and consoles, the JBL Quantum 800 is the ultimate noise-cancelling headset for RGB fanatics.
MORE: The Best PS4 Gaming Headsets for 2023