It's difficult to imagine a time when most gamers sat in traditional office chairs which lacked the adjustability and comfort of ergonomic gaming chairs. Partly thanks to streamers and famous Esports champions, gaming chairs have become a vital component of any PC rig. The best gaming chairs are not only stylish but also have ergonomic characteristics allowing users to sit in them for endless hours without developing neck, back, and leg pain. Typically, these chairs achieve their ergonomic status with a shape that better aligns with a person's spine aided by added lumbar support and the ability to modify arm rest positions.
RELATED: Which Secretlab Gaming Chair Material is Best?
The most comfortable gaming chair will cost much more than PC peripherals like keyboards and mice, with some rivaling the price of building a high-end gaming PC. As a result, the stakes are high in terms of finding a chair that can persevere for years and withstand the normal abuse and spills caused by a gamer. Fortunately, some of the leading manufacturers sell their chairs with lengthy warranties, made possible by the premium materials used in their construction. With the following gaming chairs, there is an extensive amount of customization possible, not only in terms of materials and colors but also with how much cushioning the back and neck will enjoy.
Herman Miller X Logitech G Embody
Best Overall Ergonomic Gaming Chair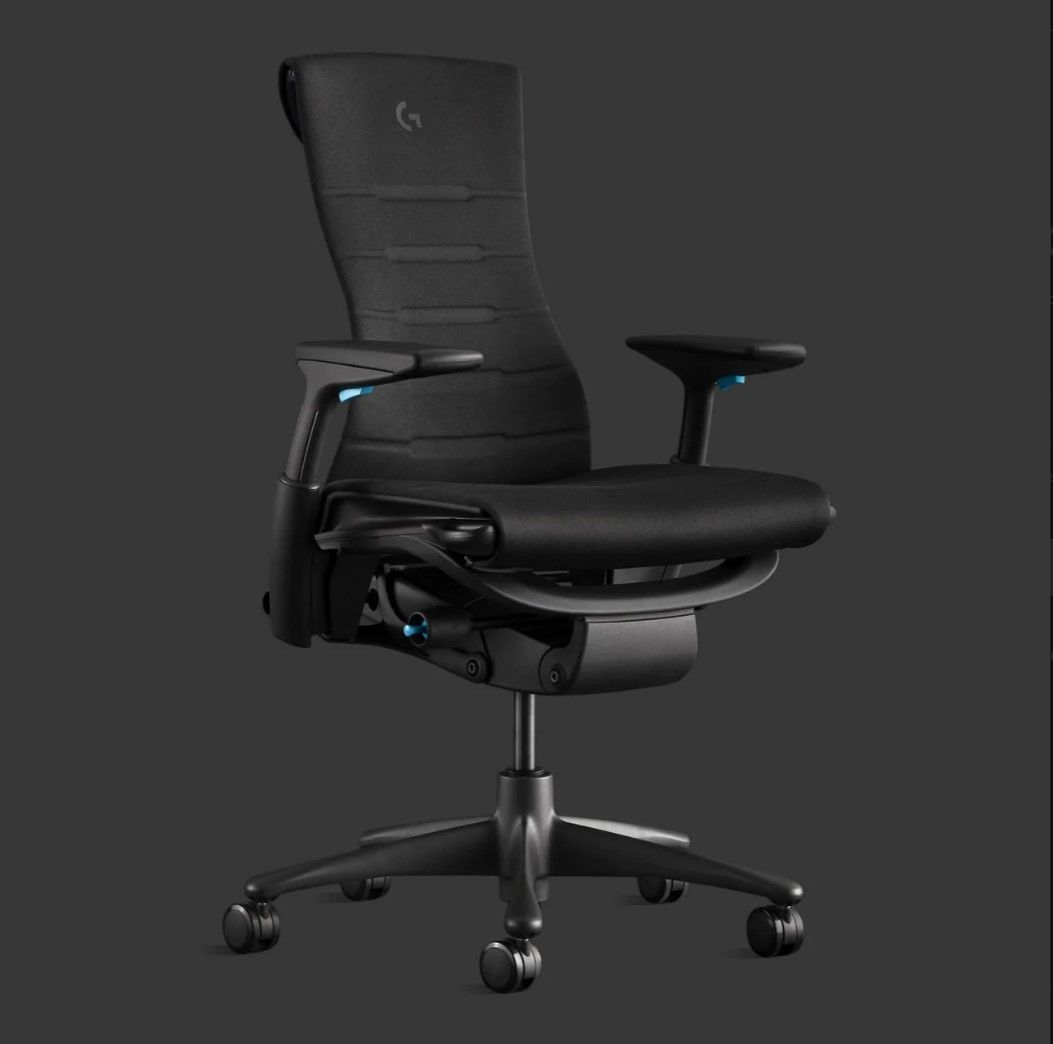 Herman Miller X Logitech G Embody Gaming Chair
The Herman Miller X Logitech G Embody Gaming Chair is a premium take by the luxury furniture giant, and it professes to be your daily source of comfort for work and gaming, backed by an impressive 12-year, 24-hour usage warranty.
Upholstery Material

Sync Fabric

Color(s)

4 variants

Brand

Herman Miller X Logitech G

Chair Weight Capacity

300 lbs

Lumbar Support

Yes
Pros
Extremely ergonomic
12 year warranty
Premium construction
Requires no assembly
Cons
Expensive
Adjustments are tricky
When a buyer is shopping for a premium ergonomic chair, Herman Miller usually appears at the top of the list of candidates. It's no surprise then that in 2020, the company teamed up with Logitech to make its first gaming chair, the Herman Miller X Logitech G Embody. The Embody chair dates back to 2008, and the Bill Stumpf-designed chair quickly became known as one of the most comfortable to sit in for hours, if not days on end.
RELATED: Secretlab vs. Herman Miller: Which Has Better Gaming Chairs?
The differences between the standard Embody and the Logitech G version amount to copper foam instead of scrim foam used on the Logitech. Of course, there are some styling changes on the Logitech G Embody to make it stand out from office chairs, including the Logitech G logo and a choice of blue or black accent colors. The standard Embody is usually priced several hundred dollars higher than the Logitech G version, so it's best to try both out before purchasing.
The Herman Miller X Logitech G Embody is all about maintaining a sitting posture that won't lead to back strain and pain. PostureFit and BackFit support the lower and middle sections of the back with flexible ribs that complement the bone structure of the spine perfectly. Copper-fused 4-layer cooling foam is present in the back of the chair and the seat with the purpose of keeping gamers cool during long heated gaming sessions. The arm rest and seat height are adjustable, but it may take some tinkering to figure out how to modify the chair. Overall, with the Herman Miller 12-year warranty and leading ergonomic features, the Herman Miller X Logitech G Embody is the most comfortable gaming chair on the market.
Razer Iskur X
Best Budget Ergonomic Gaming Chair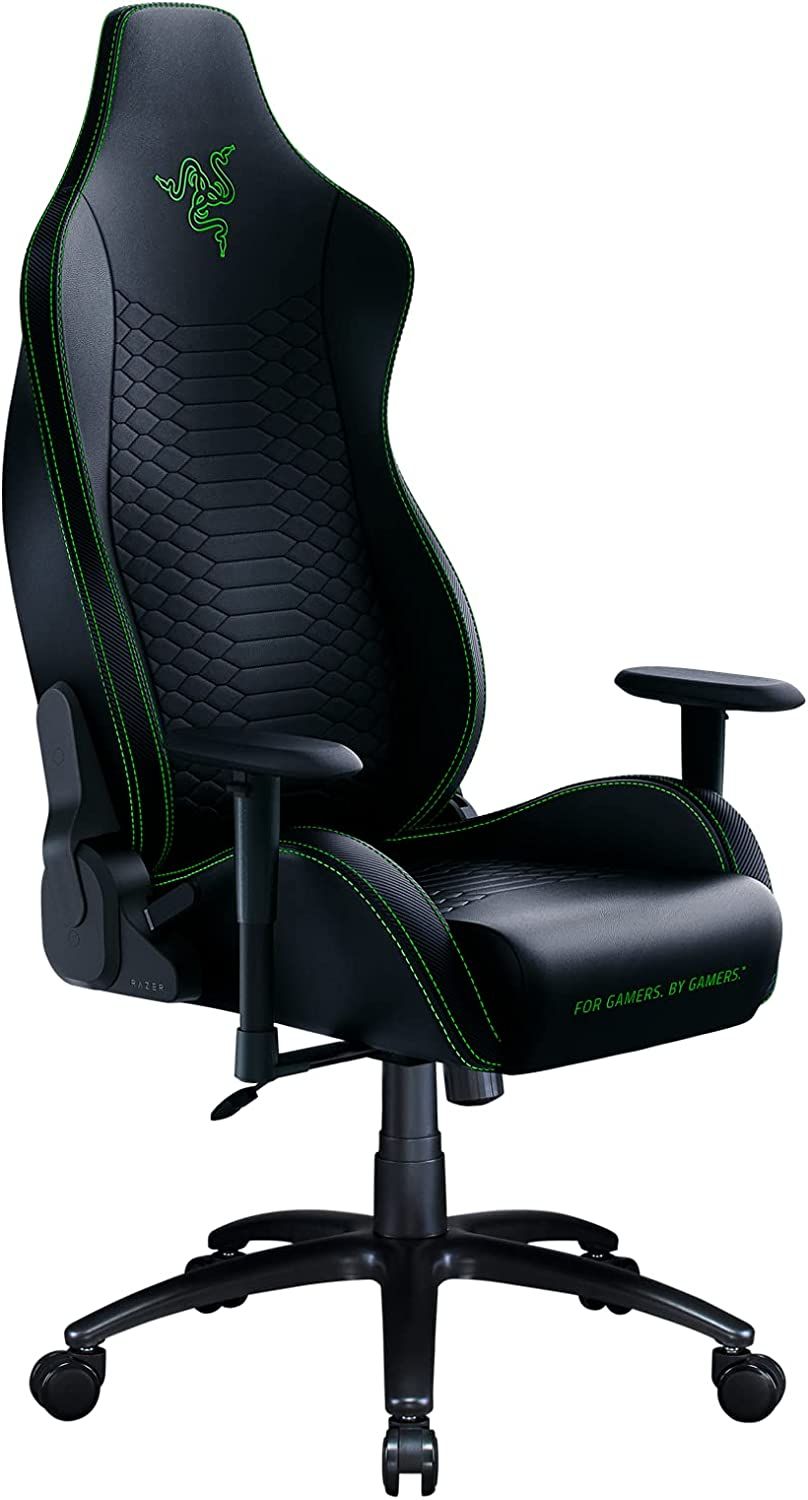 Razer Iskur X Gaming Chair
The Razer Iskur X is a surprising but competent budget gaming chair entry from Razer. It removes the adjustable lumbar support that cemented the Iskur as a gaming chair while shaving off $100 in price to make it a more affordable choice for consumers.
Upholstery Material

Leather

Color(s)

5 Options

Adjustability

Yes

Brand

Razer

Chair Weight Capacity

300 Lbs

Lumbar Support

Yes, Not Adjustable
Pros
Comfort at a budget price
Very adjustable
300 lb weight capacity
Cons
Lacks lumbar support of Iskur
Build quality trails behind premium options
Razer is a top-tier manufacturer of PC peripherals including keyboards, mice, and speakers, but it wasn't until October 2020 that they released their first gaming chair. The Iskur, with its trademark Razer logo and branding on the front edge of the seat cushion, complemented their other gear perfectly. The gaming chair was also exceptionally sturdy and comfortable with its dynamic lumbar support system but cost significantly higher than even the most expensive keyboard and mouse.
The Razer Iskur X is the company's answer to make a more affordable gaming chair that makes some compromises over the standard Iskur, but still is a solid ergonomic option for all-day comfort. While the Iskur X lacks the 4D arm rest of the Iskur, there are still plentiful adjustment options on the chair including customizable recline, tilt, and height. The Iskur X doesn't offer the same lumbar support as the Iskur, but additional back cushioning is sold as an add-on purchase.
Perhaps the best part of sitting in the Iskur X is its high-density foam cushions which rise from the sides of the seat cushion to surround gamers in comfort. The multi-layered synthetic leather chair also has some of the most attractive styling of any gaming chair, while limiting itself to a 2 color pattern. The steel-reinforced body of the Iskur X makes it far more likely to last years than a cheap office chair, accommodating up to 300 lbs. With its appealing looks, a seat cushion that gently hugs rear ends and legs, and rock-solid construction, the Razer Iskur X is the best gaming chair for buyers seeking an affordable ergonomic option.
Vertagear SL5800
Best Mid-Range Ergonomic Gaming Chair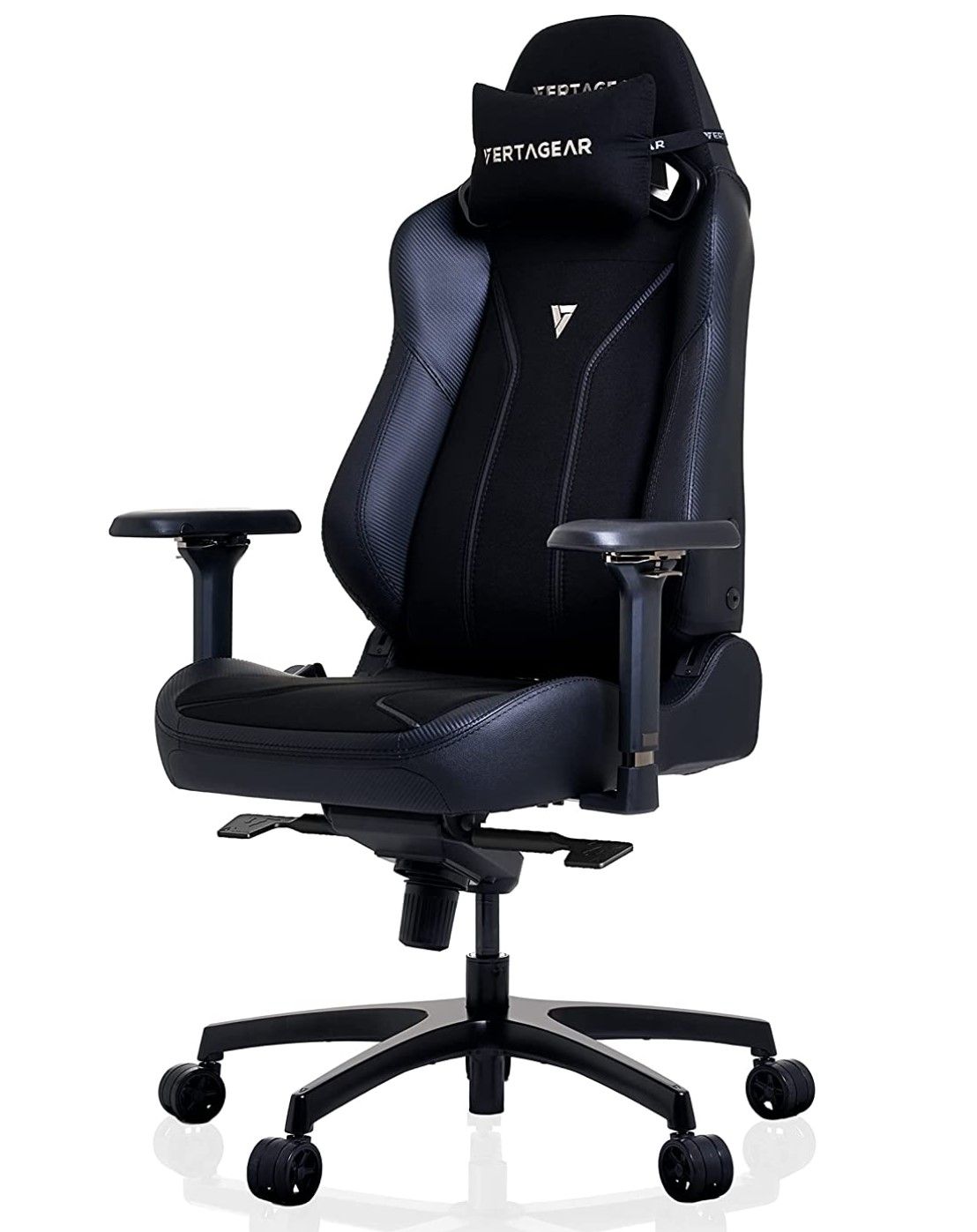 VERTAGEAR SL5800 Gaming Chair
The Vertagear SL5800 is one of the most ergonomic gaming chairs on the market, offering its unique ContourMax Lumbar and VertaAir seat. Lumbar support is industry-leading thanks to memory foam that employs an embedded 64 responsive branches shifting as a gamer moves. Eight hexagonal air pillars on the seat cushion provide breathability and all-day plush comfort. The Vertagear SL5800 also has a 4D adjustable arm rest and an optional RGB lighting kit. 
Upholstery Material

PUC Leatherette & HygennX

Color(s)

6

Adjustability

Armrests

Brand

Vertagear

Chair Weight Capacity

250

Lumbar Support

Not adjustable
Pros
Many color choices
Easy to assemble
Innovative ergonomics
Cons
Lumber support not adjustable
Arm rests wobble slightly
If Herman Miller is not in a buyer's budget, there are a wealth of mid-range options for sale that rival the ergonomic qualities of the best gaming chairs in the world. With its SL5800, Vertagear takes a different approach than most ergonomic chairs, employing a patent-pending ContourMax lumbar support system. The degree of lumbar support is not adjustable, but instead, Vertagear invokes a combination of memory foam cushioning and plastic pieces that shift according to the precise movements of a gamer. While this design decision may seem like a mistake, the ContourMax is incredibly accommodating to a wide range of bodies and sitting positions.
RELATED: Best Pink Gaming Chairs of 2023
The seat of the Vertagear SL5800 is also full of innovative features, with the VertaAir seat consisting of a series of eight hexagonal air pillars that provide ample cushioning and breathability. The goal of the VertaAir seat cushion is to help relieve back pressure and only add to the ergonomic superiority of the gaming chair.
Even without adjustable lumbar support, the SL5800 still allows for a high degree of customization with arm rests that can move up, down, in, out, and rotate. Adorned in PUC faux leather, the Vertagear SL5800 is available in 6 colors with an RGB lighting kit sold separately. Exceptionally stylish and versatile for many seating positions and body sizes, the Vertagear SL5800 is among the best chairs for gaming in comfort.
Secretlab Titan Evo
Best High-End Ergonomic Gaming Chair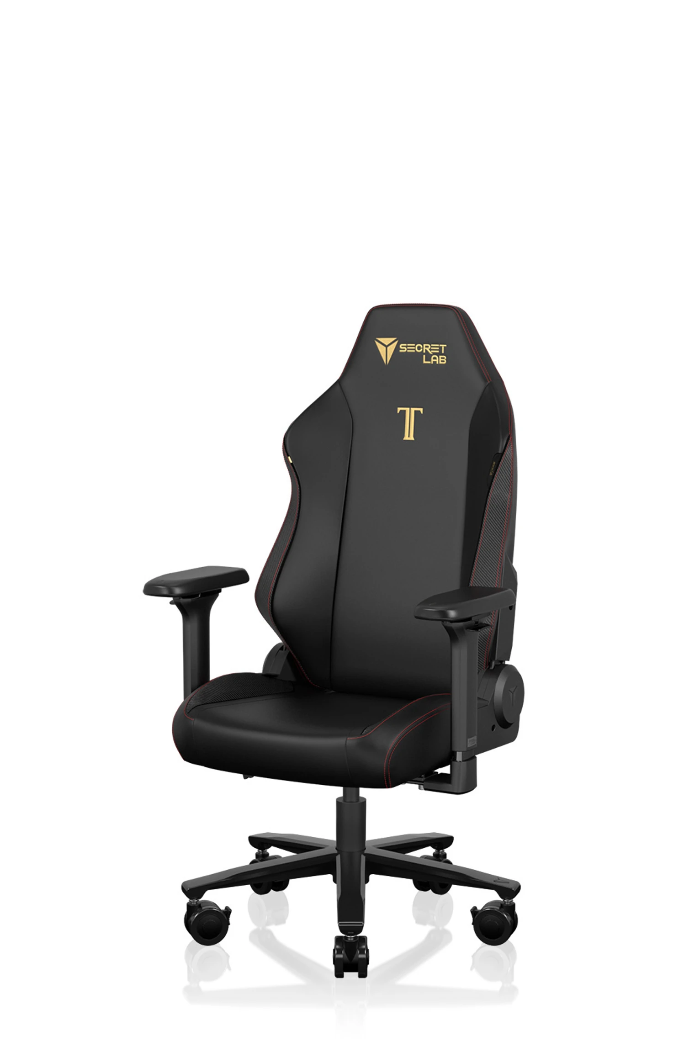 Secretlab Titan Evo
The Secretlab Titan Evo offers an entirely new level of individualized support and unsurpassed performance. Applying cutting-edge engineering methods for complex designs. Better-than-ever materials that are handcrafted and superior in quality. For serious performance, professional-level ergonomics were incorporated into the design. This is the gaming chair with all the functionality most gamers need.
The Titan Evo Series features full-metal armrests with CloudSwap technology, a 4-way lumbar support system, a magnetic memory foam head pillow, and a proprietary sculpted pebble seat base. With the launch of SKINS, you can now add a fabric layer over your TITAN Evo to not only change the color and material but also increase the durability of the chair.
Upholstery Material

4 distinct Leather/Fabric options

Color(s)

Over 50 different choices

Adjustability

3.0" to 3.5" height adjustable

Brand

SecretLab

Chair Weight Capacity

285 to 395 lbs

Lumbar Support

Yes
Pros
Superior build-quality
Adjustable lumbar support
Add-on parts attach magnetically
Cons
Pricey, especially with upgrades
Faux-leather seams tend to scuff
Ever since its inception in 2014 as a startup company founded by a pair of StarCraft players, SecretLab has steadily become a dominant force in the gaming chair arena. The Secretlab Titan Evo is one of the company's most award-winning models, celebrated for its comfort and craftsmanship that allows it to remain in like-new condition for years.
RELATED: The Best Secretlab Gaming Chairs in 2023
While the Titan Evo is offered in 3 different sizes, Secretlab tries to strike a balance in gamer preferences with its cold-cure foam that has a balanced medium-firm feel, designed for even weight distribution for anyone who sits in it. The modular nature of Secretlab Titan Evo is what separates it from other gaming chairs. When ordering the Titan Evo, customers have a choice of a wide range of not only colors and fabrics, but replaceable parts like arm rests and head pillows that attach with magnets, not bolts. The arm rests are also 4D, allowing games to adjust them in just about every direction imaginable. Adding to its ergonomic qualities is a dynamic lumbar support system that can also move in four directions.
For 2022, Secretlab made some other minor revisions to Titan Evo, mostly related to cosmetics and upgrade options. At the base configuration, the Titan Evo is relatively affordable for the features it offers, but finish options like NAPA leather send the price tag zooming well past $1000. Regardless of how a buyer customizes their purchase, the Titan Evo remains one of the best gaming chairs available.
DXRacer Air
Best Mesh Ergonomic Gaming Chair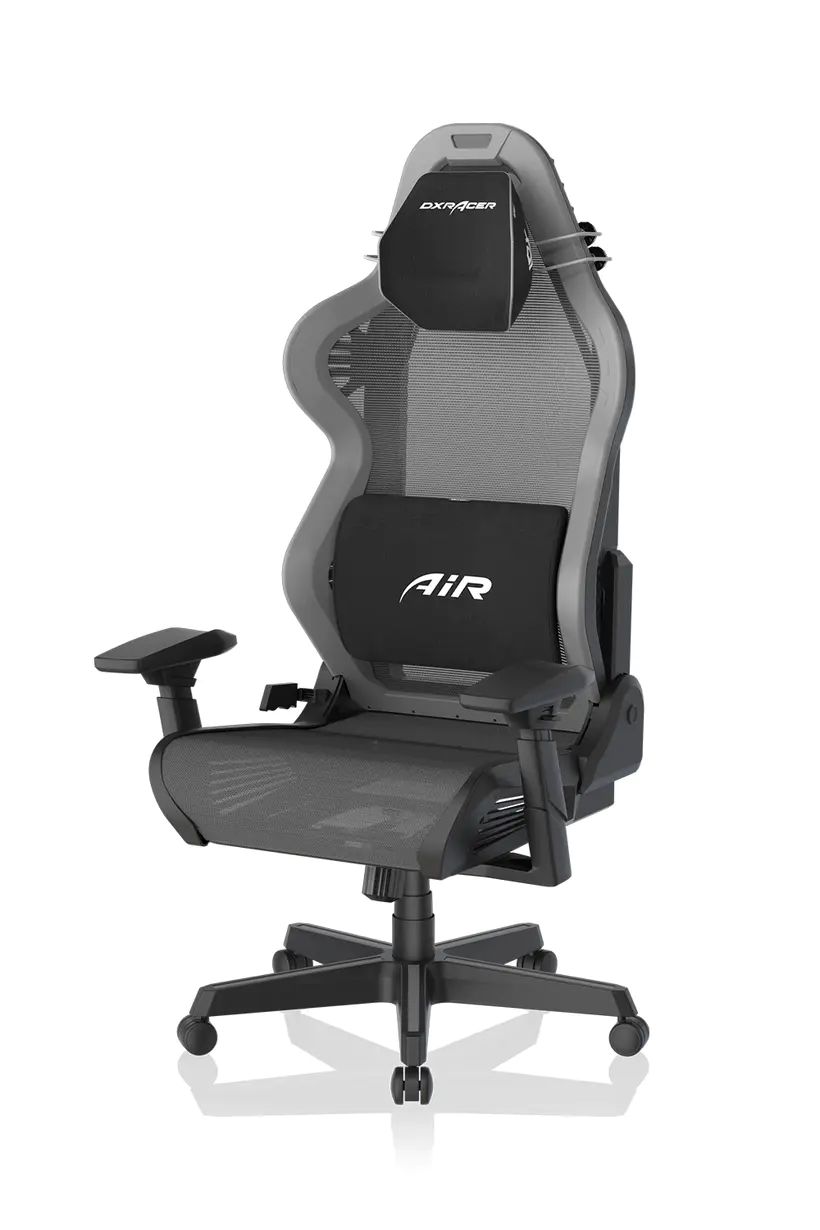 DXRacer Air Gaming Chair
The DXRacer Air is a mesh-enabled take on what a gaming chair based on a breathable material should look like in 2023. Patented suspension springs provide a zero-gravity experience with more cushioning than a gamer would expect from a mesh chair. An adjustable memory foam air headrest is another highlight of the DXRacer Air with the same breathable qualities as the rest of the chair. Magnetic lumbar support is easily repositioned to suit the sitting preferences of any user. 
Upholstery Material

Resilient Mesh

Adjustability

135′ Tilt Support

Brand

DXRacer

Chair Weight Capacity

220lbs

Lumbar Support

Yes, Adjustable
Pros
Amazing breathability
4D arm rests
Very comfortable head rest
Cons
Hard seat bottom won't appeal to everyone
Limited backrest adjustability
Mesh gaming chairs often spur debates, especially among gaming chair enthusiasts where synthetic leather and woven fabric chairs are far more commonplace. Without question, mesh gaming chairs offer several advantages, most notably with their porous nature allowing heat to dissipate far more effectively than with most chairs. Mesh chairs also require very little maintenance and cleaning and are exceptionally durable without the worry of tearing fabric. As far as ergonomics go, the lack of foam cushioning removes any chance of the chair changing shape after use and allows it to maintain the manufacturer's intended design.
RELATED: The Best Gaming Chair Deals in March 2023
With this type of chair more common in offices, DXRacer credits itself as the maker of the first mesh gaming chair. Sporting a patented suspension spring system, sitting on the DXRacer Air is a more forgiving experience than sitting on a standard park bench. There is adjustable magnetic lumbar support, 4D arm rests, and a plush neck pillow that slides up and down using a track system. The DXRacer is also part of a wider modular ecosystem, where anything from cup holders to foot rests are attachable to the chair.
As with all mesh chairs, without a luxurious seat cushion, the advantage of breathability, especially in hot climates, is not enough for some gamers to make the leap from fabric chairs. Still, with rock-solid construction and plenty of customization potential, the DXRacer Air ranks among the best chairs for gaming.
Noblechairs Epic Black Edition
Best Noblechairs Ergonomic Gaming Chair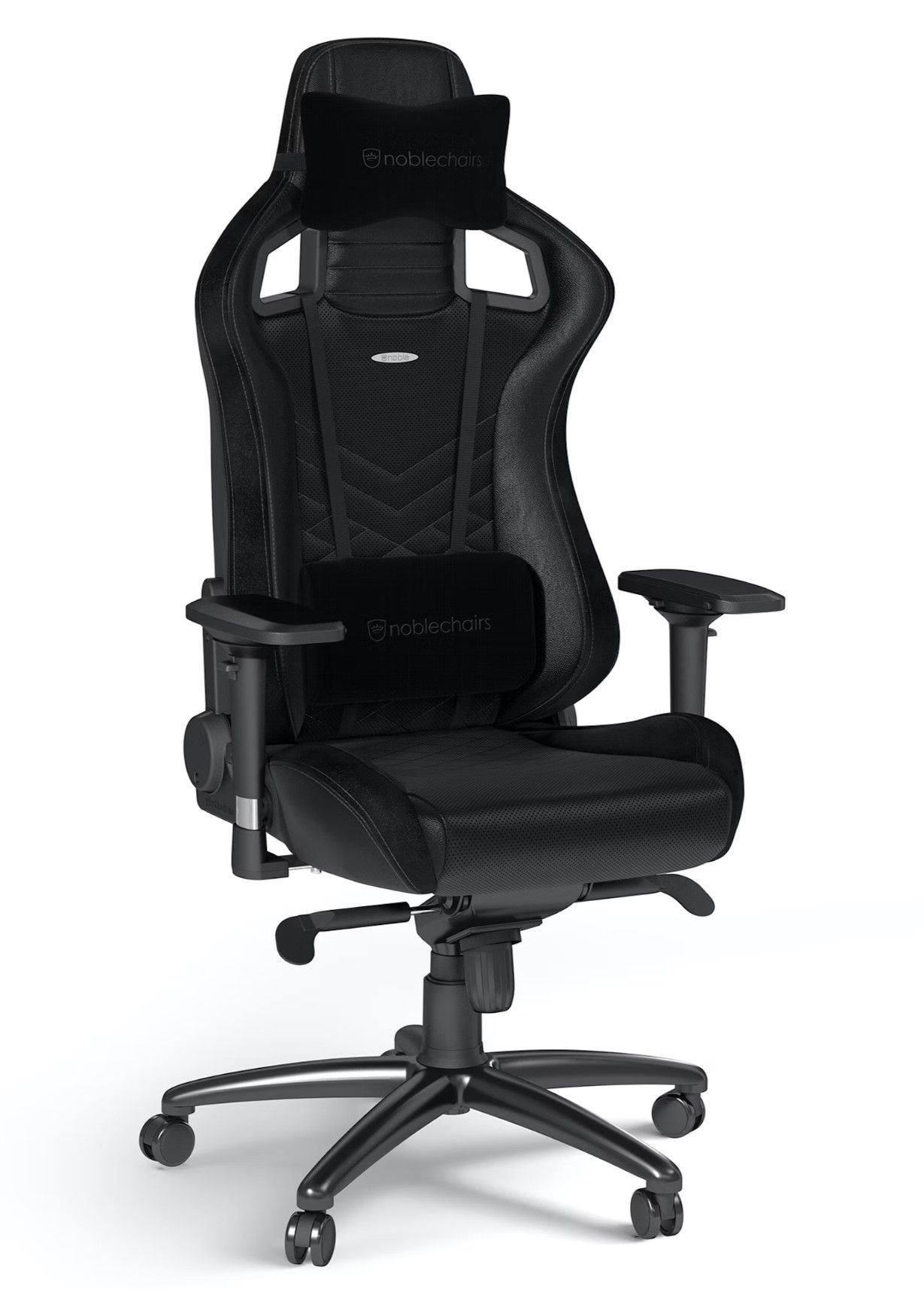 Noblechairs Epic Black Edition
The Noblechairs Epic Black is an understated but supremely comfortable and ergonomic variation of the award-winning Epic gaming chair. Noblechairs has long been a favorite of top Esports competitors who look for the comfort that the Epic's cold-foam upholstery provides over marathon gaming sessions. A steel frame and solid aluminum base is a major reason why the Noblechairs Epic is regarded as the world's most well-made and durable gaming chair. 
Upholstery Material

PU Faux Leather

Color(s)

Black

Adjustability

Arm rest, back rest, seat height

Brand

DXRacer

Chair Weight Capacity

265
Pros
Sleek appearance blends in anywhere
Very sturdy
Looks and feels luxurious
Cons
Expensive
Only 2 year warranty
Noblechairs is the favorite choice of many of the most famous Esports competitors and game streamers. The company's Epic gaming chair has won numerous awards for its German craftsmanship and ability to withstand the rigors of competitive gaming. With the Epic Black Edition, Noblechairs brings a sleek black chair that fits anywhere, whether it's next to a stylish gaming rig or an office.
RELATED: Corsair TC200 Gaming Chair Review
The Epic Black Edition offers some notable improvements over the standard Epic chair that goes beyond styling. The Black Edition takes a swipe at mesh chairs with a durable hybrid material that combines vinyl and polyurethane, making it more breathable than most faux leather fabrics. Meanwhile, cold foam upholstery limits heat absorption and is far more resilient than other materials that lose their shape after extended use.
Too often the base of gaming chairs is overlooked, but Noblechairs realizes what a critical element this part of a chair is. The Epic Black Edition has a black powder-coated base that compliments the steel construction of the rest of the chair and supports a weight of up to 265 lbs. The only surprising drawback of the chair is a 2-year warranty, which seems rather limited considering the quality of parts used in the Black Edition. Regardless, the Noblechairs Epic Black Edition is the best gaming chair for Esports participants or office workers.
MORE: The Best Graphic Cards You Can Buy In 2023
FAQ
Q: Can I use a gaming chair at the office?
Yes, absolutely, gaming chairs are an excellent add-on for your office needs. There are multiple options that are not too flashy or too distracting and allow users to benefit from both, excellent build quality and gaming-specific features and add-ons such as neck pillows.
Q: Do gaming chairs actually make you better?
While gaming chairs may not increase your KDA, they are built with ergonomics in mind to help support your back and keep your posture straight. Keeping a good posture helps with blood flow, which then may help keep you alert and productive.
Q: What makes a gaming chair ergonomic?
Most premium gaming chairs have ergonomic qualities. Compared to cheaper office chairs, ergonomic chairs have a backrest that accommodates the shape of a spine and are more comfortable sitting in for long periods of time. Ergonomic gaming chairs also commonly offer additional lumbar support and adjustable arm rests.