In the words of Paula Abdul and MC Skat Kat, opposites attract. Perhaps that kernel of wisdom can explain the recent announcement that Final Fantasy XIV—an epic, fantasy MMORPG—is crossing over with Fall Guys—a colorful, small-scale battle royale—in a future update.
HD-2D, The Unique Retro-Inspired Art Style, Took Off In 2022
Final Fantasy XIV was a giant disaster when it first launched in 2010. However, following a complete shutdown of the original version in 2012, FFXIV was reworked into a better game known as Realm Reborn in August 2013, which was received much better by fans and critics. Since then, the game has received numerous updates and expansions, becoming one of the most popular MMOs in the world. And in the near future, the world of FFXIV will include Fall Guys content, for some odd reason.
The odd news was announced in Las Vegas by FFXIV producer and director Naoki Yoshida—known online as Yoshi P—during the first day of Square Enix's Final Fantasy XIV Fan Fest 2023 on July 28. While the team didn't release any videos or trailers of the Fall Guys content coming to the game, some screenshots were shared that show obstacle courses familiar to anyone who has played Epic's popular game show-like battle royale.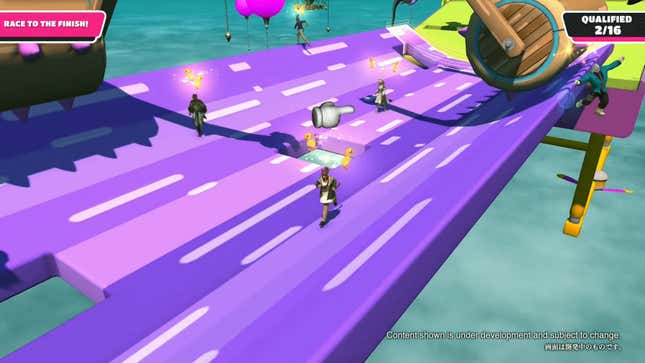 "These warriors of light are having a bit of a different time than usual," joked Yoshida on stage during the keynote.
According to the producer and director, the new content will support up to 24 players at once and is currently in development. This new Fall Guys-inspired content won't be added randomly to missions or in the open world, but will instead be added to the preexisting Golden Saucer, an in-game amusement park that contains mini-games for players to enjoy.
Yoshida further added that since it was given this opportunity the developer really tried its best to make the most of it. That's evident in the screenshots, which contain obstacles and platforms that look very accurate to what you would see in Fall Guys. Even HUD elements from the battle royale seem to be included in FFXIV's version.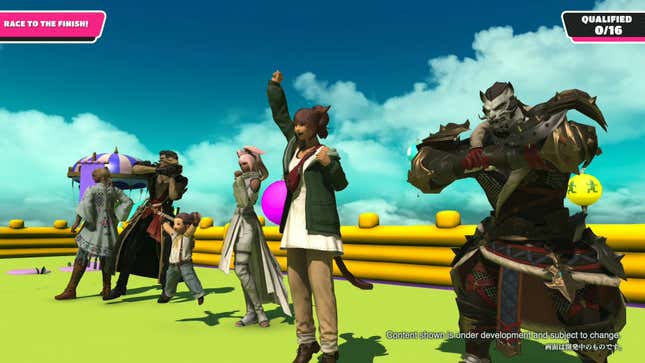 As for when you'll be able to play this, Yoshida promised the new mini-games would be included as part of the 6.5 updates sometime in September.
But if you really can't wait for that and you need some Fall Guys X Final Fantasy content in your life sooner than later, I've got some good news for your weirdly specific desire. On August 23, a Final Fantasy-themed battle pass will launch in Fall Guys and will run for six weeks. The update will include costumes based on iconic Final Fantasy characters and creatures, like Chocobos.
Now, somebody just needs to add MC Skat Kat to one of these popular online video games. Please. Oh, and in other news, FFXIV is coming to Xbox Series X/S consoles later this year.
    .