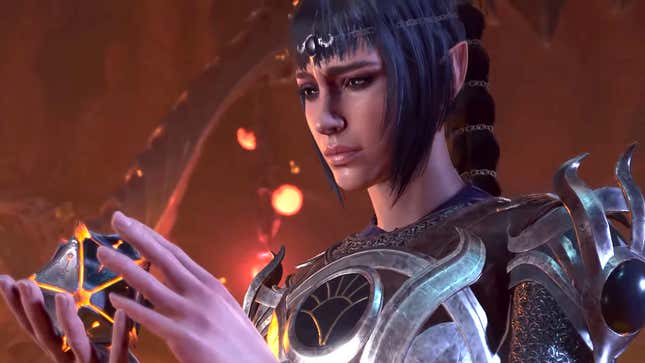 In a recent interview with the BBC, an actor in the upcoming fantasy role-playing game Baldur's Gate 3 revealed that developer Larian Studios used intimacy coordinators to help actors feel safe and comfortable when depicting the game's more intimate moments.
11 Minutes With Baldur's Gate 3's Character Creator
Read More: Baldur's Gate 3 Is A Massive RPG And That's A Big Deal Right Now
An intimacy coordinator, according to SAG-AFTRA, is "an advocate, a liaison between actors and production, and a movement coach and/or choreographer in regards to nudity and simulated sex and other intimate and hyper-exposed scenes." Essentially, intimacy coordinators coach actors and production companies about consent and boundaries when intimate scenes "involving nudity or simulated sex" are being shot. Their presence and input has become more common on film and TV productions in recent years, but this may be among the earliest examples of them being employed in the gaming space. (As the BBC story notes, intimacy coordinators were also on hand for the filming of certain scenes in last year's game Immortality.)
During the interview, actors Jennifer English (Shadowheart) and Devora Wilde (Lae'zel) revealed that developer Larian Studios utilized professional intimacy coordinators to aid Baldur's Gate 3's cast in feeling safe while motion capturing the game's many steamy and sometimes awkward romance scenes between male, female, and shape-shifting companions.
Despite conceding that acting out the fantasy RPG's narrative had its odd moments, English told the BBC that she "never felt 'yuck' in a recording session at all."
Developer Larian told the BBC that it believes it's among the first studios to use intimacy coordinators while working on a fully rendered video game, and it hopes other studios will do the same in the future.
11 Minutes With Baldur's Gate 3's Character Creator
11 Minutes With Baldur's Gate 3's Character Creator
Read More: Baldur's Gate 3 Has Everything: Polyamory, Bear Fucking, Blood Sacrifice
While Baldur's Gate 3 promises plenty of opportunities for romance of all kinds, the one example that's gotten the most attention so far is a clip of a love scene between vampire Astarion and shape-shifting druid Halsin, in bear form. Larian founder Swen Vincke has said that the steamy clip got the studio briefly banned from TikTok. Since the clip's release on July 7, BG3's Google search results exploded, with the "bear-mance" scene apparently piquing folks' curiosity about what else the Dungeons & Dragons game might have in store.