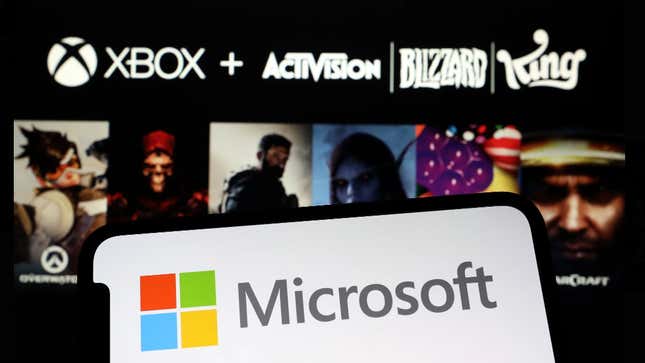 The U.S. Ninth Circuit Court of Appeals has denied the Federal Trade Commission's final request to pause Microsoft's takeover of Activision Blizzard, likely paving the way for the biggest-ever merger in gaming to finally move forward after a more than year-long regulatory saga.
The Open World Racing Game That's Been Gone For A Decade Is Coming Back
The FTC had sought to have the acquisition kept on hold ahead of a July 18 deadline while appealing a ruling from the Northern District of California that sided with Microsoft. It was the antitrust agency's last chance to stop the historic $69 billion merger that would see major gaming franchises like Call of Duty, World of Warcraft, and Candy Crush all become an extension of Xbox.
Regulators argued that the federal court had ignored evidence that Microsoft would have reasonable incentive to potentially make those franchises exclusives to its console and cloud gaming platforms in order to corner the market. Microsoft in turn blamed the FTC for using delay tactics and underselling a massive $3 billion breakup fee Microsoft would have to pay to Activision if the deal ended up not going through for some reason.
The Ninth Circuit will still handle that appeal, but denied the FTC's motion to block the merger until that ruling was made, giving Microsoft the greenlight to close its deal on July 17.
It's been a long journey up to this point, full of twists and turns, including abroad in the UK, the only country to block the deal so far. That country's Competition and Markets Authority (CMA) had denied the merger on the grounds that it would give Microsoft too much of an advantage in the nascent market of cloud gaming.
Following the FTC's initial court defeat earlier this week, however, the CMA announced it was back negotiating with Microsoft over new ways to resolve the antitrust conflicts. It's now extended its final deadline for approval of the deal into August, suggesting it's prepared to accept the tech giant's latest concessions.
While nothing's final until it's final, it now looks like Microsoft's shocking acquisition of one of the biggest game publishers in the world is about to become a reality, and will soon have the potential to completely reshape the video gaming landscape in the process. Or maybe Xbox owners will just get a bunch more free games on Game Pass. Time will tell.