Call of Duty: Warzone's season 4 Reloaded has recently arrived, and with it, numerous adjustments have been made to the well-known multiplayer title, including a reworking of the Ghost and Birdseye in-game perks. One of the most important changes in the new update involves the adjustment of the Ghost perk, considered to be the best perk in Warzone. This adjustment involves reducing its effectiveness by strengthening Birdseye, resulting in a powerful shift in the game's dynamics.
One of the most recognizable features in Call of Duty: Warzone is the game's perk system. With their aid, players can customize their playstyle to their tastes by selecting from a variety of perks to include in their loadout. The abilities can involve anything from improved walking speed to being able to carry two primary weapons at once. Of course, some of these can be better than others, as the meta can be subjected to constant shifts and adaptations. That being said, it is safe to say that the recent buff of Birdseye will significantly change the battle royale's landscape.
RELATED: Call of Duty: Warzone Tram Makes Fun of Player After Ruining Their Match
Apparently, Call of Duty: Warzone's developers wanted to better balance the perk skills, as they severely nerfed the Ghost perk by buffing Birdseye. The Ghost ability was considered the best one in the battle royale mode by quite a large number of players, as it allowed them to effectively hide from their opponents' minimap by becoming invisible to UAVs, heartbeat sensors, and even portable radars. However, as of right now, the Birdseye ultimate perk completely counters the effect of Ghost, as when employing the Birdseye perk and using a UAV, players will now see their enemies on their tactical map, even if they have Ghost equipped.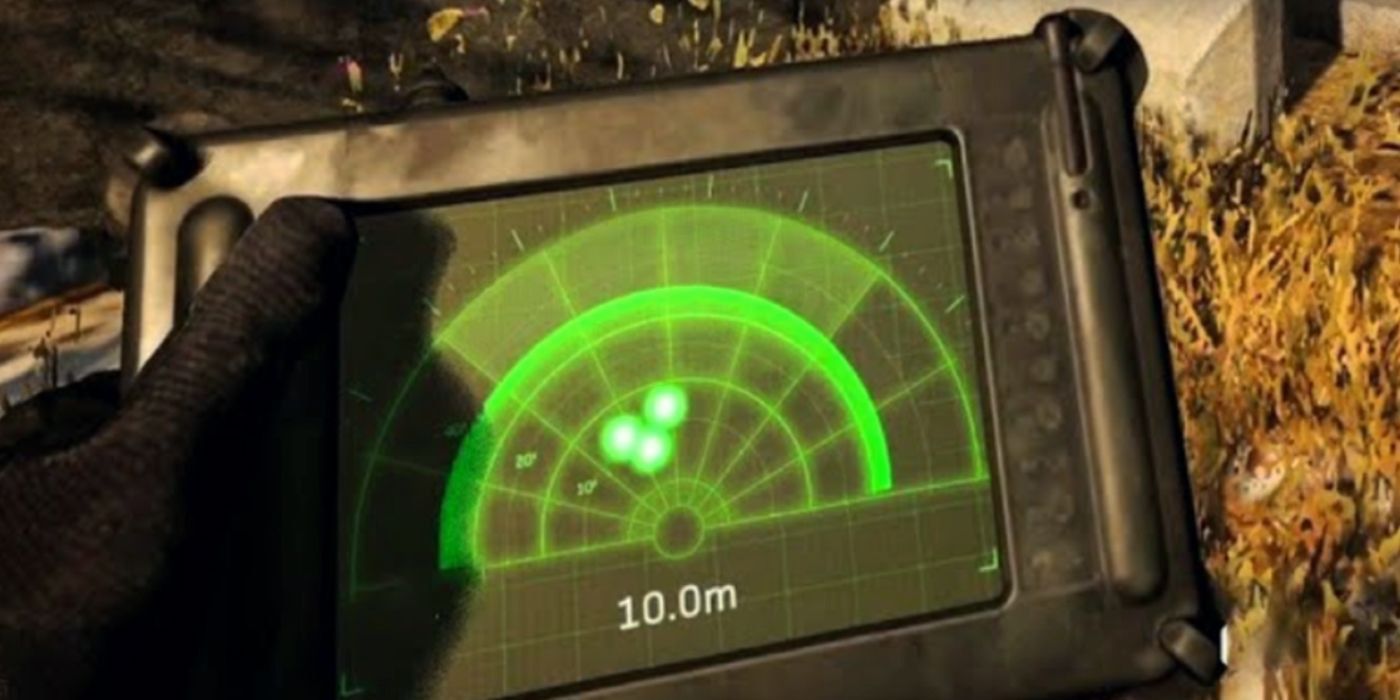 This change is meant to make Call of Duty: Warzone's gameplay more fast-paced, and may disappoint the portion of players who preferred to take a more cautious in-game approach, as they would rather silently camp in a spot in order to avoid unnecessary risks and observe the situation, instead of rushing into the heat of battle. On the bright side, these changes may also result in a more interesting and spectator-friendly experience for those viewing competitive Warzone matches or livestreams.
Aside from the perk changes, Call of Duty: Warzone's season 4 Reloaded also adds a plethora of new playable events, unlockables, and challenges for players to enjoy. In addition, the new season also sees the addition of three playable characters from the popular TV series The Boys. It seems like Warzone wants to up its ante and draw inspiration from Fortnite, its direct competitor, by making some exclusive marquee collaborations.
Call of Duty: Warzone Season 04 Reloaded Patch Notes
The Boys: Temp V Field Upgrades
Secure the W with superpowers while in the Warzone. Upon consuming the new Temp V Field Upgrade, Players are granted one of four random superpowers. These powers don't act like a usual Field Upgrade, though… Once you use Temp V, you're then free to activate this power whenever you wish. But if you're eliminated from combat before activating the power, then like a normal Field Upgrade, it is lost upon death.
The four different superpowers you can get from Temp V:
Charge Jump – This ability propels the Player across the map without suffering any fall damage and dealing splash damage in a radius when they land.
Electric Shockwave – This shockwave sends a powerful electrical explosion that injures Operators and AI Combatants, as well as destroys Vehicles and Equipment.
Laser Vision – This ability levitates the Player and fires an aimed laser beam that sears through enemy targets.
Teleport – This ability warps the Player straight up into the air.
Temp V is accessible in all Warzone Playlists, including DMZ, except Ranked Play. Temp V is limited in DMZ by effect (such as no Charge Jump) and scarcity.
MAPS
Map Updates
Vondel | Battle Royale
New Gulag

Unique to Vondel, this new Gulag is a three-lane map designed for 1v1 combat. The center features a circular structure with an opening facing the two main spawn points.
MODES
New Modes
Battle Royale Vondel

Encroaching Circle collapses, Loadout Drops, the Gulag, and limited chances at being the last Squad standing. The traditional Battle Royale experience comes to Vondel with up to 72 Players per match
GENERAL
Map Rotation

A 15 minute in-game timer has been added to the Playlist menu that now indicates when specified Resurgence Modes switch between Ashika Island and Vondel.

Starting with Resurgence Trios, the map will rotate every 15 minutes between Ashika Island and Vondel. This feature will give players an opportunity to enjoy the wide offering of maps and modes that Warzone has. We will closely monitor this feature and may look to expand upon it in future.

Firing Range Quality of Life

Players now have the option to apply 0/1/2/3 Armor Plates on Target Dummies via settings in the pause menu.
GAMEPLAY
New Features
All Maps | All Modes
Armor Plate Carriers Equipment

Armor Plate Carriers will now drop when an enemy player is eliminated.
Added 3 new types of Armor Plate Carriers:

Medic

A common Armor Plate Carrier that increases the speed at which Players are able to revive downed Squad members.
Increases the speed at which health begins to regenerate.

Comms

An uncommon Armor Plate Carrier that increases the effectiveness of UAVs by showing the enemy Player's bearing on the minimap.

Stealth

A rare Armor Plate Carrier that protects the Player from UAVs and other targeting devices.
Al Mazrah | Battle Royale
Cash Drop Public Event

This new event will spawn 3 planes that will drop a combined total of 12 crates across the map.
Each crate will spawn ~$10,000 in Cash and between 2-4 randomized Armor Plate Carriers.
This event has a chance to occur during the 3rd and 5th Circles.
Vondel | All Modes
Personal Redeploy Drone (P.R.D.) Field Upgrade

The Personal Redeploy Drone is an instant-use piece of equipment that, when used, will propel and carry the player into the air before releasing them.
Vondel | Battle Royale, Resurgence
Signals Intelligence Contract

Players will be required to track down and hack three different phones to earn rewards over a short duration of time.
Each living Squad member will receive a total of 10 payments of $500 for a potential total of $5,000 over 3 minutes and 20 seconds.
Occupation Scan Public Event

Occupation Scan is back! Make sure to go prone or dive underwater when the scan is about to begin otherwise your position will be revealed.
All Maps | Resurgence
Communal Stations Public Event

Once Resurgence is disabled, a series of Deployable Buy Stations will drop onto the field at random for any Player to use.
Adjustments
All Maps | All Modes
Armor/Ammunition Boxes Quality of Life

Lethal and Tactical Equipment refill behavior will now match Ammunition.
Armor and Ammunition Boxes will now drop additional items that do not fit into the active Loadout slots to the ground – leaving Players to choose whether or not to stow them in the Backpack.
Gas Mask Quality of Life

The Gas Mask animation that automatically starts while Players are airborne will be interrupted if a Player decides to pull their parachute.
Birdseye Perk

When using a UAV in combination with Birdseye, Players under the effect of Ghost are now revealed to that Player.
We want to provide a hard counter to Ghost to offer more variety in the rock-paper-scissors encounters of Battle Royale and open up more play styles.
Medicine Cabinets

Reduced the number of Stims that spawn from Medicine Cabinets to 1, down from 2.
All Maps | Battle Royale, Resurgence
Gas Damage

Players will now see an increase in the damage dealt to them over time the longer they remain in the Gas.
While we admire 1000IQ Gas plays, we don't support camping in the gas. Fortune should always favor players inside the circle, in order for us to all better appreciate and respect the occasions when a player does execute a tremendous Gas play.
All Maps | Battle Royale
Redeployment Elevation

The elevation at which Players redeploy to the field will now reduce by 9% of the initial elevation each circle.
This reduction stops at Circle 8 and remains constant for the remainder of the match.

The total difference in height from the start of the match until the last adjustment is approximately 60%.
We have seen an increase in players staying in an airborne state to exploit the aerial advantage in order to obtain a better final placement. We feel this goes against the spirit of a Battle Royale experience, so by lowering the redeployment height with each circle closure we will see a better representation of fairness between being airborne vs. being on the ground.
Vondel | All Modes
Cash Increase

The minimum amount of Cash that Players will find has been increased to $500, up from $100.
This applies to all sources of loot including Cash Registers and Supply Boxes.
WEAPONS
To reiterate the Weapon adjustments that specifically impact Warzone:
At the launch of Season 04, Weapons in Warzone saw a significant change to their damage profiles, which resulted in an overall increase to the duration of engagements. With Season 04 Reloaded we are placing a bigger emphasis on accuracy in gunfights. To achieve this, every Weapon has had its Warzone damage profiles adjusted to fit into this new balance paradigm with additional attention given to the most dominant Weapons. While this change will result in a wider range of Time to Kill values, meaning some Weapons will be able to kill faster when more accurate, and slower when not—it allows Weapons the necessary space to feel more distinct and promotes a healthier ecosystem where each Weapon class can excel.
WARZONE RANKED PLAY
New Season 04 Reloaded Restrictions
UI/UX
Armor Plate Count Quality of Life

Players will now be able to view the total number of unequipped Armor Plates that they are carrying on the Squad widget.
Backpack Quality of Life

Players will now see a "Backpack [Full]" notification on the bottom center of their UI for ease at a glance of Backpack state
Buyback Value Quality of Life

The amount of Cash that an eliminated Player will respawn with upon redeployment will be now indicated to the right side of the Squad widget.
Champion's Quest Quality of Life

Rewards now show in the After Action Report upon successful detonation of the nuke.
Killcam Recap Quality of Life

Eliminated Players will now see a summary of the enemy Players that contributed to their death.
This will include the number of shots that made contact per Player.
Resurgence Improvements Quality of Life

General improvements to the Resurgence Mode interface, especially while Spectating.
The Squad widget has also been improved to better indicate that a Squad member redeployment is imminent.
New "Ask to be Cautious" Ping

Players can now ping their living Squad members when the majority of the team has been eliminated to suggest cautious play to avoid a wipe.
BUG FIXES
Fixed an issue that was causing Players to spawn outside of the playable area.
Fixed an issue that allowed Players in an active Gulag match to eliminate spectators using the Semtex Grenade.
Fixed an issue that allowed Squads to earn experience by shooting down their own Deployable Buy Stations.
Fixed an issue that caused Players to redeploy with items in their Backpack, subsequently causing the Backpack to stop working.
Fixed an issue where the After Action Report was missing after leaving a match of Lockdown.
Fixed an issue where sometimes Players would get a Bounty Contract for another Player that is in the Gulag.
Fixed an issue where dropped Riot Shields from caches couldn't be equipped.
Fixed an issue where dying at the same time as the Resurgence window being disabled allowed Players to keep respawning.
Fixed an issue where Players might lose their ammo counter after using the Redeploy Drone.
Fixed an issue where backing out of Warzone Battle Royale Ranked private match would leave weapon restrictions on when returning to standard Battle Royale.
Fixed an issue where the Gas Mask overlay could stay on screen after death.
Call of Duty: Warzone is currently available on PC, PS4, PS5, Xbox One, and Xbox Series X/S.
MORE: Call of Duty: Warzone Caldera Deserves a Finale Like Verdansk
Source: Call of Duty