Since its release, The Super Mario Bros. Movie, directed by Aaron Horvath, Michael Jelenic, Pierre Leduc, and Fabien Polack, has assumed a divisive position in the modern zeitgeist. Critics were quick to lambast the feature, while fans were equally as swift in lionizing it. As a lifelong fan of Mario, having played nearly every game in the franchise, I was curious about where my opinion would land. I did not expect to disagree with both critics and fans.
The Super Mario Bros. Movie is not terrible, far from it. It is a visually vibrant adventure that is also unexpectedly funny. But it's certainly not great. It's not even good, strictly speaking. Screenwriter Matthew Fogel created derivative characters and a paper-thin plot. This fantasy action film is utterly generic, a cinematic blank space that neither offends nor thrills.
Brothers Mario (Chris Pratt) and Luigi (Charlie Day) are two plumbers living in Brooklyn. One day, while attempting to fix a broken water main, they are unwittingly transported to a fantastical realm. In their descent through the magical portal, the siblings are separated. Lugi lands in a lava-laden land filled with scary creatures. Mario ends up in the Mushroom Kingdom and must aid Princess Peach (Anya-Joy Taylor) in her fight against the nefarious Bowser (Jack Black) in order to get his brother back.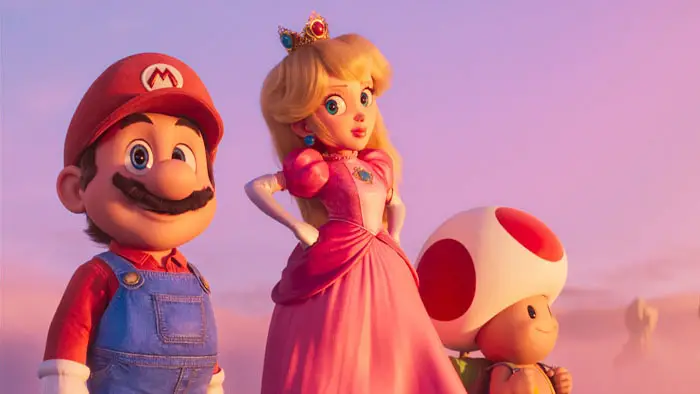 "…[Mario] must aid Princess Peach in her fight against the nefarious Bowser in order to get his brother back."
In commissioning Illumination to produce The Super Mario Bros. Movie, Nintendo inadvertently opened a Pandora's box of Americana. In some aspects, this was beneficial. The animation is wonderful, with a surfeit of resplendent, candy-colored environments. Further, the voice acting is reasonably well done, with Black serving as a genuine revelation as Bowser. However, some of the creative choices are inexplicably poor. The decision to integrate commissioned music into the proceedings, rather than relying fully on an orchestral score, awkwardly distorts the experience. While such a choice has worked for tonally irreverent movies like Shrek, it proves awkward in a film that, while it has humor, takes its story seriously on a certain level.
And yet, the worst aspect, by far, is the hollow narrative. The feature exists exclusively to satisfy an endless list of referential checkboxes. For instance, Donkey Kong shows up, but his presence is wholly incidental to the plot. Another section is inconsequentially devoted to Mario Kart. While tips of the hat are welcome, and a few land with poignancy, they are no substitution for an actual story. Illumination has contrived from the most visionary video game ever made something strictly superficial.
For their part, fans have rhapsodized the dizzying volume of easter eggs as an indicator of quality. But that is akin to considering the movie a success simply because Mario is in it. In fact, the titular brothers are somewhat redundant in their own features. Luigi is mostly absent from the proceedings, and Mario is rendered superfluous by Peach's unerring self-sufficiency. Ironically, the one reference most vital to the video game is the one absent from the film: Mario never actually saves Peach.
All of these elements, when combined, make The Super Mario Bros. Movie a rather forgettable affair. Almost impossibly, this is a flick without inspiration. While the 1993 Super Mario Bros. is remembered for how laughably bad it was, this 2023 adaptation, though less egregious than its predecessor, will barely be remembered at all.