Bandai Namco Filmworks released the first official promo for Mobile Suit Gundam: Seed Freedom, the long-awaited sequel to MSG: Seed Destiny.
As detailed on Anime News Network, the studio unveiled the promo on July 2, along with new staff details and the film's release date. On Twitter, Anime Trending (or @Anitrendz) shared the teaser, which spotlights returning protagonist Kira Yamato from the 2004 MSG: Seed Destiny TV series. Bandai also unveiled a new piece of promotional art for the film, which is scheduled to debut in Japanese theaters on January 26.
RELATED: 10 Best Mecha Manga Of All Time, Ranked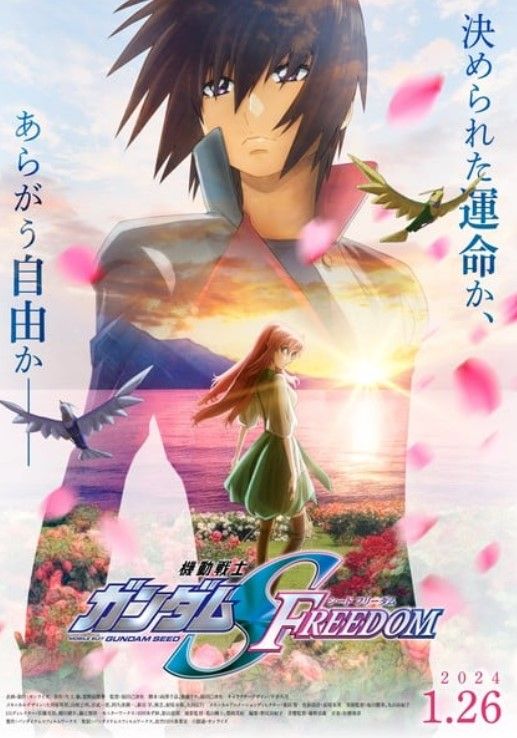 MSG: Seed Destiny Director Mitsuo Fukuda announced the MSG: Seed Freedom film project back in 2021, confirming that its plot would pick up after the events of the last major installment of the Mobile Suit Gundam Seed subseries. Set in Cosmic Era 73, MSG: Seed Destiny revolves around the aftermath of a forced peace treaty between the "Naturals" and the "Coordinators," the two major sects of humanity in this timeline. As tensions between the two groups continue to rise, an Alliance special forces team attacks a major ZAFT (Zodiac Alliance of Freedom Treaty) military base and steals three elite-level Gundam suits. It then falls upon two young pilots named Shinn Asuka and Athrun Zala to retrieve the suits, while also stopping the flames of war from reigniting between the Naturals and the Coordinators.
Seed Freedom is the Long-Awaited Sequel to Seed Destiny
Mitsuo Fukuda co-wrote the script for MSG: Seed Freedom with his late wife, Chiaki Morosawa, who also helped craft the narratives for Seed and Seed Destiny. Liu Goto, author of the MSG: Seed light novel, is also credited as a screenwriter. Other newly revealed staff members include Character Designer Hisashi Hirai, Mechanical Animation Director Satoshi Shigeta, and Art Directors Shigemi Ikeda and Yukiko Maruyama. Each of these artists previously worked on MSG: Seed and MSG: Seed Destiny. Soichiro Hoshi and Kenichi Suzumura will be reprising their roles as Kira Yamato and Shinn Asuka, respectively. Akira Ishida will also return as Athrun Zala.
RELATED: 10 Best Anime Subgenres Of All Time, Ranked
MSG: Seed Freedom is part of a larger initiative to commemorate the 20th Anniversary of the MSG: Seed anime series, which originally aired from October 5, 2002, to September 27, 2003. This initiative includes an MSG: Seed video game and the side-story manga MSG: Seed Eclipse. Created by Atsushi Soga and SOW, this manga revolves around three teenage Gundam pilots working as members of an international rescue organization known as ODR, or the "Orb Disaster Relief Team." MSG: Seed Eclipse launched in Gundam ACE magazine in July 2021.
While awaiting the international release of Seed Freedom, Gundam fans can find Seed Destiny and other installments of the Gundam series on Crunchyroll.
Source: Twitter, Anime News Network