KurveyGirl.com brings you the results of this weekend's events.

At our online motorcycle parts store, you'll find a specialized selection of quarter turn "Dzus" fasteners, titanium hardware, premium tire valve stems, Vesrah racing brake pads, Brembo parts and accessories, and other unique hardware specifically designed for race and trackday motorcycles.
Cameron Beaubier earned provisional pole position during MotoAmerica Medallia Superbike Qualifying One (Q1) Friday afternoon at WeatherTech Raceway Laguna Seca. Riding his Tytlers Cycle Racing BMW M 1000 RR, Beaubier lapped the recently repaved 2.2-mile, 11-turn course in 1:23.489, which is very close to the fastest race lap from 2022, Jake Gagne's 1:23.443.
Second-best in the session was Beaubier's teammate PJ Jacobsen, who did a 1:23.833, and Richie Escalante earned the third and final spot on the provisional front row with a time of 1:23.856 on his Vision Wheel M4 ECSTAR Suzuki GSX-R1000R.
The 40-minute session was cut short by four minutes when Mathew Scholtz pulled his smoking Westby Racing Yamaha off to the side of the front straightaway, bringing out the red flag.
23_7_LAGUNA_SBK_Q1_res
More, from a press release issued by MotoAmerica:
Beaubier Top Dog On Ultra-Close Day One At WeatherTech Raceway Laguna Seca
Seven Riders On The Same Second In Medallia Superbike Q1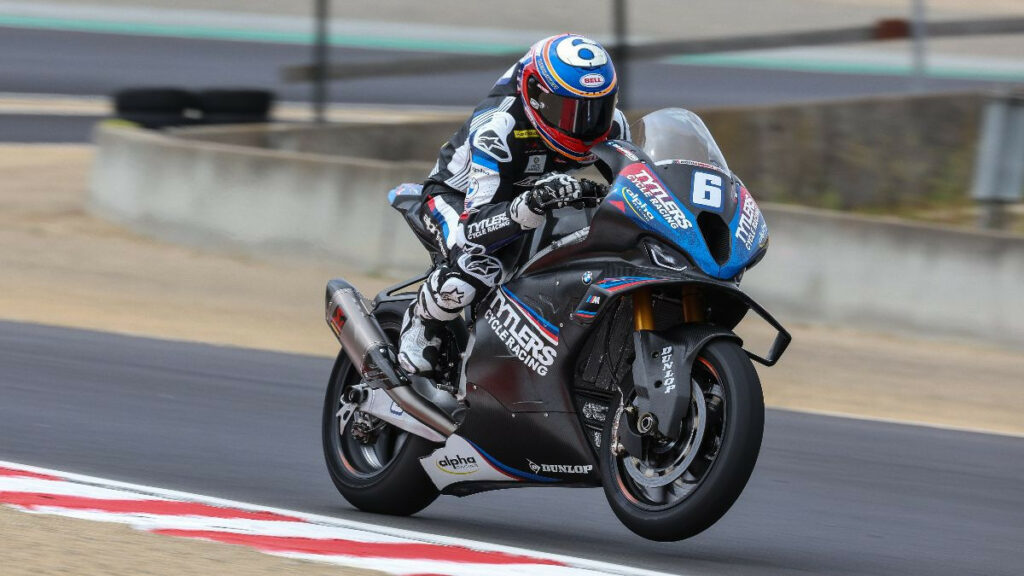 MONTEREY, CA (July 7, 2023) – Six of the Medallia Superbike riders are within a second of provisional pole man Cameron Beaubier after the first of two qualifying sessions at WeatherTech Raceway Laguna Seca on Friday afternoon, throwing doubt into tomorrow's first of three races on the newly repaved racetrack on the Monterey Peninsula.
Beaubier's best lap was his eighth on a chilly and breezy Friday afternoon, the five-time MotoAmerica Superbike Champion lapping at 1:23.489 to top his Tytlers Cycle Racing teammate PJ Jacobsen by .344 of a second. Vision Wheel M4 ECSTAR Suzuki's Richie Escalante was fast all day and that didn't stop in Q1 as he sped to a 1:23.856 to land on the provisional front row. Escalante was the final rider to circulate in the 1:23s.
Westby Racing's Mathew Scholtz was fourth fastest, .682 of a second off Beaubier's best and just .012 of a second ahead of Warhorse HSBK Racing Ducati Racing's Josh Herrin.
Championship leader Jake Gagne not on the provisional front row is a surprise. Gagne barely making it on the second row is downright shocking, but that's where he ended up on the session that was shortened by some five minutes with a red flag.
Gagne's Fresh N Lean Progressive Yamaha Racing teammate Cameron Petersen ended the session in seventh and the last rider on the same second as Beaubier.
Vision Wheel M4 ECSTAR Suzuki's Brandon Paasch completed his first Q1 session on the team's second GSX-R1000R in eighth, the youngster adapting quickly to the Superbike left vacated by Toni Elias' surprise retirement.
Tytlers Cycle Racing's Corey Alexander and Disrupt Racing's Hayden Gillim rounded out the top 10.
Supersport – La Mesa
Tytlers Cycle Racing's Stefano Mesa led Friday's Supersport Q1 session with his 1:27.577 lap besting Squid Hunter Racing's Josh Hayes by just .240 of a second to earn the Floridian provisional pole position.
The provisional front row was completed by Vision Wheel M4 ECSTAR Suzuki's Tyler Scott with the youngster lapping at 1:28.053, which was just a tick quicker than North East Cycle Outlet Racing's Anthony Mazziotto.
Scott's teammate Teagg Hobbs ended the session fifth-fastest with Xavi Fores sixth, the championship leader (with seven straight wins) just over a second off Mesa. Fores had the first crash of his rookie MotoAmerica season on Thursday and was struggling with front-end grip and a lack of confidence.
REV'IT Twins Cup – Landers Time
Robem Engineering's Rocco Landers led the way in the REV'IT! Twins Cup Q1 session at WeatherTech Raceway Laguna Seca on Friday with the 2021 Twins Cup Champion lapping at 1:30.741 to better Rodio Racing – Powered By Robem Engineering's Gus Rodio by half a second.
The WagBar MP13 Racing Team's Kayla Yaakov ended the day third fastest, 1.8 seconds behind Landers' best and just .005 of a second ahead of Cycle Tech's Hayden Schultz. Trackday Winner/Blackmon Racing's Jackson Blackmon rounded out the top five.
Mission King Of The Baggers – Wyman On Top
H-D Screamin' Eagle's Kyle Wyman was the King of Friday's Q1 session in the Mission King Of The Baggers class as the 2021 class champion lapped at 1:28.586 to top the timesheets.
Vance & Hines/Mission/Harley-Davidson's Hayden Gillim was second fastest and just .423 of a second slower than Wyman. The provisional front row was filled by Indian Motorcycle/Progressive/Mission Foods-backed Tyler O'Hara with the defending Mission King Of The Baggers Champion .616 of a second off Wyman's best.
Gillim's teammate James Rispoli, meanwhile, was fourth with Roland Sands Design/Indian Motorcycle's Kyle Ohnsorg rounding out the top five.
Mission Super Hooligan National Championship – McWilliams!
Indian Motorcycle/Progressive/Mission Foods' Jeremy McWiliams had his first Mission Super Hooligan National Championship win taken away from him two weeks ago at Ridge Motorsports Park when he and teammate Tyler O'Hara were protested and ultimately DQ'd for a technical infraction.
Judging by his performance in Friday's Q1 session, it might not be a good idea to make McWilliams angry as the Northern Irelander put a whuppin' on the rest of the field with his 1:29.298 almost a second quicker than DiBrino Racing KTM's Andy DiBrino.
O'Hara ended the session third fastest and 1.3 seconds slower than his teammate McWilliams.
Former Superbike race winner Larry Pegram made his Super Hooligan debut a good one as he rode his Roland Sands Design/Indian Motorcycle FTR1200 to the fourth fastest time in his first race of any kind in 2023. Team Saddlemen's Cory West was fifth fastest on his Harley-Davidson Pan America.
More, from a press release issued by Ducati:
Herrin and Forés Battle on at Laguna Seca
Sunnyvale, Calif., July 7, 2023 — Warhorse HSBK Racing Ducati NYC duo Josh Herrin and Xavi Forés enjoyed mixed fortunes as MotoAmerica made its only California stop on the 2023 tour.
It was a positive day for Herrin as the Californian resident put a small crash behind him at the beginning of the second session to crank out 16 laps of the 2.23 mile venue, finishing the day a positive fifth place despite the second session being red flagged.
For Forés, the Spanish star endured a tough MotoAmerica baptism of Laguna Seca. After a crash during the Thursday tire test, Forés was determined to put in 11 laps on the Panigale V2 as the team attempts to sort out front-end issues surrounding the quick release system that must be run for the long distance Supersport race.
Despite this, Forés is in a positive mood as he attempts to keep his undefeated win streak going at a venue he's fared well at in the past during his WorldSBK days.
Superbike Qualifying 1 Results – Top 5
P1 – Cameron Beaubier (BMW) 1:23.489
P2 – PJ Jacobsen (BMW) 1:23.833
P3 – Richie Escalante (Suzuki) 1:23.856
P4 – Mathew Scholtz (Yamaha) 1:24.171
P5 – Josh Herrin (Ducati) 1:24.183
Supersport Qualifying 1 Results – Top 5
P1 – Stefano Mesa (Kawasaki) 1:27.577
P2 – Josh Hayes (Yamaha) 1:27.817
P3 – Tyler Scott (Suzuki) 1:28.053
P4 – Anthony Mazziotto (Yamaha) 1:28.070
P5 – Teagg Hobbs (Suzuki) 1:28.206
P6 – Xavi Forés (Ducati) 1:28.664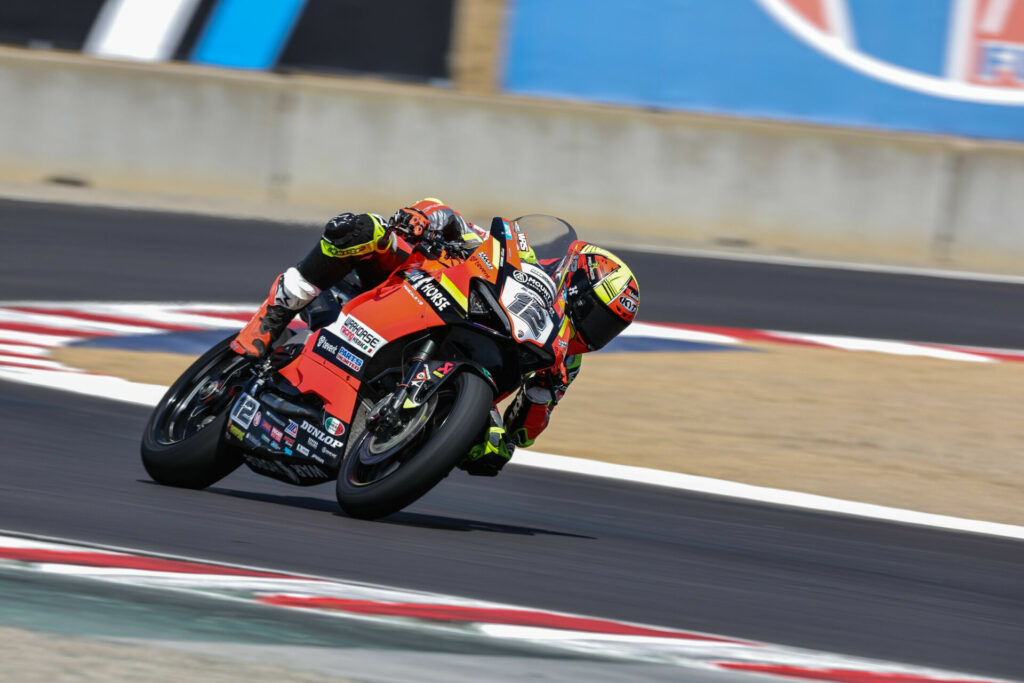 Xavi Forés (Warhorse HSBK Racing Ducati NYC – #12)
"It was tough today," Forés said. "Not because in terms of position, but I didn't feel great with the bike. I'm missing the connection with the front-end, so it's hard to hold the brake in the last part of the turn and even when I carry the corner speed, we are losing the front. It's a similar problem we had in Barber because we used a different fork which I think is a bit longer for the quick-change tire, so possibly it's something related to that. We need to work on this because we must use this fork for the long race. But the pace was ok. Low '28s is good on used tires and we have two sets for the second qualifying to use so we will be ready."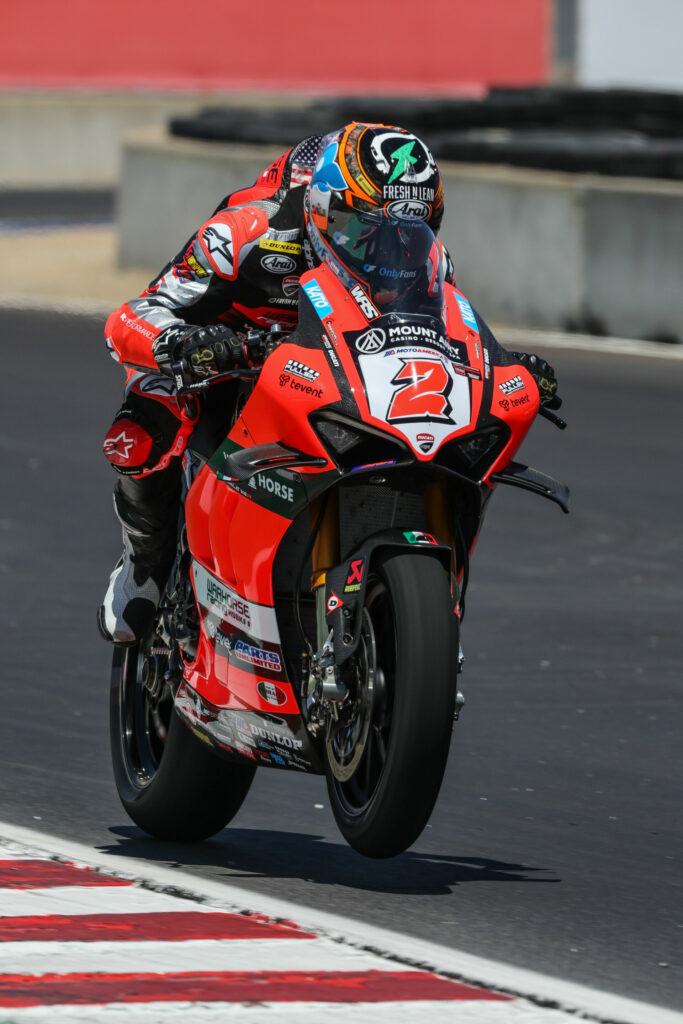 Josh Herrin (Warhorse HSBK Racing Ducati NYC– #2)
"Today was really good," Herrin started. "I'm happy with how it went. In the first session, I got up to speed really quickly, but in the second session, I ran into the gravel at turn one and tipped over. It took a couple of laps to get the confidence back in the tires again because it took about two minutes to get the bike sorted so the tires lost a lot of temperature.
Once I was up to speed, things started to go good. Cameron (Beaubier) threw down a great lap time so I knew we needed to go quicker, but I spent about 13 laps just doing a race simulation. Then I went out on a second set of tires and had my best first split time, but then the session was red flagged. We left a lot on the table but it's good to know we have the pace to run at the front."
Saturday is a big day as on track action commences at 8:30 am with Forés taking to the track for Qualifying 2 at 9:50 am. Herrin will hit the blacktop for Superbike Qualifying 2 at 10:35 am. The first of three Superbike races will commence at 2:10 pm with the single long distance Supersport race of 38 laps scheduled for 5:00 pm PST.