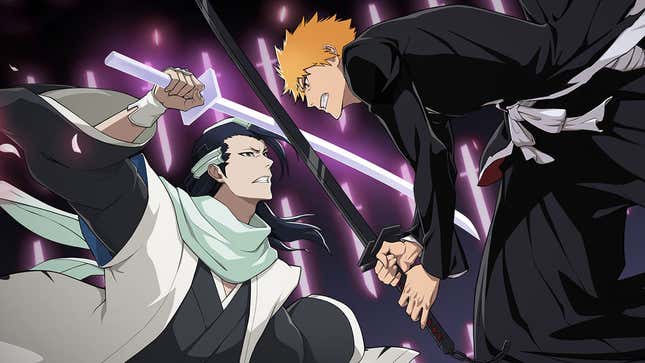 Coming off the heels of Bleach's upcoming season of Bleach: Thousand-Year Blood War is the announcement that the popular supernatural sword-fighting anime is also receiving a new video game that looks pretty stunning and action-packed.
An Anime That Might Make You Put Your Minecraft Bed Next To Someone
Bleach: Soul Resonance is a 3D-action role-playing game that appears to play similarly to games in the Naruto Ultimate Ninja Storm series or the upcoming Jujutsu Kaisen game, Jujutsu Kaisen Cursed Clash. According to the game's website, players will experience a "low-latency combat experience with weapons and swords" and engage in strategic battles "with familiar faces on a battlefield full of blades." The last Bleach video game to release in the U.S. (outside of Bandai Namco's delisted Shonen Jump crossover game Jump Force) was Bleach: Soul Resurrección in 2011 for the PlayStation 3. Bleach: Soul Resonance is being published by Nuverse (Marvel Snap) and is currently still under development. You can check out the announcement trailer for Bleach: Soul Resonance below.
Nuverse
Unlike its fellow "big three anime" series, Naruto, Bleach hasn't had a notable run of licensed video games that resonate with fans quite like the Naruto Ultimate Ninja Storm series. However, the early cutscene and gameplay footage shown off in Bleach: Soul Resonance's announcement trailer, looks to change that.
Outside of having pretty clean-looking 3D models of the anime's titular characters, Bleach: Soul Resonance appears to be following the show's Soul Society and Hueco Mundo arcs—its first two major storylines. In it, protagonist Ichigo Kurosaki wages war against the entire Soul Society and Arrancars to rescue his kidnapped friends Rukia and Orihime.
Right off the bat, Bleach: Soul Resonance nails emulating the anime's big-fight feel in its early gameplay footage by recreating iconic moments from Ichigo's hard-fought bouts against the blood-hungry Kenpachi Zaraki and the stoic Byakuya Kuchiki. Both gameplay snippets look pretty promising despite being from an early build of the game. The trailer even plays Ichigo's catchy theme song "Number One" by Shiro Sagisu and Hazel Fernandez which is always a nice touch to get fans excited to see some action. Time will tell whether Bleach: Soul Resonance will finally give the beloved anime series the Naruto Ultimate Ninja Storm treatment or if it'll be just another underbaked licensed video game.