When Nintendo first released Super Smash Bros. on Nintendo 64 in 1999, it stood out from other fighting games at the time. While arcade fighters like Street Fighter and Mortal Kombat prioritized complex directional inputs and speed, Super Smash Bros. was designed for the casual fighting game fan, turning it into one of Nintendo's most successful franchises.
Related: Super Smash Bros: Best Final Smashes In The Game
As Super Smash Bros. has grown and evolved on future generations of consoles, game developers have taken lessons from it in designing their own fighting games. Whether they're by independent developers or big video game studios, these ten games blatantly carry over the Super Smash Bros. formula with different characters or quirks to differentiate them.
10
Nickelodeon All-Star Brawl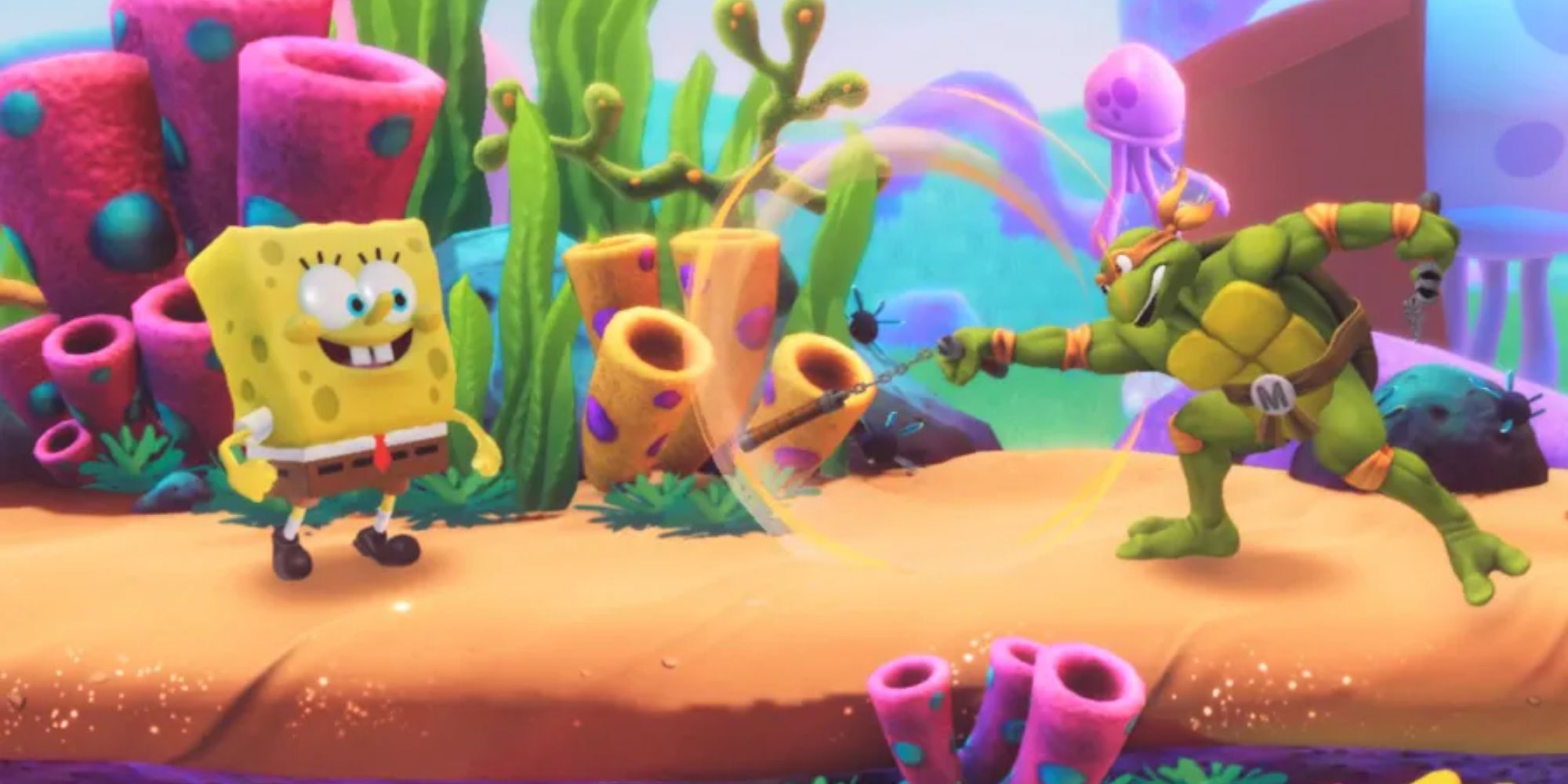 A fairly recent addition to the canon of Super Smash Bros. clones is Nickelodeon All-Star Brawl, which released in 2021 for PC, Nintendo Switch, PlayStation consoles, and Xbox consoles. While its controls and design greatly resemble Nintendo's all-star fighter, this fighting game brings in characters from the past and present of Nickelodeon's cartoon library.
From SpongeBob SquarePants to Aang to Lincoln Loud, many generations of Nickelodeon characters are represented in the roster. Additionally, Nickelodeon-owned properties like Teenage Mutant Ninja Turtles and Garfield are also represented in the game. Many critics praised it as one of the best Smash clones, despite some glaring flaws upon release.
9
Brawlhalla
Brawlhalla debuted on PC and PS4 in 2017, later receiving ports on consoles like Xbox One and Nintendo Switch. In terms of Super Smash Bros. clones, Brawlhalla features the most expansive cast with 58 playable characters, all of whom can utilize a different combination of weapon types including Axe, Bow, Hammer, Orb, Blasters, and Spear, among others.
Although the game's roster features many original characters, they also contain recognizable fighters from other games, including Rayman, Ezio from the Assassin's Creed franchise, and Simon Belmont, who also appears in Super Smash Bros. Ultimate. However, most of the roster consist of characters inspired by various mythologies around the world.
8
MultiVersus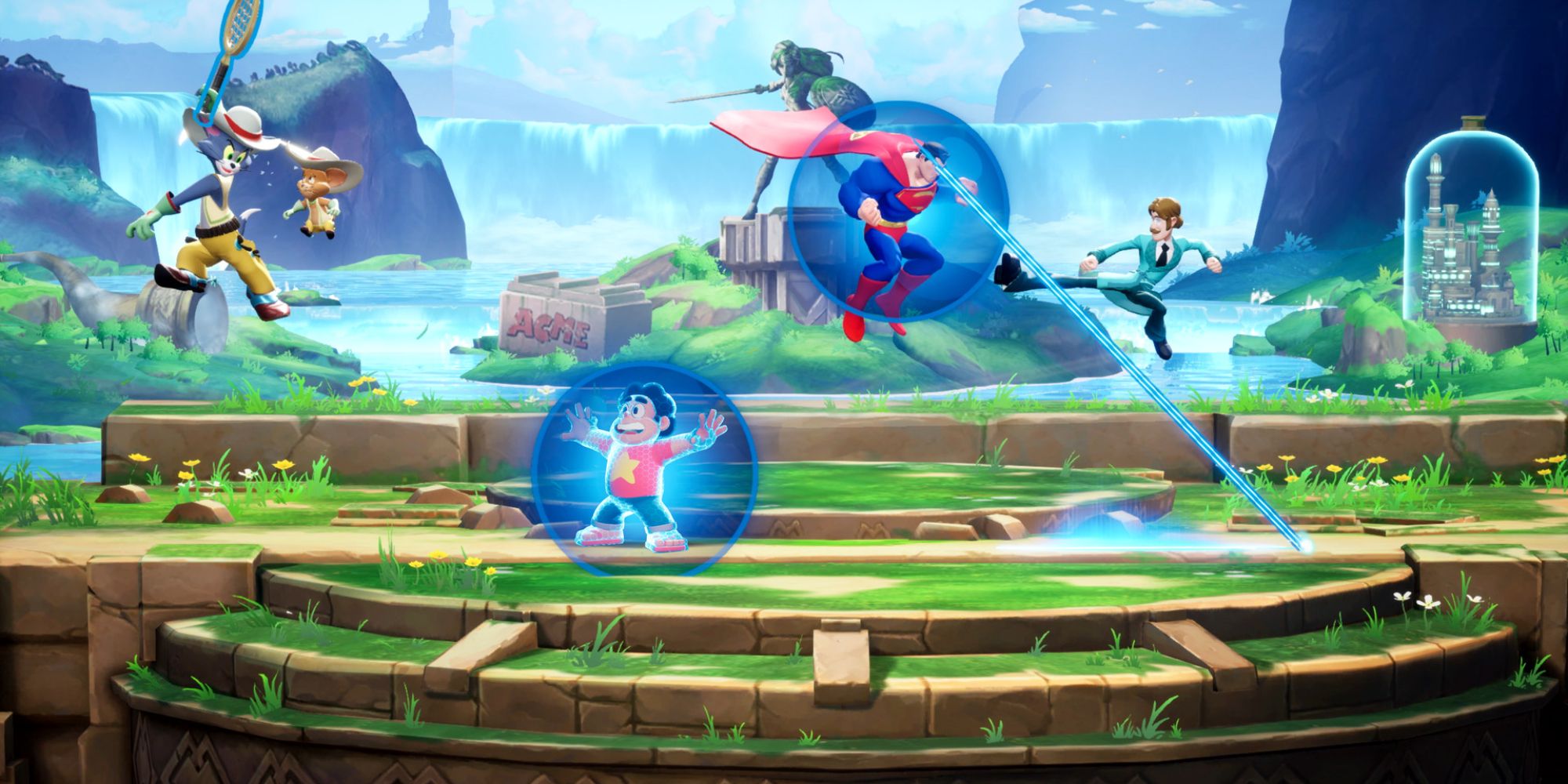 Although the full version of MultiVersus isn't set to release until 2024, early access and beta versions of the game have given fans an idea of what to expect from this Smash clone. Like Super Smash Bros. and Nickelodeon All-Star Brawl, MultiVersus is a crossover fighter with characters broadly limited to franchises owned by Warner Bros. Entertainment.
Related: MultiVersus: Cartoon Network Characters Perfect For The Roster
Among the confirmed roster of MultiVersus includes the likes of Batman, Finn from Adventure Time, Bugs Bunny, Rick Sanchez, Arya from Game of Thrones, and Tom & Jerry. The roster even includes LeBron James, who represents the 2022 film Space Jam: A New Legacy, which was also produced by Warner Bros.
7
Rivals Of Aether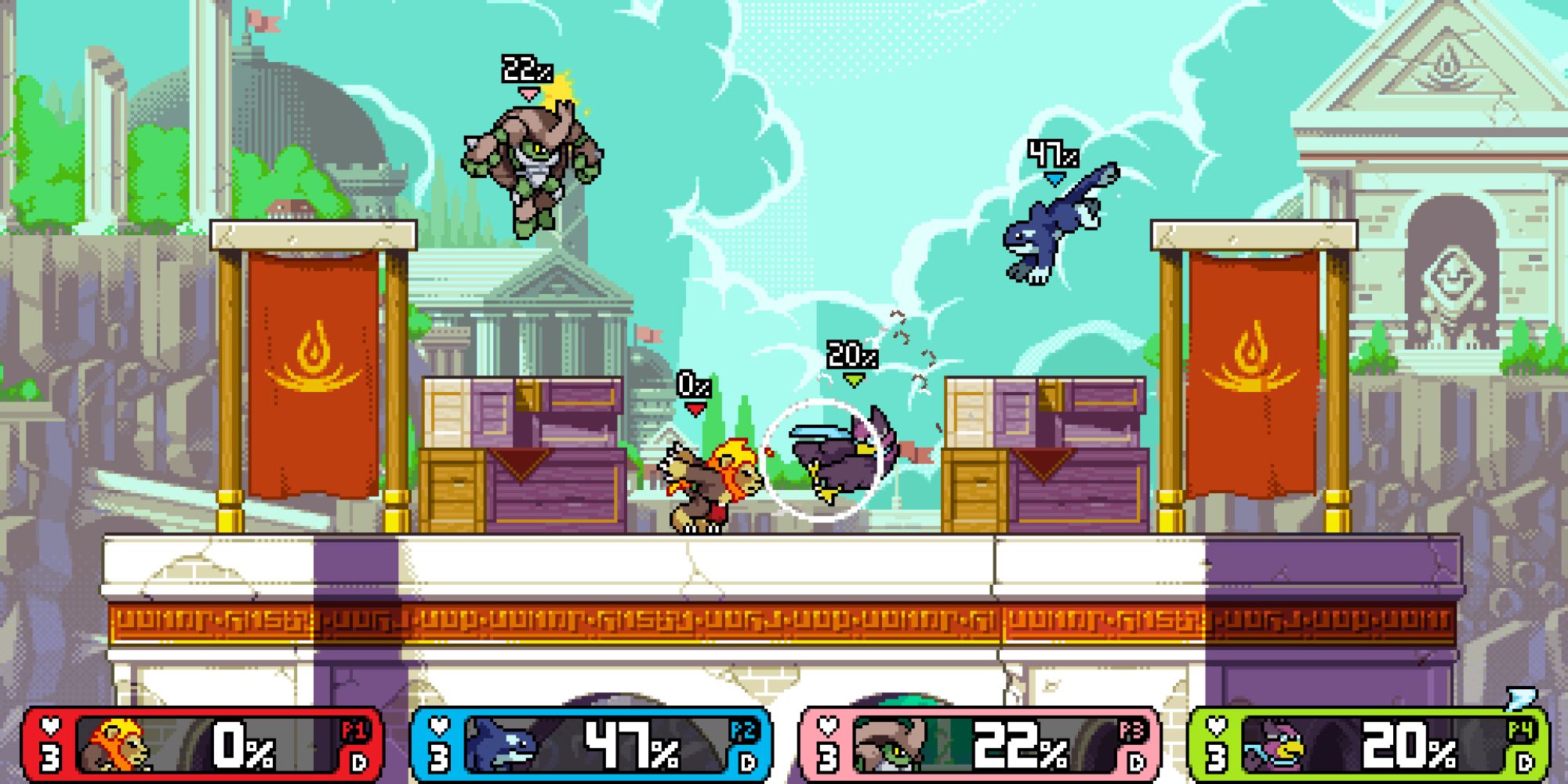 Rivals of Aether was popular among hardcore Super Smash Bros. Melee fans for a time, due to its dedication of recreating the competitive mechanics of the GameCube game. Developed by indie developer Dan Fornace, Rivals of Aether contains a cast of original characters who each represent various elements, including fire, water, air, and earth.
Additionally, Rivals of Aether was also updated to include other indie game icons, including Shovel Knight from his titular game and Ori from Ori and the Blind Forest. The game is set to have a sequel, Rivals 2, release in 2024, as well as several spin-off titles including the roguelike Dungeons of Aether and online card game Creatures of Aether.
6
PlayStation All-Stars Battle Royale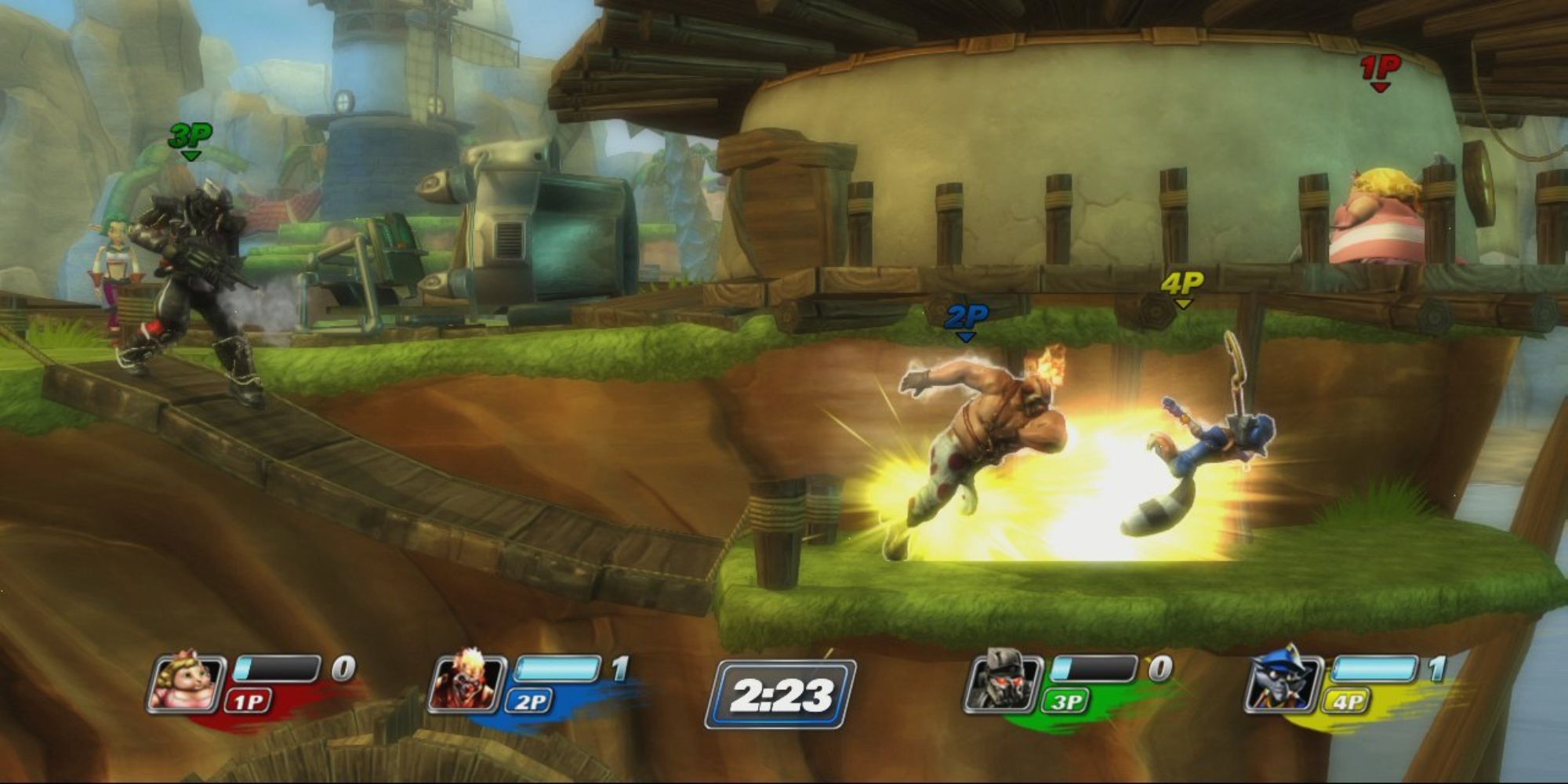 One of the more notable Super Smash Bros. clones was Sony's attempt to cash-in on the crossover fighting game genre. PlayStation All-Stars Battle Royale contained characters from across Sony-exclusive franchises, including Sackboy from Little Big Planet, Kratos from God of War, Nathan Drake from Uncharted, and Big Daddy from BioShock.
While the game received a lot of press upon its release in 2012, critics generally criticized its inferiority to Super Smash Bros. As a result, it never received a port beyond its releases on PlayStation 3 and the portable console PlayStation Vita. There's no guarantee that there's a future for PlayStation All-Stars Battle Royale, but no one's exactly clamoring for it either.
5
Shovel Knight Showdown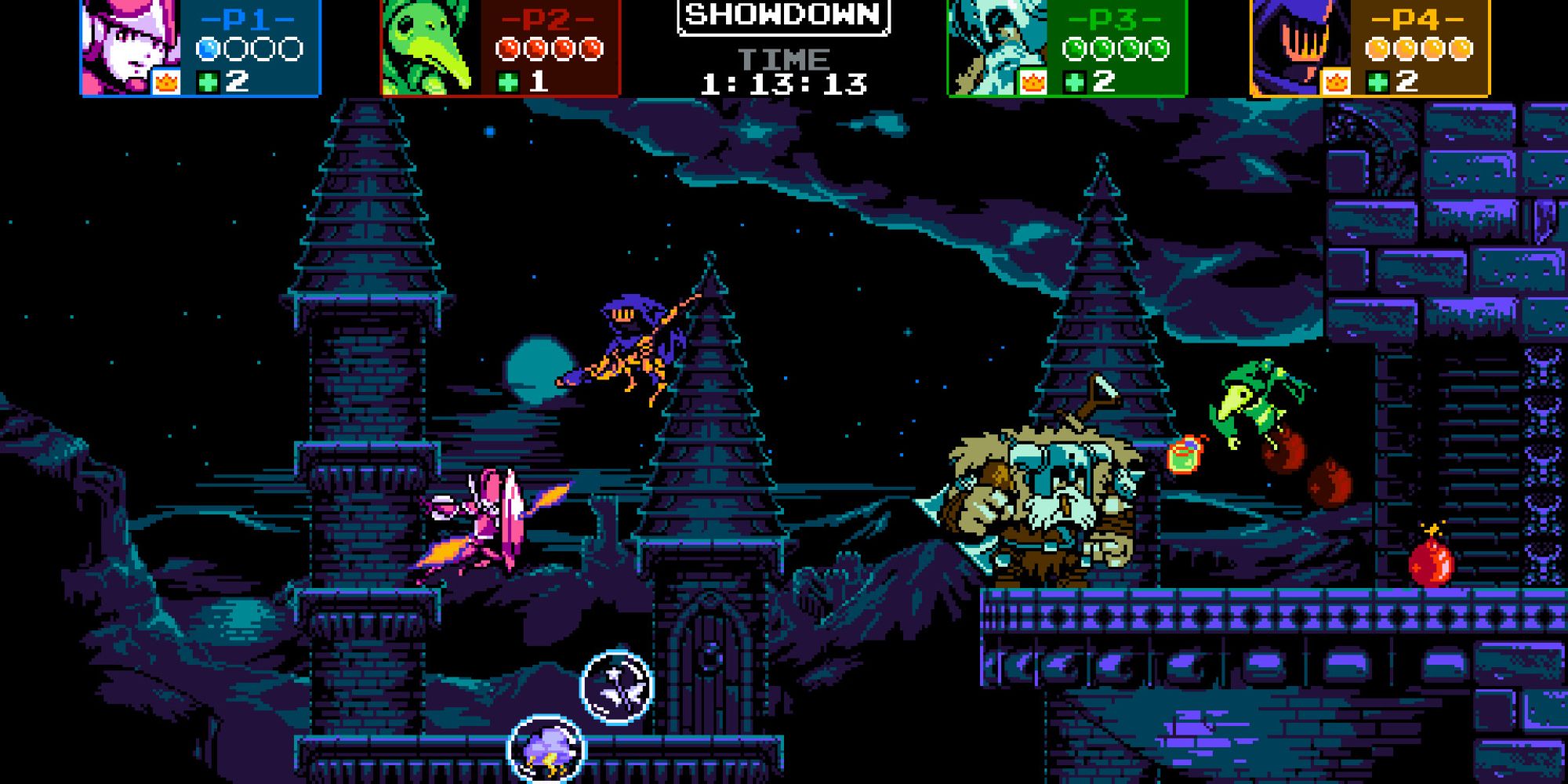 While Shovel Knight also appears as a playable character in Rivals of Aether, his own game got a Super Smash Bros. clone of its own. After years of updates containing new storylines, Shovel Knight: Treasure Trove released in 2019, containing the all-new fighting minigame Shovel Knight Showdown, which takes inspiration from Super Smash Bros.
Related: Best Indie Games On Nintendo Switch
The minigame's roster features many playable characters from the various storylines of Shovel Knight. Alongside characters like Shovel Knight and Shield Knight, it also features the entire Order of No Quarter, the Enchantress, and characters like Black Knight, Baz, Mr. Hat, Reize, Mona, Goldarmor and Liquid Samurai.
4
Brawlout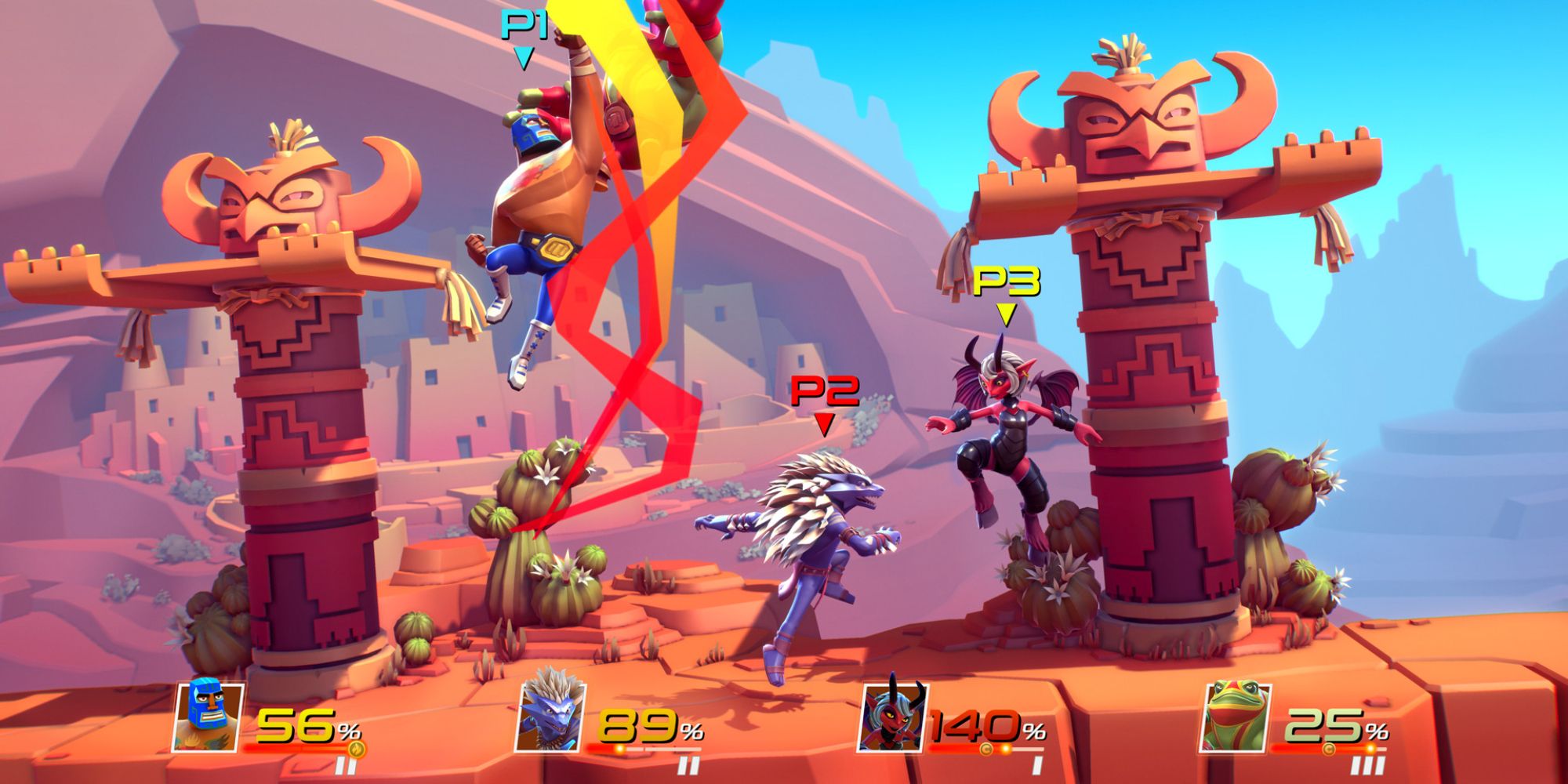 Brawlout was initially released on PC via early access in 2017, later seeing ports for the Nintendo Switch before a full release in 2018 with PlayStation 4 and Xbox One ports. Like Super Smash Bros., Brawlout features a similar mechanic of up to four players fighting on platform stages, although 21 out of the 25 playable characters are original.
As for the other four characters, Brawlout features guest appearances from indie game characters like Yooka-Laylee, The Drifter from Hyper Light Drifter, Juan from Guacamelee, and Dead Cells. Though it was moderately liked by critics, its community simply hasn't received the level of activity as other Smash clones in recent years.
3
LEGO Brawls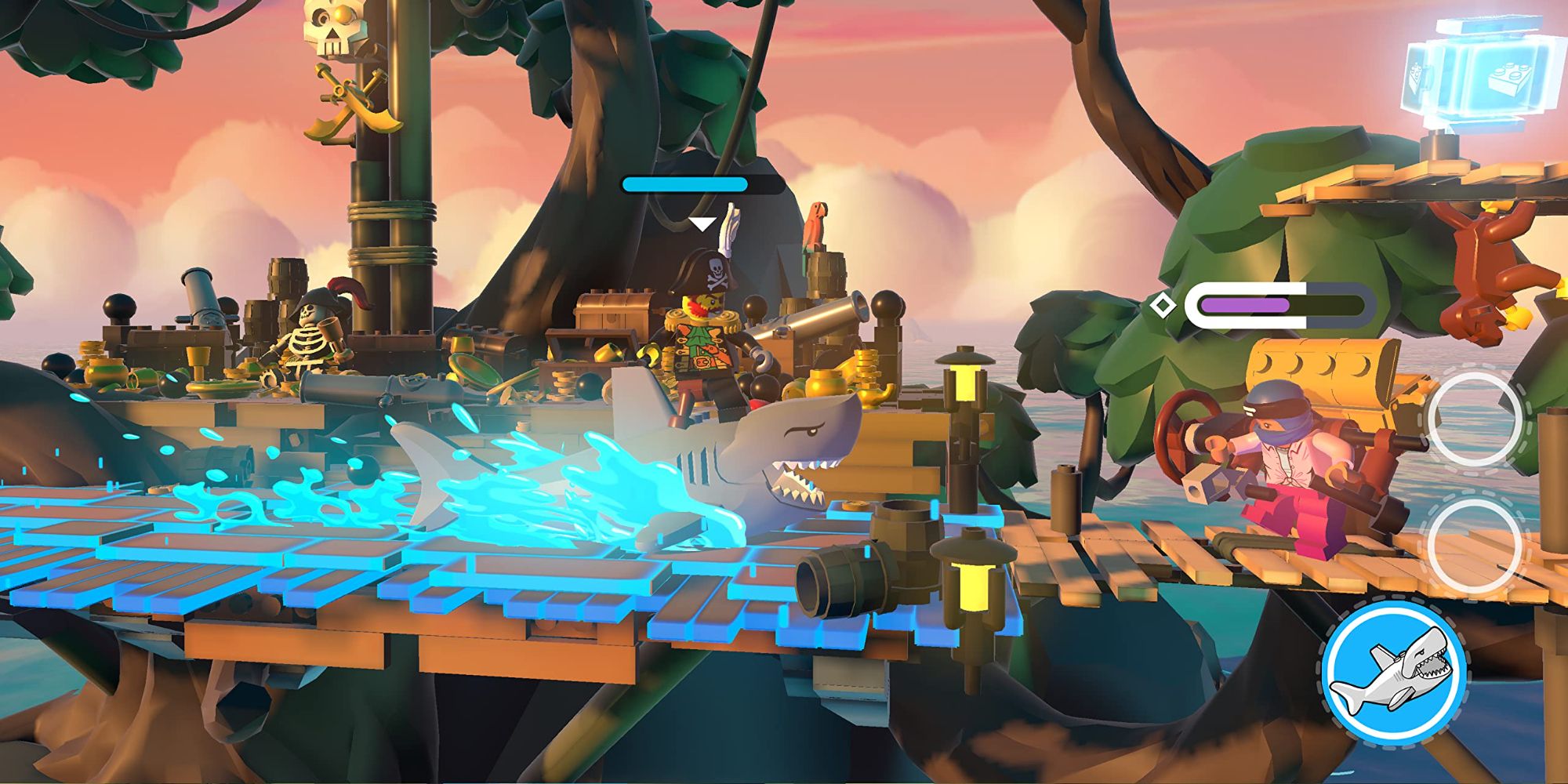 While there have been many LEGO games for several console generations, the iconic franchise didn't dip their toes into the fighting game genre until 2019. LEGO Brawls initially released on iOS and Mac's Apple Arcade before receiving ports on PC, Nintendo Switch, PlayStation, and Xbox consoles several years later in 2022.
Though critics had a variety of opinions on the game's controls, many praised its similarities to Super Smash Bros., as well as its overall charm. Its roster contains many mini-figures from popular franchises, as well, including characters from Jurassic World Dominion and LEGO Ninjago, among more general characters from LEGO Space and LEGO Castle sets.
2
Roof Rage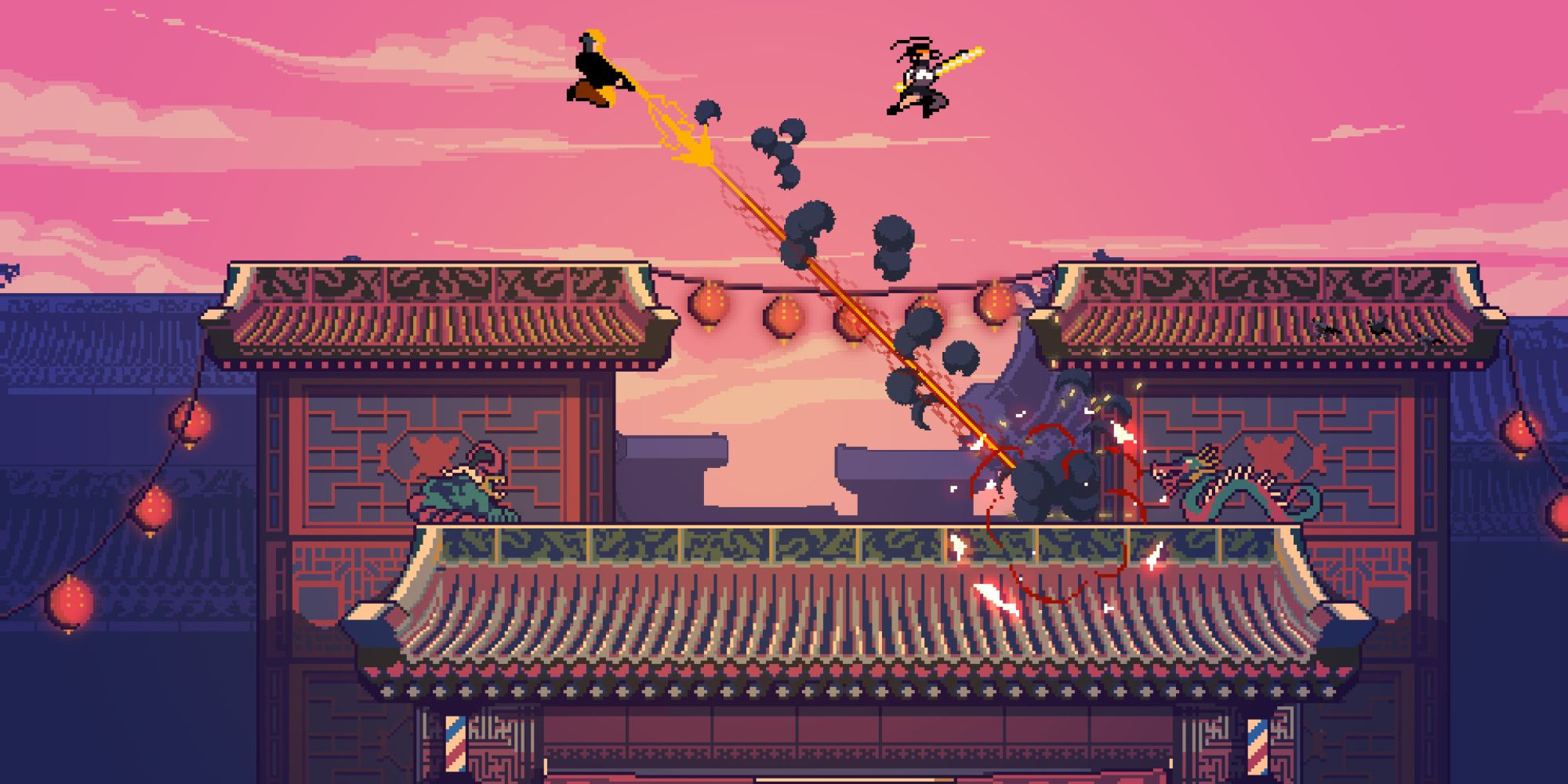 Roof Rage is one of the rare Super Smash Bros. clones that does not feature any characters from existing franchises. Currently available on PC and Switch, the game's roster consists of 13 characters that design-wise resemble the rosters of Street Fighter or Final Fury franchises. However, most of their battles, as the title suggests, take place on roofs.
Related: Fighting Games With Surprisingly Deep Lore
Like Super Smash Bros., Roof Rage also features a variety of gameplay modes, featuring a gauntlet of A.I fighters as well as differentiation in stock or score-keeping matches. The game also supports online play via Steam, with an active Discord server to connect with other players and face off against each other from anywhere in the world.
1
Rocket Arena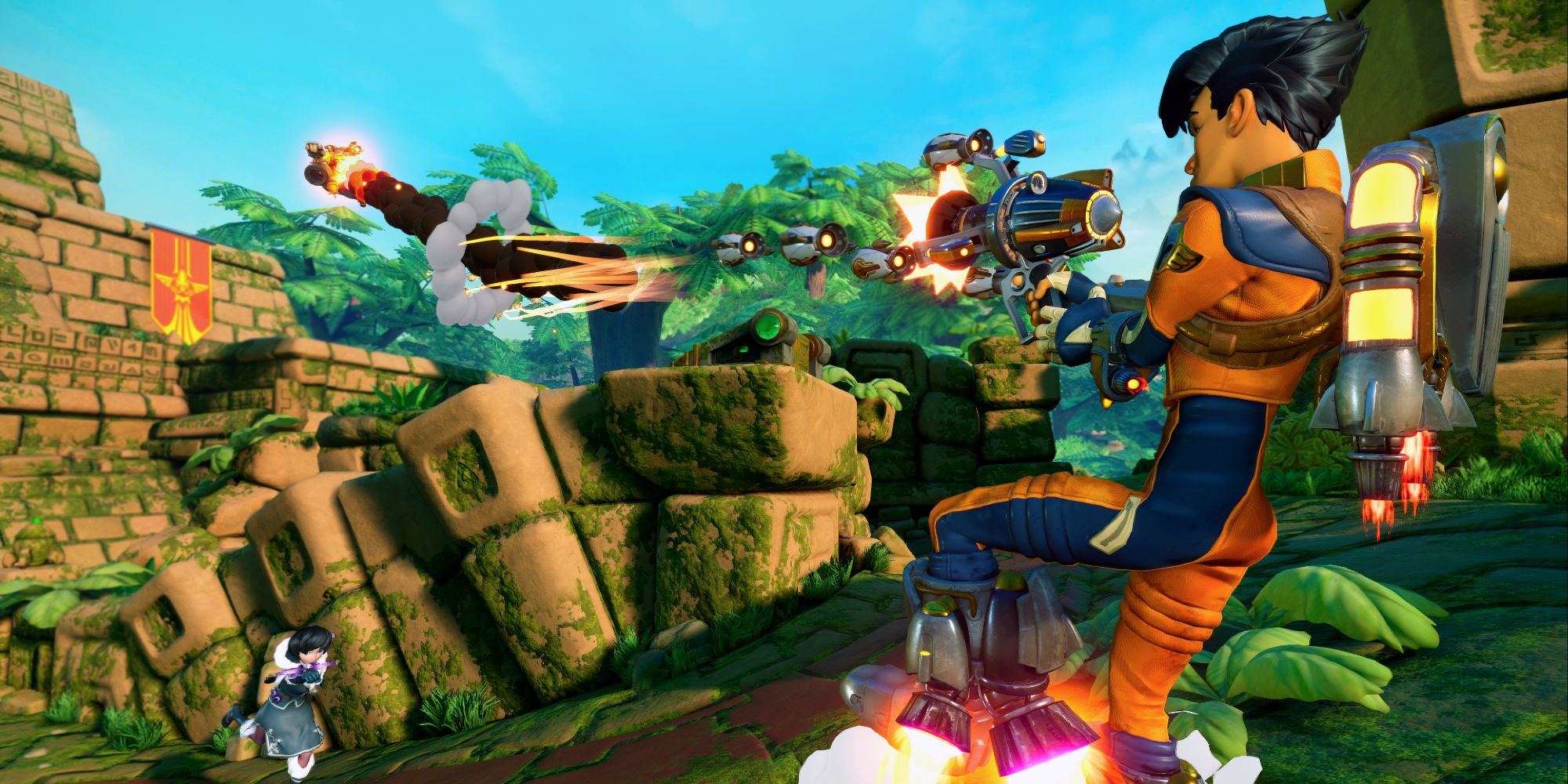 Compared to other Super Smash Bros. clones, Rocket Arena is the most different, as it takes the typical Smash formula to the third-person shooter genre. All the 10 charismatic playable characters available at launch utilize rocket launchers as their main weapon, as they compete in 3v3 matches on a variety of maps with game modes including Capture the Flag.
While some critics felt mixed about the variety of Rocket Arena, its potential as a unique competitive fighter that incorporates elements from titles like Fortnite or Overwatch was immense. Though it hasn't received any updates or new seasons of online play since 2021, here's to hoping it'll find itself a second life at some point in the future.
More: Overwatch 2: Subtle Improvements Over The First Game