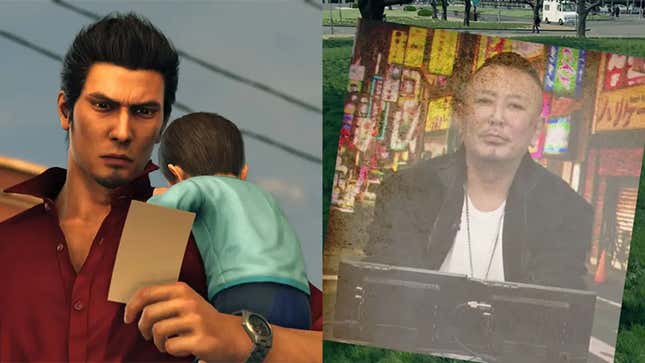 The Yakuza Complete Series dropped on retailer Good Old Games last week, bundling the first seven games in the franchise in the one offering. It is a great deal, but fans testing out the release to see if there was anything different about it have turned up something weird.
The Yakuza Devs Should Cast These Celebs In Their Next Hostess Club Minigame
While the games themselves appear to be identical to the versions already available on Steam, there were two notable differences. The first was that, this being GoG, there was no DRM (Digital Rights Management). The second is that in a number of the games changes have been made to the credits that omit some of the most important people involved in the development of the series.
As this Reddit post by u/Timo653 shows, Yakuza 0's credits have cut an Executive Director nod for Toshihiro Nagoshi, the creator of the series, who left Sega in 2021 to join NetEase. It has also removed a Line Producer credit for Daisuke Saito, who joined Nagoshi at his new studio, as well as (thanks, PC Gamer) director Kazuki Hosokawa, art supervisor Saizo Nagai and design supervisor Koji Yoshida.
There's clearly some studio politics involved in this that I absolutely do not want to get into (because I have no idea what has gone on!), but whatever has gone down at Ryu Ga Gotoku over the last few years, it's still a very bad look to actively scrub someone's name off the credits of a video game that has been out for years.
It's an even worse look to remove the credits for the studios involved in bringing the games to the PC. British company Lab42 were responsible for both Yakuza 0 and Yakuza Kiwami—as their website still shows—while QLOC handled the rest "with a team of over 50 people", not just on PC but Xbox as well. Both studios have had their names removed from the credits, replaced with those of a mostly-Japanese "PC Development Team".
While somebody's name not turning up in the credits of a game they worked on can sometimes be a simple administrative error—there are sometimes a lot of people from a lot of different places contributing!—a list of credits can also often be a deeply social and political construct, a means for people in a position of power to say what (or who) were more important than others.
Once again for the people (and the studios) in the back: everyone who worked on a game should be in the credits.