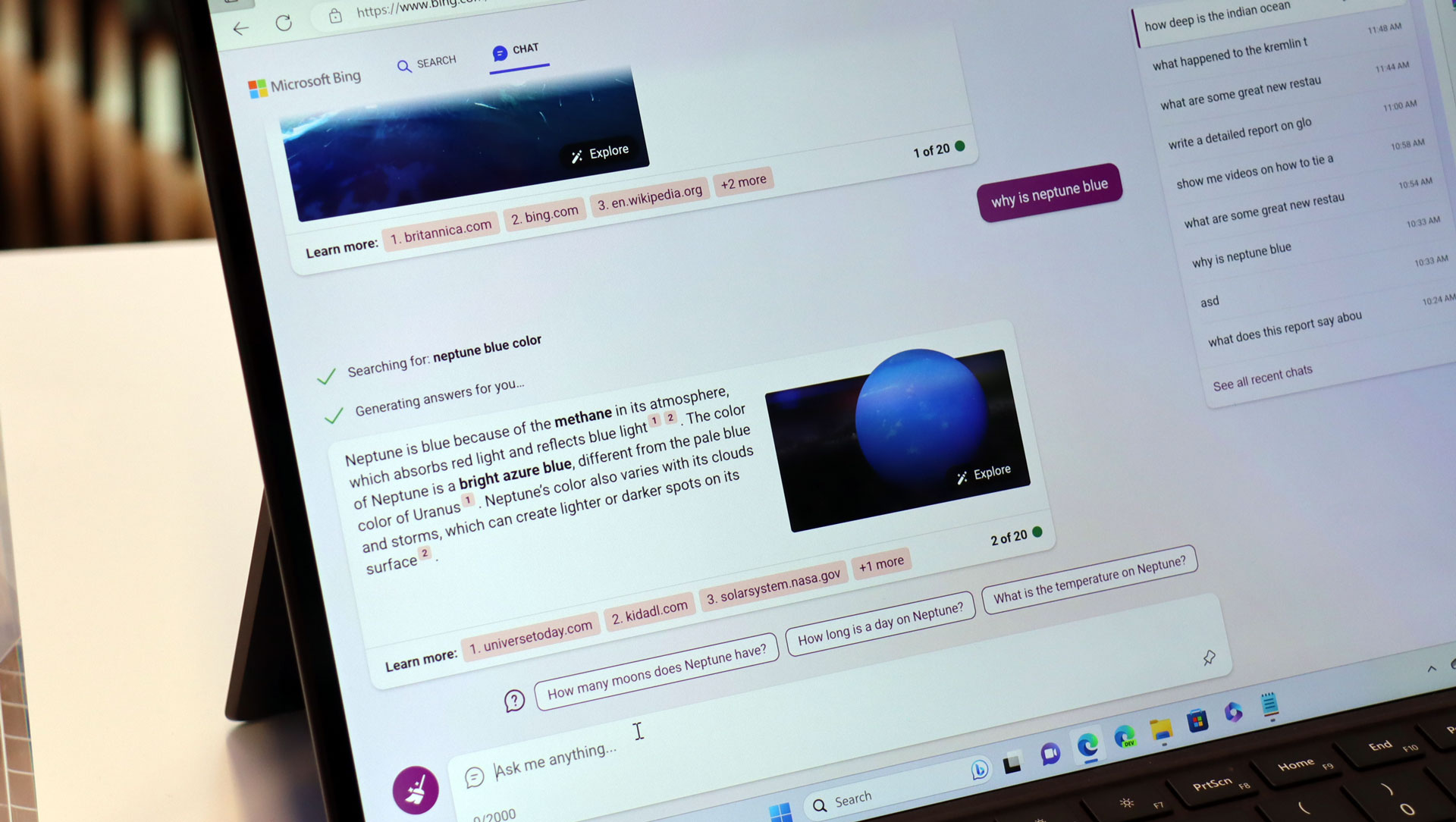 Microsoft has bolstered the capabilities of its Bing AI in the Edge browser's side panel with a couple of welcome new features.
As flagged up by Leopeva64, a regular source of Edge leaks and developments on Twitter, there's now an export button built into the Bing Chat pane in Microsoft's browser.
Export options have also been integrated into Edge's Bing Chat pane, this was announced over a month ago, but this is the first time I've seen it implemented in the Bing Chat pane:https://t.co/Qzk0ujnvbF. pic.twitter.com/OhB8CK5vBzJune 26, 2023
See more
Click it and you get the choice of exporting whatever content you're currently looking at in the chatbot to a Word document, PDF, or text file.
A second change for Edge spotted by Leopeva64 is that the Bing Chat side panel has a new section entitled 'Mentioned' which picks out highlights of things that are, well, mentioned by the chatbot.
It seems that this "Mentioned" section is also new in the Bing Chat pane:https://t.co/nwGv3UMtCC.https://t.co/Q4Q4B2UwN2 pic.twitter.com/sE5MhDUpCXJune 26, 2023
See more
As you can see in the example provided in Leopeva64's tweet, selected movies are shown as images (movie posters, in this case) that you can click on to learn more about the film (with the AI pulling info from Wikipedia in this case).
---
Analysis: Next up – the huge change for browsers
Clearly, it's good to have the export feature in the Edge side panel. If you've found something particularly interesting, it's great to have the ability to export it as some kind of document file with a couple of clicks.
Microsoft actually announced that this feature was inbound at the start of May (in one of those many Bing blog posts which are crafted on a weekly basis), so it has taken a little while for it to go live.
The new 'Mentioned' box has arrived more out of the blue, but again, it's a useful addition to have and provides a jumping-off point for deeper exploration into related materials from any particular query.
Bing is steadily being built out in all kinds of directions, then, but in terms of the browser experience, the biggest change is going to be the introduction of the chatbot to browsers outside of Edge. That should be happening soon enough, going by chatter from sources at Microsoft, so you'll be able to use the Bing AI in Chrome, for example, without having to resort to an unofficial (and clunky) extension.