Since the first iteration of the Elgato Stream Deck launched a couple of years back, they've become a must-have accessory for any peeps who stream on Twitch or YouTube and want to make accessing their most used functions as easy as pie. There's been an entire family of these products released since the first version, and the latest in that long line of succession is the one I've been able to get my greasy hands on today:the Elgato Stream Deck +, or Plus if you don't like symbols.
The big thing here is the addition of a series of four knobs to the bottom of the Deck (please, don't make jokes, you're better than that), which adds some more analogue and especially tactile functionality to a device that's literally a USB-powered button box. 
Elgato markets those four dials as helping to integrate this particular Stream Deck into the wider brand of streaming gear the Corsair-owned brand provides, such as with its Wave line of microphones, or sets of key lights. With the dials, you can adjust things such as mic gain and key light colour temperature, which is especially handy. 
You can also use those dials for controlling system volume if you want, among other things, and each dial also has a press-down button for things such as muting, giving you double the functionality. Speaking of more functionality, the Stream Deck software (more on it in a moment) also has this Dial Stack feature, where you can assign multiple functions to a single dial. 
Stream Deck + specs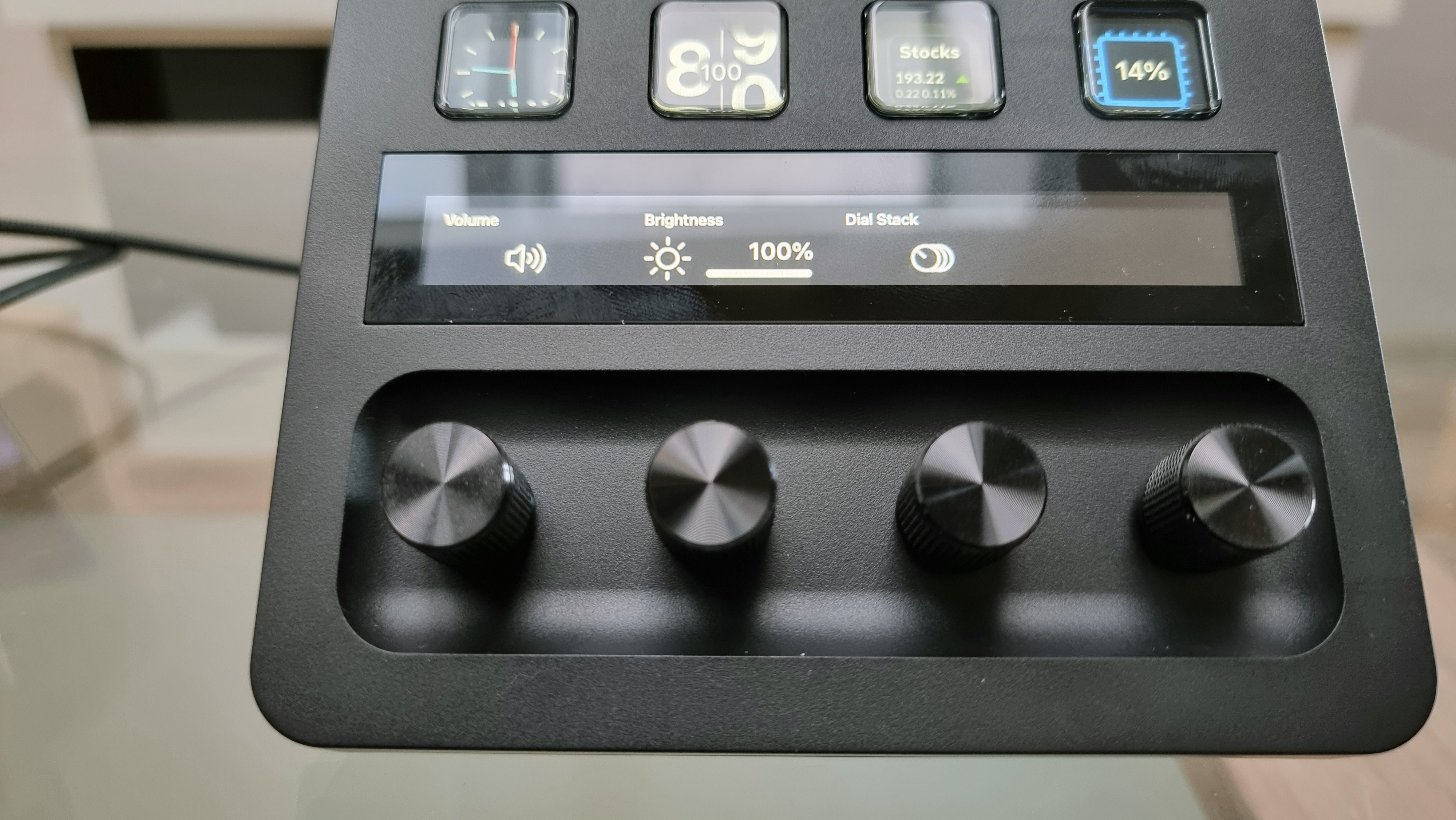 No. of buttons/dials: 8 buttons, 4 dials
Connectivity: USB Type-C
Cable: USB Type-C, detachable
Dimensions: 140 x 138 x 110 mm
Weight: 465g/ 1lbs
Price: $200 / £20
Even if there isn't too much to pick from compared to the vast swathes of button-based customisation and functionality, there should still be enough to keep people busy.
Outside of the addition of four metal and tactile feeling dials, the Stream Deck + is another classic iteration of Elgato's marvellous product. There are a total of eight buttons that you can control, each with their own display so you can quickly glance down to one and see what you've set it as, thanks to a myriad of selectable icons within Elgato's software. While the main use for these buttons is for use on Twitch or YouTube, or in programs such as OBS, there is a shedload of plugins available for other apps to make the Stream Deck + an excellent device for productivity.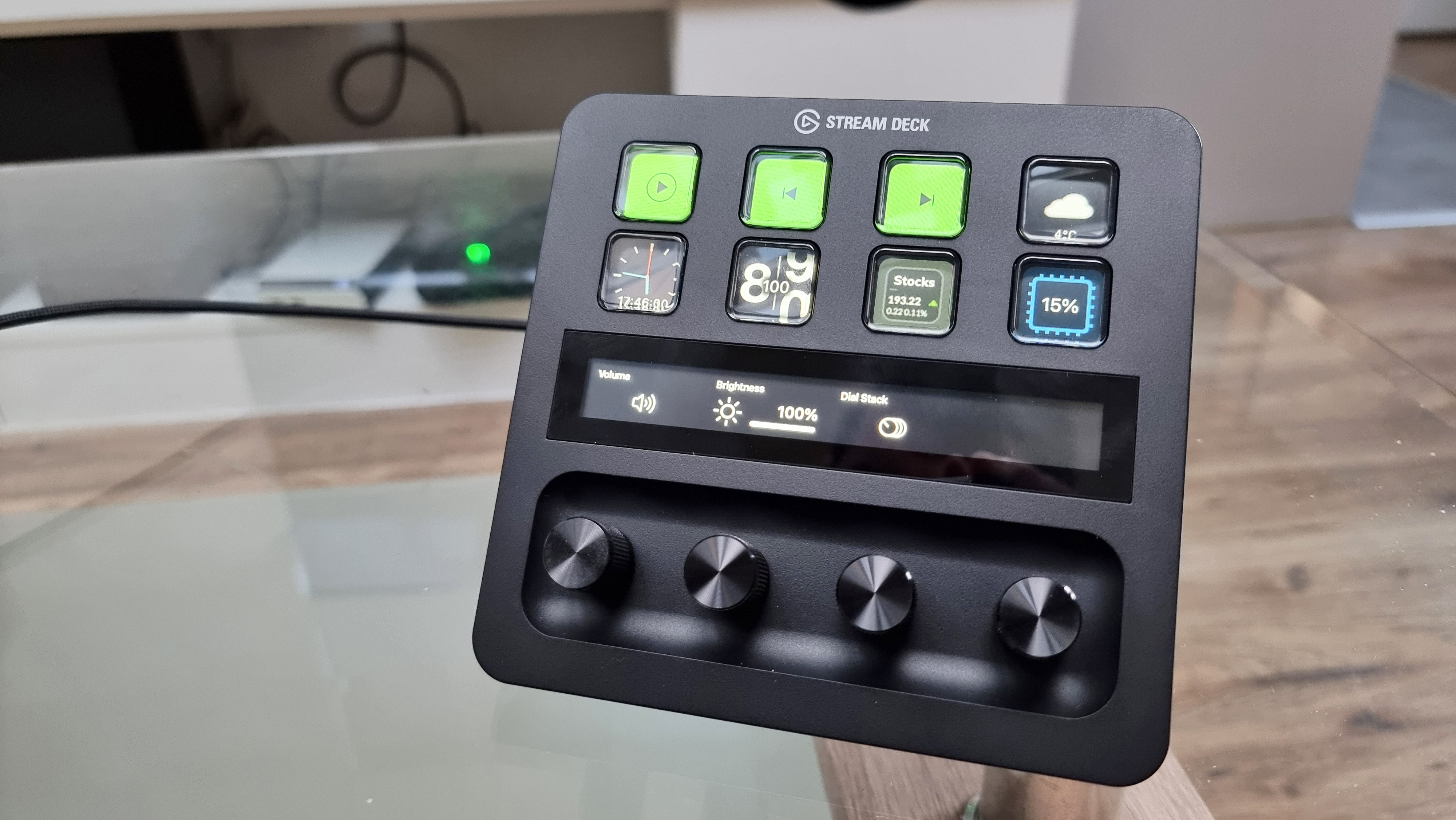 For instance, you can control PowerPoint or Keynote presentations with it, as well as to select specific functions in Photoshop. Or, if you're feeling particularly clever, there are even games you can play using the buttons, or simply set a button up with a button press counter, so you can waste time pressing it and watching the number creep up with every mash. I think I'm up to nearly 200 by this point, and no, I'm not stopping before you ask.
The long and short of it is that the Stream Deck + is an immensely enjoyable product to use, with seemingly endless amounts of functionality. Other versions of it may have more buttons, but the additional dials just add another form of control. All of these different doodads, plugins and gizmos you can use with the Stream Deck + can be found within Elgato's Stream Deck software, which is remarkably easy to use. Once you've got the device plugged in, simply download the software, and it'll recognise you've got the device plugged in.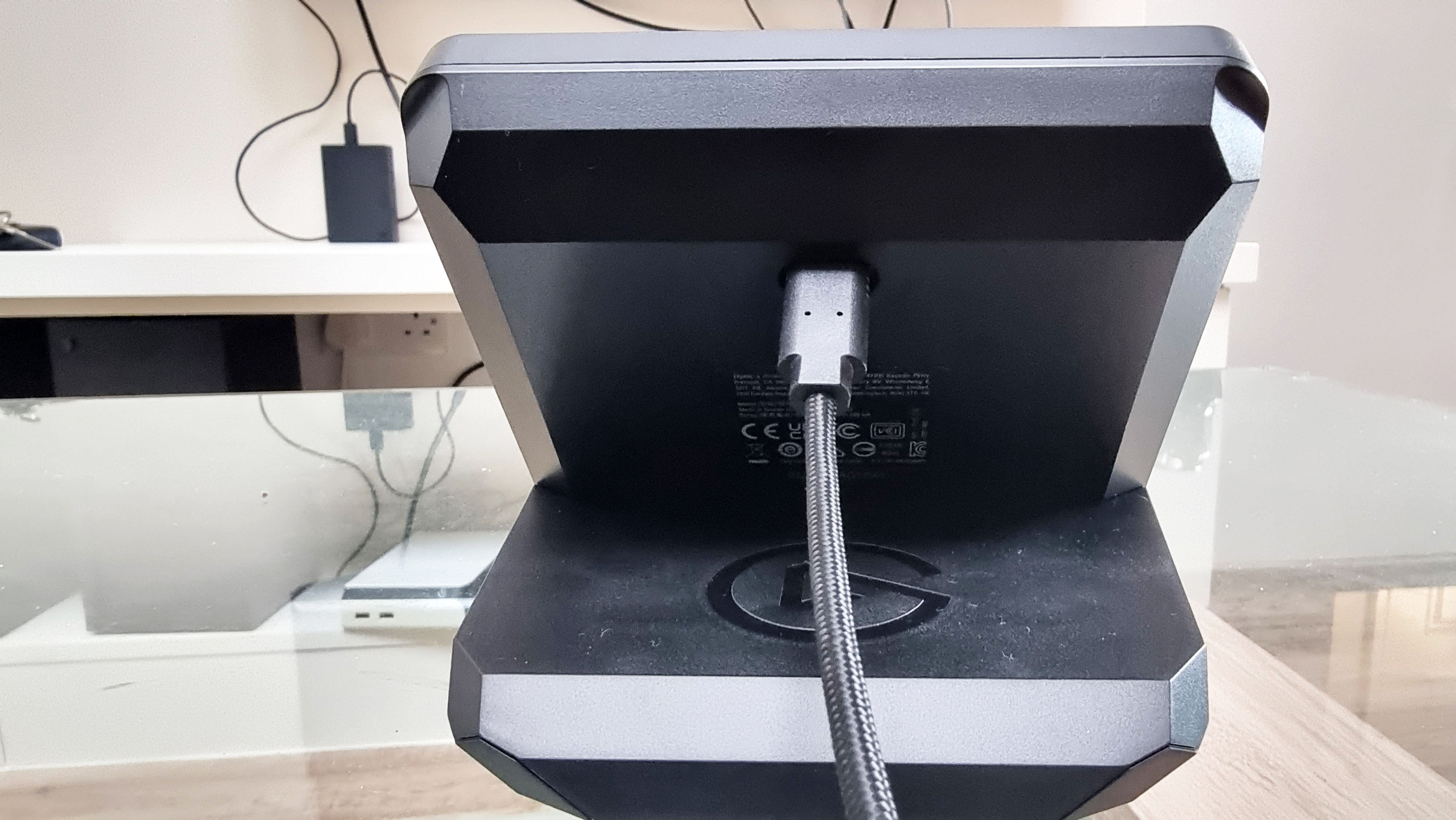 Grabbing plugins for the Stream Deck is as easy as downloading them from the free store contained within the app, and once they're downloaded, they should show up on the right hand side of the app's main interface. Getting them onto the Stream Deck + is a classic exercise in dragging and dropping, and once that's been done, the actual buttons will show an icon for whatever you've set it up to have. Mine's got media playback controls for Spotify, a widget for CPU power, as well as one for weather, an analogue clock, and stocks, because why not!
In a more general sense, the Stream Deck + is a good-looking contraption, with a commanding presence on your desk, and a solid feeling textured plastic frame that at least goes to justify the $200/£200 price tag. The angle it sits at is a comfortable one, with no real straining if you want to peer over and quickly remind yourself what each button and dial you've set up does. The buttons themselves are pretty big, and the displays inside them are bright enough for both daytime and after-dark working, while the touch bar (yes, really) above the dials is also pretty responsive to use, as are the dials themselves. It may be easy to assume such a device may need a variety of cables to work, but everything is conveniently taken care of by one USB Type-C cable.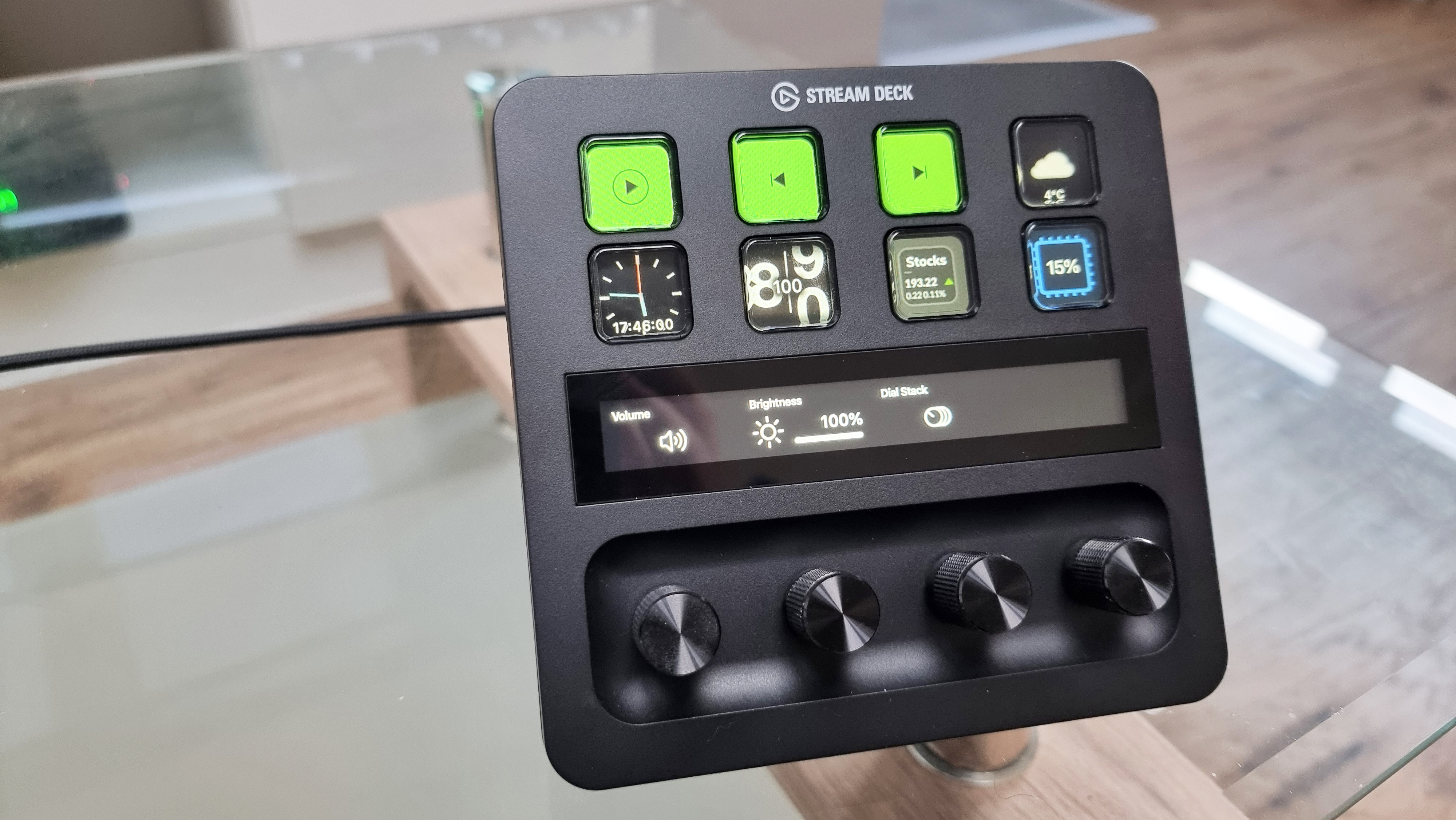 Maybe one day Elgato, or parent company Corsair, will make a wireless version of the Stream Deck in a few years, but for now, a single USB Type-C cable is decent enough.
The Stream Deck + is definitely a useful tool for not only streamers, but also those who simply want to make their workflows as simple and easy as possible. Slapping down too hundred big ones for the sake of adding some dials may not appeal to some though, not least if you already own a Stream Deck that comes with more buttons already and therefore as much if not more functionality as this one, just in a different form. For those of us who haven't had the pleasure of using one before though, it's pretty easy to see the appeal.