Intel has shared a new poster on Bilibili that officially confirms the existence of a Raptor Lake refresh. The new CPU lineup will take on Intel's existing Intel Core i series nomenclature and arrive as 14th Generation products. The new refresh will consist of two CPU platforms, one for desktop and one for mobile, including S series and HX/U series parts for high performance and ultrabook laptops.
We first heard about Raptor Lake Refresh all the way back in 2022 when an Intel roadmap was leaked online. The leaked roadmap revealed consumer and workstation desktop CPU lineups with 35W – 125W TDPs, however the roadmap was leaked so there was a chance it was faced. However, several months later the leak was compounded by motherboard BIOS updates featuring support for "next generation" Intel CPUs, which effectively confirmed its existence. The BIOS updates proved this because Intel's next generation CPU architecture, Meteor Lake, will use a brand new socket, making current motherboard compatibility impossible.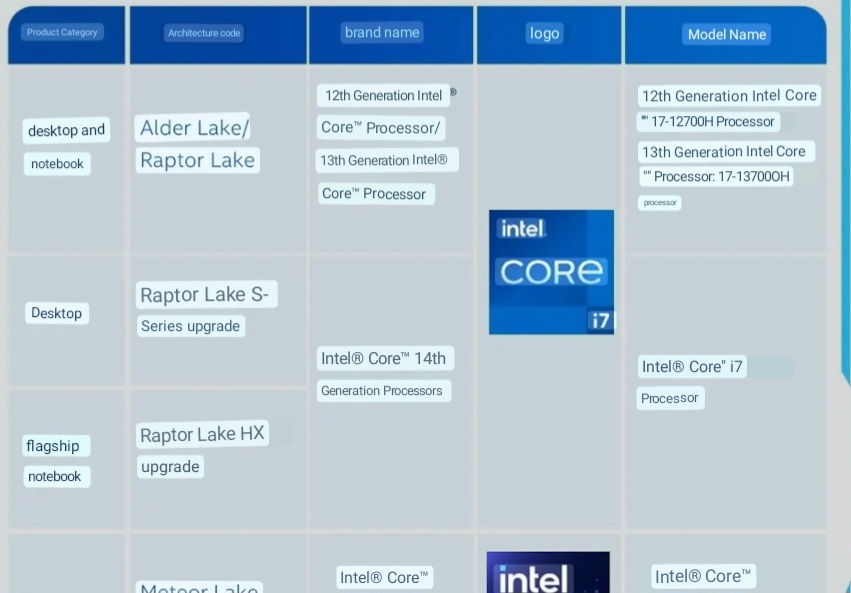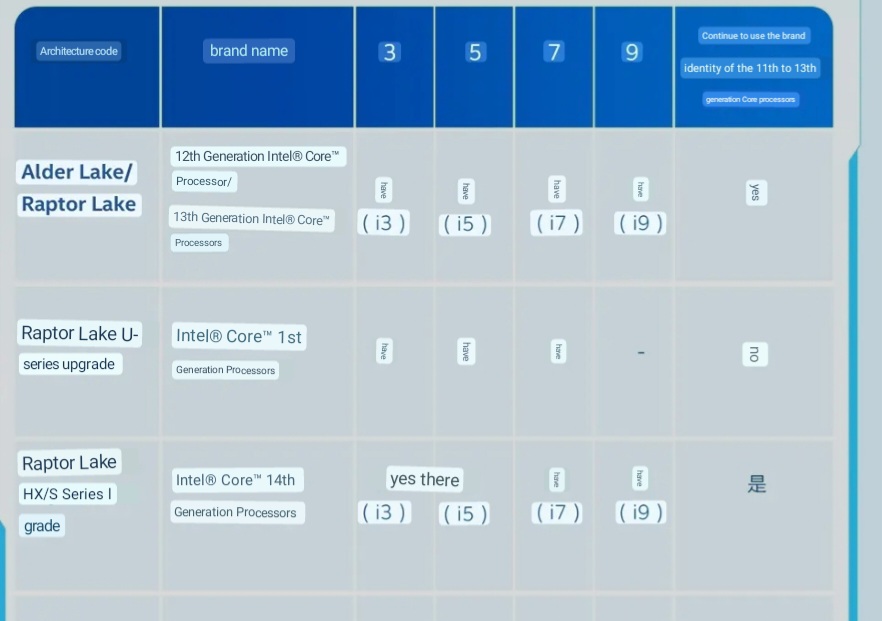 The one thing leaks and rumors did not account for was a Raptor Lake refresh for mobile CPUs as well as desktop. Intel's new poster now confirms that the new refresh will be arriving to both platforms, specifically featuring high performance HX-series mobile parts and low-power U-series parts. But strangely, the U-series parts will come with an entirely different nomenclature and be named "Intel Core 1st generation processor" instead of 14th gen. According to a Q&A answer, Intel is doing this because the U-series parts will be coming out at a later date, it doesn't explain why Intel is not switching to its newly announced Core Ultra nomenclature instead.
Intel still has not published performance benchmarks or CPU specs for its Raptor Lake refreshed parts, but if it's like any traditional Intel refresh, we can expect these CPUs to feature modest bumps in clock speed and some additional changes that will boost speed, and functionality. For example, Intel might boost clock speeds on all the parts, and change around the core count for some models to make them stand out from previous generation Raptor Lake (vanilla) and Alder Lake chips.
We still don't have a official release date, but previous leaks estimate that the first wave of K series chips will arrive as early as 2023.  Intel has not confirm this, but we can expect these chips to launch this soon since BIOS updates are already going live to current 700 series motherboards supporting Intel's new processors.