Playground Games is on the cusp of releasing two Barbie themed cars into Forza Horizon 5, as evidenced by scenes spotted in the game's Horizon Promo menu. The vehicles in question hail from the upcoming Warner Bros. film adaptation: there's a Barbie Movie Corvette EV, and a GMC Barbie Movie Hummer EV Pickup on the way.
This listing was first spotted by content creator Don Joewon Song, who noted the cars were a little strange – as they weren't announced in any official capacity before appearing on the publicly-available Promo menu.
Regardless, official images have been shared – so we should consider this announcement locked in. For now, the cars remain unavailable to claim, but they'll likely unlock in the near future. It's a safe bet their release will coincide with the cinema release of Barbie, which is set to land in mid-July 2023.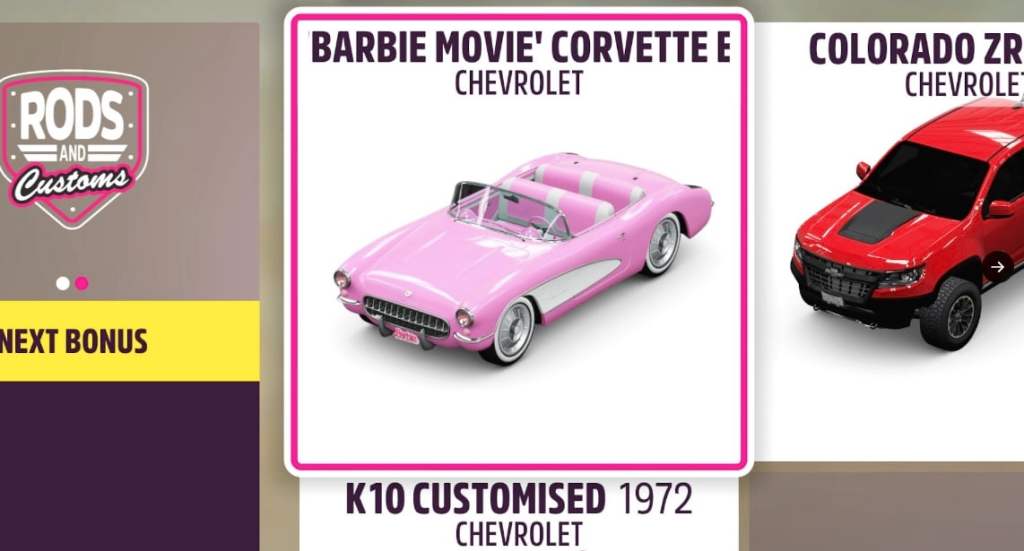 Read: Barbie Fashion Designer, Last of Us inducted into Video Game Hall of Fame
Forza Horizon 5 has history with Mattel
As many have noted, the collaboration isn't as unexpected as it appears. Playground Games has previously partnered with Barbie rights owner Mattel for its Hot Wheels expansion – so including Barbie cars makes a whole lot of sense.
There's plenty of excitement and buzz around the upcoming movie, starring everybody's favourite Australian, Margot Robbie, and including the toy-like Barbie lineup has the potential to attract a whole new audience to the game. That's not to mention that the new cars look extremely cool, and should be good fun to race around the game's many events.
For now, Playground has yet to officially reveal its Barbie movie tie-in, but we expect to hear more news in the coming weeks. Stay tuned for more details, and how to unlock these two unique cars.