Diablo 4 players can make a quick settings change to stop their characters from constantly repeating themselves when trying to use a skill that's still cooling down or cast a spell without any mana. Diablo 4 has been a massive success already, smashing Blizzard records and becoming one of the highest-rated new video game releases of the year. And almost anyone that's had the chance to play Diablo 4 would likely agree with much of the praise that the game has earned so far.
Diablo 4 reviews have been extremely positive, with near-universal acclaim for the game's addictive action, gruesome game world, and near-endless replay value. Despite how much praise Diablo 4 has earned so far, though, the game is certainly not without its critics. A lot of criticism has been aimed at Diablo 4's expensive microtransactions, and there are those who aren't happy with its always-online nature.
RELATED: Diablo 4 May Be Hinting at New Class in Book of Lorath
A smaller criticism fans have had about Diablo 4 revolves around character audio that happens whenever they make an error in the game. For example, if a Diablo 4 sorcerer tries to cast a spell without any mana, their character might say, "I am out of mana." Or if a Diablo 4 player tries to dash again before the ability has had the chance to properly cool down, their character might say, "I can't do that right now." This audio can become quite grating during the game's busier moments, where players don't have as much time to pay attention to cooldowns and the like. Luckily, there's a way to turn it off.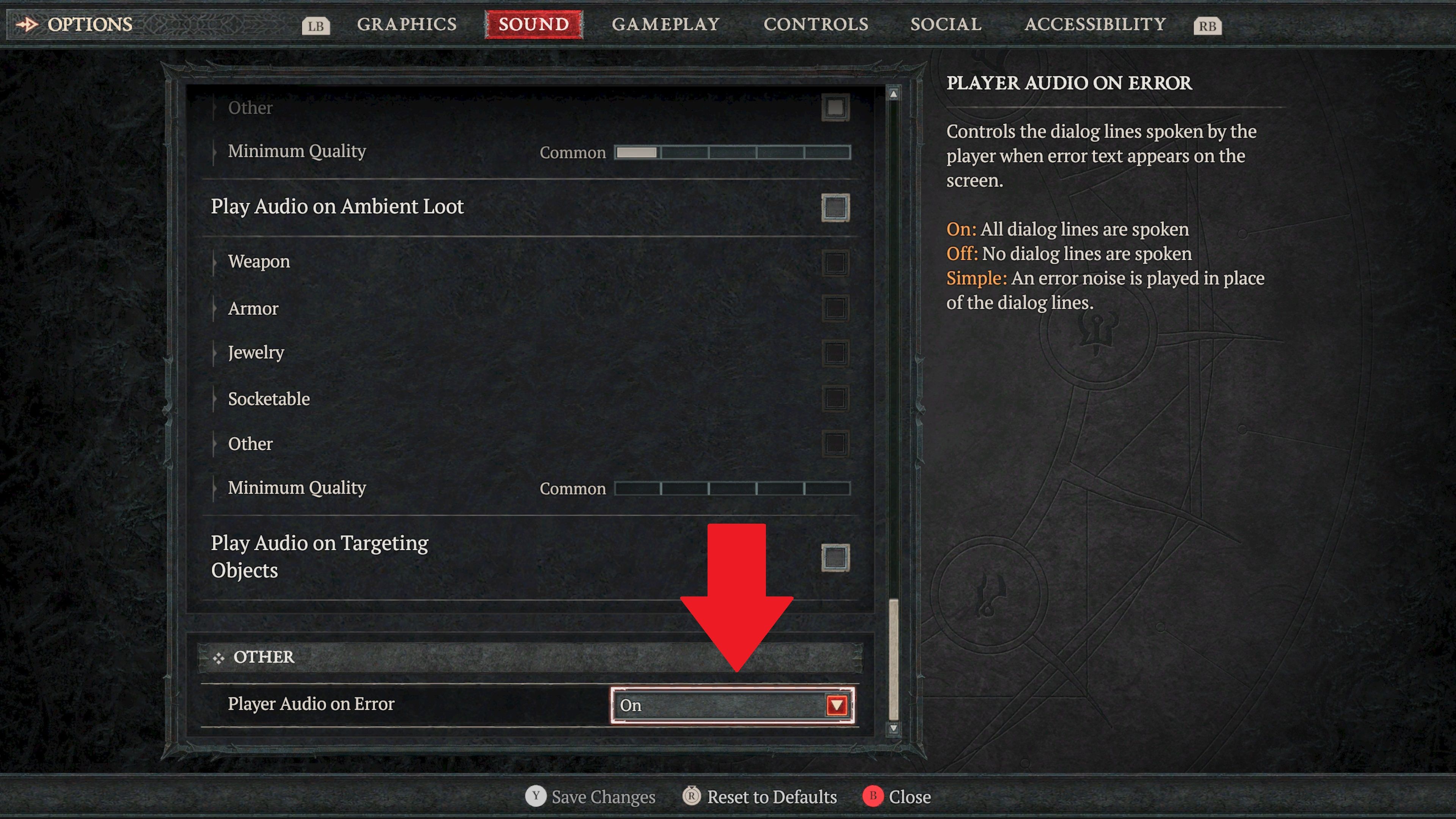 To make this settings change, Diablo 4 players need to go to the main menu and push start. From here, click on Options, and then go over to the Sound tab. Scroll all the way to the bottom of the Sound tab to find a heading that says Other. The only option under Other is "Player Audio on Error." From here, Diablo 4 players can choose between having this On, Off, or "Simple." Those that don't want to hear the constant annoying voice lines whenever they try to use an unavailable skill can turn it off, and they won't have to worry about it any longer.
This is a simple but appreciated quality of life feature that can improve the experience for some Diablo 4 players. Others likely don't mind the constant reminders, and they can simply leave the setting unchanged.
Diablo 4 is out now for PC, PS4, PS5, Xbox One, and Xbox Series X.
MORE: Diablo 4 May Have Shot Itself in the Foot With One In-Game Shop Feature