At a behind-closed-doors presentation at Summer Games Fest, Ubisoft showed a group of journalists the first-ever look at Avatar: Frontiers of Pandora. Announced back in 2017, the first-person action-adventure game was supposed to release in 2022 initially (probably originally aimed at launching around the same time as James Cameron's Avatar: The Way of Water), but it was pushed to 2023. Specifically, December 7, 2023. The delay was worth it, from what we've seen so far; the game is gorgeous and interesting and really evokes the fantasy/sci-fi feel of Pandora – even if the core formula at the heart of the game is, basically, just a Far Cry rip-off.
Like, there are so many similarities to Far Cry, it's impossible to watch the trailer and not draw a line between them. You can play the entire thing in single player, or two player co-op, like Far Cry. You can use human weapons and go into combat loud and aggressive, like Far Cry, or use Navi weapons for a stealthier and more silent approach, like Far Cry. You need to liberate areas from the big military guys in order to free up the map and progress the game, like Far Cry. You can have a pet that will help you in battle, like Far Cry. You see what I'm getting at? It's not being cynical to make this link.
But there are some variations – this is Ubisoft Massive making this game, after all, and that part of the Ubisoft family hasn't made a Far Cry game before. The most interesting deviation from the Far Cry formula comes in how you need to be specific about the flora you collect as you wander around Pandora's Western Continent; simply running around and collecting everything will proffer lesser rewards. Really evoking the Navi's respect for nature, Drew Rechner (associate game director) told us that you need to "pay attention to the natural flora and take only what you need," – this gives you better quality ingredients, which allows you to cook better food or make more effective upgrades to your gear.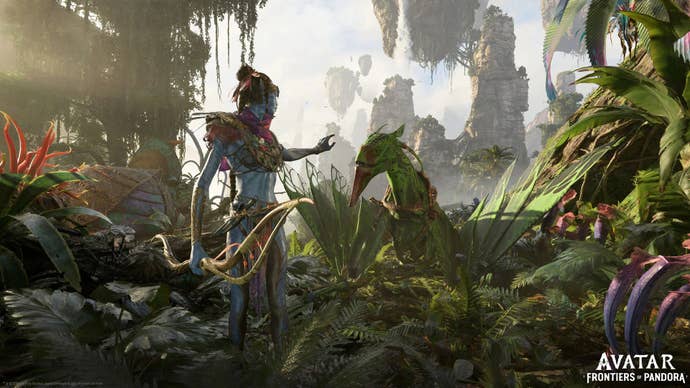 And look, I like Far Cry. I think Far Cry 3 through Far Cry 5 were great – taking that formula away from cultists, separatist nation states and terrorists is probably a good thing, and the world of Pandora certainly has a lot to offer. Whatever Massive has done to the engine has worked a treat, too; the project looks stunning. I, for one, am keen to customise my Navi and head into the forests, tiptoeing around the bioluminescent plants and making friends with all the weird little guys that call this planet home.
You are cast as 'a Navi that has a complex past filled with mystery' that was abducted at a young age and trained as a weapon by the humans, with the intent of being deployed against your kin. During the events of Avatar 1, you are rescued from your human captors and put into cryosleep until the events of Avatar 2, when you're woken up and the story of the game begins. This means you're born of Pandora, but raised by the RDA – you have knowledge of human weapons, human machinery, and human mentality. But you need to reconnect with Pandora and discover the ways of the Navi; a perfect setup for a game that wants to present a 'living, immersive Pandora'.
John Mercer is the big bad in this game: the leader of the RDA that led the scheme which saw mankind abduct and abuse Navi children, Ubisoft does a good job of making him a villain you'll have no qualms taking down. You know, like the publisher has done with villains in Far Cry. I imagine you'll work through the various districts of the open world – we were shown dense forests with a secretive tribe, floating islands, and grassy foothills – in order to gather the troops necessary to launch an attack on the RDA and fend them off for good.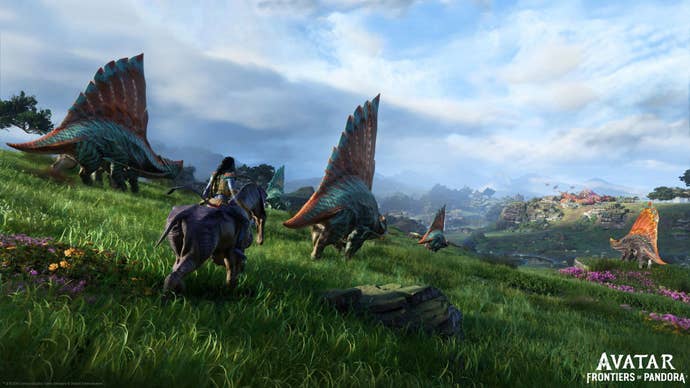 The game looks decent. If you don't like Far Cry, or Avatar, there's nothing for you here – I don't think Frontiers of Pandora is going to rewrite the rule book on open world Ubisoft games. But it's very pretty, and James Cameron and his team have been working with Massive to make this more than just a cynical licensing cash-in. It's meant as a proper extension to the Avatar property, a way of 'telling new stories with new technology' per the director himself.
So I remain interested. It'll live and die by how Avatar: Frontiers of Pandora feels in your hands as you play – which we've not had a chance to experience yet. If I was a betting person, though, I'd guess that it feels just like Far Cry. And that's not a bad thing.
---
Avatar: Frontiers of Pandora is a first-person action-adventure open world, launching December 7 on PS5, Xbox Series X, and PC.