Mehul Reuben DasJun 05, 2023 09:57:43 IST
Pros:
– The sheer brute performance
– The CherryMX Mechanical keyboard
– Expandability and upgradability in terms of Storage and RAM
– PCIe Gen 5 M.2 Storage slot
– Excellent thermal management
– The subtle but aggressive aesthetics
– The 4K 144Hz MiniLED display
– Great selection of ports and I/O
– Choice of materials could have been better
Cons:
– The price
– Average webcam considering the other specifications and the price
– Too bulky, even for a gaming laptop
Price: Rs 6,71,990/-
Rating: 4.75/5
Last year, when we reviewed the MSI Titan GT77 UHS, we were very impressed by it. Powered by the Intel i9-12900HX & the NVIDIA RTX 3080Ti Laptop GPU, it was very easily, the most powerful computer that we had used last year. In fact, we had stated in our review that most people don't have full-fledged desktops that could go toe to toe against the Titan GT77.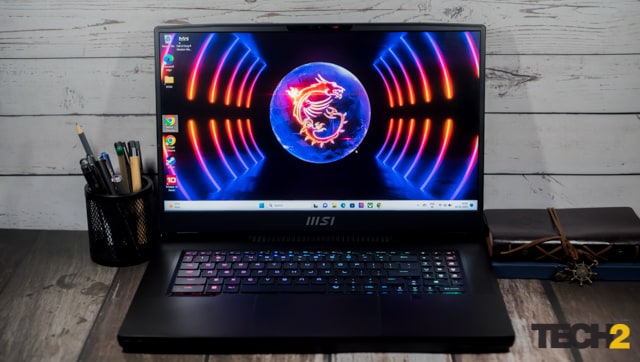 Well, MSI is back with another iteration of the Titan GT77 and is more bonkers than ever before. At first glance, it seems that not a lot has changed – it still has that patently bonkers gamer aesthetics, and backbreaking heft and bulk from last year. Look closely though and you'll see that the newest generation of the Titan GT77 is a beast that has reincarnated in a much more stronger avatar. MSI seems to have taken all the numbers from last year's Titan GT77, and have turned it up to 11.
The newest MSI Titan GT77 is a true enigma in this regard. The Titan GT77 continues to be a legitimate desktop replacement, delivering desktop-level performance in a reasonably portable form factor. Yes, there are a few gaming laptops that have the same sort of specifications that the new MSI Titan GT77 comes with, but they have some omissions or others, that leaves a sour taste in your mouth, especially when you know that there exists a machine, that makes absolutely no compromises when it comes to sustained performance, not just in gaming but other intensive tasks as well.
As always with the Titan GT77, while you can use this machine for intense gaming and experience impressive results, its true purpose lies in tackling far more demanding tasks. Who exactly and what task? Well, that's exactly the question we will tackle in this review of the MSI Titan GT77 and explore the intended audience for this desktop replacement laptop.
MSI Titan GT77 HX 13VI Review: Specs and features
The unit we tested was the MSI Titan GT77 HX 13VI, featuring an Intel Core i9-13950HX CPU. Our specific configuration included 64GB (2x32GB) of DDR5 RAM in a dual-channel setup, running at 4800MHz. However, it's worth noting that the laptop supports up to 128GB RAM thanks to an additional two So-DIMM slots
Retail units of the MSI Titan GT77 HX 13VI will be equipped with an Intel Core i9-13980HX CPU, which has slightly more powerful cores, up by 100Mhz. This is supposed to aid in lighter, more office-oriented tasks.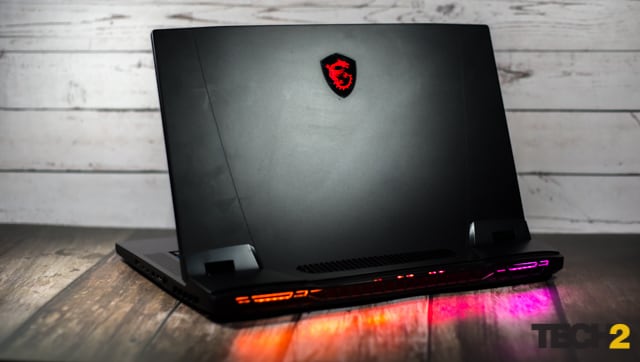 As for the GPU, we had the laptop variant of the NVIDIA RTX 4090, offering 16GB of GDDR6 VRAM. The laptop-grade GPU has a total of 175W of power to play with, so you know that the GOu is well-fed. Additionally, the laptop includes Intel's UHD Graphics for lighter tasks.
The display on our test unit was a 17.3-inch UHD 4K (3840X2160) MiniLED display, boasting an impressive refresh rate of 144Hz, and certification for HDR1000.
In terms of storage, our unit came equipped with 2 PCIe Gen 4 SSDs of 2TB for a total of 2TB. The MSI Titan GT77 features three M.2 slots, one of which supports PCIe Gen 5.
As for the ports, you get the following:
1x Type-C (USB / DP / Thunderbolt™ 4) with PD charging
1x Type-C (USB / DP / Thunderbolt™ 4)
3x Type-A USB3.2 Gen2
1x SD Express Card Reader
1x HDMI™ 2.1 (8K @ 60Hz / 4K @ 120Hz)
1x Mini-DisplayPort
1x RJ45 that supports up to 2.5G
For wireless connectivity, you get a Killer AX1690i module that supports WiFi 6E as well as Bluetooth 5.3.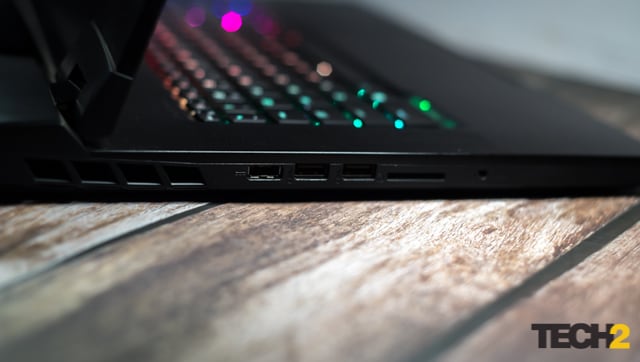 Powering the device is a non-removable 4-cell, 99.99Wh battery, accompanied by a 330W charging brick with a proprietary connector.
For security features, the Titan GT77 offers an IR camera and fingerprint-based biometrics, a webcam shutter for the integrated camera, and Firmware Trusted Platform Module(TPM) 2.0.
MSI Titan GT77 HX 13VI Review: Design and build quality
Like last year, The design of the latest generation of the MSI Titan GT77 is far from understated. MSI is actually continuing with the same design that we saw last year, which makes one thing very clear – the Titan GT77 has a legacy and a lineage that MSI feels should be recognisable at once.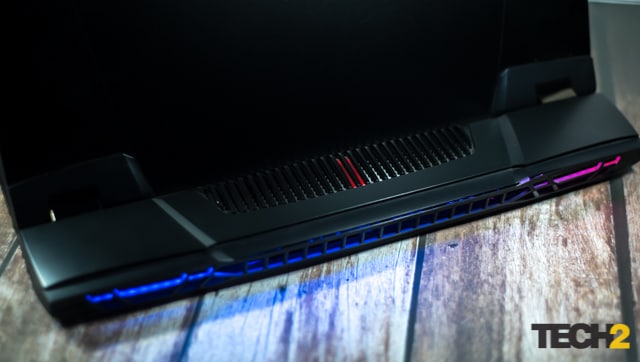 The laptop sports an all-black colour scheme and has a very aggressive styling. The prominent vents on the sides and back clearly are the first identifiers of the performance beast that's lurking under the chassis, even when you switch the RGB lighting off. The rear exhaust vents feature customizable RGB lighting, allowing users to assign different colours to each vent outlet using the SteelSeries GG app.
The MSI Titan GT77 is built like a tank – you can feel the heft just by looking at it. Weighing over 3.3 kilograms on its own it may seem heavy on its own. The power brick to keep this beast juiced up, weighs another 1.4 kilograms. However, considering its purpose as a true desktop replacement and the performance it delivers, the weight becomes more reasonable.
The laptop features a metallic top lid that houses the display. The lid is sturdy and shows minimal flex, and is slightly recessed from the edge of the clamshell, creating a noticeable protrusion at the rear.
Additionally, the lid showcases the illuminated MSI shield logo, enhancing its gamery vibes. It is attached to a robust yet solid hinge that can be easily opened with one hand, preventing unnecessary swaying of the panel As for the bezels, the left, top, and right edges boast thin bezels, while the bottom edge contains a thicker bezel with the MSI logo.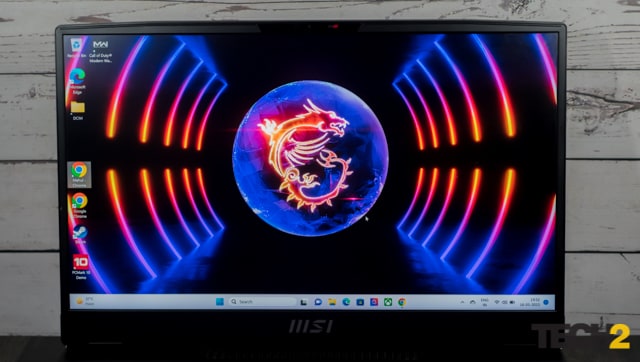 The interior of the laptop is primarily composed of plastic, but it doesn't feel cheap. However, the choice of materials could have been better as the entire laptop is a fingerprint magnet. This clean and sharp aesthetics of the device are easily besmirched by the user's fingerprints, and no matter how hard you try, you can't clean up the laptop with a microfibre cloth every 5 minutes.
The keyboard shows virtually no flex, and on the left and right sides of the keyboard, there are 2W speakers. Towards the bottom-left corner of the keyboard, we see the Cherry MX branding, again, illuminated with RGB.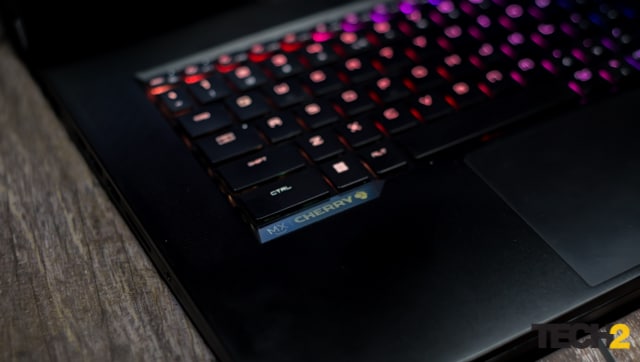 The bottom of the laptop consists of two parts. The top half is made of metal, most likely aluminium, allowing for better heat dissipation due to the presence of well-positioned vents. The other half is constructed of plastic. Additionally, two 2W woofers can be seen on the bottom of the laptop.
MSI Titan GT77 HX 13VI Review: Keyboard and trackpad
The MSI Titan GT77 is equipped with a low-profile mechanical keyboard developed by SteelSeries, incorporating Cherry MX switches. From the feel and sound of it, it seems to be a Cherry MX Brown switches. This results in one of the finest laptop keyboards available, offering a delightful typing and gaming experience. Additionally, there is a dedicated numeric keypad on the right-hand side, albeit with slightly smaller keys, which enhances typing convenience. It's important to note that the keys on the numpad, function row and arrow keys may not feel as tactile as the Cherry switches and have a more membrane-like sensation.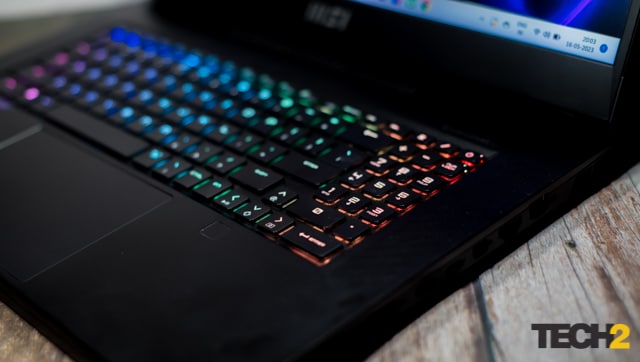 Similar to other keyboards featuring Cherry MX switches, the key switches on the Titan GT77 offer excellent actuation and a satisfying tactile feel. The keyboard is equipped with per-key RGB backlighting, allowing users to customize the lighting according to their preferences. The included SteelSeries GG software also allows users to easily create and manage custom profiles, making it one of the most user-friendly configurators.
The trackpad on the laptop is notably large and lacks physical buttons. It functions as a standard multi-gesture trackpad, providing responsive and precise control. The surface of the trackpad feels smooth and pleasant to touch, and it has very precise palm rejection, which is particularly beneficial considering its size. Furthermore, it is very accurate. MSI need not have gone for such a good trackpad for the Titan GT77, considering that a majority of the users will be using a mouse with it anyway. Having said that, we're glad that MSI did go for it.
MSI Titan GT77 HX 13VI Review: Webcam and speakers
The MSI Titan GT77 still uses a 720p camera which is housed in the thin top bezel of the display. the fact that some people may think of using the webcam to stream, it would have been preferable to see at least a 1080p sensor instead. Further still, considering what people will pay for the laptop and the fact that it is the best of the best when it comes to specifications, a 4K sensor would have been ideal.
Having said that, the image and video quality produced by the webcam is decent enough to serve general purposes, like attending a meeting or a video call. Like last year, the camera gets some IR capabilities, which makes it great for biometrics. One thing that has been added to this year's GT77 is a physical web shutter for increased privacy.
The built-in microphone, unlike the webcam, performs well and is suitable even for streaming. During video calls, it effectively isolates the speaker's voice from any surrounding background noise.
The audio output of the device consists of a pair of 2-watt speakers and a pair of 2-watt woofers, all facing the user. These speakers provide high-quality sound with a distinct mid-range, ample separation between high and low frequencies, and a satisfying bass presence. Throughout our testing, we encountered no instances of rattling, distortion, or any other undesirable problems when playing bass-heavy tracks. Although the maximum volume level is somewhat on the lower side, it can still reach sufficient loudness to fill a room, albeit it might leave some users slightly disappointed.
MSI Titan GT77 HX 13VI Review: Display
Last year, the unit we tested came with a 17.3-inch 1080P IPS display that had a refresh rate of 360Hz. The units available in India come with a 4K, 120Hz IPS display. This year, MSI has made some massive updates to the display. For the 2023 version, we get a 4K resolution, measuring 3840 x 2160 pixels, and a refresh rate of 144 Hz. Additionally, there is an alternative option of a QHD IPS screen with a refresh rate of 240 Hz.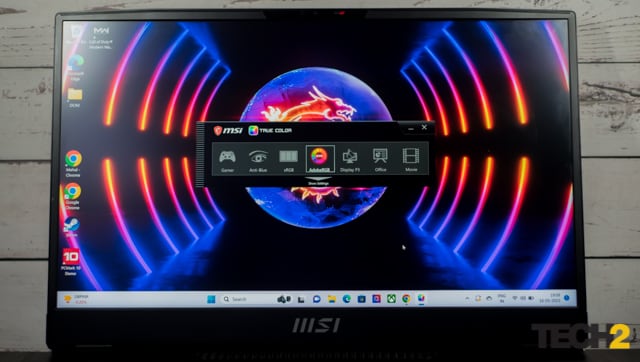 Mini-LED screens ensure true black images without any backlight bleeding. MSI promotes over 1000 dimming zones, although some blooming may still be observed. When bright objects are displayed on dark backgrounds, the entire dimming zone illuminates, resulting in bright clouds. However, this effect is primarily noticeable when logos are displayed and not during gaming or regular usage. The average brightness is measured at 600 nits, and the low black value contributes to a remarkably high contrast ratio.
The panel supports HDR 1000, and our tests show that it has a maximum brightness of over 1000 nits. Users will need to manually activate HDR. Moreover, the different colour profiles that come with MSI's True Color software cannot be used, and HDR cannot be utilized while on battery power. This is because Windows falls spectacularly short when it comes to implementing HDR.
Speaking of True Colour, the Titan GT77 comes equipped with the True Color software, which provides various preconfigured settings for colour spaces and situations such as gaming, office work, and movie viewing. Additionally, the software allows users to calibrate the screen according to their preferences.
MSI Titan GT77 HX 13VI Review: Performance in Productivity and Gaming
This is where the MSI Titan GT77 shines the brightest, and the main reason why the select few people who can actually afford this laptop, should go for it. Last year's Titan GT77 was a beast when we were looking at its performance. The newer, 2023 version fo the GT77, is an even more powerful, and surprisingly, more efficient beast – but, a beast nonetheless.
The 2023 version of the Titan GT77 comes with an Intel Core i9-13950HX CPU which boosts up to 5.5 GHz, has 32 threads and 24 Cores, 8 of which are the top-tiered Performance Cores, and an additional 16 Efficiency Cores. The P-Cores boost all the way up to 5.5Ghz whereas the E-cores go all the way up to 4GHz.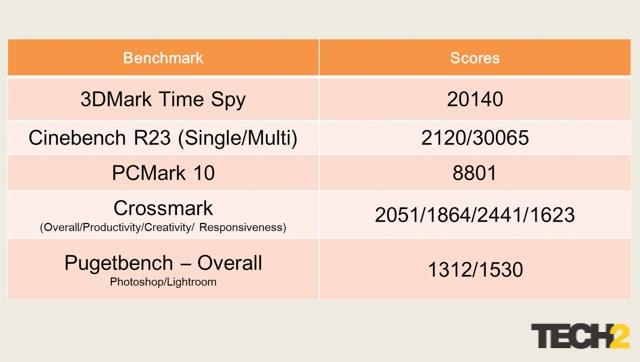 As far laptop grade CPUs are considered, this is bested only by the Intel Core i9-13950HX, which is what retail customers will be getting. Needless to say, it is the best of laptop CPU out there right now.
Even the Intel Core i9-13950HX CPU is a pretty powerful CPU. The only difference between the two CPUs is the 13980HX offers a 100 MHz higher maximum clock for the P-cores and lets go of the vPro support. vPro won't help that much with gaming, but it does slightly help with work-related stuff. Nonetheless, the CPU again is a great example of just how raw power and efficiency can be packed into a single SoC. Intel does that using Intel's hybrid architecture is.
As for the GPU, we get a laptop version of the NVIDIA GeForce RTX 4090, again, the best that a laptop can be equipped with right now. The RTX 4090 in the MSI Titan GT77 boosts up to 2340Mhz and comes with 16GB of GDDR6 VRAM and a TDP of 175W. What this means is that the GPU has plenty of room to stretch its legs and perform as a 4090 should.
The net result is that the Titan GT77 truly is the king of performance among portable laptops. The Intel Core i9-13950HX crushes all benchmarks that you throw at it and is bested only by proper desktop-grade K-series CPUs from Intel. During our testing, it fared better than almost all other laptops that we tested this year, by quite a margin. And thanks to Intel's hybrid architecture, it got some of the highest scores we have seen across benchmarks, both in single-threaded and multithreaded workloads.
The GPU too crushes every synthetic benchmark that is thrown at it. MSI has given the RTX 4090 a TDP of 175W. Both, the Intel Core i9-13950HX and the RTX 4090 are properly fed when it comes to power. Intel actually allows you to play with the clock speeds of the Core i9-13950HX using MSI Centre's profiles. We did all of our testing of the laptop, benchmarking and gaming at its Extreme Performance to get the best out of the device.
Apart from keeping the giants properly fed, MSI has also ensured that the CPU and the GPU are adequately cooled. The Titan GT77 comes with a slightly updated version of MSI's Cooler Boost Titan system that helps maximize the i9-13950HX's and RTX 4090's performance efficiency. This year, you get 4 fans and a heat sink with 8 pipes and 6 exhausts.
In benchmarks, the Titan GT77 tops nearly every benchmark that you run it through, as it should. In 3DMark Time Spy it scores 20140, in Cinebench R23 it scores, 2120 for the single core and 30065 for the multicore tests. In PCMark 10, it gets a very solid score of 8801, the highest we have seen in a laptop.
In Pugetbench, it has an overall score of 1213 for Photoshop, and 1530 in Lightroom. And, in Crossmark, it is 1864 for productivity, 2441 for creativity, 1623 for Responsiveness and an overall score of 2051.
We have only seen top-tier desktop CPUs and GPUs scores that are comparable to this. Having said that we have always maintained that benchmark numbers do not necessarily reflect how a device actually performs in real life. For that, you have to turn to gaming and other real-life applications.
We tested out games like Far Cry 5, Far Cry 6, Shadow of The Tomb Raider, Metro Exodus, and the recent Call of Duty Modern Warfare 2. We also played CS:GO, but did not include it in our test results, and the results were just ridiculous, but more on that later.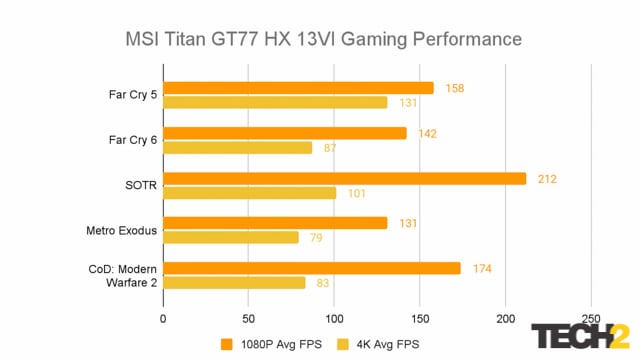 As stated earlier, we did all of our testing, including the benchmarks using MSI's Extreme Performance mode to extract the maximum possible juice from the processor and GPU package. As for in-game settings, we were at the highest possible presets, enabling DLSS where possible, and antialiasing. We tested the game at 1080P because that is what most gamers would go for given the size of the panel, and in 4K given that our unit had a 4K panel.
In 1080P Gaming, with the settings turned all the way up where we could have, and with DLSS on when possible, we had more than an awesome experience. In Far Cry 5, we were averaging 158 FPS, in Far Cry 6, we were getting a comfortable 142 FPS. In Shadow of the Tomb Raider, we were consistently getting an average of 212 FPS. Metro Exodus was giving us an ultra-smooth 131 FPS. And, in Call of Duty Modern Warfare 2 (2022) we were averaging 174.
We get to see a similar story in 4K gaming as well. In Far Cry 5, we were getting 131 FPS, in Far Cry 6, we were getting a pretty smooth 87 FPS. In Shadow of the Tomb Raider, we were getting an impressive 101 FPS. In Metro Exodus, we were getting a very much playable 79 FPS. and, in Call of Duty Modern Warfare 2 (2022) we were averaging a very healthy 83.
Coming to CS:GO, we were getting a ridiculous 600+ FPS at 2K with the details cranked up. We did not bother testing it on 4K, but rest assured, it should be somewhere between 300-400 FPS, at the minimum
MSI Titan GT77 HX 13VI Review: Battery
The Titan GT77 comes with one of the largest batteries to be ever fitted to a laptop. It has a 4-cell, 99.99W/hr battery, and a 330W charging brick. But because of the hardware that this laptop packs and the performance that it delivers, the Titan GT77 isn't anything to write sonnets about. Still, it lasts a little longer than the last generation's battery.
On an average day of work, which consisted of a ton of writing, some photo editing, and quite a bit of content consumption on YouTube and Netflix, we got about 6-7 hours of usage at about 40-50 per cent screen brightness. Do note, that this was in Silent mode, which is another and on the Intel GPU.
During our extended battery testing, where we play a 4K Video on YouTube on 75 per cent brightness and 50 per cent volume, with all RGB lights on, the MSI Titan GT77 lasted just under 5 hours. This, from a laptop that is as performance-packed as this, is actually very impressive.
While gaming without the charger, the laptop conked off after 1 hour or so of gaming with reduced screen brightness. The performance did take a minor hit without the charger.
MSI Titan GT77 HX 13VI Review: Verdict
The MSI Titan GT77 is not a machine for everyone, not even the most avid of gamers. Unless you're planning to take up e-sports and gaming as a career option, or are planning to get into AI/ML development or to render a lot of CAD designs or videos, this is not the laptop for you, For most games and purposes, it is an overkill.
So, who is the Titan GT77 designed for? We believe it is tailored for high-performing content creators, gamers, machine learning engineers, data scientists, and game developers who are frequently on the move and require a true desktop replacement that can be easily transported.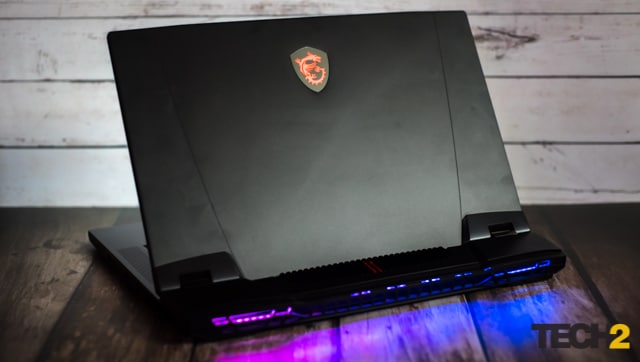 As powerful as the Titan GT77 is it has a few drawbacks. We wish we had a higher-quality webcam, and that it wouldn't have been priced this prohibitively. Nevertheless, once you experience the powerful synergy between the Core i9-13950HX processor and the RTX 4090 graphics card, these minor drawbacks fade into insignificance.
If you seek uncompromising and unrestrained performance, and if you have the financial means to invest in a laptop priced at around Rs 6.5 Lakhs, then look no further. This is the epitome of what laptops for serious professionals and professional gamers were always intended to be.