Intro
There's just a few months till Apple's anticipated September hardware event, which will be used to reveal the exciting iPhone 15 series to the world. Although the veil of secrecy has once again fallen off, revealing all there is to know about the upcoming iPhone 15 series, there's still lots of excitement surrounding an Apple keynote event. 
And surely, the crown jewel of the presentation will be none other than the iPhone 15 Pro Max (which might also carry the more riveting iPhone 15 Ultra name). With a new design, new periscope camera, and finally a USB Type-C connector instead of Lightning, not to mention a snappy new 3nm chipset, the iPhone 15 Pro Max is shaping up to be quite an intriguing phone, which will most certainly end up being one of the best released in 2023.
Can the OnePlus 11, the latest flagship by the 'never-settling' company, hold a candle?
iPhone 15 Pro Max vs OnePlus 11 expected differences:

Customizable Action Button (iPhone 15 Pro Max) vs a hardware mute switch (OnePlus 11)
Titanium (iPhone 15 Pro Max) vs aluminum (OnePlus 11)
Apple A17 Bionic 3nm vs Snapdragon 8 Gen 2
1TB storage version (iPhone 15 Pro Max)
48MP (iPhone 15 Pro Max) vs 50MP wide (OnePlus 11)
5-6X periscope (iPhone 15 Pro Max) vs 2X telephoto (OnePlus 11)
8K video recording (OnePlus 11)
27W (iPhone 15 Pro Max) vs 100W (OnePlus 11) charging
iOS 17 vs Oxygen OS/Android 13
$1,199 (iPhone 15 Pro Max) vs $699 (OnePlus 11)
Table of Contents:
Design and Size
A change of pace for the iPhone, and 
The iPhone 15 Pro Max will retain the 6.7-inch display size of most of its predecessors, but will be ever-so-slightly different in terms of overall size. The next big iPhone will be slightly narrower, slightly shorter, but thicker than its predecessor. Not a major difference that you might notice, but enough to render your iPhone 14 Pro Max cases obsolete. 
| | iPhone 15 Pro Max | iPhone 14 Pro Max | Difference |
| --- | --- | --- | --- |
| Height | 159.86 mm | 160.7 mm | -0.84 mm |
| Width | 76.73 mm | 77.6 mm | -0.87 mm |
| Depth | 8.25 mm | 7.85 mm | +0.4 mm |
From a design build standpoint, multiple rumors have it that Apple will be ditching stainless steel. The iPhone 15 Pro Max will likely have a titanium frame, which could be lighter but more robust than a stainless steel one. As another plus, titanium wouldn't hold any grimy fingerprints that will make your premium phone feel, well, 'un-premium'. Aside from this major change of build materials, the iPhone 15 Pro Max will be the same candy-bar metal-glass sandwich.
Two 'firsts' for Apple, though: the mute switch, a signature iPhone feature, is getting substituted for a customizable Action Button, probably quite similar to the one on the Apple Watch Ultra. Although uncertain, we suppose that this Action Button could be used to switch between iOS Focus modes, like enabling or disabling various iPhone features and possibly even your custom shortcuts. Great for customization freaks!
Another change that's coming is the willy-nilly move to USB Type-C at the bottom, which was commanded by EU legislation in 2022. The new port will succeed the Lightning port of old on all iPhone 15 models, but rumors claim that the iPhone 15 Pro Max will have an edge when it comes to data throughput speeds. 
Meanwhile, the OnePlus 11 employs a similar 6.7-inch display, but thanks to its slightly curved and svelte design, it feels more compact than its large display would suggest. Yes, despite its large footprint, using the OnePlus 11 is a joy, as it leaves the impression of a much smaller device. 
This aluminum/Gorilla Glass 5 sandwich employs a signature OnePlus hardware feature, the three-way ring switcher, which is a favorite of ours. Sadly, you can't customize it, but it's a fool-proof feature anyways. The OnePlus 11 also comes with a USB Type-C port at the bottom, but it's limited to merely USB 2.0 speeds, which is slow as per 2023 standards.  
We expect that the iPhone 15 Pro Max will be a IP68-rated device, making it fully resistant to prolonged exposure to dust and water. Meanwhile, the OnePlus 11 is an IP64-rated phone, meaning that you try as you might to not dunk it in water. 
Colors-wise, the iPhone 15 Pro Max is coming in the classic Space Gray, Silver, and Gold, as well as a notable new arrival: Burgundy Red. Meanwhile, the OnePlus 11 comes in Eternal Green and Titan Black. 
Display Differences
So far, we haven't heard of any particular major changes that might grace the iPhone 15 Pro Max display, making us think the iPhone 14 Pro Max display will be reused. No issues with that, as this one was among the best displays on a phone, with superb colors, excellent contrast, and humbling maximum brightness, potentially hitting levels above 2,000 nits. We are talking about a 6.7-inch Super Retina XDR OLED display with HDR capabilities, a super-smooth 120Hz ProMotion refresh rate, and finally, the Dynamic Island punch-hole on top. 
A big change could befall the iPhone's bezels. If rumors are to be believed, we might be looking at a world record on our hands, as the iPhone 15 Pro Max might come with super-tiny 1.55mm bezels, stealing the record from the Xiaomi 13 with its 1.81mm bezels.
Meanwhile, the OnePlus 11 also harbors a 6.7-inch OLED display, which has equally vibrant and nice-to-look-at colors. With its LTPO 3.0 display that can automatically switch between 1Hz and 120Hz refresh rates, making on-screen content feel extremely pleasing to interact with thanks to the smoothness. One aspect of the display that's not up to par with its flagship status is the relative low maximum brightness of the display. You will more likely than not have to squint your eyes at high noon while outside. 
While the iPhone 15 Pro Max is coming along with Face ID on deck, neatly hidden within the Dynamic Island punch-hole, the OnePlus 11 comes with both a 2D picture-based face unlock as well as an optical fingerprint scanner embedded right into the display. It works great!
Performance and Software
Power overwhelming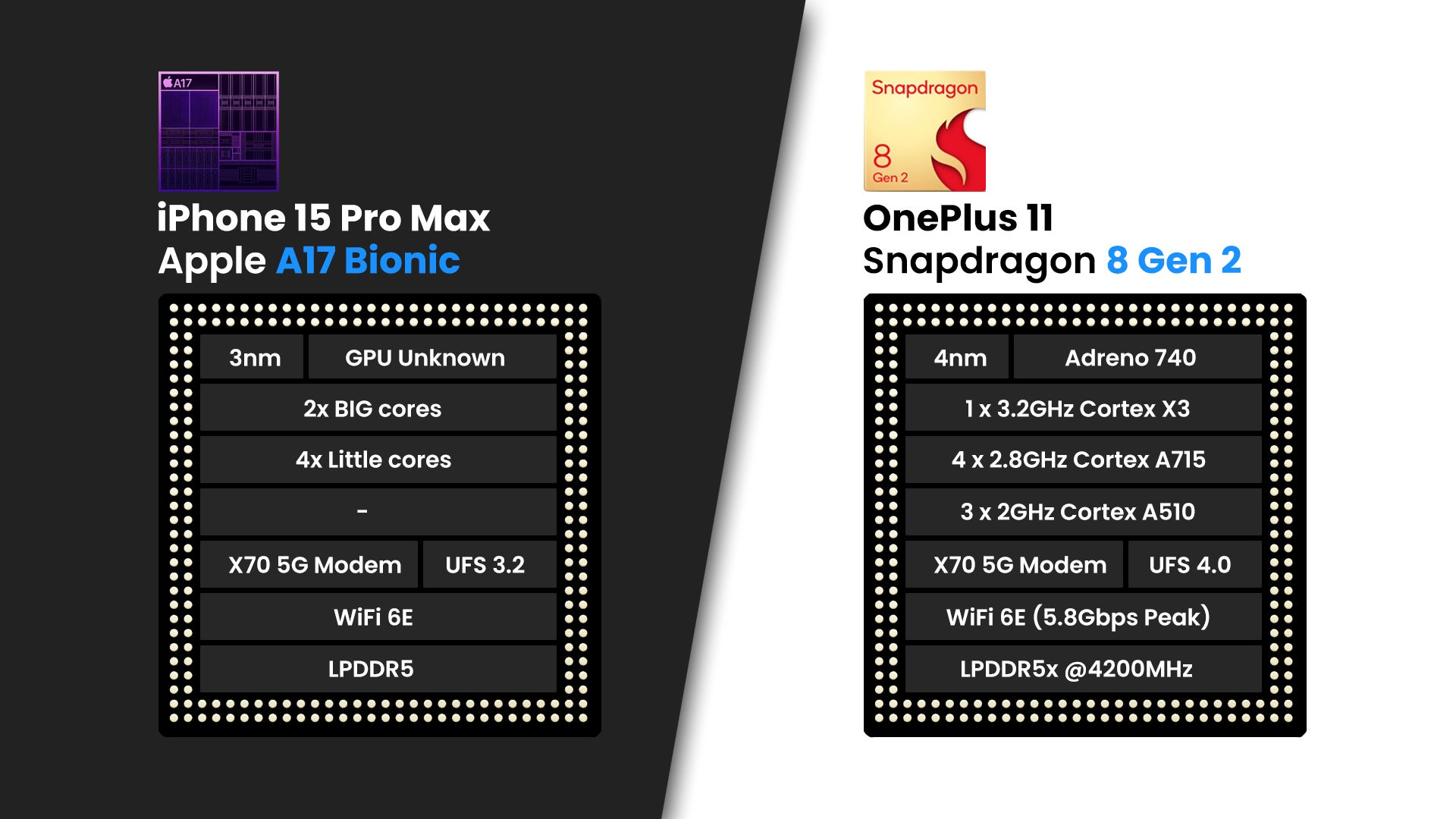 The iPhone 15 Pro Max will be coming with the 3nm Apple A17 Bionic chipset, built by TSMC, which will most certainly introduce a ton of improvements to both performance and efficiency. We expect it to be quite more powerful than the Apple A6 Bionic (which powered the iPhone 14 Pro Max). 
At the same time, the denser 3nm manufacturing process will most certainly require less power to do its mojo. This means potentially much better battery life, which is great news! The iPhone 15 Pro Max will also come with 8GB of RAM, and either 128, 256, 512GB of storage, or the range-topping 1TB version. 
On the other hand, the OnePlus 11 comes with the Qualcomm Snapdragon 8 Gen 2 on board, the best chip available to Android phones right now. It performs admirably, especially when paired up with OnePlus' lightweight OxygenOS interface, which is based on Android 13. However, during more intensive and power-hungry tasks, the OnePlus 11 might get a little hot and throttle its processor down to cut off the heat. 
The OnePlus 11 comes with either 8 or 16GB of LPDDR5X RAM, and either 128 or 256GB of storage on board. With no hardware expansion options, you are better off considering a cloud-based storage service for extra space. 
The iPhone 15 Pro Max will ship with iOS 17. The phone will be supported for at least five years, so at least till 2028. The OnePlus 11 will be getting four years of major Android updates, as well as five years of security support. 
Camera
Zooooom! 
The iPhone 15 Pro Max will come with a 48MP camera, but will likely employ a larger sensor than the iPhone 14 Pro Max. This will potentially improve the overall imaging capabilities of the largest iPhone's main camera. 
The OnePlus 11 boasts a 50MP wide-angle camera with a Sony IMX890 sensor with f/1.8 aperture and tuned by legendary camera company Hasselblad. It produces very decent photos, with great saturation, contrast-y look, and very decent low-light performance. 
The big difference, however, stems in the telephoto cameras of the two phones. The iPhone 15 Pro Max will arrive with a 5X or 6X optical zoom camera, which will allow you to zoom far further than what the 32MP 2X telephoto of the OnePlus 11 would.
The ultra-wide camera of the iPhone 15 Pro Max would likely remain the same as the 12MP unit we found on the iPhone 14 Pro Max. The same applies to the FaceTime camera up front. 
In terms of video-recording, the OnePlus 11 supports 8K video at 24fps, though we doubt that Apple will add such a high-res video-recording to the iPhone 15 Pro Max. 
Audio Quality and Haptics
The iPhone 15 Pro Max will likely be another exceptional device when it comes to audio playback from the built-in speakers, similarly to its predecessors. We expect rich bass and great depth from the bottom-firing loudspeaker and the earpiece. 
The OnePlus 11 comes with dual sub-magnets and the NLC low-frequency algorithm, which are some pretty fancy words that depict a very capable stereo sound system. The OnePlus 11 sounds great, with noticeably improved audio quality in comparison with its OnePlus 10 Pro predecessor. 
When it comes to haptic feedback, the OnePlus 11 has one of the largest vibrator motors around, and it would be understatement to say that it delivers excellent haptic feedback. It has precise vibrations that feel exceptionally pleasing. 
iPhones traditionally have excellent haptic feedback, and we expect the iPhone 15 Pro Max to be no different.
Battery Life and Charging
Big hopes and great expectations!
While we know a lot about the iPhone 15 Pro Max, we don't know its exact battery capacity. Still, we don't expect it to be much larger or smaller than the battery cell found in the iPhone 14 Pro Max, so something in the 4,200-4,300mAh range. Definitely in the ballpark of large prior iPhones, but still technically smaller than most Android flagships donning 5,000mAh batteries. The same applies to the OnePlus 11 as well, which also has a 5,000mAh battery on board. 
However, even despite the iPhone's smaller expected battery, we anticipate that its 3nm chipset will be able to deliver better battery life than what the OnePlus 11 here is capable of. In our dedicated battery tests, which aim to recreate different usage scenarios and are done in a controlled environment with the displays manually set to 200 nits, the OnePlus 11 is already losing to the iPhone 14 Pro Max, so it's only logical for us to assume an undisputed victory for the upcoming iPhone 15 Pro Max as well. Remains to be seen by how much exactly.  
The iPhone 15 Pro Max will likely support up to 27W wired charging speeds as well as MagSafe wireless charging speeds. There are rumors that Apple might actually allow third-party chargers to deliver the same 15W wireless charging speeds that MagSafe is capable.
Meanwhile, the OnePlus 11 comes with a super-fast 100W charger that allows its battery to fully charge in less than 30 minutes. There's no way the iPhone 15 Pro Max beats that. However, the OnePlus 11 does not support wireless charging. 
Specs Comparison
iPhone 15 Pro Max
OnePlus 11
Size, weight
159.86 x 76.73 x 8.25mm
6.42 x 2.92 x 0.34 inches (163.1 x 74.1 x 8.53 mm)
Screen
6.7″ OLED HDR
120Hz ProMotion
6.7″ OLED HDR
120Hz
Processor
A17 Bionic
3nm
Qualcomm Snapdragon 8 Gen 2 4nm
RAM, Storage
8/128GB
8/256GB
8/512GB
8/1TB

LPDDR5

8GB/128GB
16GB/256GB

LPDDR5X

Cameras
48MP main
12MP ultra
12MP 5X-6X zoom

12MP front

50MP main
48MP ultra-wide
32MP 2X zoom

16MP front

Battery
4323 mAh*
5000 mAh
Charging
USB-C
27W wired
MagSafe
USB-C
100W wired
*-anticipated capacity
Summary and Final Verdict
So, with possibly better performance, battery life, and camera performance, the iPhone 15 Pro Max is shaping up to be quite the tough nut for the OnePlus 11 to crack. The upcoming iPhone will definitely be the yardstick that all upcoming (and previous) Android flagships will measure themselves against, so edging a victory for the OnePlus device here would be priceless.
Speaking of price, however, there will seemingly be a very wide rift between the two phones. The OnePlus 11 starts at $699 for its entry-level variation with 8GB of RAM and 128GB of storage. At the same time, we anticipate the iPhone 15 Pro Max to start at $1199, which is quite the premium over the aggressively-priced Android flagship phone. 
Surely, if you're already locked into the Apple ecosystem, getting this good but foreign device might not be optimal. Although quite more expensive, the upcoming iPhone 15 Pro Max could be an important new chapter for Apple that will pave the road for multiple important releases in the near future. 
At the same time, the OnePlus 11 is a superb take on a modern Android flagship, with all the essential and with no extraneous stuff. 
Which one should you get? Tough to say. To me, you should shortlist the OnePlus 11 if you fancy Androids, and probably prepare to pay up Apple this fall if you're into the iOS ecosystem.