Sparkle used to be a rather well-known maker of graphics cards back in the aughts, but the company decided to leave this market in mid-2010s as competition got cut-throat and its embedded products turned out to be more profitable. This year the company decided to return to the graphics cards game with a lineup of Intel Arc Alchemist-based graphics cards called Elf, Orc, and Titan. All of them are displayed at Computex and all of them are contenders to join the list of the best graphics cards, should we get to test them.
Sparkle's initial lineup of graphics cards is pretty much straightforward and consists of five models and a concept: 
The entry-level Arc A310 Elf board for the cheapest systems that still need a discrete graphics card.
The dual-slot Arc A380 Elf graphics card with 6GB of memory that can fit into a Mini-ITX system.
The dual-slot dual-fan Arc A750 Orc card with 8GB of GDDR6 memory onboard and two eight-pin auxiliary PCIe power connectors.
The massive Arc A750 Titan with a triple-fan cooling system and two eight-pin auxiliary PCIe power connectors to maximize overclocking potential. 
The range-topping Arc A770 Titan that has 16GB of memory and is equipped with an even bigger cooling system to squeeze all the juices out of Intel's ACM-G11 GPU.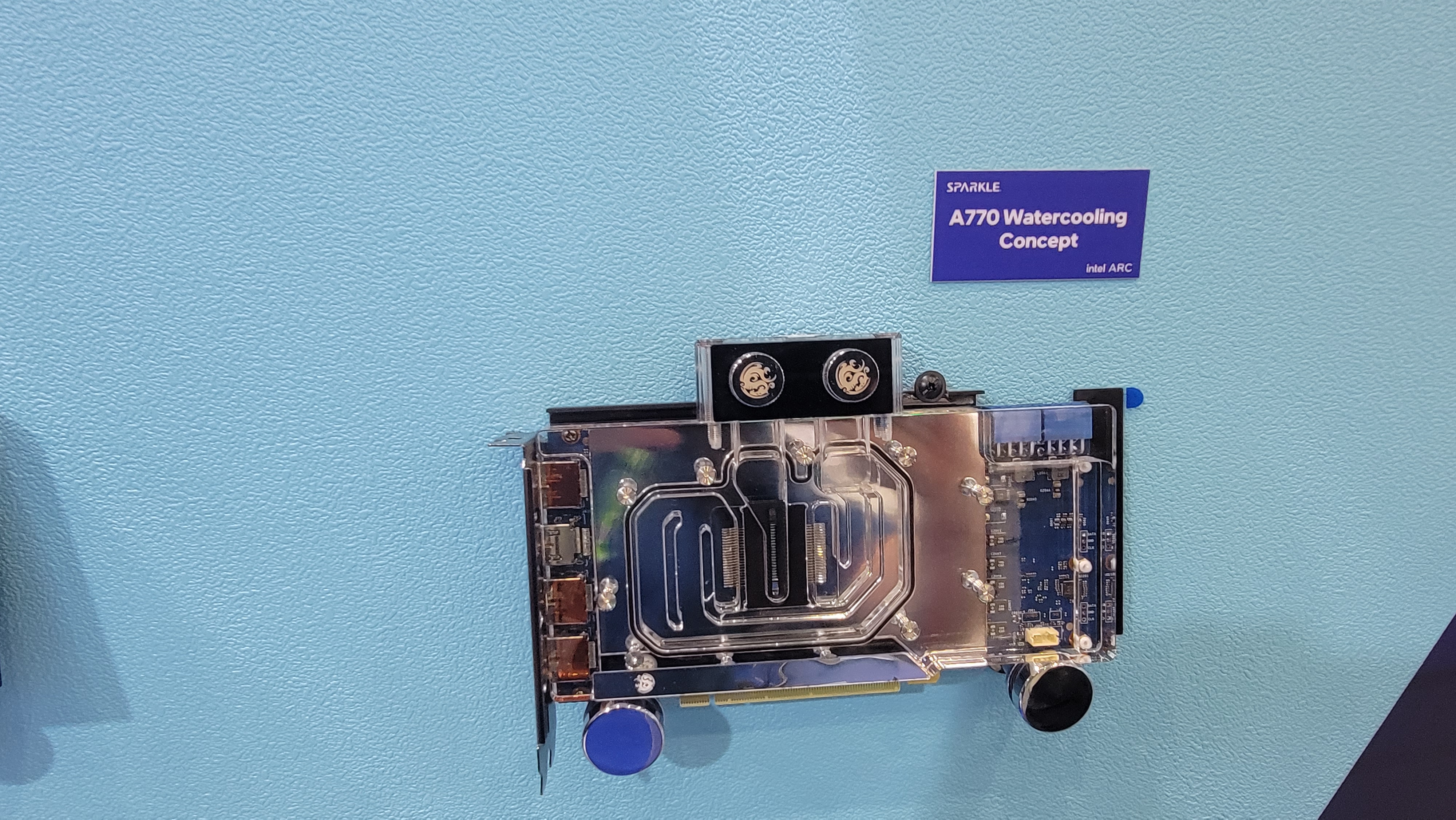 Just in case a massive triple-fan cooler is not enough, Sparkle has its A770 Watercooling Concept with a pre-installed water block for those who want to push the graphics processor a little bit further.
The company also had a low-profile A310 and A380 industrial cards and an A370 MXM module on display.
Sparkle's Arc A750 Orc and Arc A750 Titan graphics cards are designed for midrange gaming systems, and these two seem to feature the same specifications and similar performance out-of-box, but the Titan promises to have a slightly better overclocking potential thanks to its larger cooling system. What is a bit surprising is that the GPU boost clock listed by Sparkle for both cards is 2.20 GHz, which is below 2.40 GHz recommended by Intel itself.
As for the Arc A310 Elf and Arc A380 Elf graphics cards, they are clearly aimed at entry-level gaming PCs and its main advantages are world-class media decoding/encoding capabilities as well as performance higher than that of integrated graphics solutions. 
Interestingly, most of Sparkle's graphics cards are already listed at Newegg. The Arc A380 Elf costs $140, the Arc A750 Orc is priced at $240, and Arc A750 Titan carries a $260 price tag. These prices are in line with competing offerings based on the A380 and A750 GPUs.
Updated Thursday, June1 at 5:40 p.m. ET with more photos and context about what was on display in Sparkle's booth.