Refresh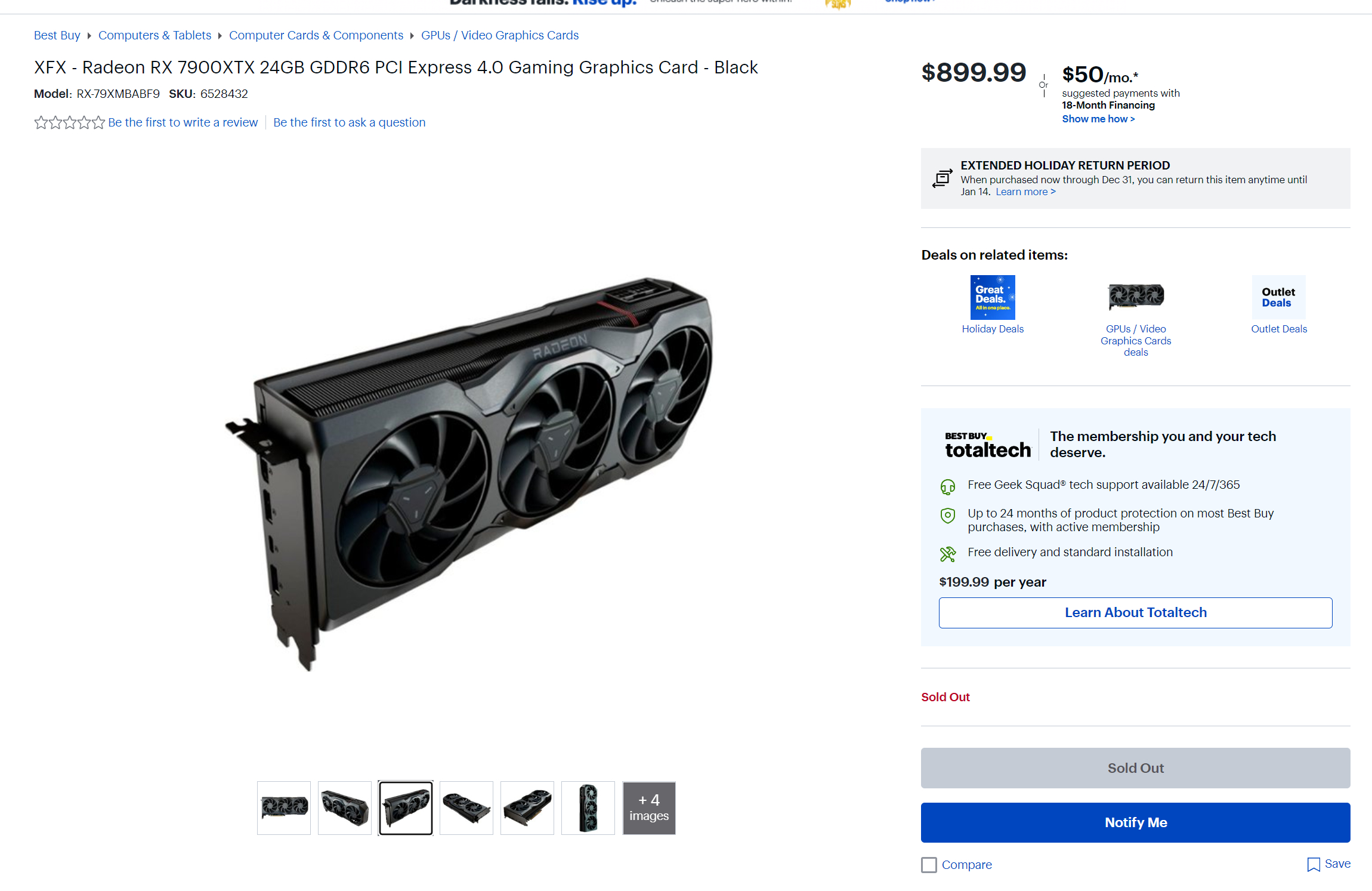 XFX Radeon RX 7900 XTX – $900 at Best Buy
Sometimes AMD's partners sell the reference design for themselves, and that seems to be the case with this XFX RX 7900 XTX already listed over on Best Buy. You can't carry the card to checkout, but we suspect this will be a page to watch once the sales embargo lifts later.
Funny thing about this card is that it's listed for $900, which is $99 less than the MSRP for the XTX. I doubt this price will actually exist when these cards actually go on sale, but one to watch in case you really can score this card for cheaper.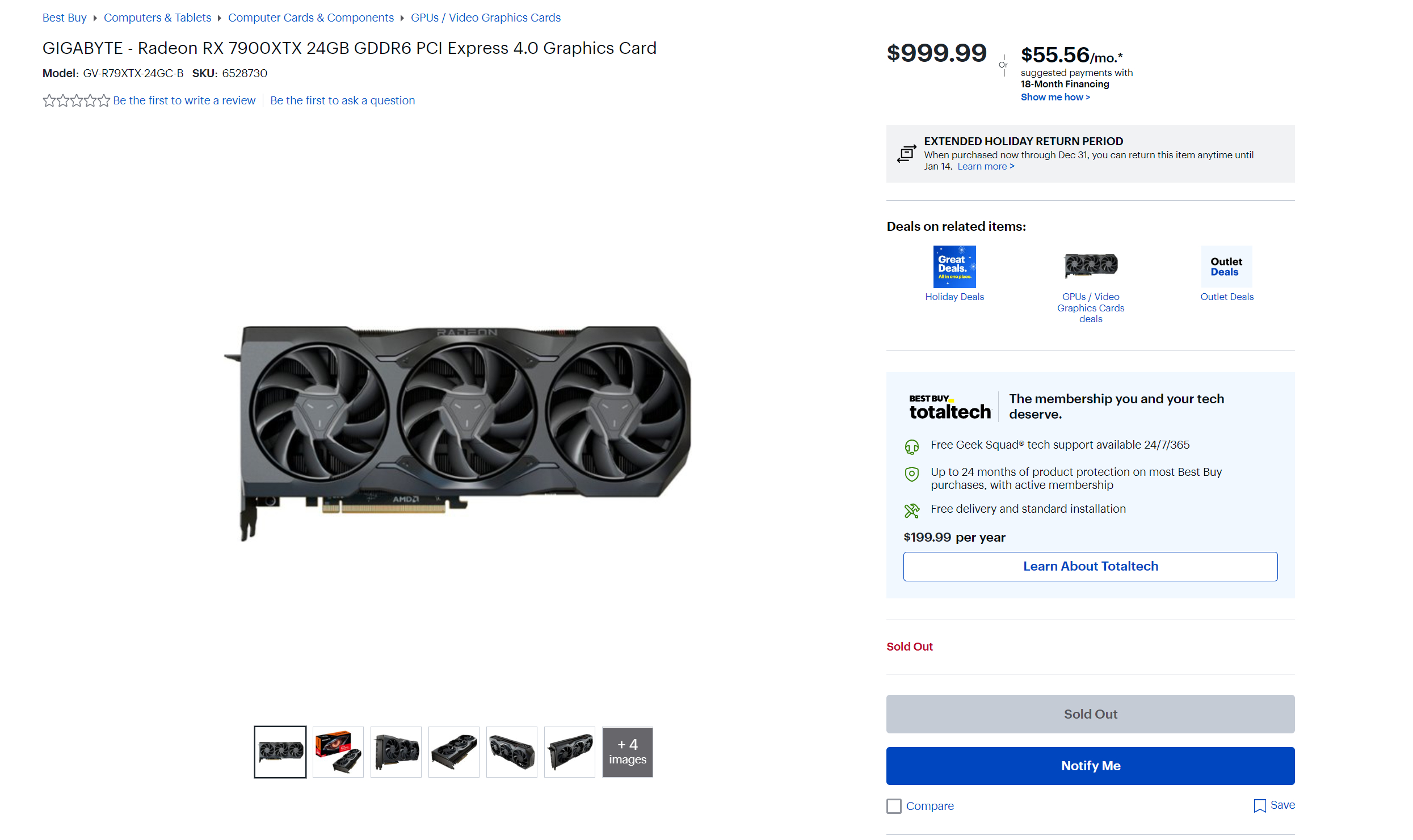 Gigabyte RX 7900 XTX – $1,000 at Best Buy
Here's another early listing for a reference card, this time it's Gigabyte's name arbitrarily slapped on the box. Rest assured this is the same reference design as the one I reviewed.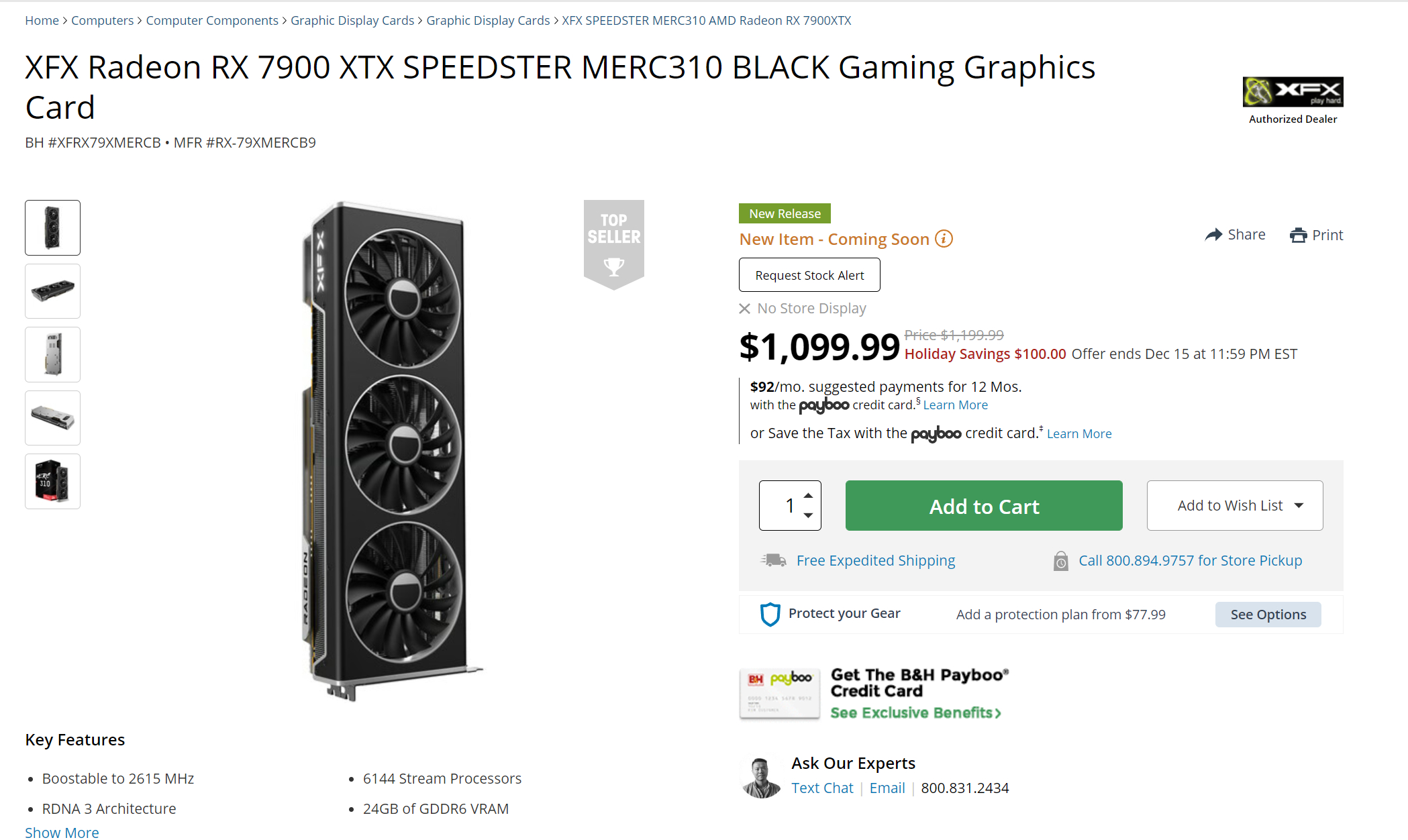 XFX RX 7900 XTX Speedster Merc310 – $1,100 at B&H
Here's an actual third-party designed card from XFX. This RX 7900 XT comes in a whole $100 more than the reference design if this early listing's price is to be believed.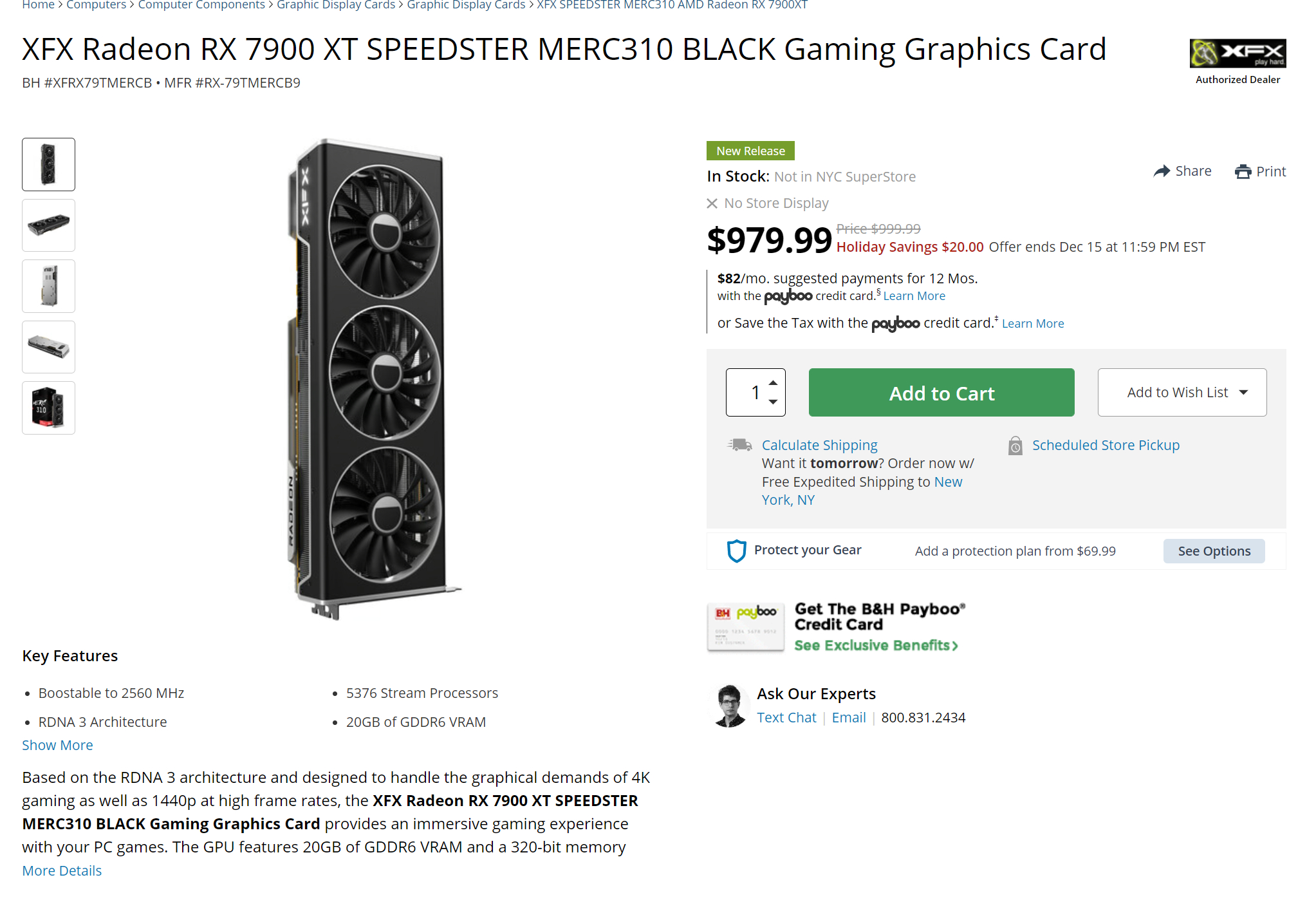 XFX RX 7900 XT Speedster Merc310 – $980 at B&H
This doesn't seem like a great deal to me. For $20 more you can at least try and score the reference RX 7900 XTX, an all-round better graphics card. Just something to think about if you're looking around this sort of price. 
According to ex-HardOCP editor Kyle Bennett, claiming multiple sources handed him this information, AMD will have around 200,000 RX 7900-series graphics cards available at launch. Reportedly that means around 30,000 reference designed cards, though we don't have the numbers of how many of each. That'll likely depend on both expected demand and how many perfect Navi 31 GCDs AMD managed to manufacture in time—some of the GCDs not fit for the XTX will work on the XT instead. 
Verified from multiple sources. @amdradeon will ship over 200K 7900 XT and XTX GPUs in Q4. Over 30K reference cards on shelves on launch day.December 11, 2022
See more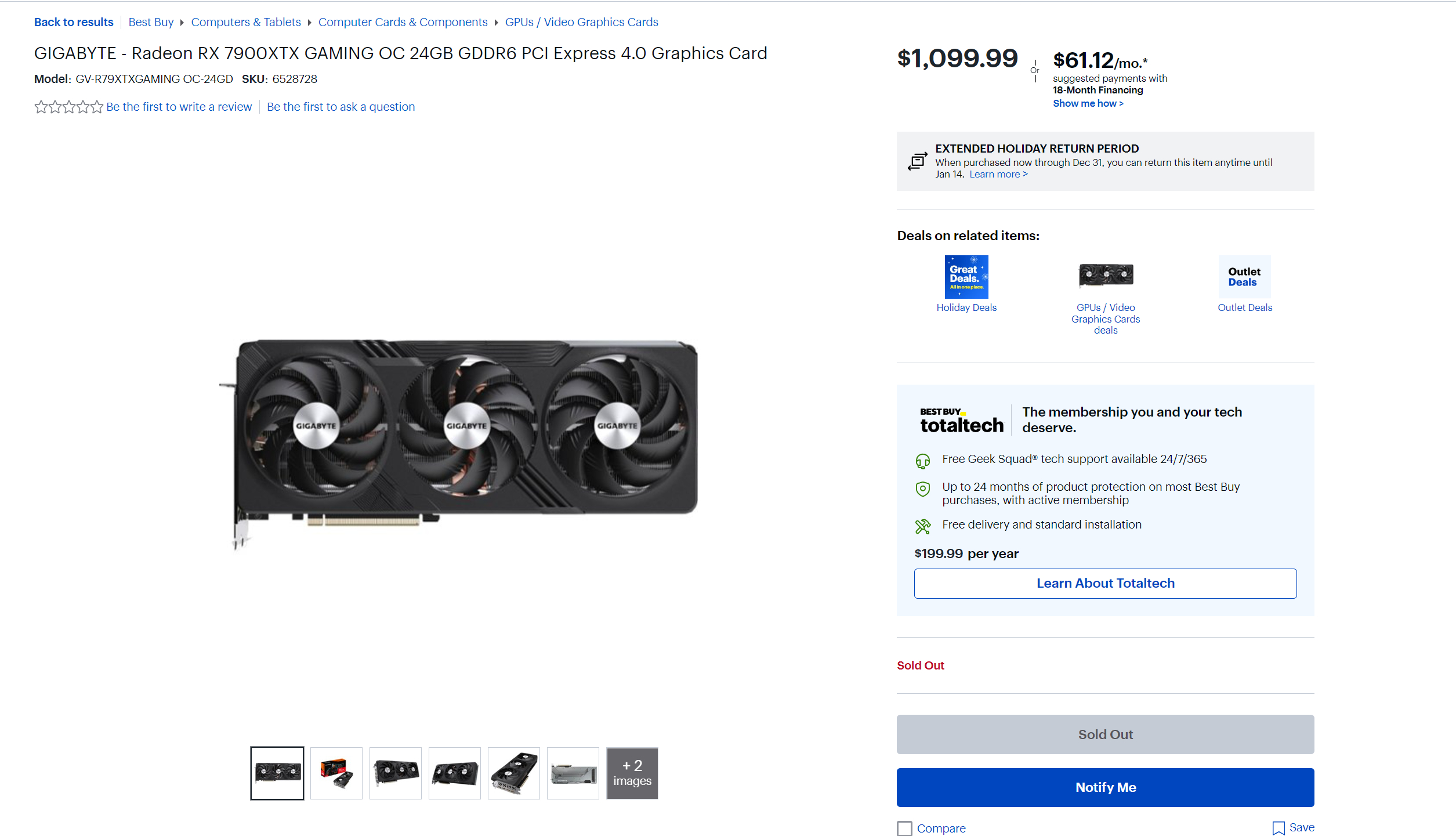 Gigabyte Radeon RX 7900 XTX Gaming OC – $1,100 at Best Buy
Here's another third-party triple-fan shroud. Again, we're looking at a preliminary price tag of $1,100, or $100 over MSRP. For that, you get a card that's rated to run at just 25MHz faster at Boost speeds than the reference model—not particularly convincing if you ask me, but then again maybe the XTX model could do with an extra fan cooling it off.
No sign of any cards over at Newegg just yet, but we expect the launch to happen imminently elsewhere. Some may still appear in a couple of minutes.
Get in line folks, they have a waiting room for AMD.com. That may be a good place to try and secure a card direct.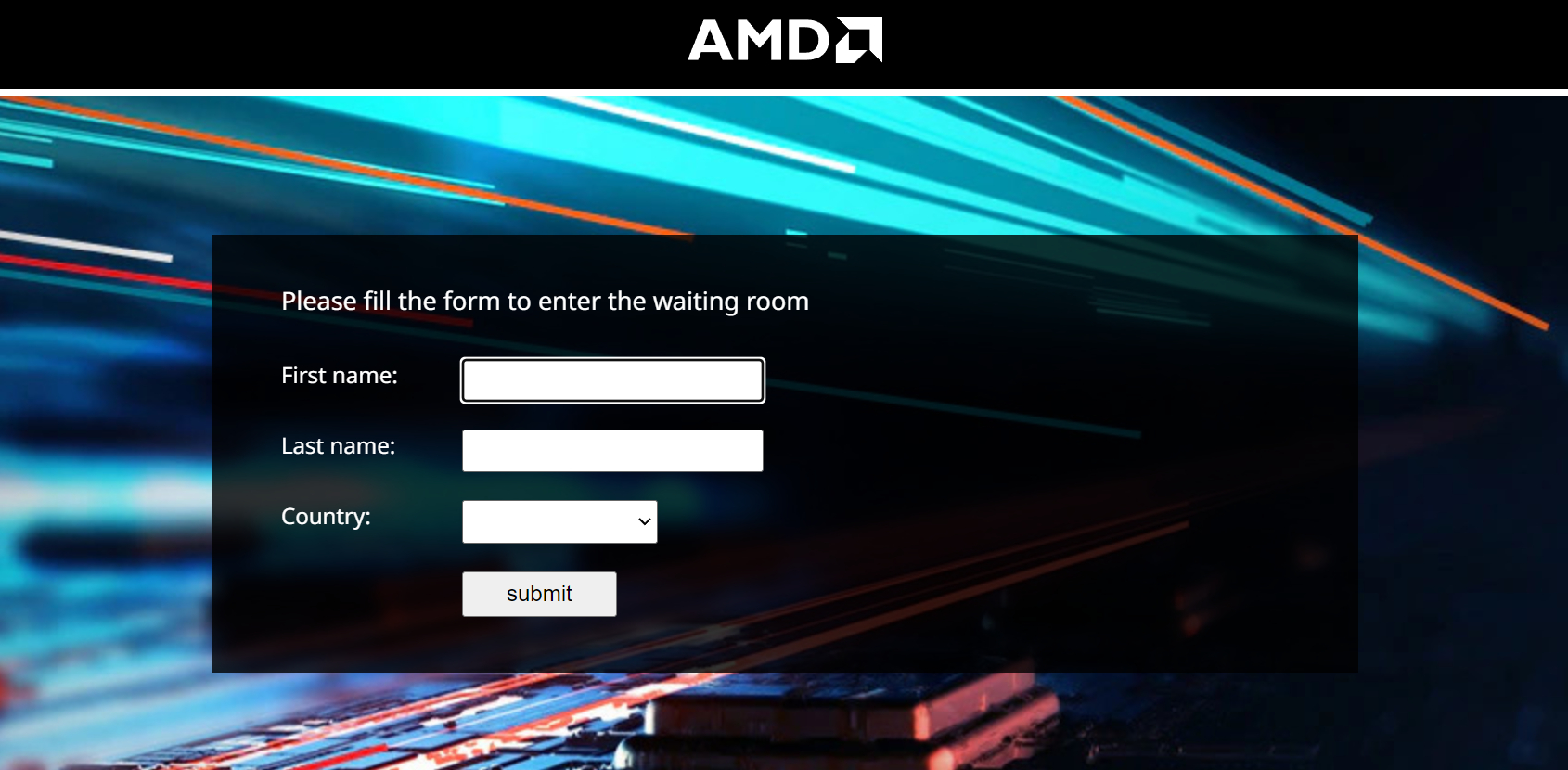 Don't worry you should be placed in a random position in the queue once you sign up.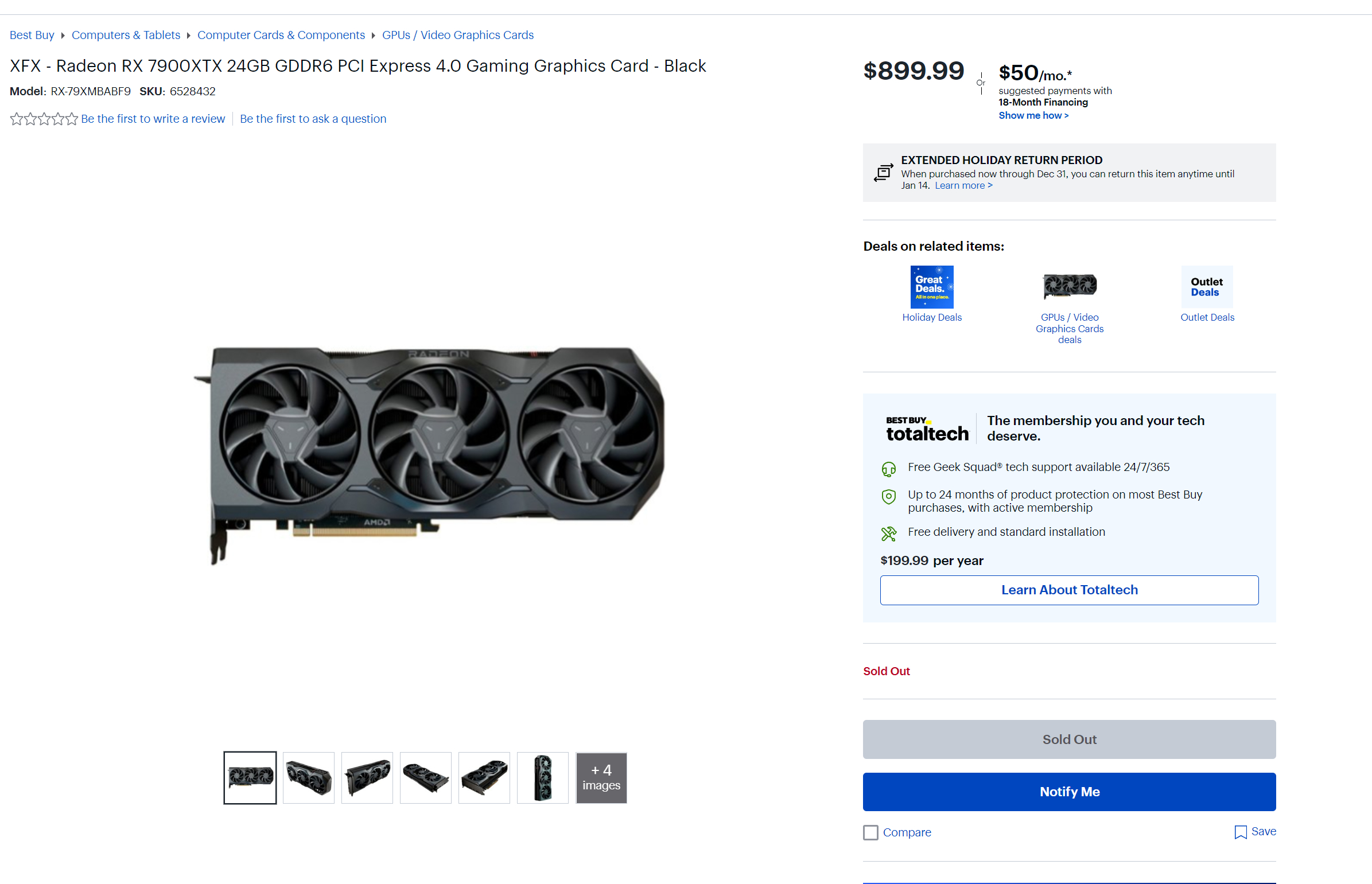 The one card I was really hoping would be live right away is still showing up as sold out. (An XTX for $900?!)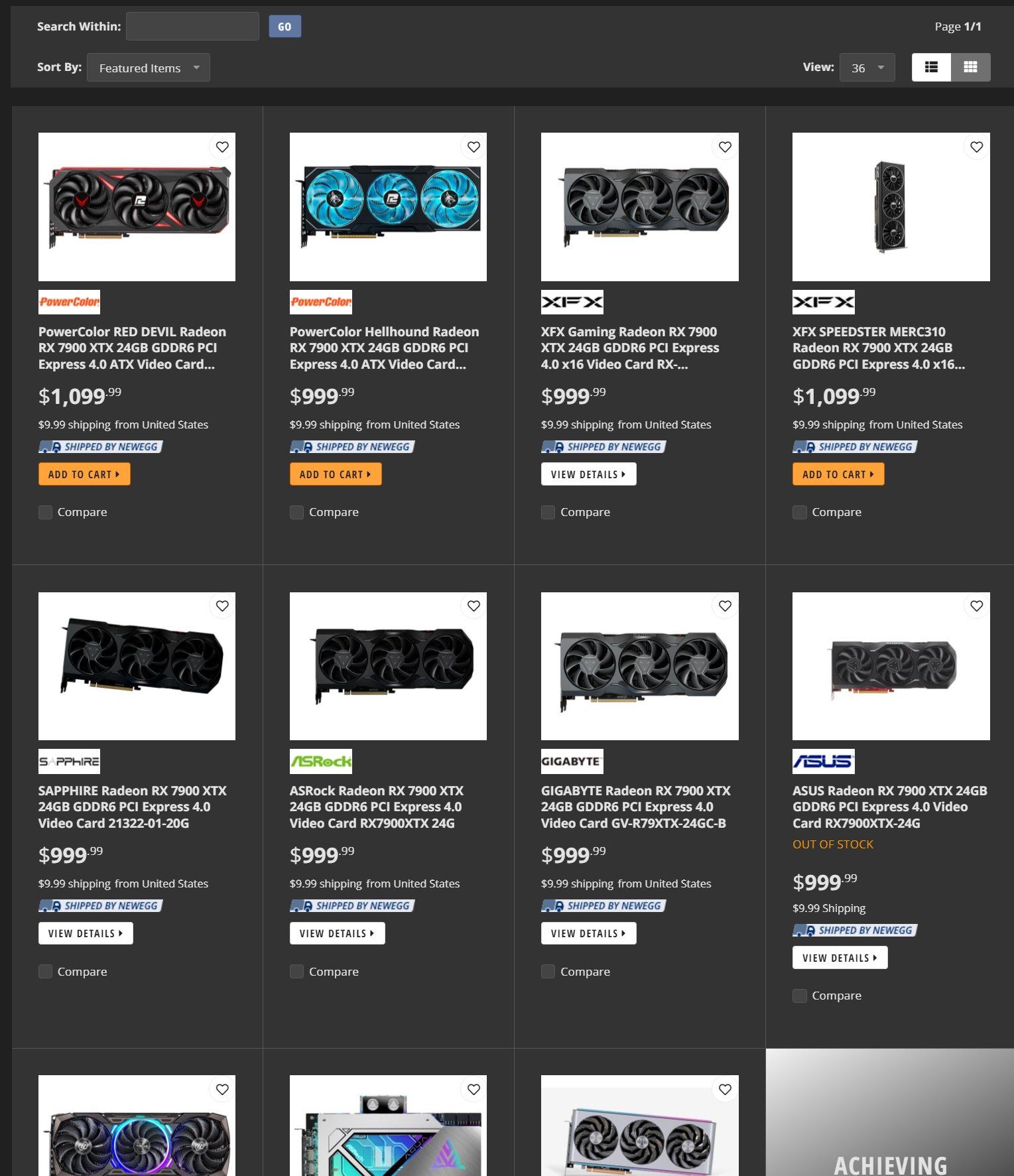 Newegg may still have some cards online but my screen differs from my colleagues. This Powercolor may be your best bet as it's still in stock at MSRP.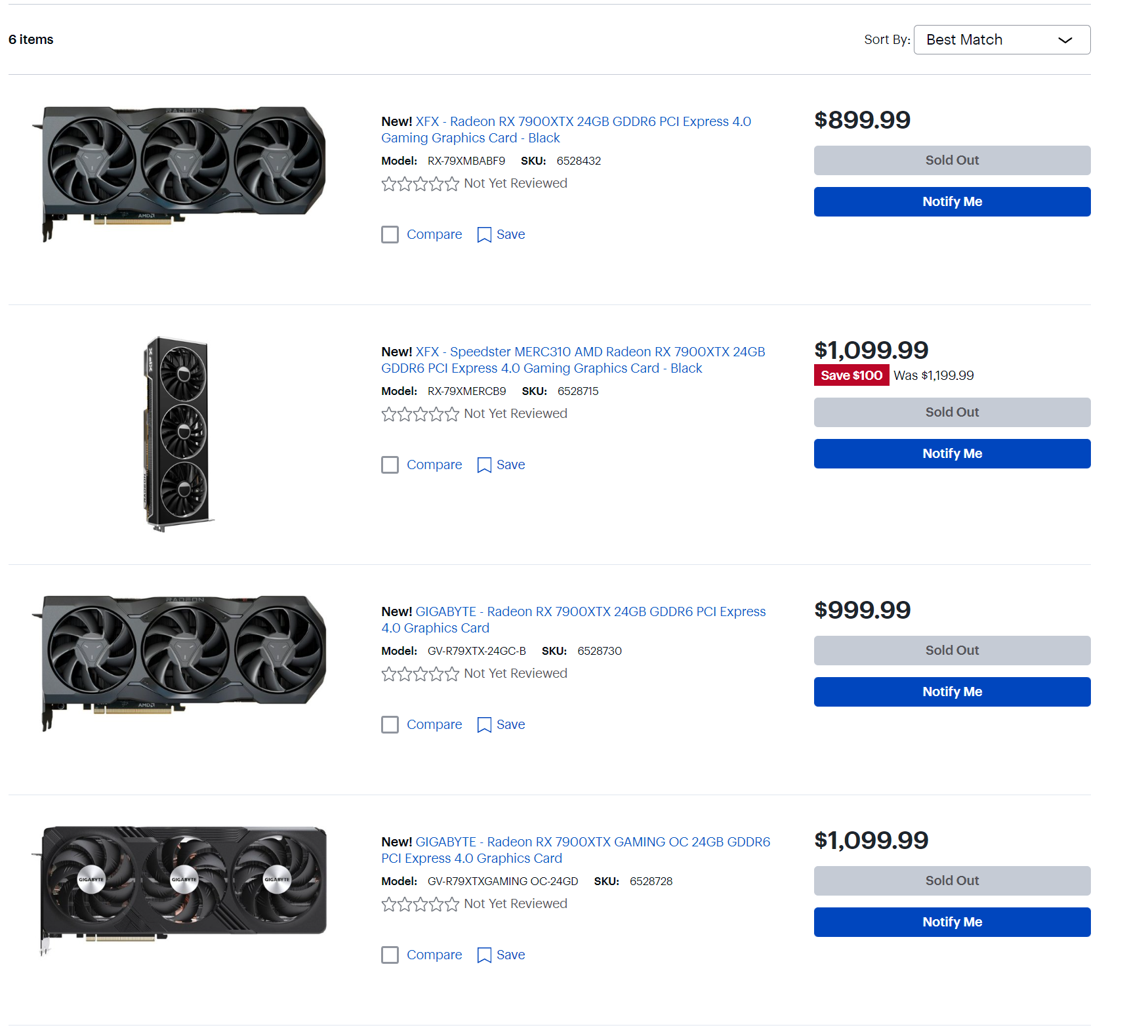 No change since pre-launch over at Best Buy or B&H just yet. Does that mean the cards have come and gone so quick we missed them, or just that they never went live to begin with?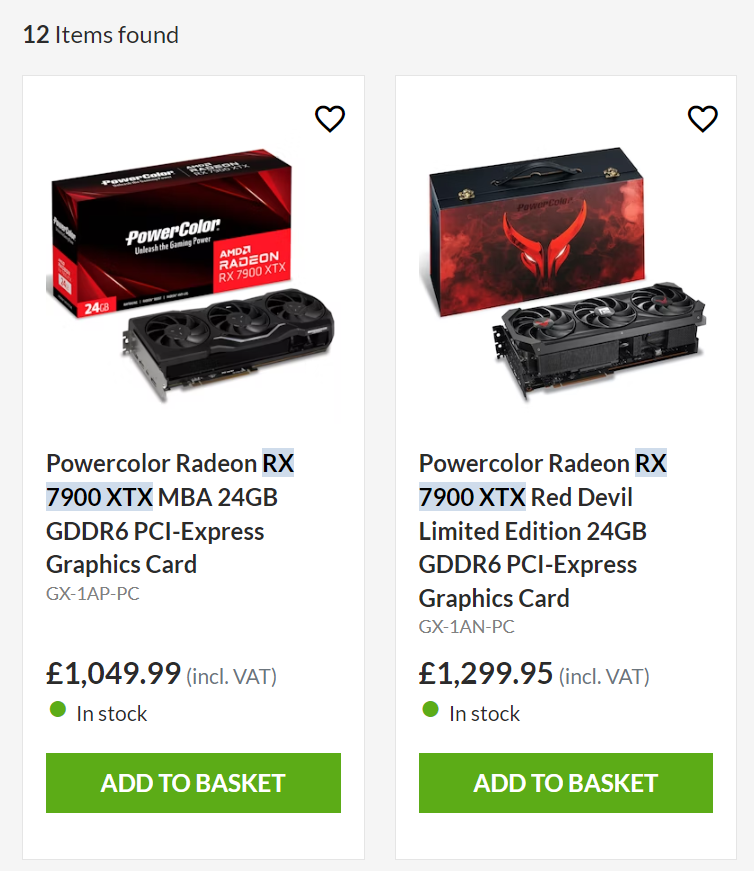 UK folks! There are two cards in stock over at Overclockers. Both Powercolor cards, and the cheapest one is £1,050. The pricier card is £1,300, which seems a bit much for the XTX.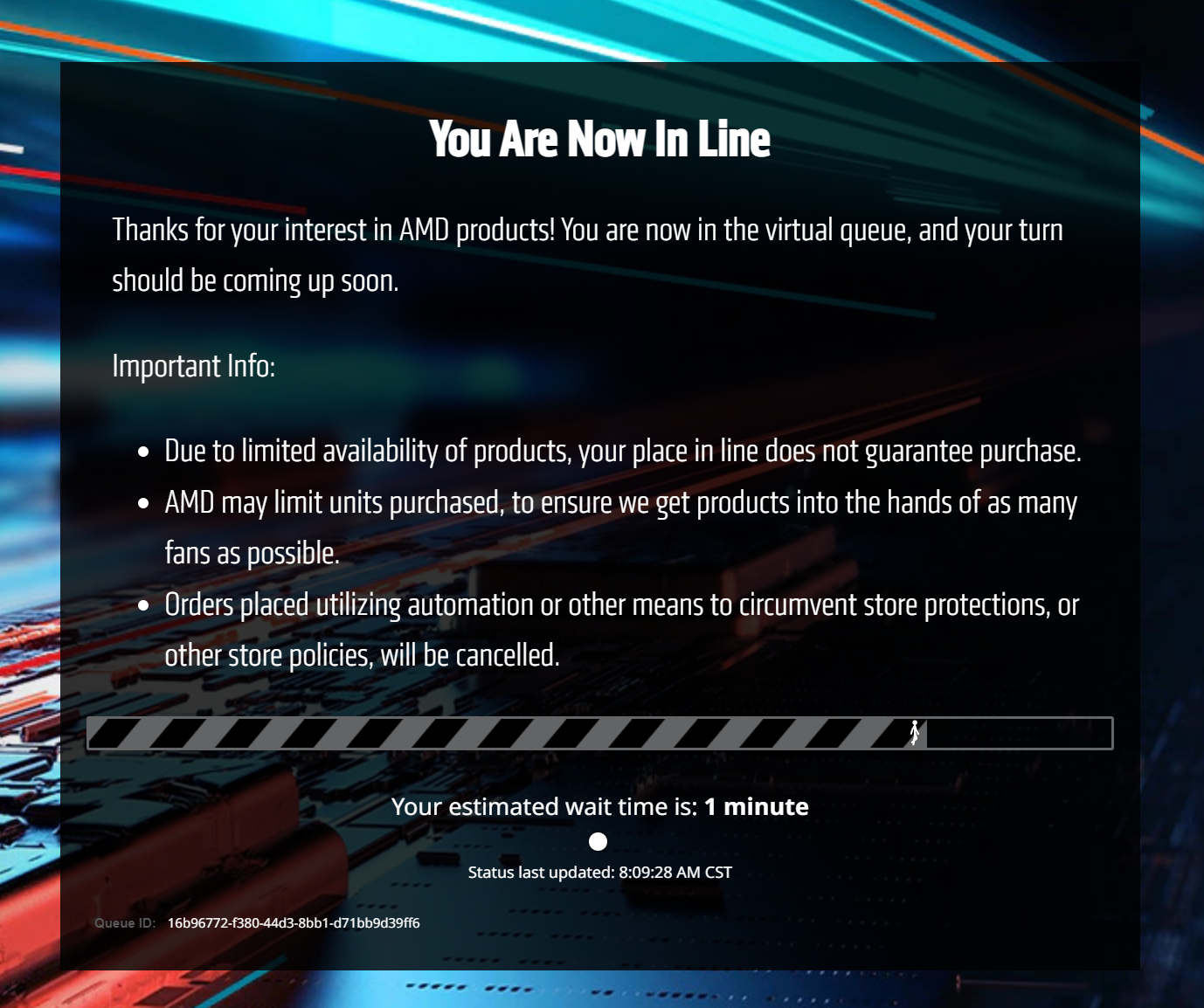 We've been waiting here for longer than one minute, but we're hoping for an update soon. Fingers crossed there's still some stock over at AMD.com.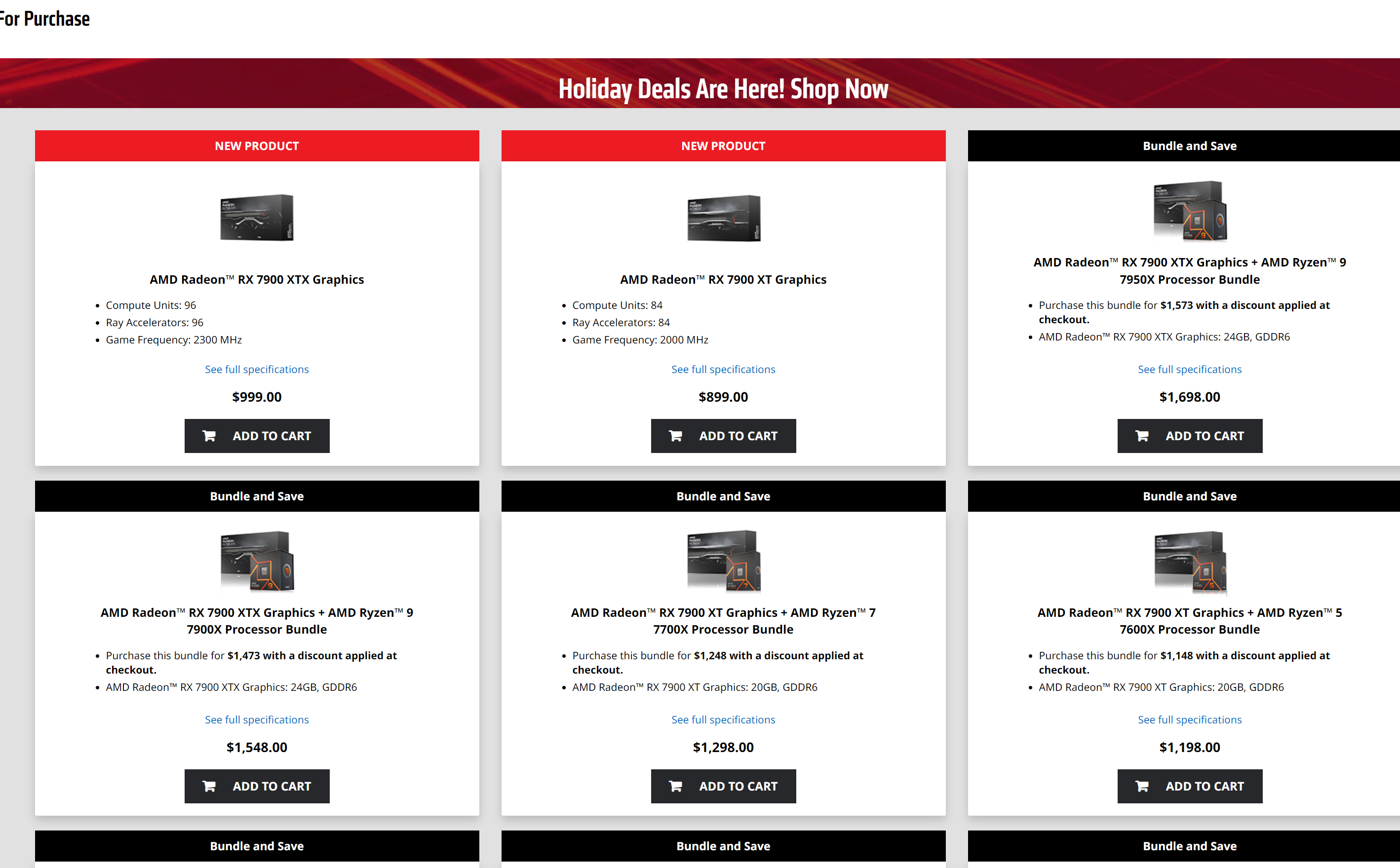 AMD.com still has cards available and bundles to buy… if you get in the queue now there might still be a chance.
An XT for the price of an XTX? No thanks.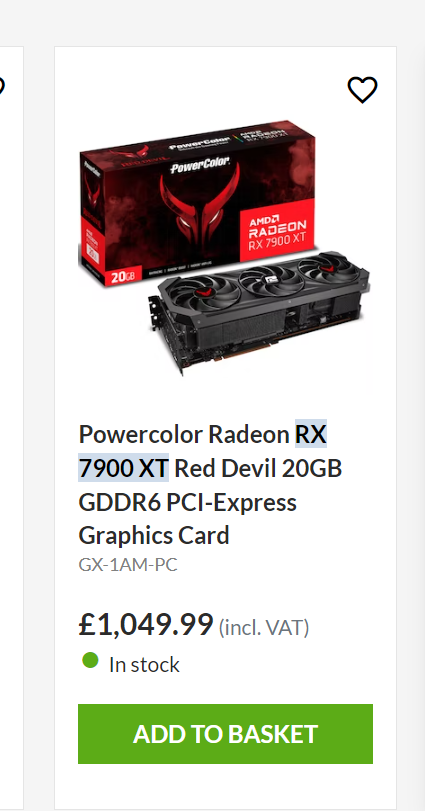 I'm afraid we're struggling to find any available XTX cards in the US right now beyond AMD's own webstore, which has a queue system in place. Newegg appears to have run dry of the XTX, but we'll keep searching.
We'll keep an eye on Best Buy and B&H for a little longer, we've still not seen any updates from either retailer just yet. That might mean they just don't have the inventory to launch today, or they're holding them back a little longer.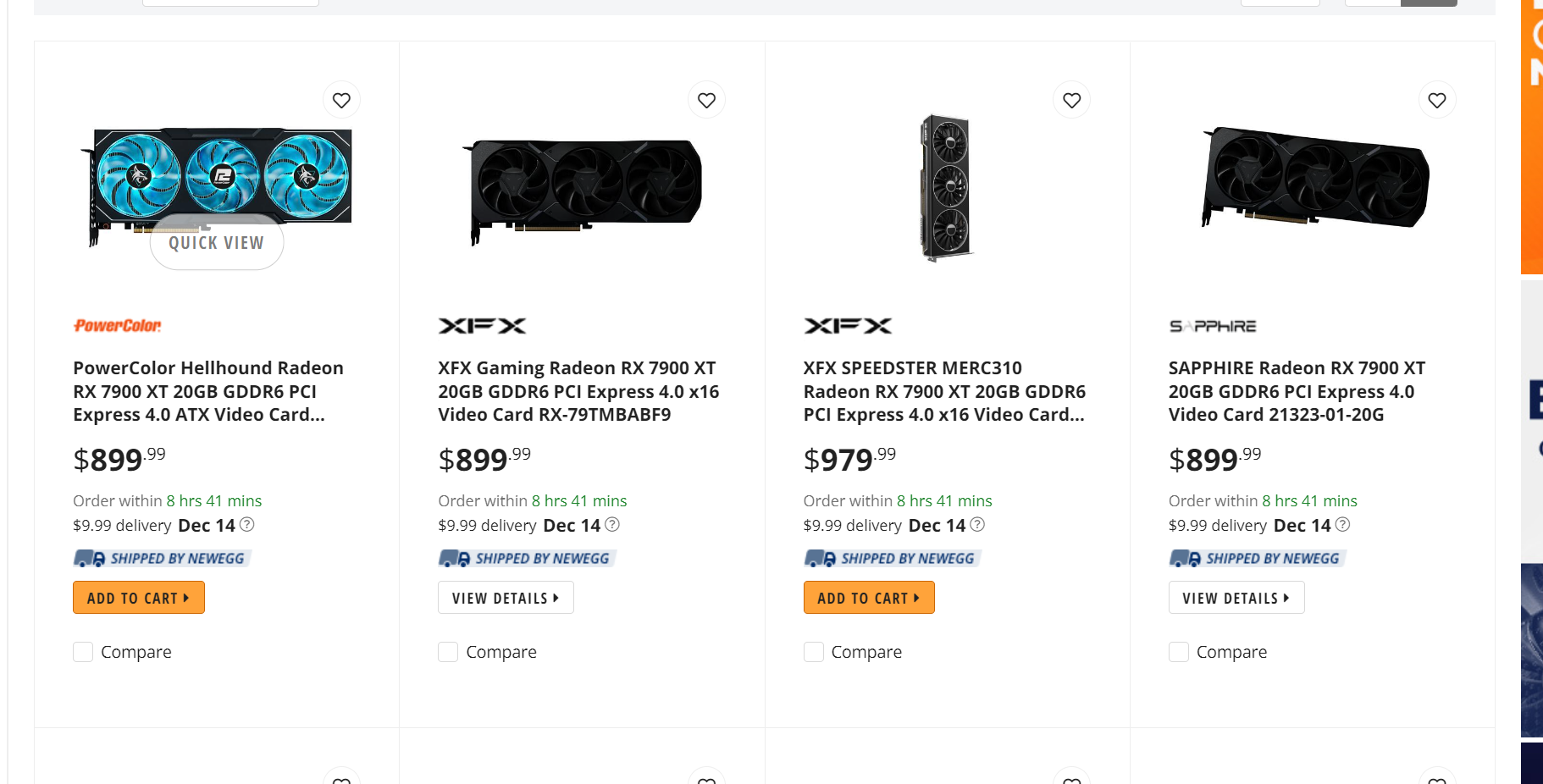 Good news, the RX 7900 XT is still available on Newegg. The bad news is the XTX isn't.

The RX 7900 XTX is now showing out of stock on AMD.com. Just the XT it is then, and a reminder that you can get the reference XT or a triple-fan Powercolor one for $899/$900 right now. 
It's possible Best Buy stock was eviscerated in a flash, but we're wondering if it might be keeping its cards for sale in-store, which has been a preferred tactic of the retailer to avoid bots and resellers.
Overclockers UK appears to be sold out of every card apart from one overpriced XT. We don't recommend you pay that much for that particular card, so I won't bother linking it here.


eBay is back on its nonsense with an RX 7900 XTX listed on there already for—drum roll please—$1,749.
Top tip: don't bother.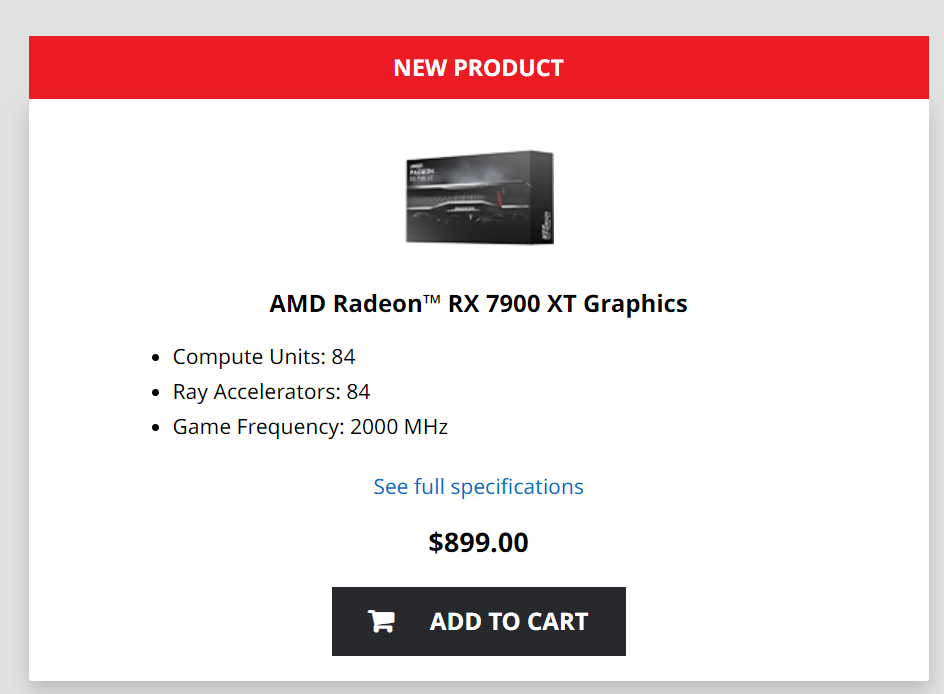 There are actually resellers trying to get $1,500+ for an RX 7900 XT. Doesn't seem like many builders want to overspend by even a couple hundred bucks on that card, let alone by that much. 
You can still buy that card for MSRP on AMD.com, by the way. No need to go these dreadful resellers.
If you're just joining us, I'm afraid the RX 7900 XTX and XT looks to be all sold out at the major US and UK retailers.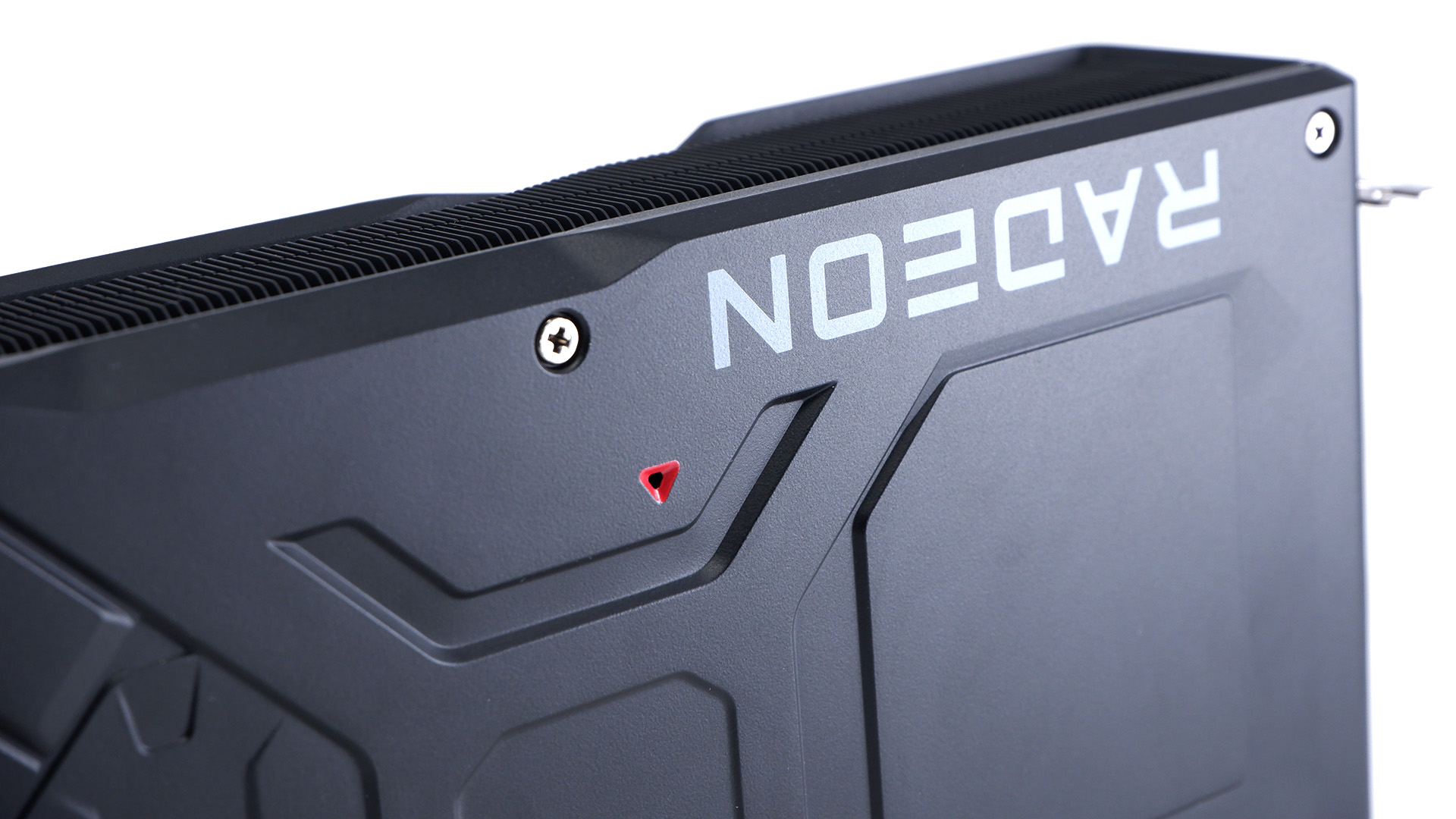 If you haven't yet secured an RX 7900-series GPU, but you'd like to, don't fret. We shouldn't be quite so at a loss for graphics cards as we were this time last year. In fact, AMD's Scott Herkelman confirmed in a Q&A last month the sort of supply we can expect for the RX 7000-series supply.
"December 13, for both cards, we expect to have good supply. But as this audience knows, since the start of Covid the supply chain has been inconsistent… I believe [supply] should accelerate nicely and gamers should be able to get their hands on it appropriately throughout the month of December and then into 2023."
So let's try and stay positive for a steady supply of cards in the near future. AMD's new chiplet GPU should also help with improved chip yields, as it's made up of smaller chips. With time, I'd hope the RX 7000-series will become more readily available, but we'll have to wait and see.
Also, these are only the first high-end cards out of the gate. If you need something cheaper, there will be other RDNA 3 and Nvidia Ada Lovelace GPUs on the way next year. There better be, anyways.