Gaming goes with the Raspberry Pi like peanut butter and jelly, lending to tons of cool projects over the years; But we've never seen a project quite like this one from maker and developer Konrad Beckmann. Using a Raspberry Pi Pico, he's able to interface with a Nintendo 64 via the cartridge port, a project of his that we covered back in 2022. However the latest update has enabled him to successfully stream the latest Zelda game, The Legend of Zelda: Tears of the Kingdom, to a Nintendo 64 console.
We spoke with Backmann about the new update, and he explained the original plan was to make an RP2040-powered cartridge that's capable of running large games directly on the Nintendo 64. This proved to be difficult, however, so at the moment, he's shifted his focus to streaming content to the Nintendo 64 through the Pico module.
Because he's using a Raspberry Pi Pico W, he's able to implement wireless support into the project. The games are run on a separate PC and formatted for streaming video to the Pico with a resolution of 320 x 240px. This configuration makes it possible to play games like Tears of the Kingdom and more using the microcontroller.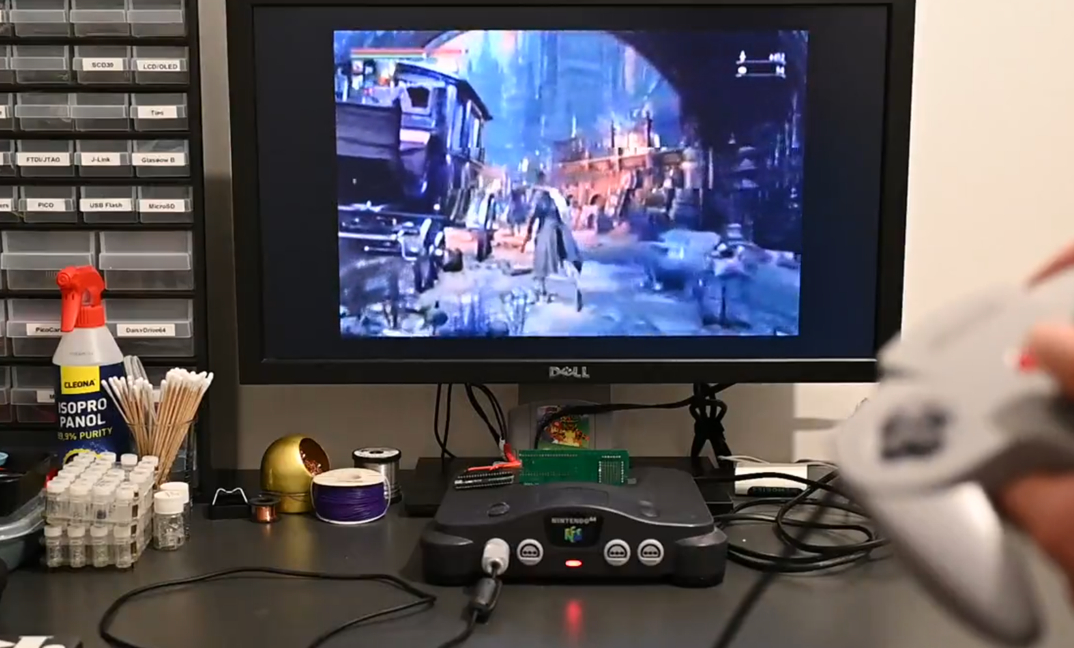 In addition to streaming Zelda, he's successfully set up a screen sharing session from his PC and also implemented support for streaming his PlayStation 5 using pyremoteplay. This required a solution in which the PS5 was streamed to his PC first, enabling a successful run of Bloodborne on the Nintendo 64.
Beckmann went on to elaborate that the RP2040-powered cartridge he uses in this particular project is the PicoCart64 v1 lite version. The software driving the project is Python-based and can be found over at GitHub. The code is totally open source for anyone who wants to check it out and understand more about how it goes together. A Discord server is also available for anyone that wants to ask questions and dig into the development of the project.
If you want to recreate this Raspberry Pi project or just see it in action, check out Konrad Beckmann's Twitter profile for more links and details. Beckmann has been experimenting with using the Raspberry Pi Pico on the Nintendo 64 for a few months, so be sure to follow him for more cool projects as well as any future updates on this one.