At a glance
Expert's Rating
Pros
Wonderfully crisp 6K resolution
Quality integrated webcam, microphone, and soundbar
Versatile USB-C hub with 140 watts power delivery
Top-notch color gamut and accuracy
Cons
Medicore contrast ratio for the price
HDR performance is merely adequate
Benefits of 6K won't be noticeable with most movies and games
Our Verdict
The Dell Ultrasharp U3224KB delivers a 6K panel that will appeal to some professionals, but its high price tag and mediocre contrast performance will limit its appeal.
Price When Reviewed
$3,199.99
Best Prices Today: Dell Ultrasharp U3224KB
$3199.99
Want a 6K monitor? If so, Apple's Pro Display XDR is the only game in town—and its Mac-centric design makes it unappealing to those using Windows. Dell has finally delivered an alternative, the Ultrasharp U3224KB, which packs 6K resolution as well as a webcam, microphone, soundbar, and USB-C hub. The monitor's sharpness is spectacular but comes at a high price. 
Further reading: See our roundup of the best 4K monitors to learn about competing products.
What are the Dell Ultrasharp U3224KB specs?
The standout specification is obviously the monitor's 6144×3456 panel. This is a tad higher than Apple's Pro Display XDR, which has a resolution of 6016×3384. Dell also opts for an IPS Black panel, a new type of IPS display panel that delivers a better contrast ratio than its predecessors. 
Display size: 32-inch 16:9 widescreen
Native resolution: 6144×3456
Panel type: IPS Black LCD
Refresh rate: 60Hz
Adaptive-Sync: None
HDR: VESA DisplayHDR 600
Ports: 1x HDMI 2.1, 1x Mini-DisplayPort, 1x Thunderbolt 4 / USB-C with 140 watts Power Delivery and DisplayPort Alternate Mode, 2.5Gb ethernet, 1x Thunderbolt 4 / USB-C, 1x USB-C with 10 watts Power Delivery, 1x USB-A
VESA mount: Yes
Webcam: 4K HDR 
Microphone: Included
Speakers: Included
Price: $3,199.99
The Dell Ultrasharp U3224KB retails at $3,199.99. That's an extremely high price, though certainly not unheard of—and, with no other 6K option on the market aside from Apple's $5,000 Pro Display XDR, Dell likely feels free to charge what it wants. 
Dell Ultrasharp U3224KB design 
Dell's Ultrasharp U3224KB has a 6K display, but odds are that's not what you'll first notice. The monitor throws in a soundbar and 4K webcam, both of which are positioned above the display. It's an odd, top-heavy look that immediately stands out, but it works just as well as if the soundbar was beneath the display.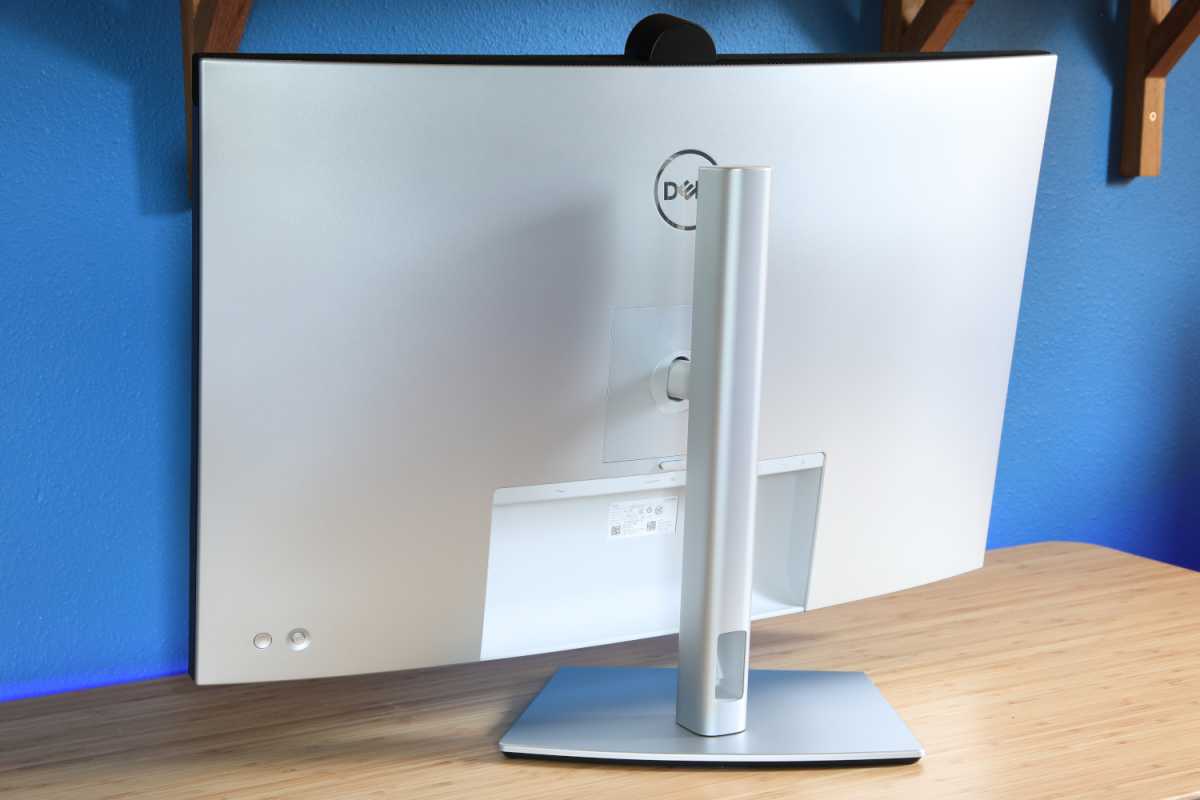 Matt Smith
Material quality is solid with sturdy silver plastics that resist flex and provide a convincing faux-metallic look. I do have a nit to pick, however: I found that the plastics in the monitor's bottom left and right corner were too flexible and creaked when the monitor was handled in this area. I doubt it's a functional issue but it's unfortunate to see at this price point.
A heavy stand keeps the monitor firmly planted on a desk. The base is compact, however, and its flat profile helps you retain some use of the desk surface that it does occupy. This is preferable to high-end monitors that use wide, tripod-style stands, which are most commonly found on LG and Samsung displays. The stand adjusts for height, tilt, swivel, and can pivot 90 degrees into landscape orientation. A 100x100mm VESA mount is included for attaching a third-party monitor stand or arm. 
Dell Ultrasharp U3224KB features and menus
The Dell Ultrasharp U3224KB has a Thunderbolt 4 / USB-C port with DisplayPort Alternate Mode and a whopping 140 watts of Power Delivery. That's important, as 140 watts is enough to fully power a new Dell XPS 15 (and many other premium laptops with midrange discrete graphics). 
This port also acts as a hub which drives a USB-C downstream port, four USB-A ports, and a 2.5Gb ethernet port. This makes the U3224KB a capable USB hub. Do note, however, that the monitor lacks a USB-B upstream port, which means its USB hub capabilities are only available when the USB-C port is connected.
Additional video connectivity is available over HDMI 2.1 and, strangely, Mini-DisplayPort 2.1. Full-sized DisplayPort 2.1 is not available. A Dell representative told me the use of Mini-DisplayPort was due to early technical issues with VESA's development of a full-sized DisplayPort 2.1 connection. Those issues were resolved, but Dell had already locked in its design, leaving the U3224KB with Mini-DisplayPort. Dell also notes that a compatible Mini-DisplayPort 2.1 output can be found on the latest AMD Pro graphics cards. In any case, this makes for a total of three video inputs, all three of which support 6K resolution at 60Hz. Be careful to check the display output standards used by your PC, as older video cards may lack support for an output that can handle 6K.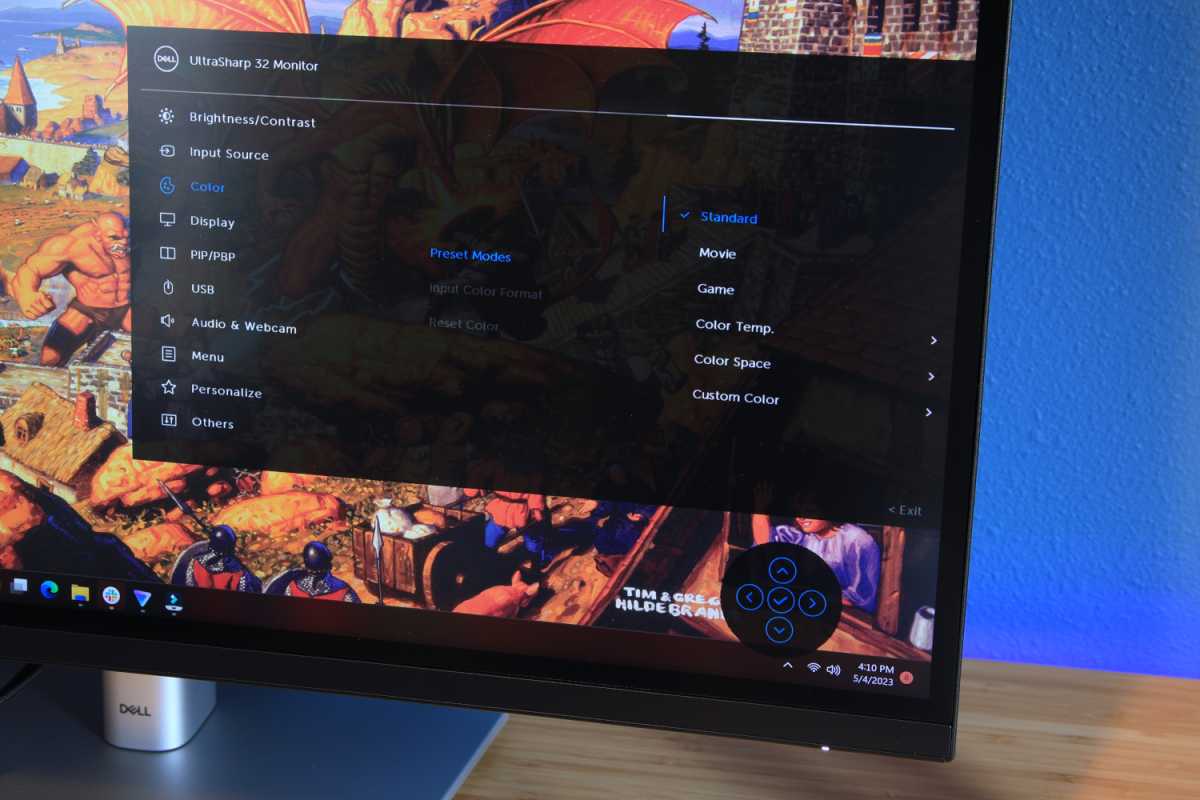 Matt Smith
A joystick is used to control the monitor's on-screen menus. Dell's menus are logically arranged and provide a variety of image quality options including color temperature adjustment and up to six-axis custom color adjustment for hue, saturation, gain, and offset (in the Custom Color mode). The monitor also has presets for the sRGB, Rec.709, DCI-P3, and Display P3 color space.
The joystick is joined by a set of touch-sensitive controls on the lower-left bezel that can adjust the volume, mute the microphone, or deactivate the camera. They're normally invisible but light up when a finger or hand comes within about a half-inch of the lower-left bezel. I don't think most people will use them frequently, as controlling these functions in Windows is a quicker, easier option. Still, privacy-minded users might like the option to deactivate the webcam and microphone.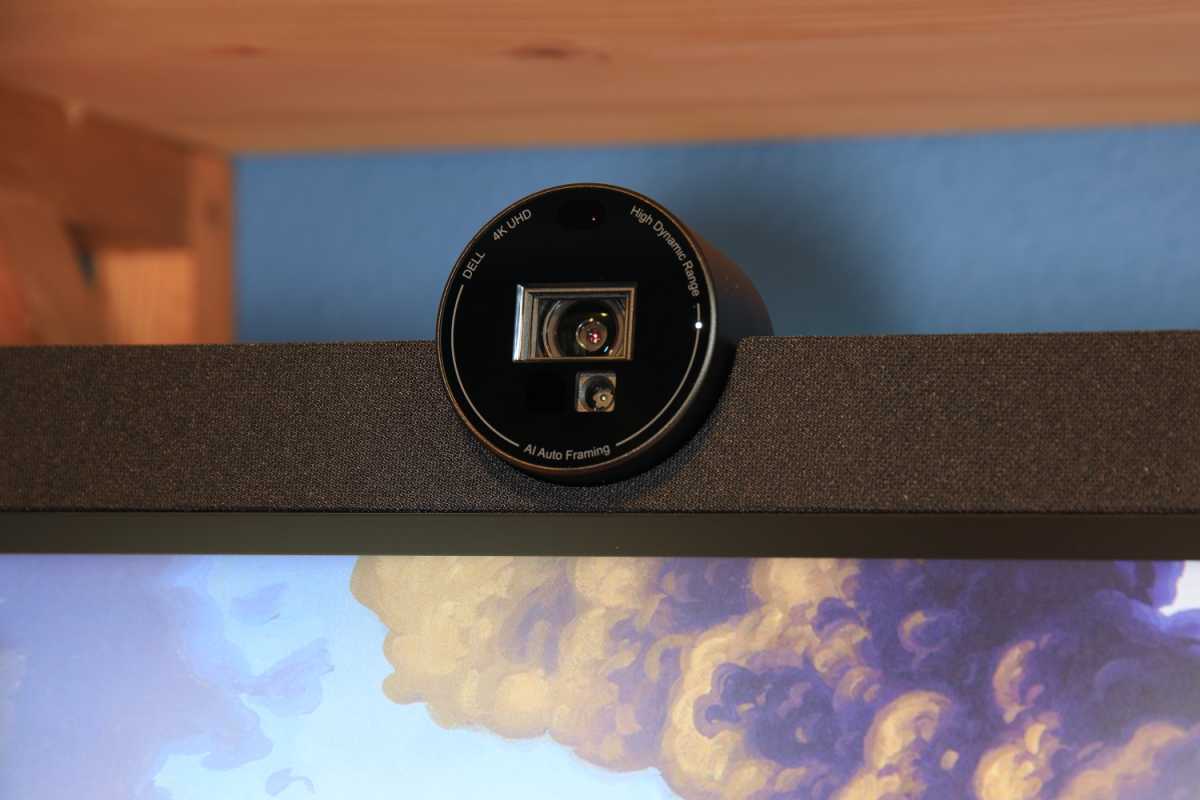 Matt Smith
The 4K HDR webcam delivers good video quality. It's not a match for a "real" camera, to be sure, but comparable to the quality of 4K standalone webcams like the Logitech Brio and Dell Ultrasharp Webcam. Video is fairly crisp and provides a lush, saturated look. A built-in microphone can capture audio and picks up strong, clear audio that easily beats most laptop or monitor microphones I've heard over the past few years. Together, the camera and microphone will help you look and sound your best in video calls. 
Audio quality is respectable, though not amazing. Volume is high and the presentation is crisp when playing less demanding content, like a well-recorded podcast, but the sound muddies in music, movies, and games. Still, it's a big step up from the dinky speakers found in most monitors. The microphone and soundbar have an echo cancellation feature that lets owners attend a video call without headphones. 
How is the Dell Ultrasharp U3224KB's SDR image quality?
The Dell Ultrasharp U3224KB is promoted as the world's first 6K monitor with an IPS Black display panel. So, are the extra pixels noticeable?
Yes, they are. The 32-inch 6K (6144×3456) panel packs 220 pixels per inch, a roughly 60 percent improvement over a 32-inch 4K monitor. This pixel density is similar to Apple's MacBook Pro laptops and a bit less than a laptop with a 4K display. In fact, it might be more accurate to say the extra pixels aren't noticeable—because it's nearly impossible to see the individual pixels on the display. They only reveal themselves in test images or under magnification.
Whether you'll benefit from the pixel count is another matter. Most modern apps look great at 6K resolution, but older apps that lack proper scaling are extremely difficult to use without turning on WIndows' built-in magnification feature, which is cumbersome. Games look fantastic, but running a game at 6K resolution reduces its performance, so this won't be viable on anything but the latest GPU hardware. 4K movies and streaming shows look great but, of course, no more so than on a 4K monitor.
The full benefits of 6K are mostly reserved to content creators. It's obviously preferable if you shoot video at 6K resolution, or something close to it. Alternatively, you can edit video at 4K resolution and view a true 4K preview that takes up only a portion of the display. Photographers benefit, too, as the improved resolution makes it possible to edit large photos with less need to zoom in and out of the image. 
In short: 6K resolution looks awesome, but you'll struggle to fully appreciate it unless you're working with content at extremely high resolutions. This isn't a problem, but an observation, and one that should help you decide if a 6K monitor is for you. We live in a 4K world, so you're unlikely to see the benefits of 6K content unless you're creating it yourself. 
There is more to a monitor than its resolution, however—and the Dell U3224KB scores well in most image-quality tests.
Matt Smith
Maximum brightness comes in at an excellent 524 nits. That's much brighter than most situations call for (I spent most of my testing with the monitor set to 15 percent of maximum). However, I do think the brightness is useful, as this is precisely the type of monitor that might be mounted in a conference room or an executive's corner office. The monitor remains comfortable to use in a bright room.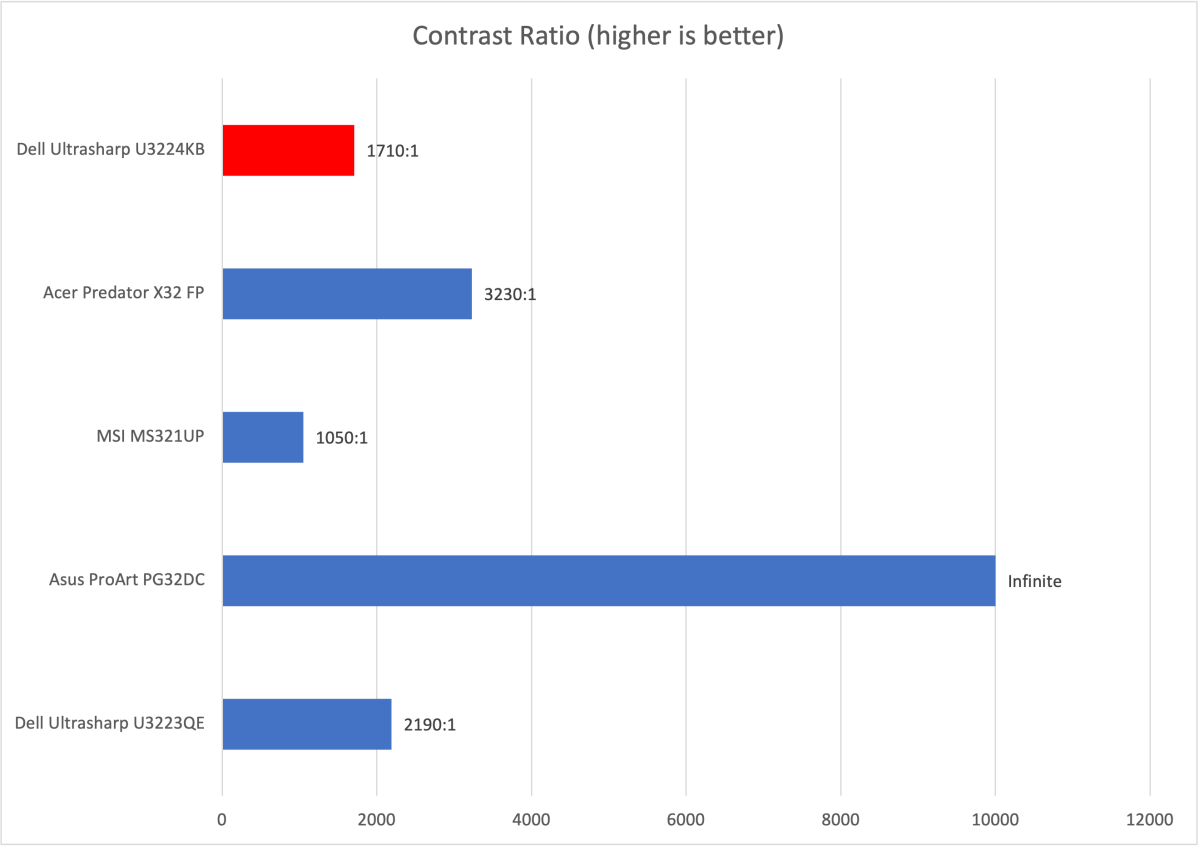 Matt Smith
Dell opts for an IPS Black display panel. True to its name, it achieves a luminance as low as .01 nits. That's a big improvement over a typical IPS panel, which can dip only as low as .06 to .03 nits (without a Mini-LED backlight). 
The result is a respectable maximum contrast ratio of 1,710:1. It's a very noticeable improvement over a standard IPS display, yet still quite far behind Mini-LED monitors, like the Acer Predator X32 FP, and OLED monitors, like the Asus ProArt PG32DC. The Dell Ultrasharp U3224KB provides good depth when used in a bright room but struggles with shadow detail in darker scenes, and it can't hope to match the jet-black look of an OLED display panel.
This is a key point. The Dell's contrast ratio is behind similarly priced alternatives, but those alternatives don't offer 6K resolution. Shoppers will need to make a choice between sharpness and depth.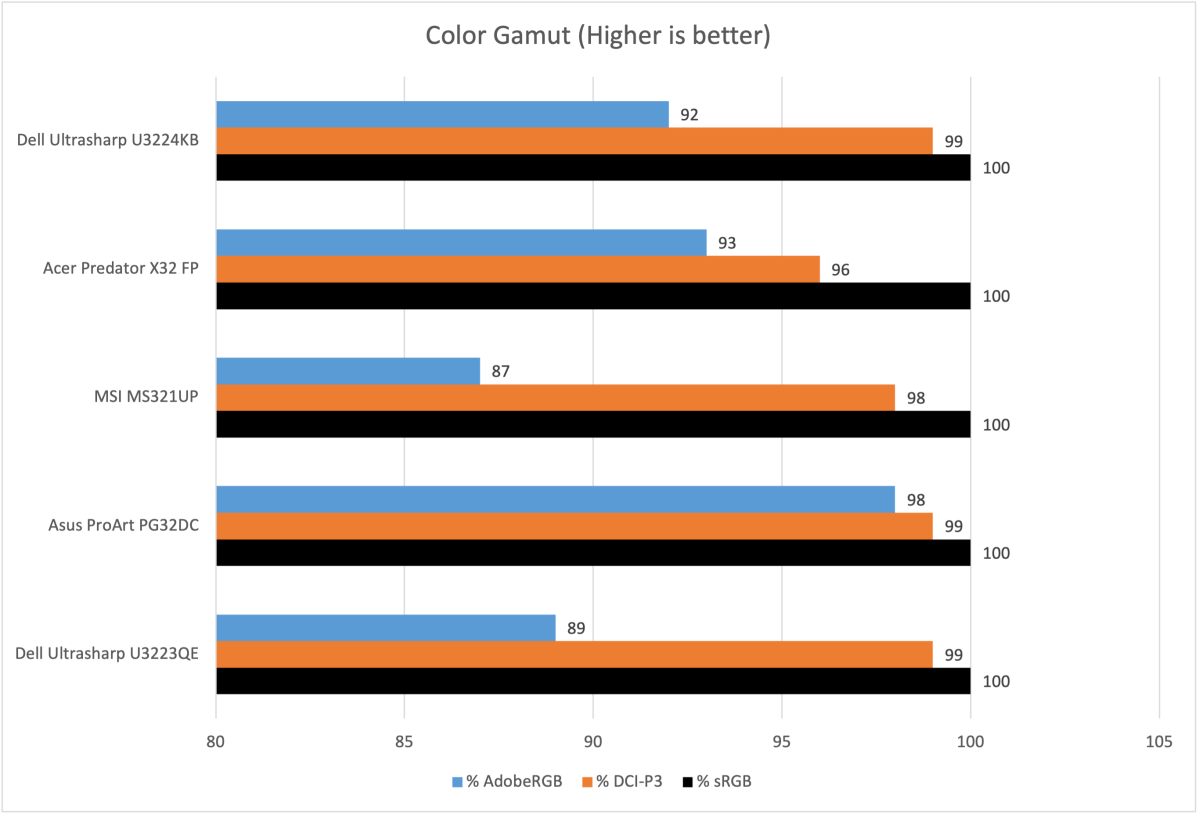 Matt Smith
The Dell U322KB produced a color gamut that spans 100 percent of sRGB, 99 percent of DCI-P3, and 92 percent AdobeRGB. That's an excellent result and beats most similar monitors. Only the Asus ProArt PG32DC, which has a top-quality 4K OLED display panel, exceeds the Dell U3224KB—and it's still a close call. The Dell should offer a broad enough color gamut to handle any task.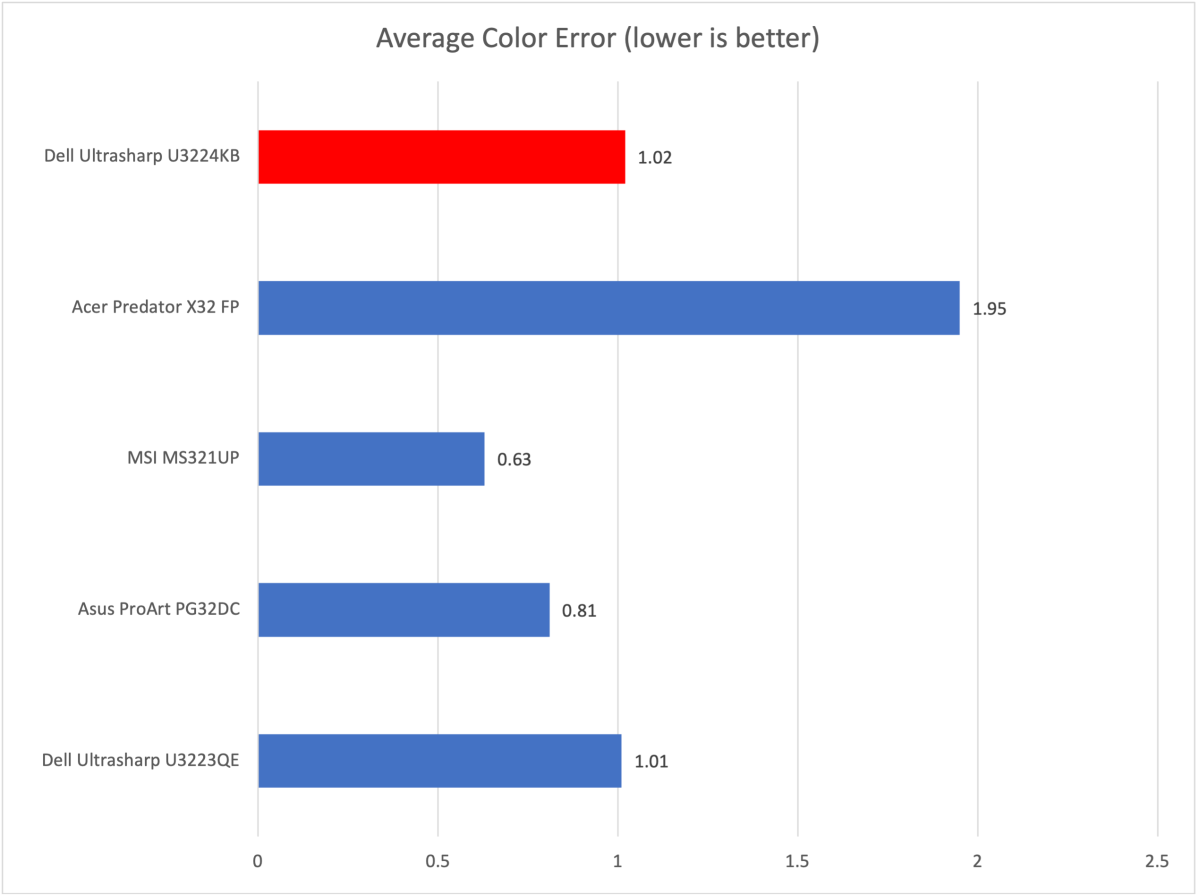 Matt Smith
Color accuracy is solid, too. The Dell U3224KB does fall behind some alternatives, like the ProArt PG32DC, but the level of color error produced by these displays is so small that it's unlikely to be a problem for even the most discerning users. 
I also recorded a gamma curve of 2.2, which is precisely on target, and a default color temperature of 6800K, which is just a tad cooler than the target of 6500K. These are good results.
Understanding the U3224KB's image quality might feel complex, but it's rather easy to simplify. The monitor looks great, but it only beats 4K competitors when 6K content is available. 
How is the Dell Ultrasharp U3224KB's HDR image quality?
The Dell Ultrasharp U3224KB supports HDR and carries a VESA DisplayHDR 600 certification. It performed as promised with a maximum sustained full-screen HDR brightness of up to 669 nits. That's a strong result that exceeds OLED monitors. However, it does fall behind Mini-LED monitors like the Acer Predator X32 FP, which can hit at least 946 nits. 
High brightness helps the U3224KB provide a more vivid image and add luminance detail in HDR content. Bright highlights, like a sunset or headlights in a dark alley, are noticeably more detailed than in SDR. However, the U3224KB's modest contrast ratio is a limitation and ultimately dulls the monitor's impact in HDR. The monitor struggles when a small, bright object appears in an otherwise darker image, looking flat and washed-out compared to a Mini-LED or OLED alternative. 
The U3224KB also falls well behind other monitors in its price range. It's only a few hundred dollars less expensive than the Asus ProArt PG32DC, an OLED monitor that's barely dimmer in HDR content and delivers a far more realistic image in dark scenes. The Acer Predator XP32 FP, which retails for $1,500, demolishes the U3224KB's HDR performance with higher marks in both bright and contrast. The Dell looks decent on its own, but it's hopelessly outmatched by price-competitive alternatives.
Dell Ultrasharp U3224KB motion performance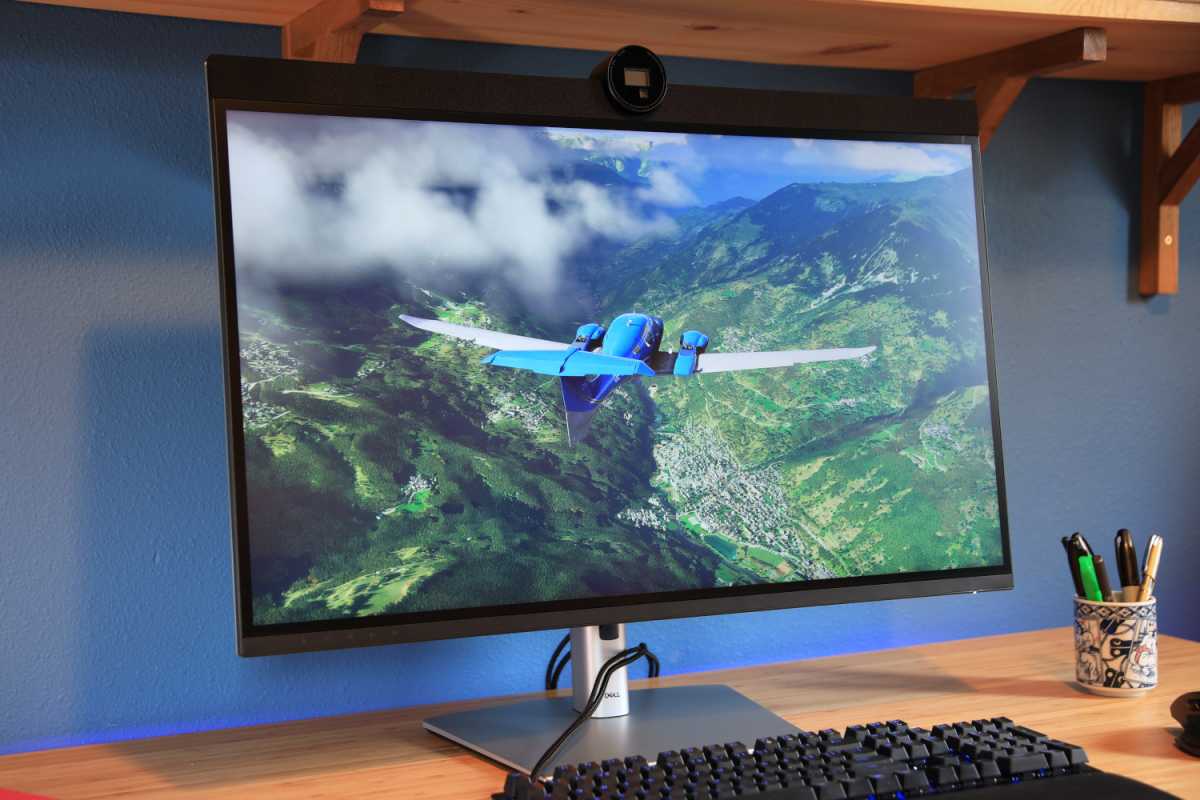 Matt Smith
Motion performance isn't a focus for Dell's Ultrasharp U3224KB, and it shows. The monitor has a 60Hz refresh rate and promises a minimum gray-to-gray response time of five milliseconds. Neither figure is great: Today's best monitors reach up to 500Hz and achieve sub-millisecond gray-to-gray response times.
Fast-moving objects show little clarity as they zoom across the screen. The vague outline of the object is tangible but details, like the color of a person's eyes or the texture of their clothing, are indistinct. Panning the camera in a 3D game will cause significant blur that makes it difficult to focus on any particular object, character or enemy. While the U3224KB's overall performance is not impressive, it's typical for a 60Hz monitor.
Adaptive Sync is missing, as well, so the monitor can't coordinate its refresh rate with the video output from a device. This will cause screen tearing and/or micro-stutter issues in some games. 
Is the Dell Ultrasharp U3224KB worth it?
The Dell Ultrasharp U3224KB is an exceptional monitor with a razor-sharp 6K image, useful webcam and microphone, and versatile USB hub, but its overall image quality and feature set may not hold up against 4K alternatives. Despite its impressive resolution, the U3224KB's contrast ratio and HDR performance fall behind similarly priced options like the Asus ProArt PG32DC.
Still, a simple fact remains: The Dell Ultrasharp U3224KB is a 6K monitor. Apple's Pro Display XDR also provides 6K resolution but its price, design, and focus on the Mac make it a non-starter for those using Windows PCs. Creators on Windows who want 6K resolution will find the U3224KB is their only option. For now, at least.