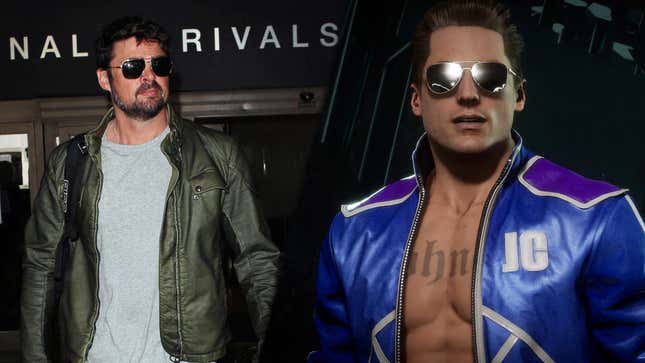 It sounds like the Mortal Kombat movie sequel has found its Johnny Cage in The Boys and The Lord of the Rings actor Karl Urban.
This Wacky Magical Girl Anime Is Studio Trigger-Coded To Perfection
The Wrap first broke the news, and IGN has since verified it with its own sources. It sounds like Urban is in final talks to play the movie star and martial artist. Johnny wasn't present in the first movie, but was hinted at by a movie poster in the film's final scenes, with protagonist Cole Young heading to Los Angeles to find the series staple. Johnny's absence in the first film was noticed by longtime fans, but director Simon McQuoid told Variety they opted not to include him because he's such a big personality that he would have derailed the story and become the center of attention.
That's not to say the first Mortal Kombat lacked big personalities. Josh Lawson's vulgar and violent Kano occupied that slot in the 2021 film, but because of events in the first movie, it's unlikely he'll be in the sequel. So Urban's Johnny is primed to slot into that dynamic in Mortal Kombat 2.
Urban has been pretty prominent in a lot of franchise roles. He's appeared in the aforementioned The Boys, The Lord of the Rings, as well as the Star Trek movies and Thor: Ragnarok. He's also had some history in video game adaptations, having played Doomguy in the 2005 Doom movie.
Just what role Johnny will play in the sequel is unknown, and we still don't know much about the sequel at this point beyond that the kombatants will be facing a much bigger threat at the hands of Shang Tsung. The 2021 movie was…fine? It was fun in flashes, silly in some moments, and just straight-up stupid in others. It was a fine popcorn movie to watch at home, but I would've felt substantially worse about it if I'd paid to see it in a theater. Luckily, it was one of the movies caught up in near-simultaneous home and theater launches during the covid-19 pandemic, so I watched it on HBO Max instead of a theater. Maybe the sequel will improve on those things, or maybe it's part of the charm for some.
At any rate, sorry to anyone who wanted WWE star The Miz to play Johnny, including Mortal Kombat co-creator Ed Boon and Kotaku staff writer Isaiah Colbert.