As journalists and editors know, cutting through the noise to deliver the news can be a tricky business. It's even harder when you're trying to report on the invasion of Ukraine, and your target audience is located in Russia. Since March 2022, the Russian president has made it a crime to call the invasion a "war." So Finland's biggest newspaper took creative measures to distribute the news in Russia: it put the information in a custom Counter-Strike: Global Offensive map.
Let's Talk About Gotham Knights' Predictable Ending
Last year, the Russian central assembly ruled that disseminating "false information" is a criminal act that carries a 15-year jail sentence. Because of this, several independent Russian news outlets have shut down, and the BBC pulled out of the country. One Wall Street Journal reporter was even detained in Russia on charges of espionage, where he remains to this day. Journalists who report on news that is unfavorable to Russia are labeled "traitors."
According to the Finnish newspaper Helsingin Sanomat, CS:GO is extremely popular in Russia—it's played by nearly 4 million people, mostly young men. And unlike other western services such as Twitter, TikTok, Facebook, and YouTube, the servers have remained online in Russia. So Helsingin Sanomat paid two custom map designers to create a map with a hidden room that details the horrors of war in Ukraine. Helsingin Sanomat released the map on May 2.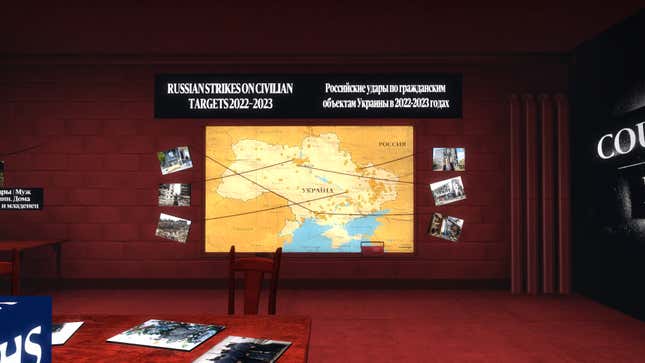 When a player dies on the de_voyna map, they're able to freely roam the space and find an underground room near a flame (which has symbolic significance as a war memorial). Once they enter, they'll see newspaper headlines about the war in Ukraine—including the massacre in Bucha, where mass graves have been discovered. A map details the locations in Ukraine that Russian soldiers have attacked, and a table lists the number of Russians who have been killed. Another station tells the story of the Ukrainian civilian Yuriy Glodan, whose family was killed by a missile strike while he was shopping for groceries.
"Russia's senseless aggression on Ukraine has killed tens of thousands of civilians, including children," one of the map makers told Helsingin Sanomat, who has chosen to remain anonymous out of concern over potential internet harassment. "The least we can do is to bring Putin's war crimes and Russian propaganda to light." Kotaku has reached out to Valve for a comment, but did not receive a response by the time of publication.
This is pretty nuts. Russian law has now made it criminal for global news organizations to speak truth in the public eye, but CS:GO is making that possible through journalistic ingenuity. You can check it out yourself by going to this link.