Lucasfilm Games and Psyonix have announced a new collaboration that will bring Star Wars-themed content to Rocket League for the first time. On May 4, otherwise known as "Star Wars Day," players can boot up the lauded free-to-play sports game and find new skins and customization options inspired by the iconic droids of Star Wars. Check out the trailer below:
From Psyonix:
The STAR WARS Droid Bundle – This bundle features a Decal for the Fennec (C-3PO), Octane (R2-D2), Dominus (K-2SO), and Takumi (BB-8) cars, four Wheels (C-3PO, R2-D2, K-2SO, and BB-8), two Toppers (R2-D2 and BB-8), the R2-D2 Player Anthem (also available separately), and the "Droid" Player Title for 2200 Credits. For players that don't own the associated cars, another bundle which includes the droid content and painted versions of those cars will be available too.

Individual Droid Packs – The BB-8 Pack (Decal, Wheels, and Topper), C-3PO Pack (Decal and Wheels), K-2SO Pack (Decal and Wheels), and R2-D2 Pack (Decal, Wheels, and Topper), will also be available for purchase separately. The BB-8 and R2-D2 Packs will be priced at 800 Credits, while the C-3PO and K-2SO Pack will be priced at 500 Credits.

Free Star Wars Content – Players will also be able to claim the "Rust Bucket" Player Title and STAR WARS R2-D2 (Twin Suns) Player Banner for free in the Item Shop.
The promotion will run from May 4 until May 16. Pricing wise, Rocket League shop items can be purchased for in-game credits: 500 credits for $4.99, 1100 credits for $9.99, 3000 for $24.99, and 6500 for $49.99. The R2-D2 and BB-8 packs will be available for 800 credits while the K-2SO and C-3PO packs will be on sale for 500.
Here are some closer looks at the available skins and free banner:
Rocket League is a free-to-play sports arcade game released back in 2015. Since then, it has won more than 150 "Game of the Year" awards and is one of the most popular Esports games in the world today. It is available on Nintendo Switch, PlayStation 4, PlayStation 5, Xbox One, Xbox Series X|S, and PC on Epic Games Store. Rocket League includes nearly endless customization possibilities, online and offline play, and multiple game types. Previous collaborations before Star Wars include Rick and Morty, Super Mario Brothers, Twisted Metal, Harry Potter, Hot Wheels, and more.
In other video game news, LEGO Star Wars: The Skywalker Saga is getting its own update on May 4 along with a brand-new DLC character. Find out who here.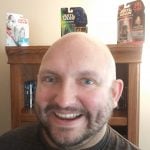 Nate uses his love for Star Wars and movies in general as a way to cope with the pain of being a Minnesota sports fan. When he's not at the theater, you can usually find Nate reading a comic, listening to an audiobook, or playing a Mario video game for the 1,000th time.