While we wait for Elden Ring's Shadow of the Erdtree DLC, a troupe of modders known as Garden of Eyes is working on an overhaul mod to FromSoftware's latest "You Died" open-world RPG, which will introduce new weapons, additional skins for Torrent, and Bloodborne-style gun parries to The Lands Between. As it continues working on the mod pack, the team has unveiled the first custom boss fight that is equal parts mesmerizing and terrifying.
Let's Talk About Gotham Knights' Predictable Ending
Garden of Eyes is a growing mod group that has already made some custom Elden Ring stuff, including flying broomsticks and a boss spectator-type mod. My favorite of their creations, though, is the jet and tank mods, which let you hop into armored vehicles to commit military crimes throughout The Lands Between. It's pretty sick, if a bit unhinged.
Read More: OK, These Elden Ring Mods Are Getting Outta Control
As mentioned the team is now back again, with an initial look at the first boss from its upcoming overhaul mod for Elden Ring. (The mod is currently in early access release for the group's Patreon subscribers, and will transition to a free, public version once development completes.) And y'all…this boss sent shivers down my spine, a haunting amalgam of Bloodborne aesthetics and Elden Ring scale.
Meet Oedon, an 'outer god' that looks like Elden Beast
Garden of Eyes
For the lore nerds out there, Elden Ring features a handful of "outer gods," mysterious beings referenced throughout the game but never actually shown. Despite never making a physical appearance, these gods are seemingly responsible for the events before, during, and after the game. Lore guy SmoughTown has an excellent video breaking down just what the outer gods are, exploring their cosmic nature and possible connection to Bloodborne. At any rate, if you've played Elden Ring, you've definitely heard of an outer god or two, as some, like The Frenzied Flame, are directly associated with certain incantations you can wield. There's another, lesser-known outer god that Garden of Eyes sought to expand upon in its new mod: the mysterious force known as The Primeval Current.
According to the Elden Ring wiki, The Primeval Current is an esoteric energy that permeates The Lands Between. Aside from its connection to magic, glintstones, and the stars, little else is known about this force of cosmic nature. Garden of Eyes saw this as an opportunity to fill in some of the lore gaps, leading to the creation of this two-phase boss fight: Oedon, the Primeval Current and Oedon, Lord of Cosmic Blood. In a May 1 YouTube video demonstrating the encounter, Oedon looks very similar to the Elden Beast, the game's final enemy before the credits roll. You've got the gelatinous body, the starry background, the intimidating scale. It's like fighting that jerk all over again but with an entirely different moveset. Yikes.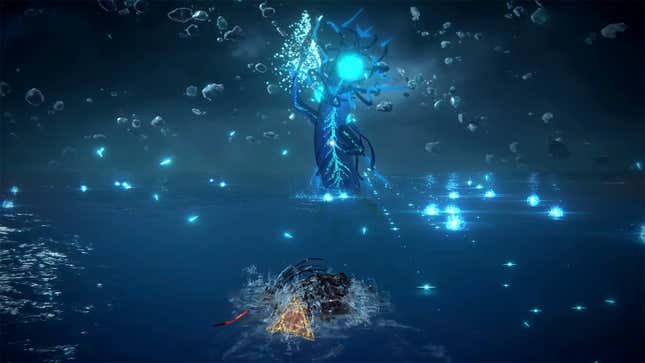 "The idea in our mod is that Oedon is actually The Primeval Current, and it is an outer god from the Elden Ring universe who was able to get into contact with the Bloodborne universe," Garden of Eyes explained in the YouTube showcase. "However, he could only communicate there by voice. [Still], he was able to beckon some of the creatures and some of the scholars from the Bloodborne universe in order to initiate a forbidden ritual to give him supreme power."
Oedon 'links' the Bloodborne and Elden Ring worlds together
There's a lot of mention of Bloodborne in Garden of Eyes' YouTube video, and for good reason. As the modders said, Oedon was able to connect to Bloodborne, serving as a link between the two games. Garden of Eyes told Kotaku that the team wanted an enemy that could invoke the vibes of Bloodborne and Elden Ring boss design by having one phase focused on glintstone magic while the other centered on "blood" and melee attacks. Garden of Eyes elaborated:
In the Bloodborne universe, there is an unseen Great One called Formless Oedon, and basically his and his followers' MO is seeking the power of the Old Blood. In our version of the story, Oedon is actually an Outer God from the Elden Ring universe, specifically the Primeval Current, which is where the power of glintstone sorceries comes from. We envisioned that the reason why the people in the Bloodborne universe address him as 'formless' is because he cannot physically interact with other universes, and only communicates by voice. As a way to gain ultimate power, he tricked some of the scholars in Byrgenwerth to study the power of the Old Blood, and that its combination with the power of Glintstone magic is the key to true Insight, and beckoned them to The Lands Between to initiate a forbidden ritual, allowing him to reach his ultimate goal of becoming the Lord of Cosmic Blood, gaining the power of the Old Blood mixed with the power of Glintstone magic.
Garden of Eyes said they were partially inspired by a Lovecraftian god named Yog-Sothoth, a cosmic entity and outer god part of H.P. Lovecraft's Cthulhu mythos. While the Lovecraftian influence is obvious, Garden of Eyes also noted that Oedon is built around some of the Elden Beast's animations. Most of everything else, though, is new: the model, the various graphical assets, as well as a handful of animations for things like attacks and its second-phase transformation. Garden of Eyes noted this was a tough encounter, one slated to occur very late in the game.
"Oedon is planned to be an end-game boss, so I would put it in a similar difficulty as Malenia," they said. "However, you have to take into consideration that it is a completely different experience as Malenia is more of a humanoid close-combat-focused boss, while this one is a large monstrosity with two different styles in its two different phases."
Oedon's boss design was inspired by an available trick weapon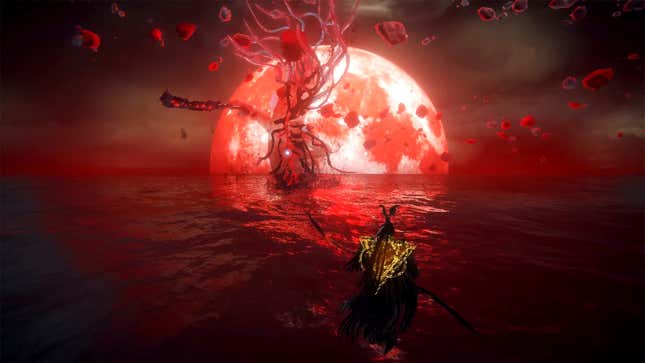 Considering the similarities Oedon shares with the Elden Beast, you might assume you'd encounter it in the Elden Throne, an area that becomes accessible in Leyndell, Ashen Capital after burning the giant golden Erdtree. The Oedon fight location looks almost identical to the Elden Beast's. However, Garden of Eyes explained that Oedon is found somewhere else.
"It's the realm where The Primeval Current resides," Garden of Eyes said. "You can see from the design of the boss it has this 'crystal,' which is the core of its being. In the second phase, where the power of the Old Blood corrupts it, it completely changes to red, the glintstone also becomes red, and the Red Moon linked with the Old Blood shows. You can also see how the capsule surrounding the crystal breaks and gets corrupted with teeth. This was done to convey the idea of the Old Blood's corruption."
Garden of Eyes said the team has been working on Oedon for about five months now, with the idea coming from the motivation to create a unique Whispering Terror weapon. This Bloodborne-style trick blade is a big curved greatsword that shifts between blood- and glintstone-based attacks and also appears to be insanely OP, murking enemies in just a few hits. Once this weapon was finished, the team thought of making a boss that revolved around it, which wound up becoming Oedon, the Primeval Current.
"The hardest part was getting [Oedon's] model to look good, as we're limited by Elden Ring's existing materials system, so it took a very long time to make sure that it is looking as close to our vision as possible," Garden of Eyes said. "We had to create custom cloth physics for the tentacles to make it look more realistic and fitting in the game. The other equally hard aspect was the gameplay as our teammate GPOL was the one handling that side of things. Getting everything to link up together, coming up with ideas to make the boss fun and engaging, whilst also being balanced was a very big challenge and took a lot of trial-and-error and bug hunting to make sure everything works properly."
Read More: Elden Ring Is Getting An Expansion That May Go Into Its Biggest Mystery: Miquella
All in all, Oedon looks like a cool, horrifying boss that taps into the daunting nature of Elden Ring and the spine-shivering elements of Bloodborne. As far as I know, there's no direct connection between the two FromSoft games. Still, it's fascinating seeing the fanfiction folks create and the dedication modders like Garden of Eyes have to bringing their ideas to life. However, if Oedon is as difficult as Malenia, then there's absolutely no way I'm surviving—unless I've got Tarnished like Let Me Solo Her or RS_Lionheart backing me up.