Last Train Outta' Wormtown is a Tremors and Fall Guys-inspired multiplayer party game where players team up cooperatively against another player who is the sandworm. Last Train Outta' Wormtown puts a twist on hilarious party bean games like Fall Guys while drawing inspiration from asymmetrical horror games like Dead by Daylight.
Game Rant recently interviewed solo indie developer Trevor Vaughn of Get(Color) Games about playing as a sandworm versus a cowboy-style bean in the indie party game. Vaughn also spoke about Last Train Outta Wormtown's friend pass system, its randomized procedurally generated maps, and more. The following transcript has been edited for clarity and brevity.
RELATED: The Best Multiplayer Games On Steam
Q: How did you come up with the idea for Last Train Outta' Wormtown and were there any key inspirations from video games, movies, or otherwise?
A: I grew up loving monster movies in general, but Tremors really stuck with me. It seems like a monster type and genre that lends itself perfectly to a game, yet I've never seen it done before. I find it interesting that seemingly everyone growing up, regardless of where you lived, played 'the floor is lava.' There's something intrinsically fun about avoiding the ground and jumping around on things – so replacing the ground hazard with a giant monster trying to eat you instead? Just felt like a perfect mix.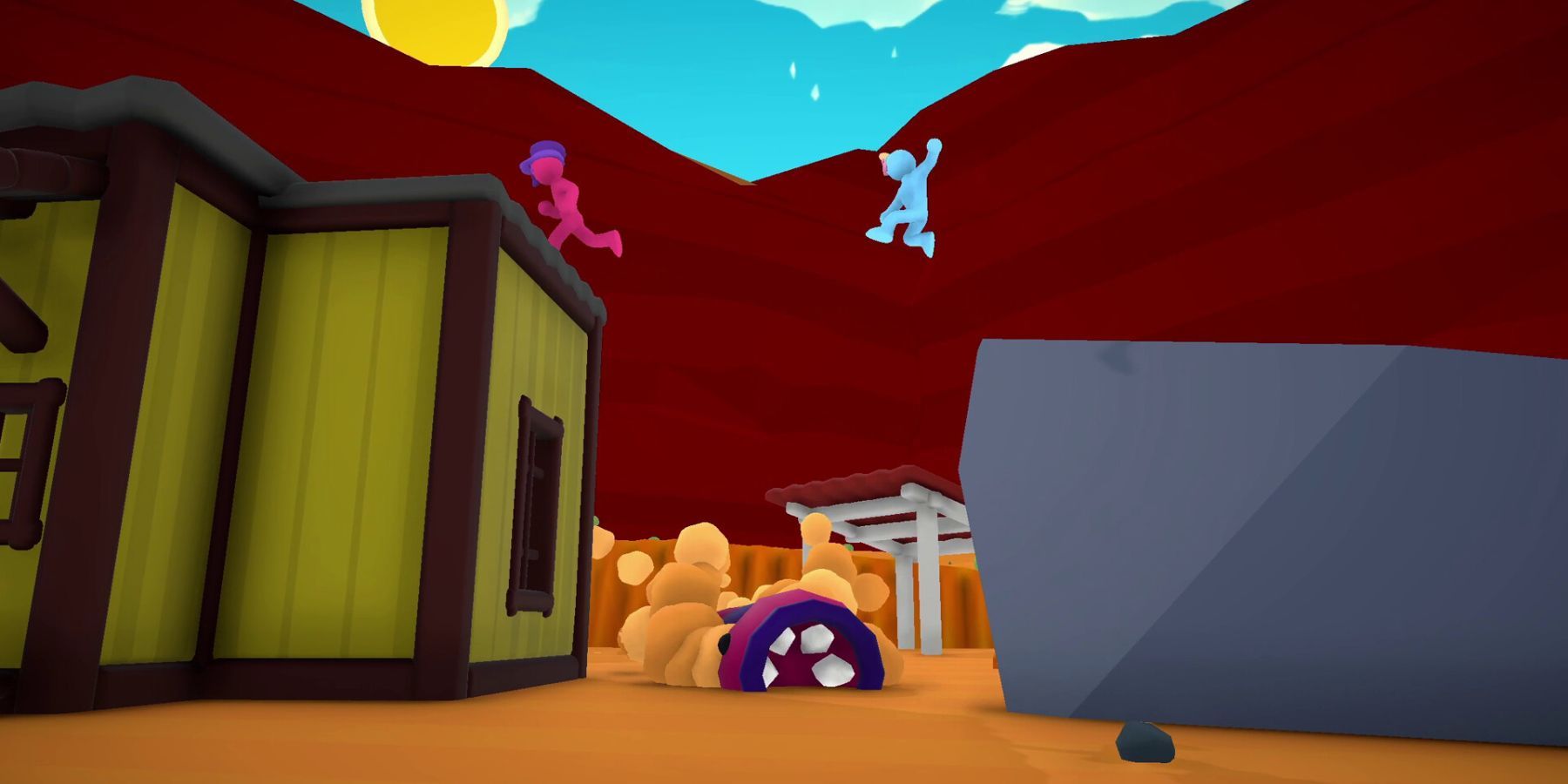 Earlier in life, I used to be a Parkour and free running instructor. We'd come up with little games to play inside the Parkour gym, and one of those games we jokingly called "space cadets." We said we were all on a spaceship that was self-destructing, and we had to complete certain objectives and get back to the escape pod to win.
We went around the gym and created various "objectives," like having to knock out the security system (aka knocking over a foam pool noodle) or collecting keycards (tennis balls placed in obscure places), etc. We couldn't touch the ground or we'd "die," and a lot of the objectives required multiple people to work together to complete. It was just a dumb little game we made up one day, and it weirdly caught on and spread to other Parkour gyms around the country.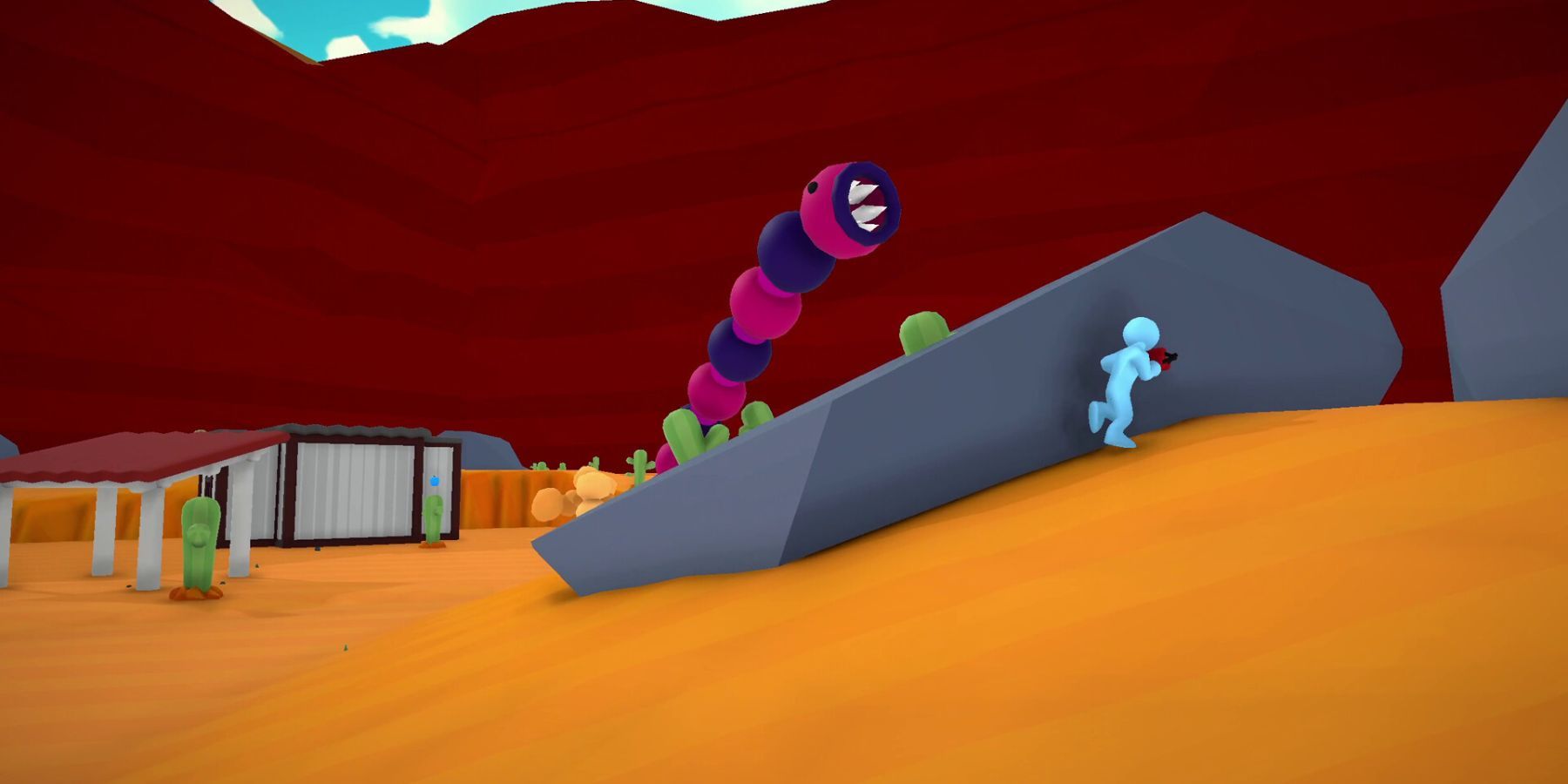 I didn't realize until a few months into Wormtown's development that I was actually making Space Cadets with a sandworm. Honestly, I've been trying to make a sandworm video game for probably 8 years now. Like many indie devs, I have folders and folders of unfinished prototype projects, and within those, I have at least 3 other attempts at sandworm-related games. All of them were more serious in tone, single-player survival-type games. Ultimately, they all failed because it was hard to make "sitting on a rock and waiting for the worm to de-aggro" fun. Outsmarting an AI worm with mind games just wasn't engaging.
Up until now, I've only made single-player games, so when I finally bit the bullet and decided to make a multiplayer game, I knew it had to be the sandworm game. Having the worm be another player, the psychology, and mind games adds such a fun level of depth to the game. After every match, there are so many stories and moments that people discuss about near misses and harrowing escapes, and it's been a blast play-testing it with everyone.
RELATED: Best Horror Games Where You Are The Monster
Q: What kind of objectives will players have to do while avoiding the sandworm and fuelling up the train to escape?
A: Currently the 3 objectives in a round are to fuel the train, destroy the train cars blocking the track, and find the train key. The objectives are designed to force players to move and explore the map (as opposed to sitting idly and safely on rocks).
Almost any object or prop you find around the map has a fuel value associated with it, so you run around picking up chairs, tables, beds, buckets, cans of beans, and other goofy things to throw into the train furnace. The fuel objective is the slow-and-steady sort of objective where all the players chip away at it together.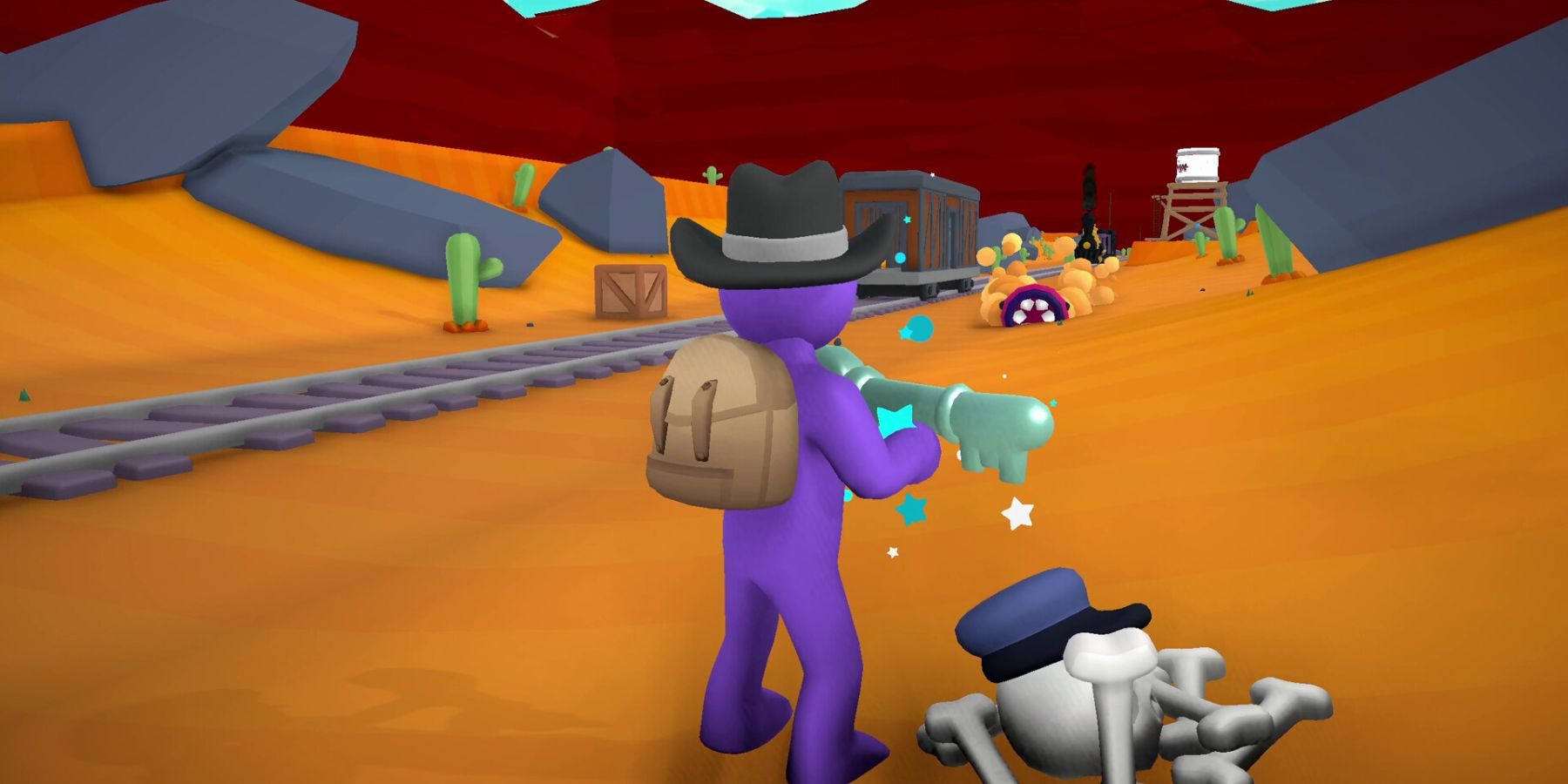 To destroy the blocking train cars, you'll need to find dynamite in the quarry. It's been fun seeing the difficult choices players make when bringing dynamite back to the train. It's like, do you try and use the dynamite to damage the worm and potentially save your life? But if you miss, you'll need to go back for more dynamite – but if you don't try, you might just die instead! It's those kinds of quick second choices that I love about Wormtown.
The train key is the "wildcard" objective. It can spawn anywhere on the map (but always inside a conspicuous pile of bones. RIP the train conductor). Sometimes, you'll find it naturally while exploring the map, other times you'll have to spread out and do a search party for it, or dead players can fly around as ghosts and help spot it. I wanted to design each objective to serve a different purpose while forcing players to explore and make dangerous and difficult decisions.
RELATED: Best Train Levels In Video Games
Q: What kinds of props do players get to use to attack the worm or perform skill shot abilities, like using dynamite?
A: There are plans to add a handful of useful weapons and tools to combat the worm, but currently the dynamite is the best anti-worm option in the game. The Worm grabs onto the first thing its mouth touches when it dives – which means if you can put a prop between you and it, it'll grab that instead, buying you valuable seconds of safety while it gobbles it down. But if you can time a dynamite throw perfectly into its mouth, it will detonate in its stomach and force it underground for a much longer time.
Some of the most frantic moments are the few seconds when the dynamite lands in the Worm's mouth, and you realize you've just made the worm into a giant sentient time bomb trying to blow you up with it! These are usually the moments the Discord call erupts with nervous yells and giggles.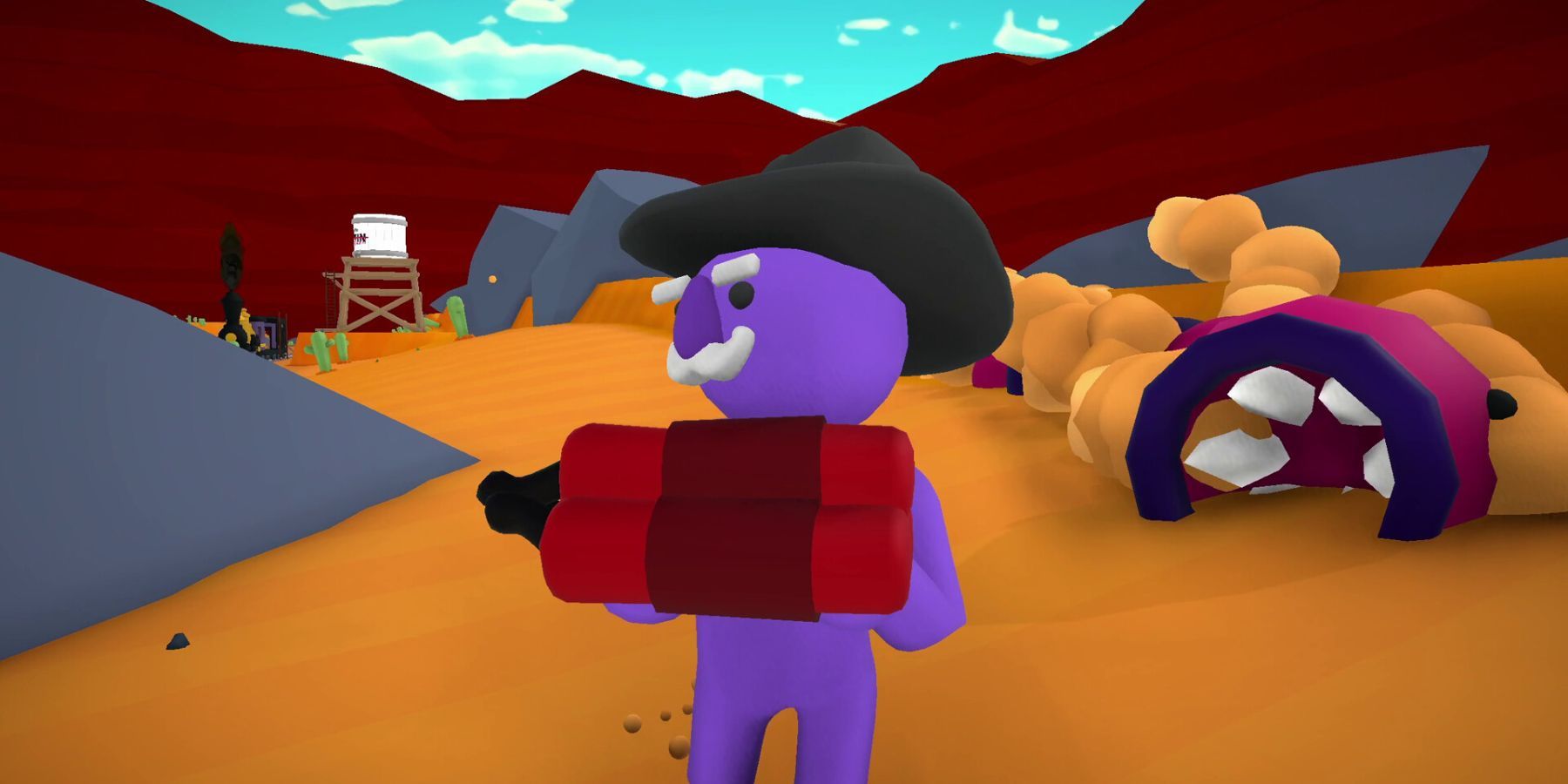 Q: In what ways might players use the map to strategize against the worm's ability to detect movement?
A: The worm can only detect players or objects when they first touch the ground or when they're moving on the ground. Sometimes if there's a lot of chaos going on, standing still will hide you from the Worm. The moments when the worm is right next to you, and you're just holding your breath and hoping… *chefs kiss*
It also means you can be a very useful distraction for your teammates. If the Worm is focusing on your buddy, you can run around and make a lot of noise elsewhere to try and lure them away. Throwing props on the ground will also ping the Worm, and it's a whole meta-game in itself finding ways to make the Worm think a prop is a player.
I've spent hundreds of hours play-testing this game, and I still see players find unique ways to trick the Worm player. And that meta mind game only gets more layered when playing with friends you know well.
RELATED: Best Party Games Like Gang Beasts
Q: Could you explain more about the procedurally generated maps and how these become different each time?
A: This is a slightly weird one. We have a procedural map generator that builds unique layouts, and we used to have it generate a new layout each match – but that took time to do. We found that players were getting a bit annoyed waiting 20–30 seconds before every game while the map was built. So instead I now use the generator to spit out hundreds of map layouts ahead of time, and then it simply picks one of those layouts randomly (and secretly, so people can't "learn" the layout numbers) when the match loads.
I figure players wouldn't be able to memorize 500+ map layouts, and they're much happier loading into games quicker.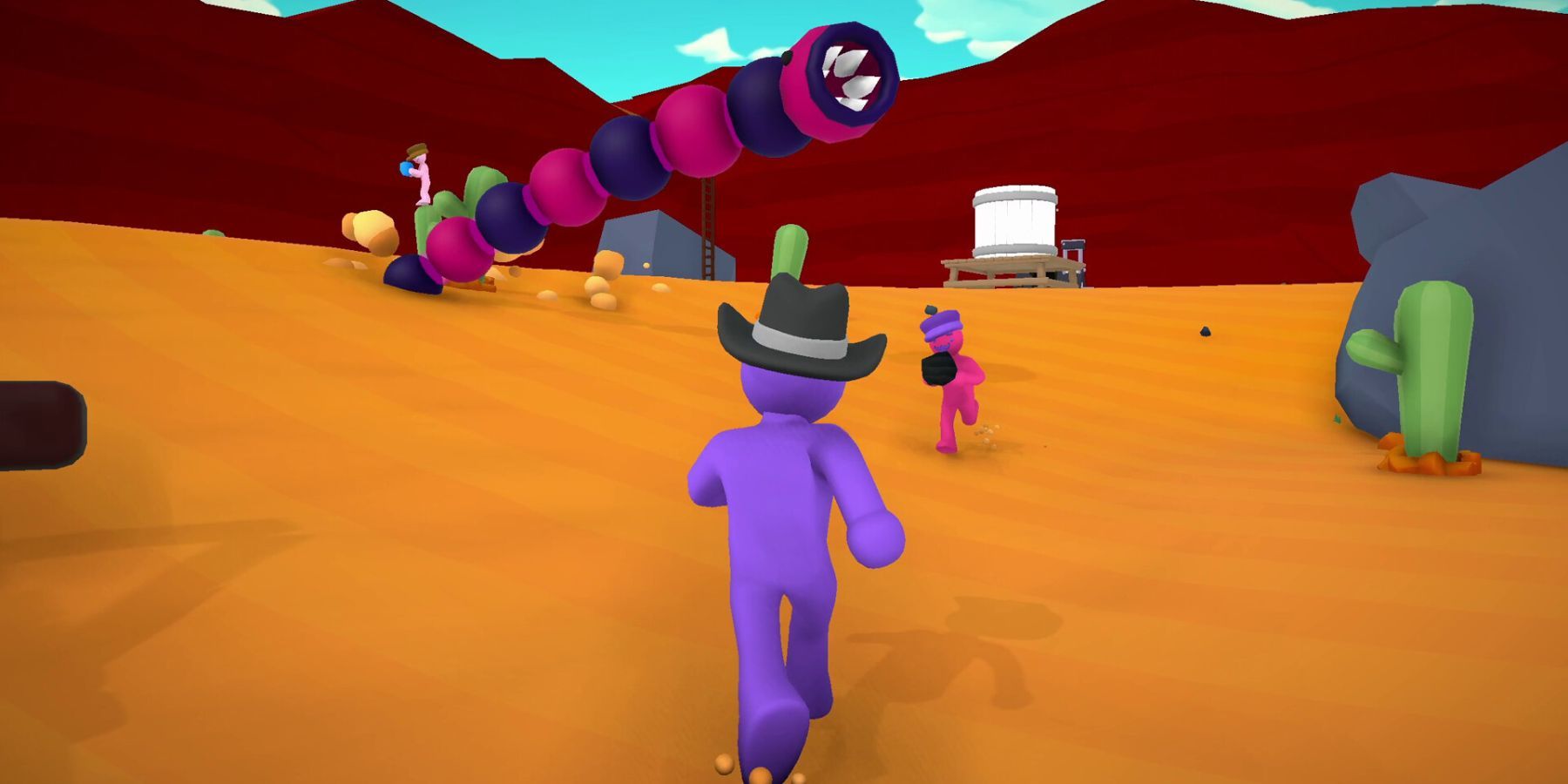 Q: Could you tell us more about how character customization and progression work?
A: I'm so happy with how the character customizer turned out! I knew going in that I wasn't going to be able to compete with super high-fidelity character creators of bigger games – so I wanted to give full control over what I did have. For every feature on your character's face and head, you can position and scale them individually – with very few limitations. Do you want to wear a cowboy hat, scale it to absurdly large, and tilt it to the side? Do you want to have one eye twice as large as the other? Do you want to scale your mustache so large and put it over your eyeballs, so it now looks like sunglasses? The playtesters have truly made some horrifying and hilarious creations – and that's just with the basic set of customization options so far. I plan on adding a lot more as early access continues.
On the player progression side of things, I've got some things planned but nothing is set in stone yet. Although, I do plan to have unique cosmetic unlocks attached to the eventual Steam achievements. I always loved games like Dead Rising that rewarded players with in-game items as well when unlocking achievements. It'll also be fun to create cosmetics relevant to the achievement action – like maybe unlocking a Worm mouth stuck to your head for "Getting eaten by the Worm X number of times".
Q: Could you explain more about how public versus private multiplayer lobbies work?
A: While the game is designed as a party game to play with your friends, I realized that some players might want a way to quickly hop into a game if they're alone. Wormtown has a Quickplay mode, which will search for public quick-play lobbies and join/host one automatically. This feature is fairly experimental at the moment, and I'm curious to see how the community interacts with it.
I'm sure most indie game players have experienced smaller multiplayer games not having open lobbies available, so I'm hoping focusing on the party game "invite your friends" vibe will keep the community active. But who knows! Players always surprise us with how they interact with our games, maybe quick play will be more popular than I assume!
RELATED: Best Co-Op Games You Can Play On Steam For Free
Q: What about the friend pass system? How does it work?
A: The Friend's Pass is the free-to-play version of Wormtown that allows you to join private games completely for free. It doesn't restrict any of the gameplay mechanics, so you can get the full experience of playing Wormtown with your friends and favorite streamers. If you've played a Jackbox game before, it's a similar idea.
Simply download the free Friend's Pass, enter your friends' lobby code, and play! You can find the Friend's Pass on the Last Train Outta' Wormtown store page.
Note: hosting games, quick play, the majority of the character customization items, and the eventual progression/achievement system are locked for the Friend's Pass.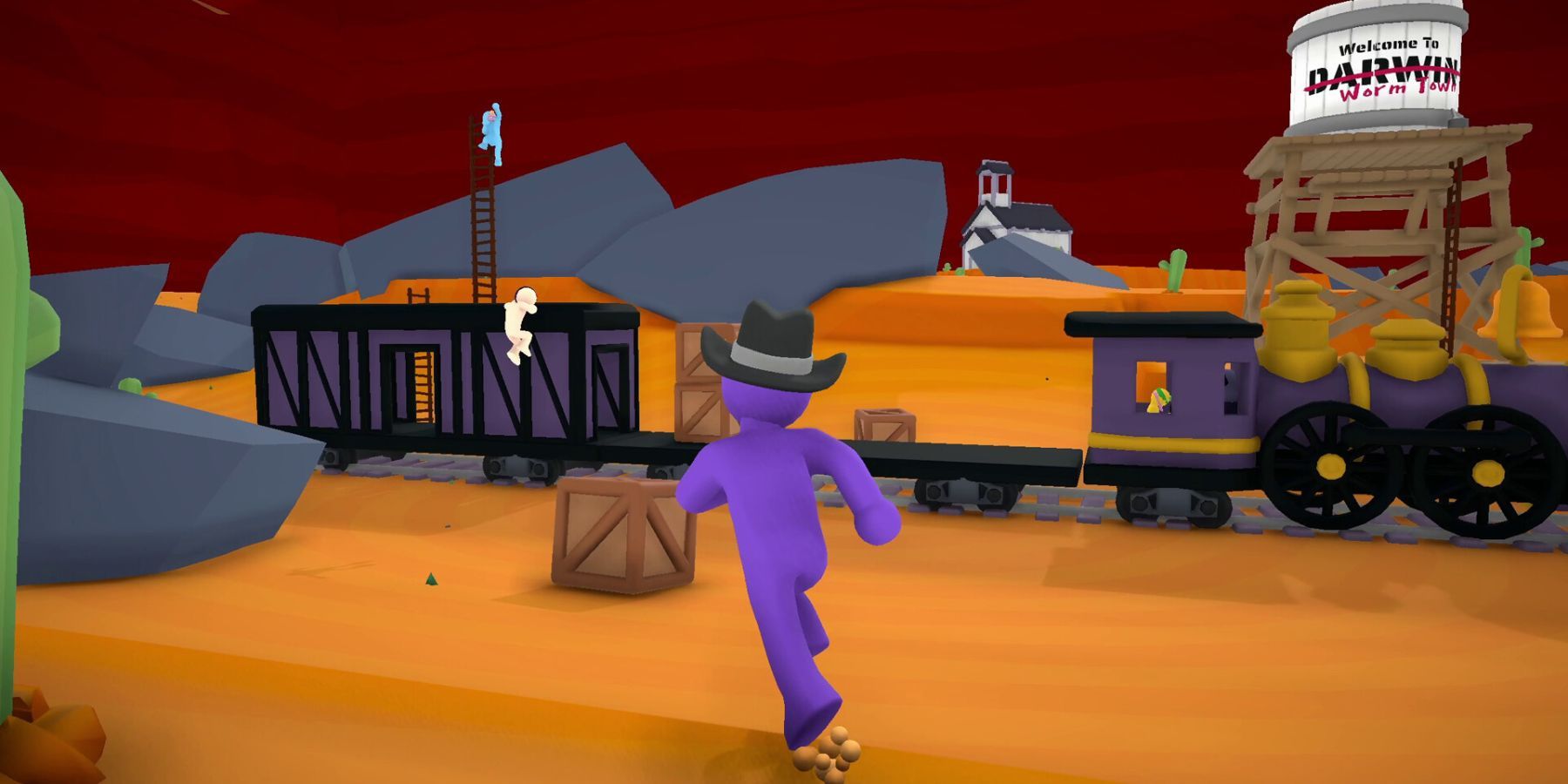 Q: Why did you decide to go with a Friend's Pass system?
A: When you're a small indie studio making a multiplayer game, the initial hurdle to overcome is "How do we get people actually playing the game?" Sounds obvious, I know! And I think a lot of developers in my position simply make the wrong choice with their business model. If someone wants to buy your multiplayer game, not only do they have to do the usual mental steps of "Is this fun looking? Is this affordable?" etc. – but now you're asking them to take the additional step of convincing their friends to buy the game too. And if their friends don't commit, then the person who originally wanted to play your game probably bails on it too! Then you're left with those Steam reviews from fans of the game being like "I love this game, but nobody plays it" and "Dead game."
From the start of development on Wormtown, I knew I wanted to do the Friend's Pass. It's a game meant for friends – so removing the barriers of entry and creating a low-commitment way for everyone to play together seemed like the obvious choice. I'm also big into Twitch and the streamer culture and realized the Friend's Pass easily allows streamers to play with their communities.
Q: What do you think fans of bean games or party games might enjoy most about Last Train Outta' Wormtown?
A: My favorite part about people playing Wormtown for the first time is hearing their unintentional yelps and nervous laughter when the Worm gets near them. During playtests, the discord calls get rowdy with everyone yelling about how the Worm missed them by an inch or celebrating a clutch play. It's a game that just brings out this energy in people and there are always these stories and moments that players want to discuss after the game ends – which is what I love about social games. The social dynamics of working together with your friends AND fighting against another friend as the Worm gives the best of both co-op and adversarial party games in one.
And while the game is balanced for 3–4 humans vs one worm, you can customize the match settings for custom rule games. We recently played with 6 humans vs 2 worms and it was absolutely terrifying!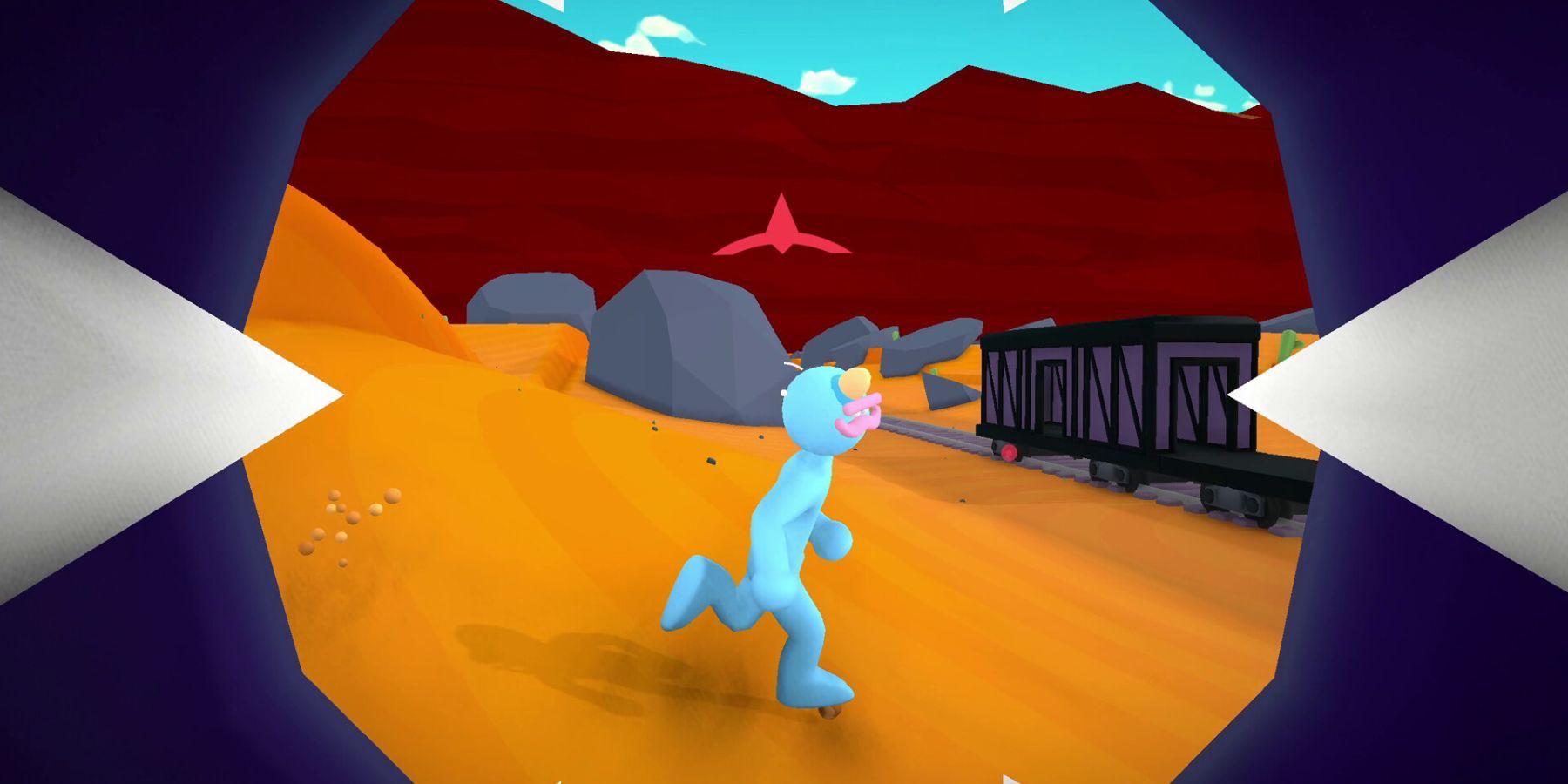 Q: What do you think makes Last Train Outta' Wormtown unique compared to other chaotic, bean games or party games?
A: I think what separates Wormtown from other party games is the melding of multiple genres while still focusing them through the party game lens. It takes inspiration from competitive asymmetrical horror games like Dead by Daylight and Video Horror Society, from silly physics-y platformers like Fall Guys and Human: Fall Flat, and elements of social and playground games too. Also, you get to be a sandworm! Can't say I've done that in a game before.
Q: Have you any plans to expand the game to other platforms like consoles or crossplay support in the future?
A: Currently, it will just be a pc release – but if all goes well, I would love to bring it to consoles. But we'll see how early access goes!
[END]
Last Train Outta' Worm Town is available now on PC.
MORE: Gamers Looking For Hilarious Multiplayer Experiences Should Consider A Steam Deck