AMD is keeping the pedal to the metal, as evidenced by a host of new processors name-checked in a DigiTimes report today. Probably of greatest interest to PC DIY enthusiasts will be the new Ryzen 8000 Granite Ridge processors, purportedly delivering Zen 5 processor cores in late 2024. However, AMD isn't expected to migrate desktop and mobile chips to TSMC processes more advanced than 4nm until 2026, according to industry insider information.
Embedded above, you can see an AMD processor roadmap put together by Twitter's @Harukaze5719 using data from DigiTimes, and some supplemental seasoning from YouTuber MLID.
Working from the top, AMD is expected to refresh its server offerings with a new series of Epyc processors in 2025. Insiders indicate this could be the first AMD chip fabbed at 3nm. There are no other 3nm chips on this roadmap.
HEDT users will also enjoy a refresh in 2025 when the Shimada Peak Threadripper processors debut if this roadmap is accurate. It isn't certain whether these powerful high core count chips will use TSMC's 4nm or 6nm processes, however, they will likely be based on the Zen 5 architecture. Meanwhile, we are still waiting for the Storm Peak Threadripper CPUs, based on the Zen 4 architecture, which are expected in Q3 this year.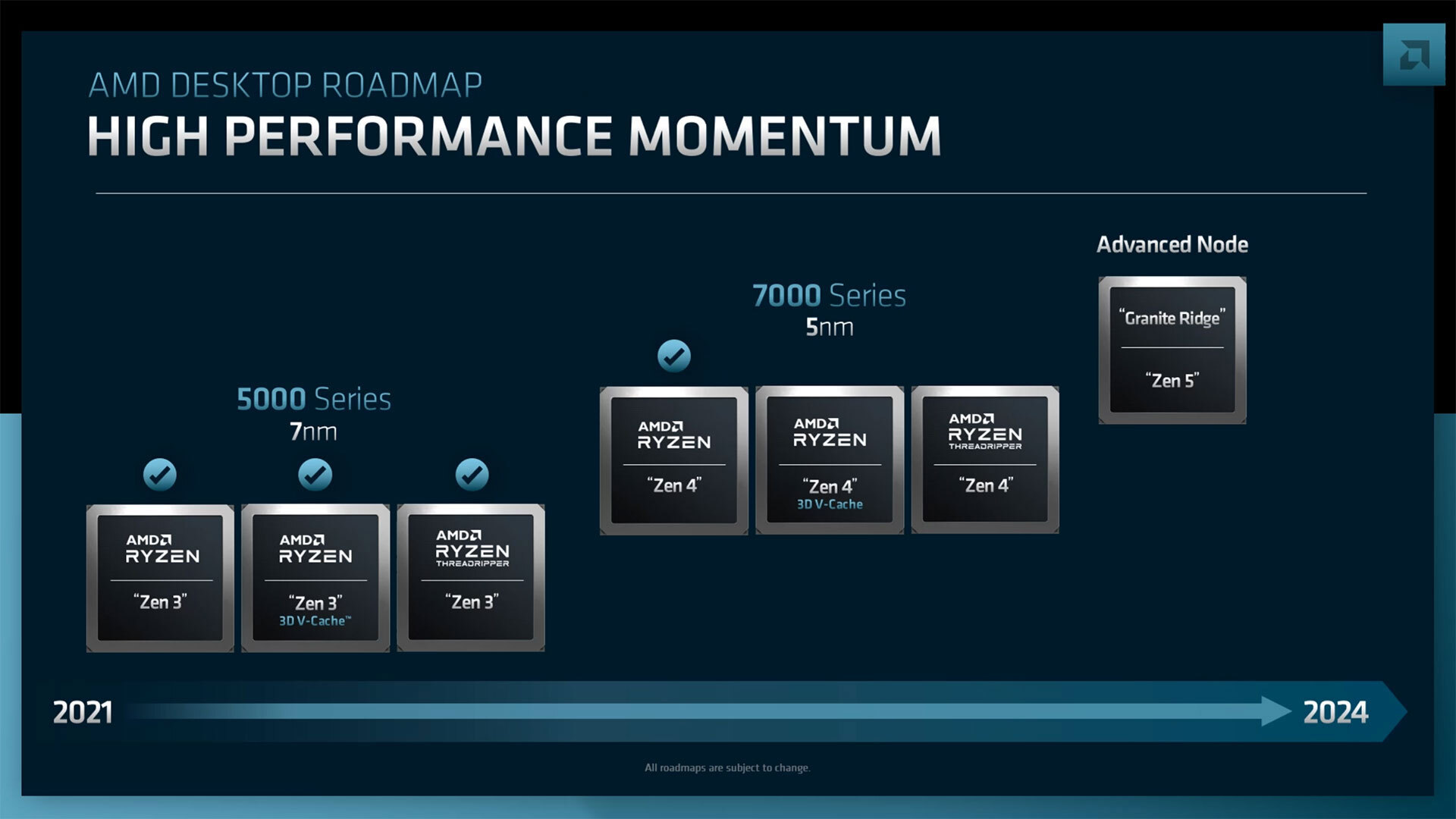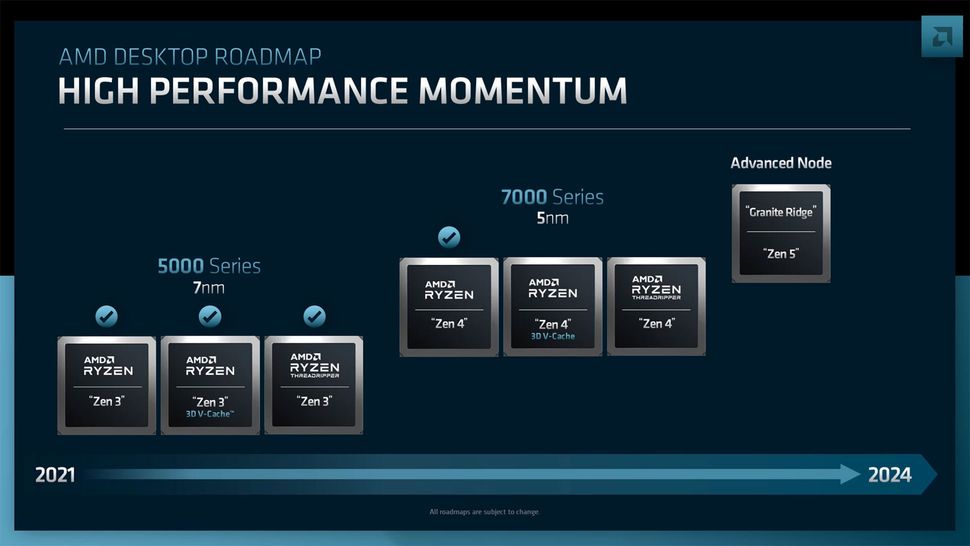 Luckily for mainstream desktop PC users, there isn't such a big gap until a significant refresh arrives on their platform of choice. According to this roadmap, distilled from the utterings of DigiTimes sources, Ryzen 8000 Granite Ridge processors burst onto the scene in 2024. Specifically, DigiTimes says Granite Ridge will be released "at the end of 2024." This will likely give AMD desktop users the first taste of the Zen 5 architecture, but it is again uncertain what TSMC process node we will be looking at (4nm and/or 6nm).
The roadmap gets very busy within the mobile space, reflecting the importance of providing options appealing to as wide a range of the populace as possible. Even desktop users might admit that the currently emerging Ryzen 7000 mobile APUs are quite exciting, with some combining the attractions of Zen 4 CPU cores and RDNA 3 GPU cores in a portable-friendly TDP. We expect the Ryzen 8000 mobile chips to keep AMD on your mind if you are considering a new laptop.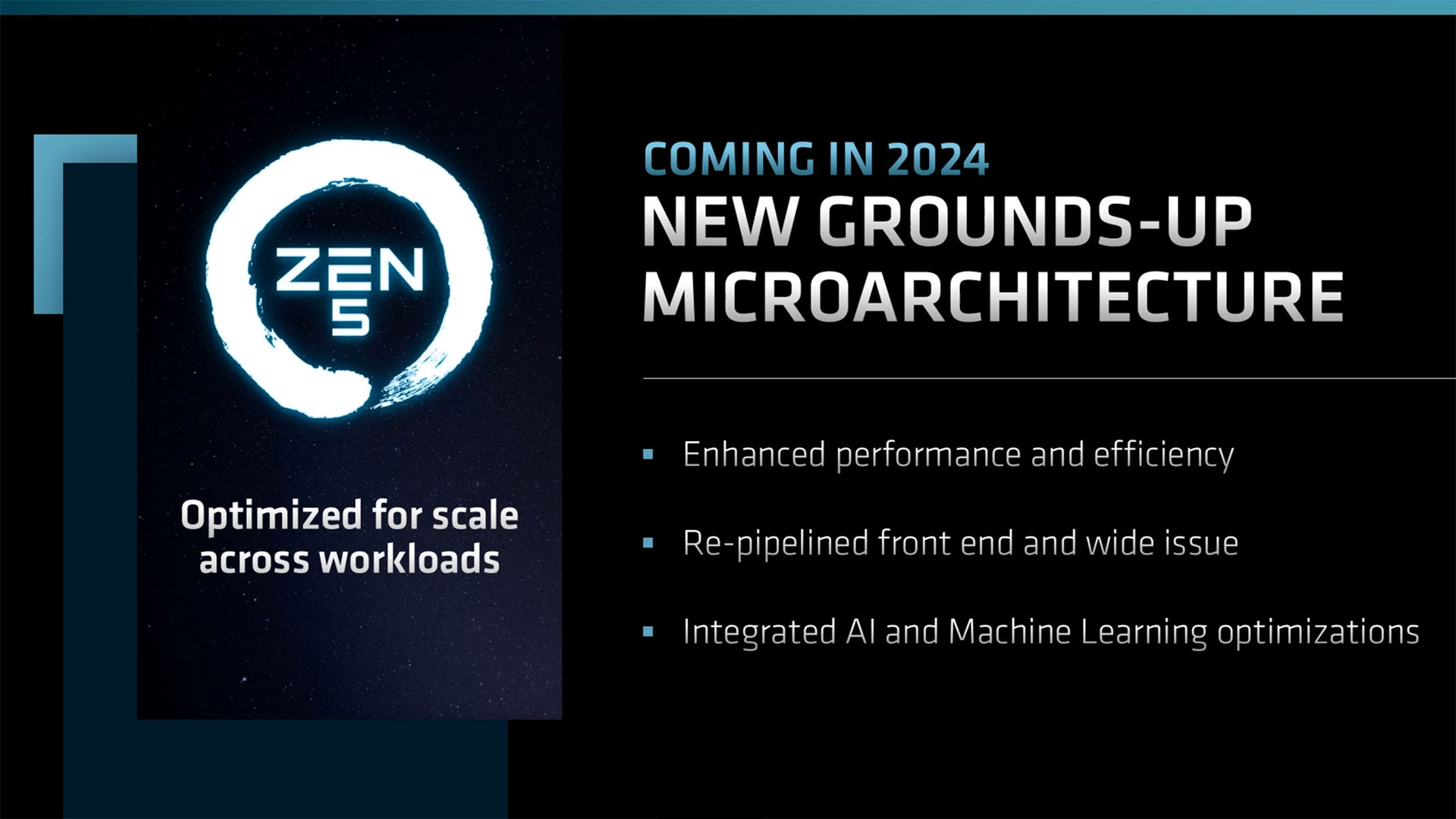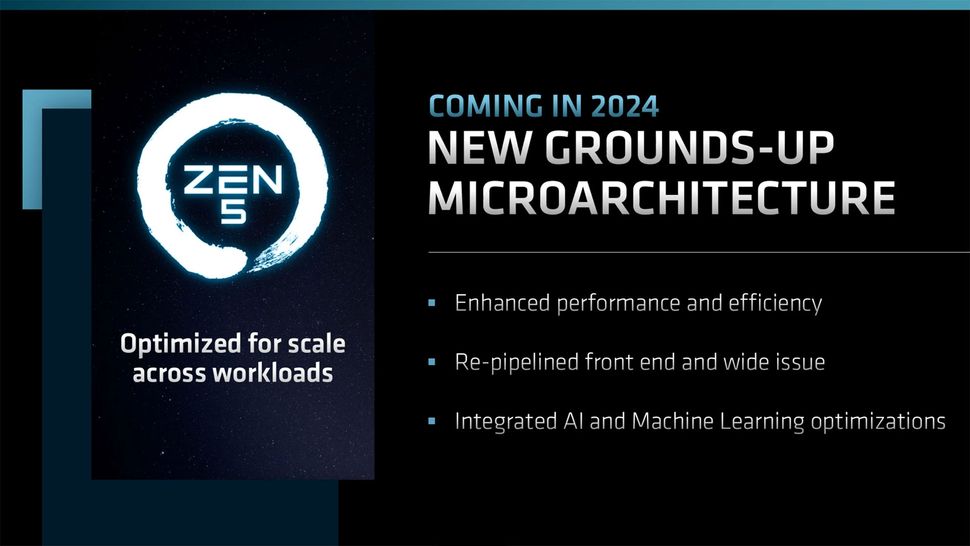 In 2024, the Dragon Range and Phoenix Point Ryzen 7000 mobile chips will be replaced by an even bigger family of targeted Ryzen 8000 APUs, with most moving to the newest Zen 5 CPU cores. Then, by 2025, all the AMD mobile APU options will be Zen 5-based, except perhaps an entry-level chip codenamed Escher. Sadly, the roadmap does not mention what GPU architectures will be used, as this is an essential consideration with mobile platforms with limited upgrade options.
Lastly, with reports like this based on industry leaks and rumors, please add a pinch of salt.