Alienware m17 R5 review: Key specs as tested
CPU: AMD Ryzen 9 6900HX
RAM: 32GB DDR5
GPU: AMD Radeon RX 6850M XT 12GB
Storage: 1TB SSD
Screen: 17.3in UHD 120Hz
OS: Windows 11 Home
Connectivity: 2x USB-A 3.2 Gen 1, 1x USB-A 3.2 Gen 1 with PowerShare, 1x USB-C 3.2 Gen 2 with DP 1.4 and power delivery, 1x Headset port, 1x HDMI 2.1, 1x RJ45 Ethernet
Wireless: Wi-Fi 6E, Bluetooth
Dimensions: 26.70 x 397.30 x 298.71 mm
Weight: 3.43 kg
The Alienware m17 R5 is, for those au fait with Dell's naming conventions for its gaming laptops, the fifth iteration of its 'mid-spec' gaming portable. Sporting a sharp 17-inch screen, Alienware's well-established and stylish aesthetics get a subtle upgrade on the outside and a slightly less subtle one on the inside. 
The m17 R5's predecessor, the R4 has been among the best Dell laptops (opens in new tab) on the market for a while Equipped with a 3.3GHz Ryzen 9 6900HX processor and the AMD Radeon RX 6850M XT graphics card released in 2022 (despite fewer gigabytes, it fully competes with the Nvidia RTX 3080 Ti), I was keen to see how Dell had fared with its upgrade, not only as a contender for the best gaming laptops (opens in new tab) but also, since this is a creative website, as a capable workhorse for pro creatives (especially if they like a bit of gaming in their downtime).
I received a review sample to use over a number of weeks, and I had it as my main laptop at work as well as using it for gaming. This included travelling with it, taking it out to cafés, running creative software on it, and gaming in the evenings too. And of course, it wouldn't be a full gaming laptop experience without a mystery issue or two…
Alienware m17 R5 review: Design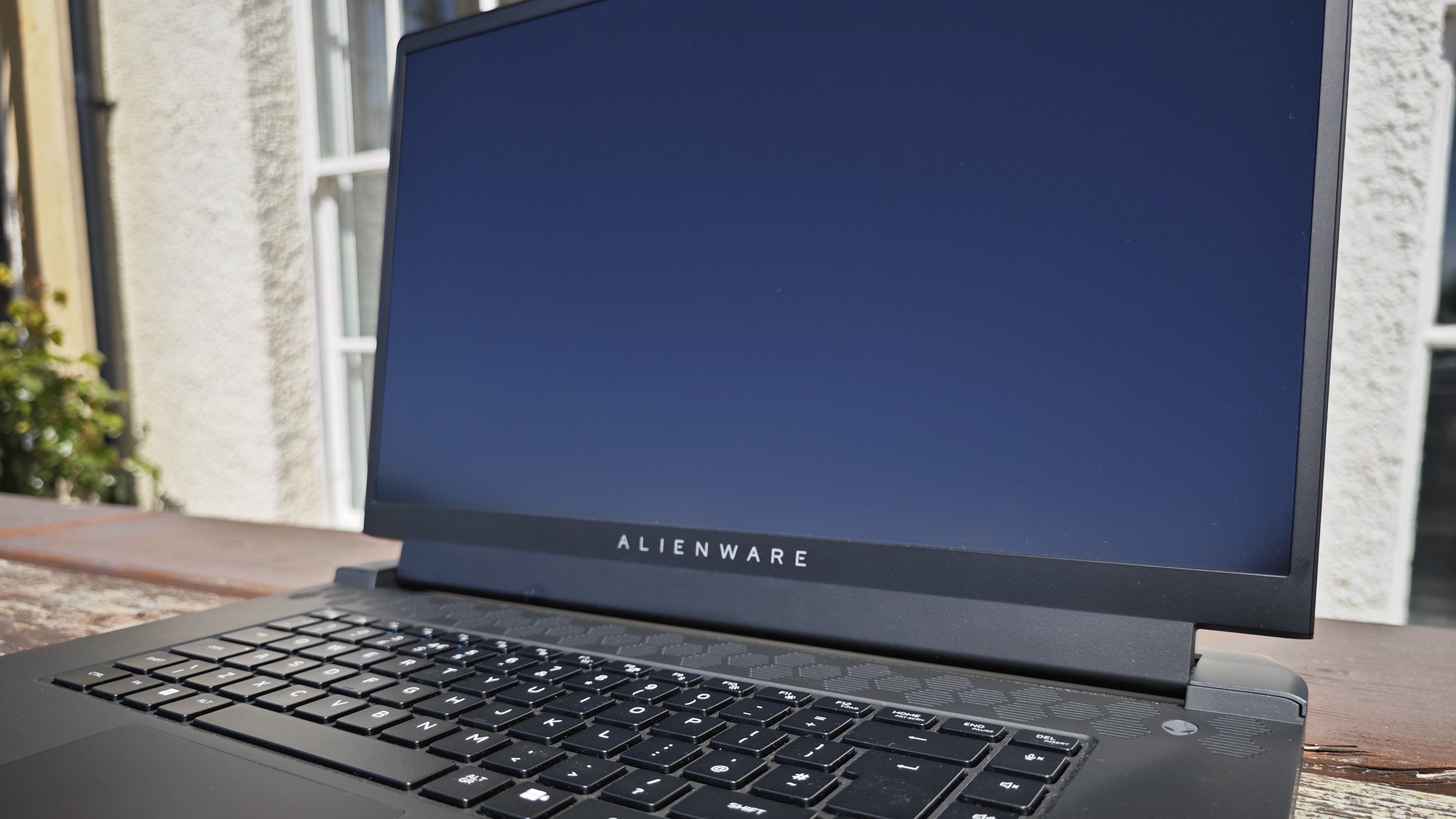 The Alienware m17 R5 looks distinctive from the moment you open the box. Just like the X17 R2 (opens in new tab) that my friend Ian Evenden reviewed the other day, the hinge undercuts the screen creating a 'neck' as you open the lid, which has a faint '17'  stylishly grafted into the dark-grey surface. The body also extends behind the screen, presumably to help fit all the required gear inside the casing, which is thinner than much of the gaming-laptop competition.
This extension beyond the back of the already-sizeable 17-inch screen means the m17 R5 is a big boi indeed. Weighing 3.43 kilograms with the larger 97 Wh battery onboard (which is what you'll need with the higher-spec model, there's also an AMD Ryzen 7 one on offer) means it's not a lightweight either, bringing the m17 well into Absolute Unit territory. 
When travelling with the laptop out to a café I was slightly taken aback by the sheer table space it commanded on the four-person table I sat at, but this is not intended as an out-and-about travel companion, built instead for gaming-hungry users who will be plugged in at the same location for hours on end. 
As befits any serious gaming laptop, the m17 R5 is adorned with a healthy assortment of RGB lighting, including where you expect it, such as the keyboard and the Alienware-logo-shaped power button, and where you don't, such as on the back, lighting up and framing the rim around the back panel, giving you a glow on the wall behind the laptop in the dark. 
The build is strong and sturdy, as you'd expect, and the keyboard feels nice to the touch, if lacking a little in the feedback and responsiveness I personally prefer.
Features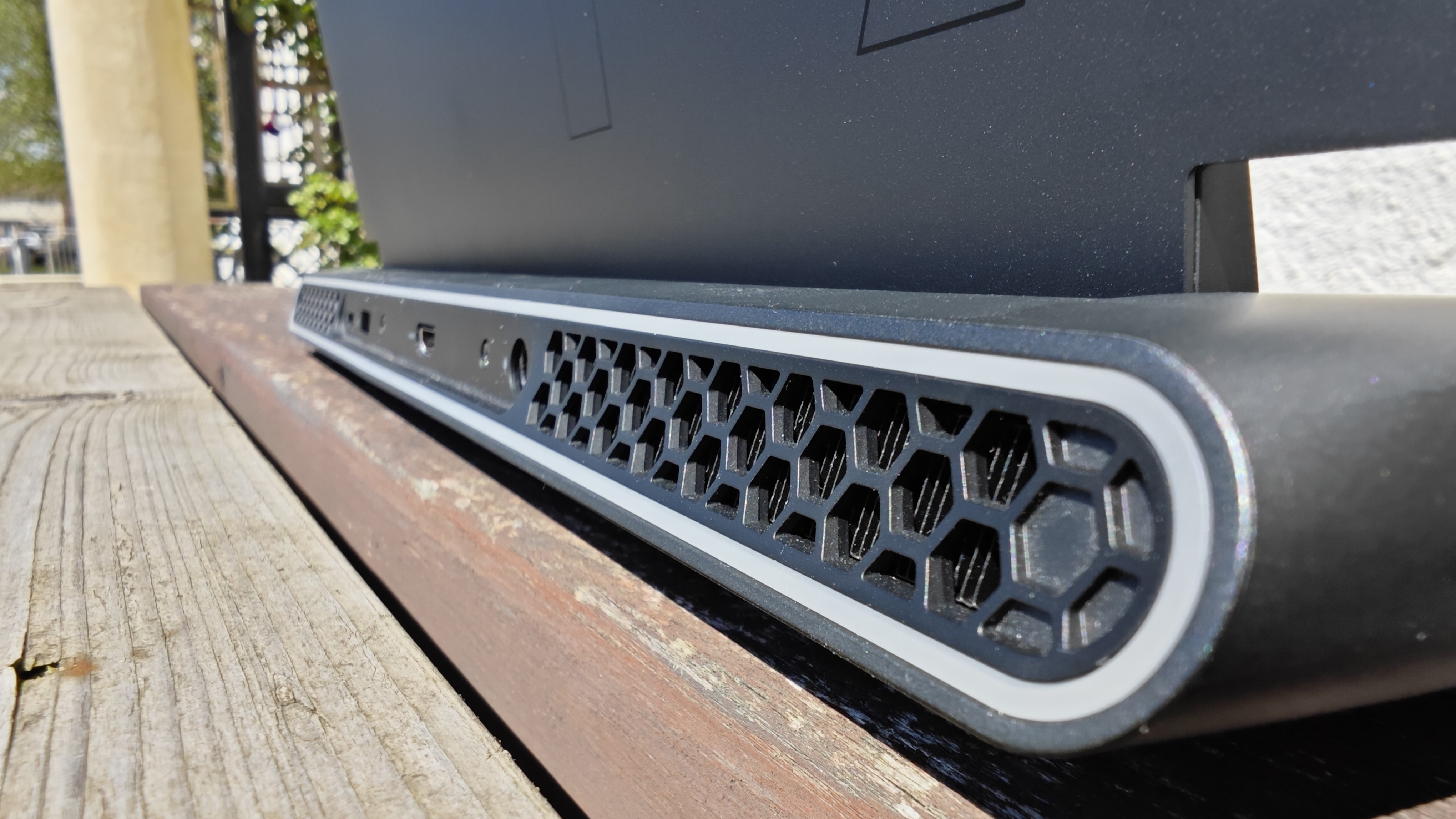 This matters greatly to some users and not at all to others, but the Alienware m17 R5 I tested does not run on Nvidia GeForce graphics, but instead uses the recent AMD Radeon RX 6850M XT graphics card. This is a 12GB card that's proven itself pretty much the equal of the GeForce 3080 Ti card in terms of performance, but has been reported to be more power-hungry than its 16GB Nvidia counterpart. This matches the AMD Ryzen 9 6900HX processor, which runs natively on 3.3 GHz but can be clocked up to 4.9 GHz for more power. 
The screen I had on my test unit is a 17.3-inch UHD screen with HDR that gives you up to 3840×2160 resolution, for an ultra-sharp 255 PPI and 500 nits of brightness, but that one maxes out at 120Hz refresh rate. There are other 17.3 display options available that may suit laser-focused gamers more, which top out at 1920×1080 and 300 nits but can offer up to 480Hz refresh rate. For creative tasks like photo-editing and graphic design, the framerate is less important than the resolution, so the UHD screen would be your go-to as a creative pro. 
It's got 32GB DDR6 RAM, which is more than enough for me, and will more than do for someone needing to run 3D software on the regular, or multitask with several applications open.
There isn't a whole bunch of ports on the machine, but there's enough to link an external monitor via HDMI, keyboard and mouse, along with headphones and a Thunderbolt 4 USB-C slot on the back (although telling that one apart from the other USB-C port is tricky due to unclear markings and the glow from the RGB around the back panel). 
Like I said before, the keyboard is very decent but the trackpad lags behind competitors such as ASUS and MSI, as it's relatively small and I found it annoyingly hard to find the right sense for pressing and right-clicking at times. However, as I only ever use the trackpad and native keyboard when I can't link my preferred keyboard and mouse to it (such as out and about), this isn't a big issue for me.
Performance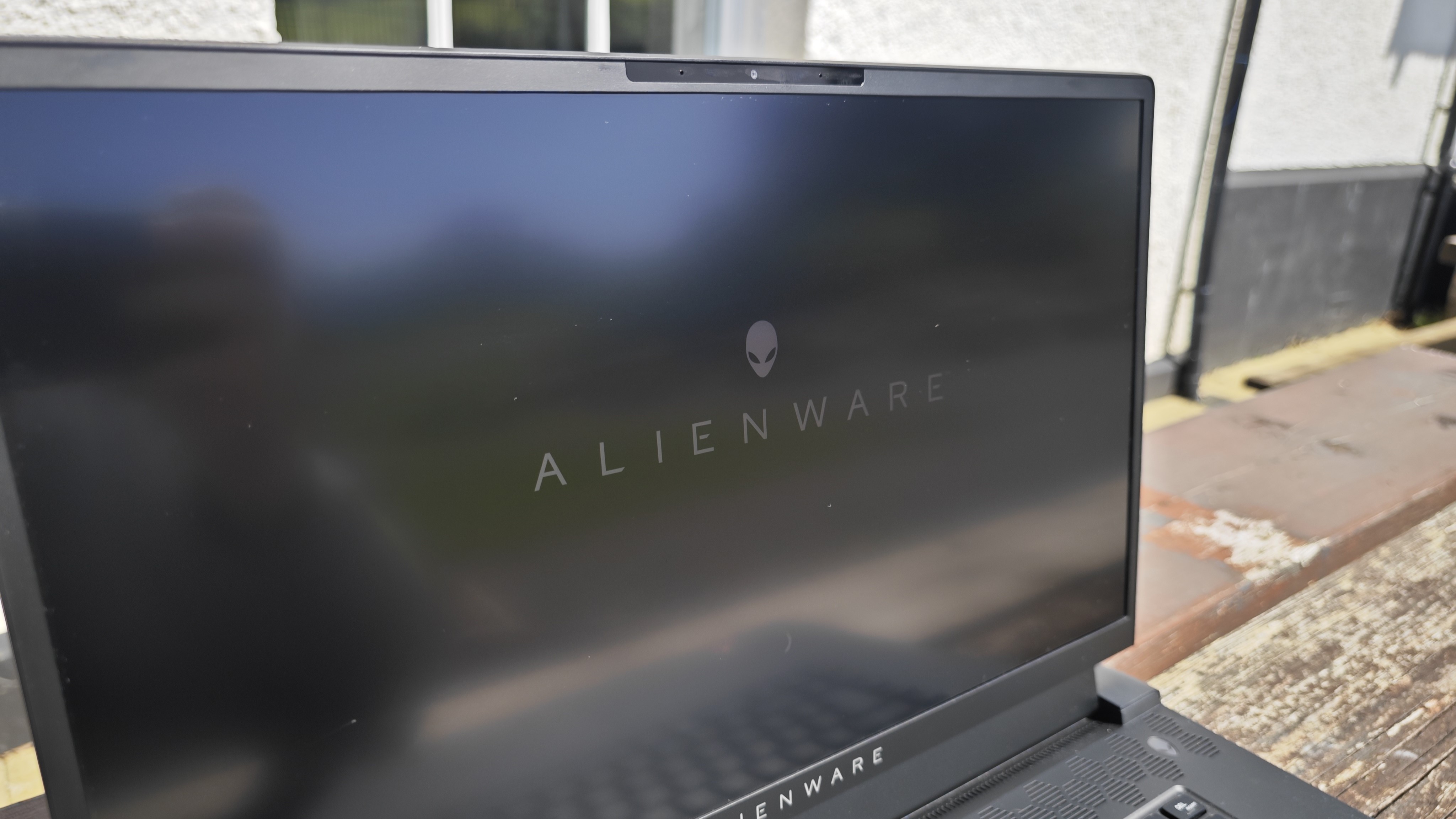 Alienware m17 R5: Benchmark scoring
Cinebench R23
Single-core: 1,543 pts
Multi-core: 14,301 pts 
PC Mark 10: 7,385
Battery: 3hrs 14m 
Geekbench 6 CPU:
Single-core: 1,955
Multi-core: 9,794
GPU: 97,451 
Handbrake: 05:47 at 54.6fps
First off, the screen on the Alienware m17 R5 is absolutely fantastic. I tend to work (and play) with a large external monitor hooked up to any laptop I use, but for this one I quickly dismissed the mid-budget 27-inch FHD gaming monitor that I've got on my desk at the moment in favour of the laptop's own 17-inch screen when gaming. It feels bigger than it is, the sharpness and responsiveness is incredible, and the hardware underpinning it runs games and video in fantastic detail at high framerates. I routinely ran AAA games at max settings with the framerate rarely dropping below 55 FPS, and at lower settings the framerate was even higher. 
I did encounter some early niggles, however, when my screen started blacking out for no discernible reason, with the issue reporting indicating that the driver timed out. However, some research revealed that an automatic Windows update automatically replaced a new graphics driver with an old one, which was easy enough to fix. This happened again a couple of times, indicating some possible issues on AMD or Windows' side with the new drivers, but rapid rollouts of updates seemed to stop the issue. 
As benchmark testing showed, the processor is extremely capable, with it outperforming most of its competitors in the £1,500-2,000 range in Cinebench testing, and coming fairly close to the X15 R2 in Geekbench 6 scoring and our Handbrake video-encoding test. PCMark 10 testing also backed up its all-around credentials, with excellent photo-editing and rendering and visualisation scores in particular.
Battery life, as you'd expect in a gaming laptop, isn't great, but no worse than its rivals. Our video-testing, where I run a video on a streaming service to see how far it gets on battery power alone, yielded 3 hours and 14 minutes of life, which gives you about 6 and a half episodes of The Simpsons, for example. High-intensity work is definitely going to require a near-constant connection to a power socket.
Price
The Alienware m17 R5 can be had in several different configurations, ranging from a base model, equipped with an AMD 7 Ryzen 6800H processor, 16GB of RAM and an Nvidia Gefore RTX 3050 graphics card for $1,449 (the UK equivalent has the 3070 Ti card for £1,798.99), while the range-topper I tested is $2,299 with the AMD Radeon 6850M XT card and $2,649 with the Nvidia GeForce RTX 3080 Ti card on board. Dell doesn't currently offer the AMD Radeon card as an option in its UK store, but the Nvidia GeForce RTX 3080 and 32GB of RAM is going for £2,559 at the time of writing. 
It's not cheap, but with a screen like that, you're getting near-as-top-spec performance for at least a grand less than the flagship gaming models are going for at the moment. Discounts are dropping in on the m17 R5 every now and then too, so  if you keep an eye out, you might score a discount of a few hundred dollarsquids on one of those.
Should I buy the Alienware m17 R5?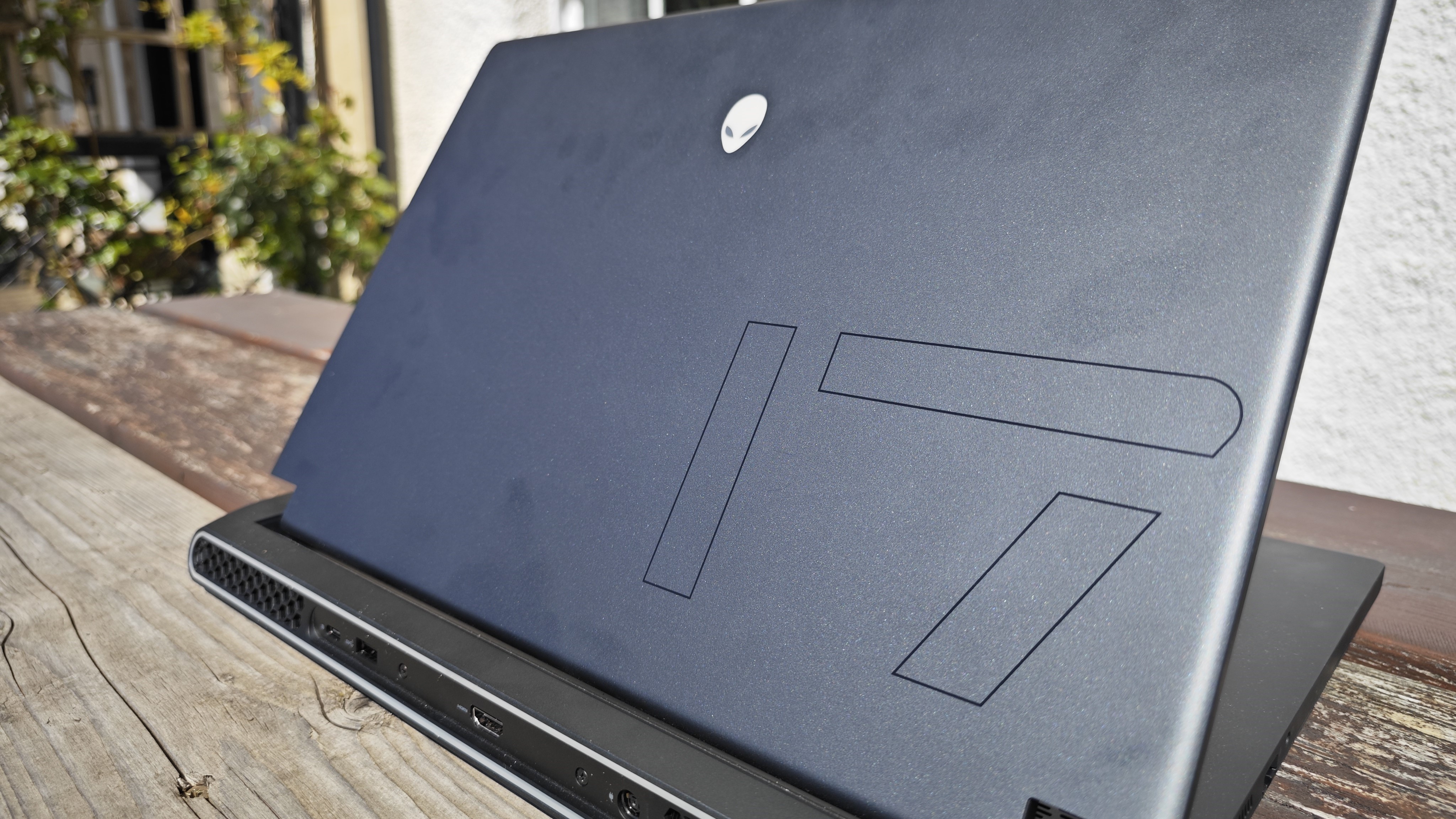 If you're looking for a gaming laptop that can more than happily handle demanding creative software and AAA games alike, with distinctive styling and great build quality, but can't quite stretch to the flagship gaming/creative monsters, spending around £2,000/$2,000 on the best-specced Alienware m17 R5 might make a very good investment. Do keep in mind that it's heavy and bulky, so if you're trotting around a lot at work, it might not be for you, but that big, sharp, gorgeous screen more than makes up for it for me.