At a glance
Expert's Rating
Pros
Plenty of connectivity
Numerous image-quality options
Extremely wide color-gamut
Good value for money
Cons
Medicore contrast and brightness
Subpar HDR performance
Unimpressive motion clarity
Our Verdict
Asus' affordable ProArt PA279CRV delivers the color performance and customization that demanding creators crave and an attractive price that keeps it in range for those on a budget.
Price When Reviewed
$469
Best Prices Today: Asus ProArt PA279CV
$419.99
Asus ProArt monitors are a proven option for professionals, artists, and creators who need excellent color performance on a budget. The PA279CRV ups the ante with an extremely wide color gamut that rivals more expensive displays.
Further reading: See our roundup of the best monitors for graphic design to learn about competing products.
What are the Asus ProArt PA279CRV specs?
The Asus ProArt PA279CRV's specifications are similar to most professional content-creation monitors available today. It provides 4K resolution, a 60Hz refresh rate, and supports HDR 10. 
Display size: 27-inch widescreen
Native resolution: 3480×2160
Panel type: IPS LCD
Refresh rate: 60Hz
Adaptive-Sync: Yes, Adaptive Sync
HDR: HDR10
Ports: 1x USB-C with DisplayPort Alternate Mode and 96 watts Power Delivery, 2x DisplayPort 1.4 (supports Daisy Chain), 2x HDMI 2.0, 3x USB-A 3.2 Gen-1, 3.5mm audio-out
Stand adjustment: Height, swivel, tilt, pivot
VESA mount: Yes, 100x100mm
Speakers: Yes, 2x 2-watt
Price: $469 MSRP
The new PA279CRV is a successor to the older PA279CV, a popular budget option that PCWorld recommends as a top home office monitor and go-to pick for video editors on a budget. Asus' improves the formula with an increase to USB-C Power Delivery (from 65 watts to 96 watts), a DisplayPort-out port, and a slightly lower MSRP.
Asus ProArt PA279CRV design
Matt Smith
The Asus ProArt focuses on professional use, possibly in a studio or office bullpen, so it doesn't take design risks. It's an elegant and sleek monitor, however, with a thin display panel, slim bezels on three sides, a small chin on the bottom, and attractive materials across all surfaces. 
Build quality is excellent. The exterior is mostly plastic, aside from the base, yet the monitor feels rigid when handled. I would have liked to see a handle built into the stand, which would make the monitor easier to move around an office or studio, but this is a minor point.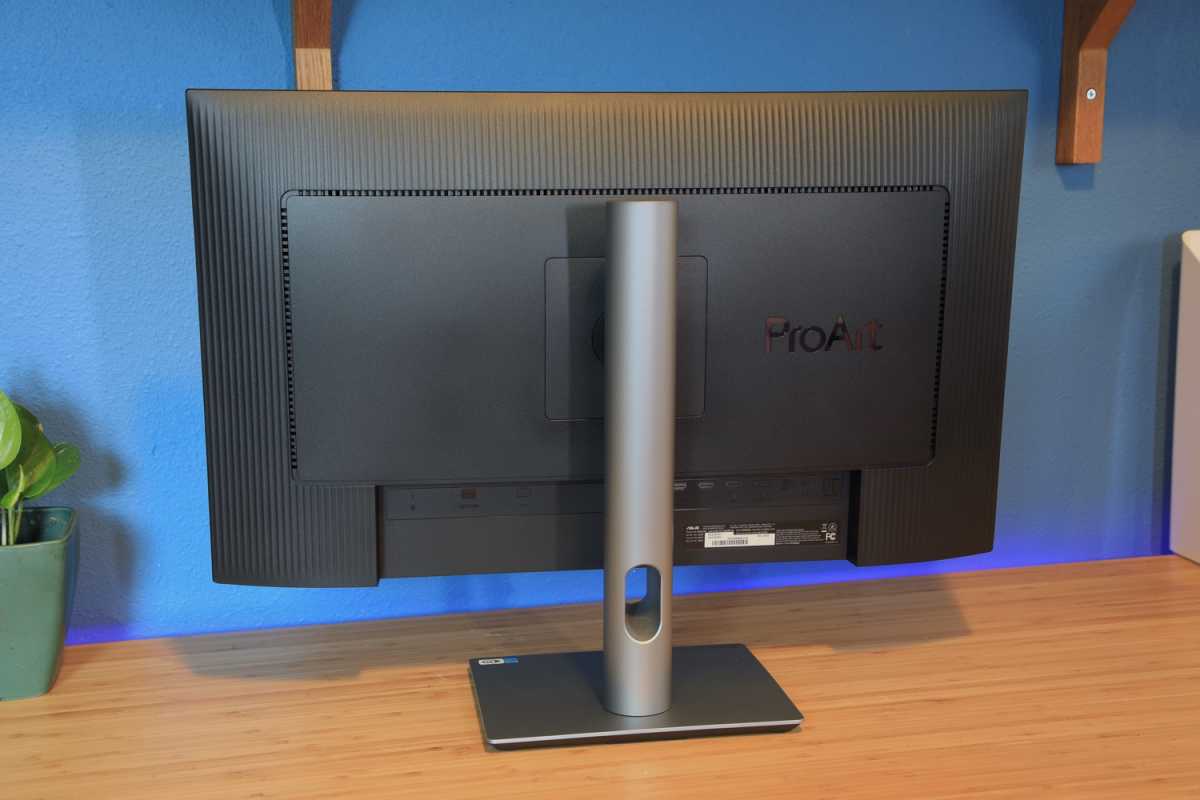 Matt Smith
The stand is otherwise excellent. It feels solid, looks elegant, and operates smoothly. Ergonomic adjustment for height, tilt, swivel, and pivot is supported. Asus wisely opts for a small stand base, as well, which minimizes the monitor's footprint on a desk. A 100x100mm VESA mount is available for adding a third-party monitor stand or arm. 
Asus ProArt PA279CRV features and menus
Connectivity is extensive. The ProArt PA279CRV provides a USB-C port, two HDMI 2.0 ports, and two DisplayPort 1.4 ports. One of the DisplayPort ports is an input while the other is an output that can be used to connect a second display. This is handy if you're using a laptop with a single video output or just want to reduce cord clutter. 
The USB-C port supports DisplayPort Alternate Mode for video input and provides up to 96 watts of USB Power Delivery. That's enough to charge many laptops, though it will fall short of the power requirements of many Windows laptops with discrete graphics.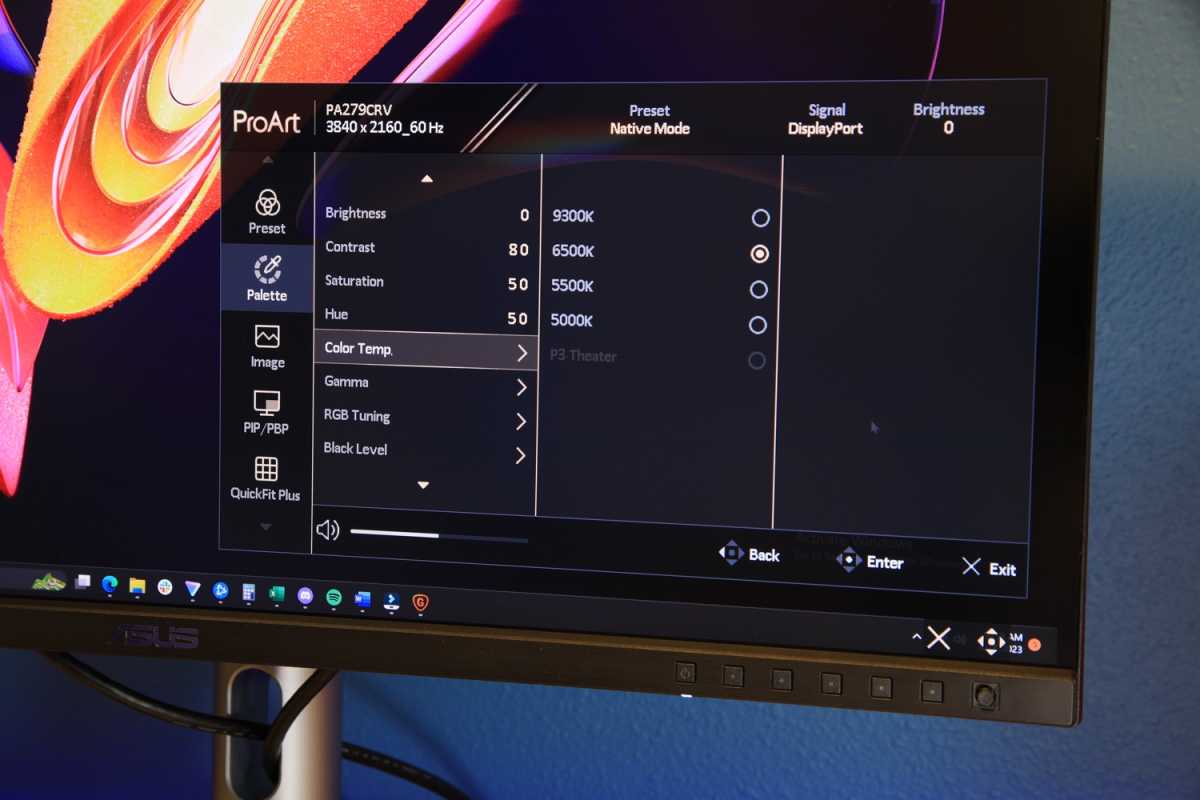 Matt Smith
The ProArt menu provides extensive image calibration and tuning options. It includes multiple preset modes that target the sRGB, Adobe RGB, Rec.2020, DCI-P3, DICOM, and Rec. 709 color gamuts. Further customization can be achieved through a "Palette" sub-menu, which provides color hue, temperature, gamma, black level, and RGB gain/offset adjustment. This should be enough to satisfy nearly any user and excellent for the price point. Competitors like Dell and BenQ tend to reserve this range of color adjustment to their most expensive professional monitors, which are typically priced at least a couple hundred dollars higher than the PA279CRV.
The menu also includes a set of professional tools called "QuickFIt Plus." This includes several center marker, ruler, and safe area modes. These might prove useful if you're working with images that will go to print and need to target a specific physical scale. With that said, however, most image editing suites provide similar features that are easier to use. 
A joystick on the front bezel provides menu access. It's joined by six physical, clicky buttons, all located on the front bezel. Their placement on the front of the display makes the menu easy to use, as you'll never have to guess whether you're pressing the right button. 
Two 2-watt speakers wrap up the ProArt PA279CRV's features. They're dull, harsh, and lack volume, but this is typical of bundled monitor speakers. BenQ is the only brand that offers superior audio quality in some monitors, such as the Mobiuz E3210U—but these monitors don't target professional and office use. 
How is the Asus ProArt PA279CRV image quality?
The Asus ProArt PA279CRV is intended for demanding workloads, which, of course, places high expectations on the monitor—but this is balanced by its pricing, which is modest for a monitor in this category. The PA279CRV manages to deliver image quality that's useful for professionals, artists, and creators of all stripes, but keep your expectations in check.
Matt Smith
The new ProArt PA279CRV stumbles out of the gate with a maximum brightness of 366 nits. That's behind the pack and less than its predecessor, the ProArt PA279CV. This may not put off many buyers, as creators often work with a monitor set to a relatively low level of brightness. Still, the lack of brightness could feel limiting if you're working in a brightly lit home office or a corporate bullpen.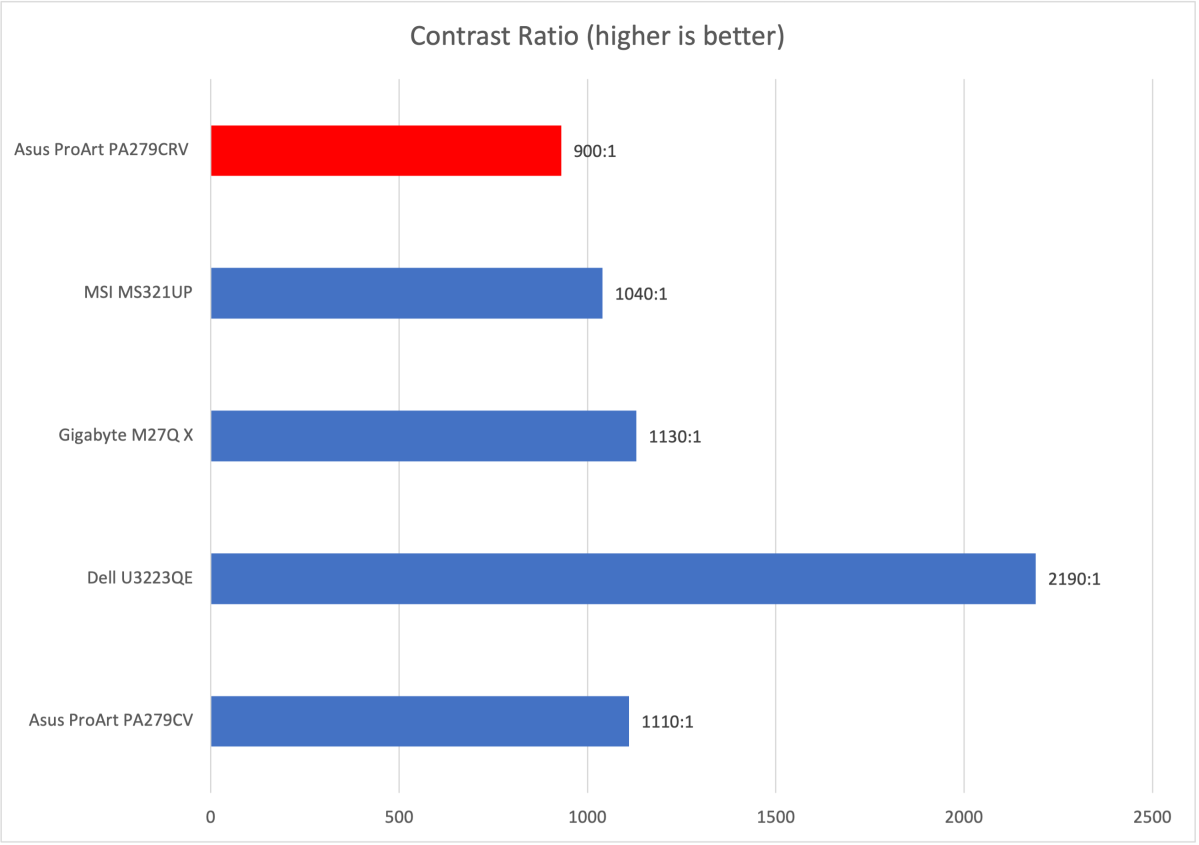 Matt Smith
Contrast isn't great, either, with a maximum measured contrast ratio of 930:1. That's lower than the competitive set and once again falls a bit behind the older Asus ProArt PA279CV. The limited contrast ratio can be an issue when viewing darker content, which lacks detail and may appear hazy, and also saps depth from brighter scenes.
Dell's Ultrasharp U3223QE (and its little sibling, the U2723QE) stands out in this test, roughly doubling the contrast ratio of the new ProArt. It archives this with an IPS Black panel that can reach lower levels of luminance in dark content. Dell's monitor is about $100 more expensive, though, so you have to pay for its improved performance.
Matt Smith
Asus strikes back in color gamut. The new PA279CRV spans 100 percent of sRGB, 99 percent of DCI-P3, and 98 AdobeRGB, which together provide the best result of any similarly priced monitor we've recently tested. This level of color performance rivals more expensive monitors with an OLED panel. 
This is a crucial benchmark for creators, as color gamut describes the breadth of color visible on a display. None of the monitors used for comparison score poorly, but the PA279CRV is a cut above similarly priced alternatives and a big upgrade over its predecessor. The monitor's AdobeRGB color gamut support is especially strong, matched only by the Gigabyte M27Q-X.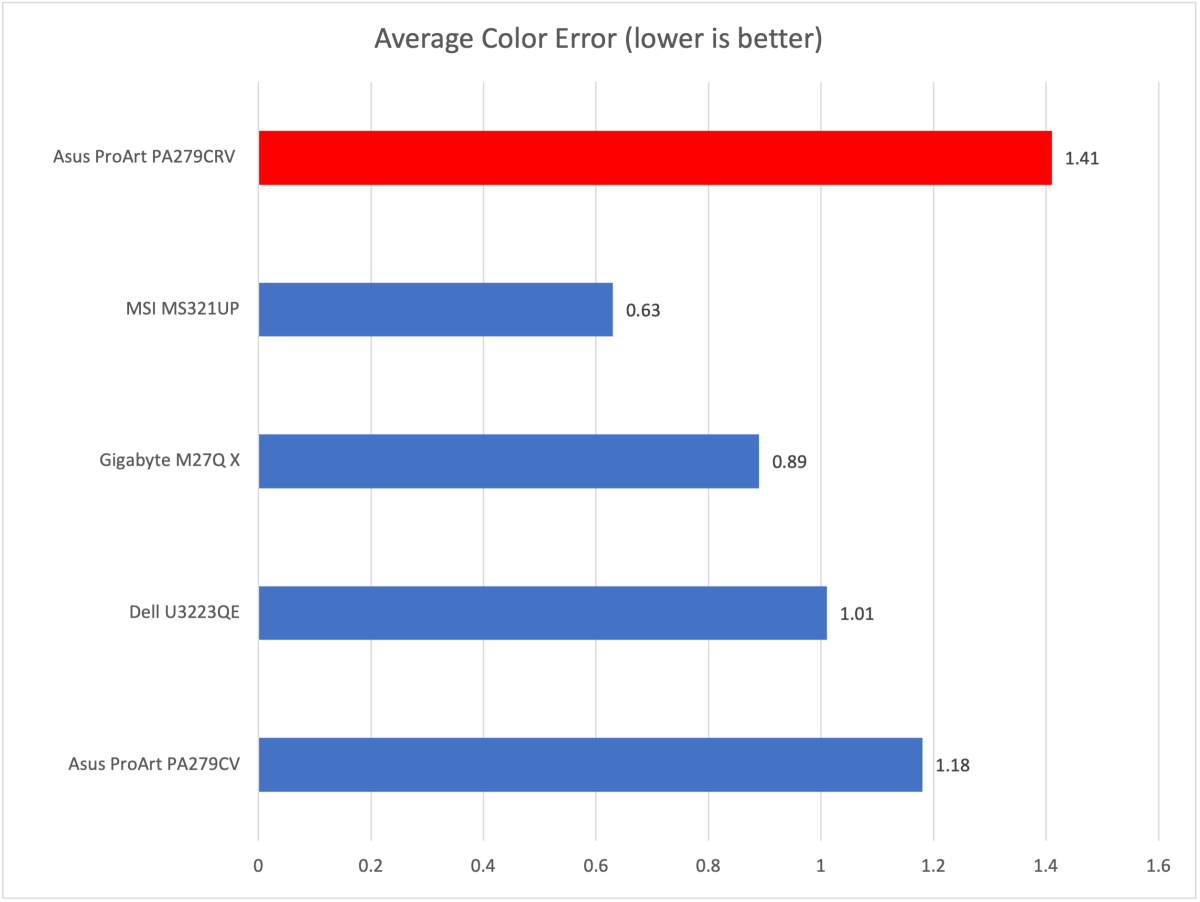 Matt Smith
Color accuracy is a bit less impressive, as the ProArt PA279CRV delivers the worst score in this competitive set. However, this level of color accuracy should be acceptable for most tasks, and the monitor's extensive customization options will help picky users reign in the color accuracy if necessary.
The ProArt PA279CRV delivered an out-of-box gamma curve of 2.2 and a color temperature of 6500K. Both scores precisely hit our target, which is excellent. Even high-end monitors are usually a tad off in at least one of these two measurements. The PA279CRV's excellent result in both tests means that most content viewed on a PC will appear to have an accurate luminance and color temperature at default settings. And, as mentioned, the monitor has multiple gamma and color temperature options, which is useful if you are working in content with a different gamma or color temperature target. 
Sharpness is great, too. The monitor's 3840×2160 resolution packs 163 pixels per inch across the 27-inch widescreen panel. It's possible to find a higher resolution in the rare 5K or 8K monitor, but this is otherwise the sharpest image you'll find on a PC-compatible display. 
The ProArt PA279CRV's SDR image quality has its ups and downs but delivers what most creators need: a color gamut wide enough to handle nearly any SDR workflow. The sharp 4K panel also allows editing of 4K content at native resolution. The downsides are found in brightness and contrast, which can limit the monitor's image quality in games and movies.
How is the Asus ProArt PA279CRV HDR image quality?
The Asus ProArt PA279CRV is VESA DisplayHDR 400 certified and compatible with HDR10, but it's not a great performer. It lacks the brightness and contrast required to deliver on the promise of HDR. Bright scenes and objects will still appear blown out and lack subtle details.
Attempting to view HDR content alongside SDR (as is common on a Windows or Mac desktop) is a problem. The lack of a Mini-LED backlight or OLED panel means the monitor can't dynamically dim or brighten areas of the display and, as a result, SDR content viewed on an HDR-enabled desktop tends to look washed out and dull. The monitor does provide a dynamic backlighting mode, but the monitor's edge-lit LED backlight can't offer the detail required to make the mode usable. I generally found the monitor less appealing when HDR was on than when it was off. 
In short, don't buy the ProArt PA279CRV for HDR. Creators looking to work in HDR  should consider Mini-LED and OLED monitors such as the Agon Pro AG274QZM and Alienware AW3423DWF, though these unfortunately lack the ProArt's depth of image customization options.
Asus ProArt PA279CRV motion performance
Gamers aren't the ProArt PA279CRV's target, and it shows. Fast-moving objects suffer significant motion blur that obscures fine details. Scrolling test images of League of Legends and DOTA showed some character silhouettes were hard to make out. Character names were completely unreadable and health bars lacked detail.
The monitor at least supports Adaptive Sync, though it doesn't promise official support for AMD FreeSync or Nvidia G-Sync. AMD FreeSync functioned when the monitor was connected to an AMD Radeon RX 6600 video card and I had no issues with its performance. 
Is the Asus ProArt PA279CRV worth it?
The Asus ProArt PA279CRV is ideal for creators who need an extremely wide color gamut and extensive image quality options. Most will find the PA279CRV is usable straight out of the box. It's also a great general-purpose home office monitor with a sharp, vivid image and extensive connectivity.
Entertainment is where the PA279CRV stumbles. The monitor struggles with dark content, which often appears hazy and lacks shadow detail. Motion clarity is a sore spot, too, allowing significant motion blur to creep into games. 
These flaws are forgiven by its $469 MSRP. The PA279CRV can't do everything, but it can handle a huge swath of creative tasks for less than $500. It's an easy choice for creators on a budget.