There are just so many games these days it's hard to stand out from the crowd and get the world's attention. So, here's one good way: Get world-renowned anime house Studio Trigger to make the trailer for your upcoming Nintendo Switch sports-action game.
The Week In Games: Galactic Refugees And Stone-Age Life Sims
Omega Strikers, developed by Odyssey Interactive, is a free-to-play online 3v3 soccer (football for readers across the pond) game in which anime-looking athletes compete in cross-platform online matches. Some of the dapper athletes are so anime AF in their designs that they're not even human. By my count, there's at least one slime girl, a gun-wielding lizard man, and a swole gerbil-looking bear dude. The soccer ball here is on fire half the time, so these characters being anime AF fits the bill.
Read More: Everything We Saw At Nintendo's Latest Switch World Showcase
Odyssey enlisted the help of animation powerhouse Studio Trigger (the studio behind Kill La Kill and Cyberpunk: Edgerunners) to sell the hectic energy of its roster of footballers, what with their penchant to bend the rules of conventional soccer via unsanctioned weapons, with a cool opening cinematic music video. You can check it out below.
Nintendo / Studio Trigger / Odyssey Interactive
Studio Trigger anime tend to have themes of defiance against some sort of authoritative organization. For example, Kill La Kill and Brand New Animal saw its colorful casts openly defy the notion of socially acceptable clothing and racial prejudice against beast people, respectively. More recently, Trigger's Netflix anime adaptation Cyberpunk: Edgerunners focused on a Latino boy named David Martinez's journey to becoming a legend in a town that would turn a blind eye to his untimely demise.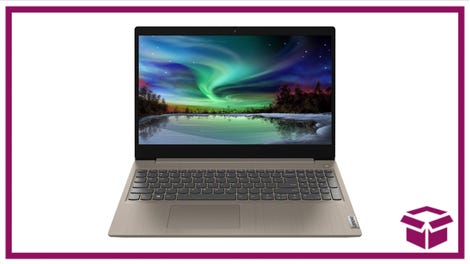 Great for work or play
This laptop boasts a 15.6-inch touchscreen, an Intel Core i3 processor, 8GB of RAM, a 256GB SSD, a webcam, and more. It also has a variety of ports for connectivity's sake, making it versatile for use as a display or even a desktop replacement.
All that being said, Trigger animating an opening cinematic about a group of outcasts united by their passion to decimate their opponents just makes sense. I guess Omega Strikers players are defying conventional soccer regulations. Who are we to deny a pompadoured rockabilly his fun? Time will tell whether Omega Strikers will have an arena that lets its madcap group of soccer weirdos duke it out in space, as Trigger is wont to do. In the meantime, props for having such a stylish trailer.
Omega Strikers is slated to release on April 27 and is available for pre-order on the Nintendo Switch, Steam, the App Store, and Google Play.