Fallout 4 introduced or expanded on many new concepts – a voice actor for the Sole Survivor, the Institute, the Commonwealth, and settlement building. Settlements are the answer to, "What if we made the Sims, but Fallout?" You, the Sole Survivor, work with the Minutemen to establish safe areas for people to build their homes and lives.
Related: PC Games With The Most Active Modding Communities
Settlers just want a roof over their heads, clean water, food, beds, and safety. Easy, unless you live in a post-apocalyptic wasteland where nightmare creatures run rampant. The game provides you with a way to collect materials and build everything you need for a basic settlement, and these mods expand that.
10
Repairable Sanctuary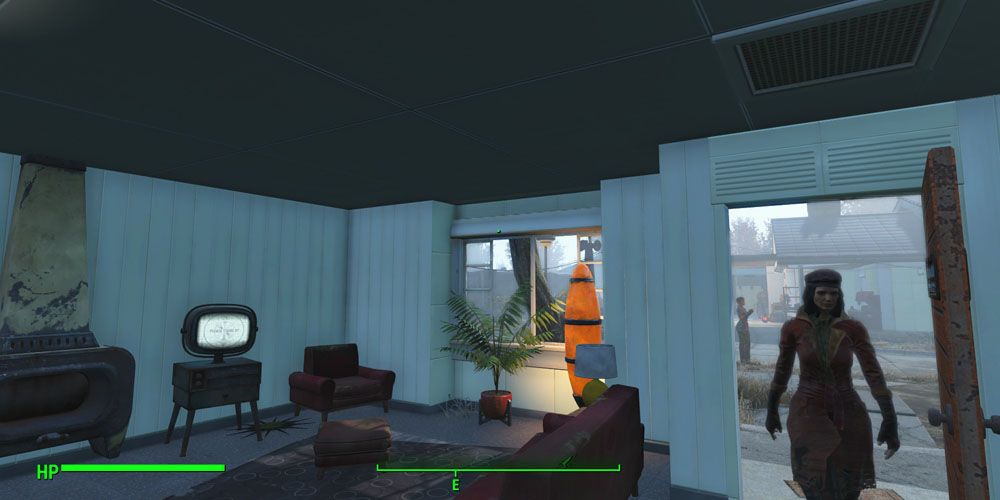 On October 23rd, 2077, you wake up in your home in Sanctuary Hills, and enjoy a completely normal day until the unthinkable happens – the bombs are dropping. You run to Vault 111, where you spend two hundred and ten years in a cryogenic stasis, and when you emerge, you discover that your once beautiful suburb has been reduced to rubble.
While Sanctuary Hills eventually becomes your very first settlement, you're never able to restore it to its former glory. Repairable Sanctuary fixes that problem, allowing you to clean up the inside and outside of houses and even fix the bridge that connects Sanctuary Hills to the mainland. It's a small thing in the grand scheme of things, but it feels good to see those nice houses whenever you return. Now if only you could do something about those skeletons…
9
Spring Cleaning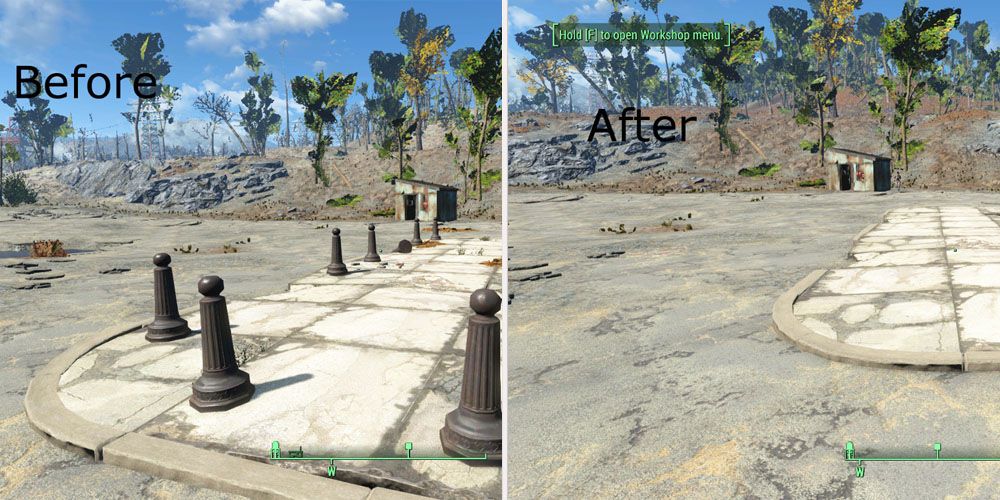 A solution to the skeleton problem. Most things in Fallout 4 are scrapable, but not all of them. Skeletons are one thing that can not be scrapped and just sort of hang around while you're working on your settlement. There are also small trash piles that are just visually unappealing and broken appliances that you can't do anything with. Spring Cleaning fixes all of that, allowing you to trash or scrap anything. It's a dream come true for the people who just want to clean. No longer will you be tormented by the site of trash and bones.
8
Place Everywhere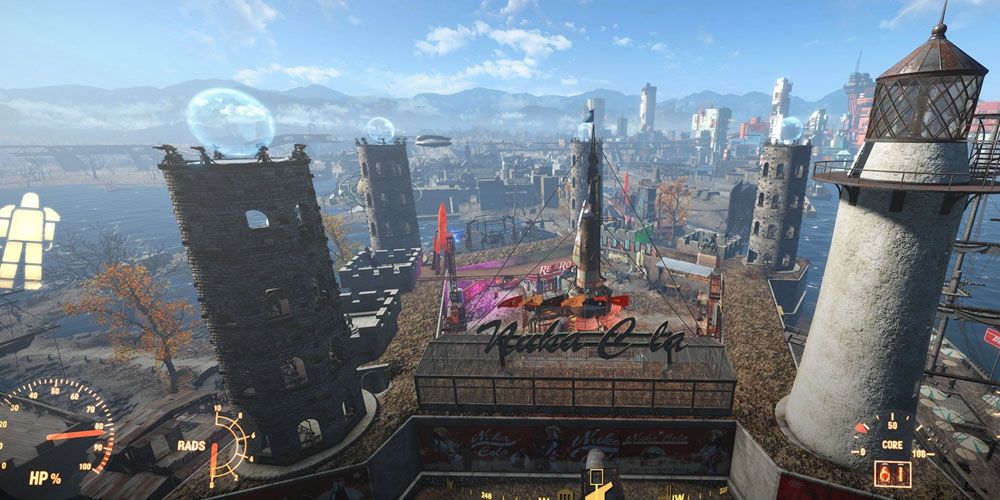 There are some things you just can't do when building a settlement. There are places where you can't put things, things you can't move, and physics you can't defy. Place Everywhere solves that particular issue. Want to move the workbench and power armor workstation somewhere less conspicuous? You can do that. Want to build a tree fort? You can do that. Realized you made a terrible mistake and need to undo everything you just spent hours doing? Place Everywhere will allow you to undo your last ten actions. Create the settlement of your dreams.
7
Settlement Supplies Extended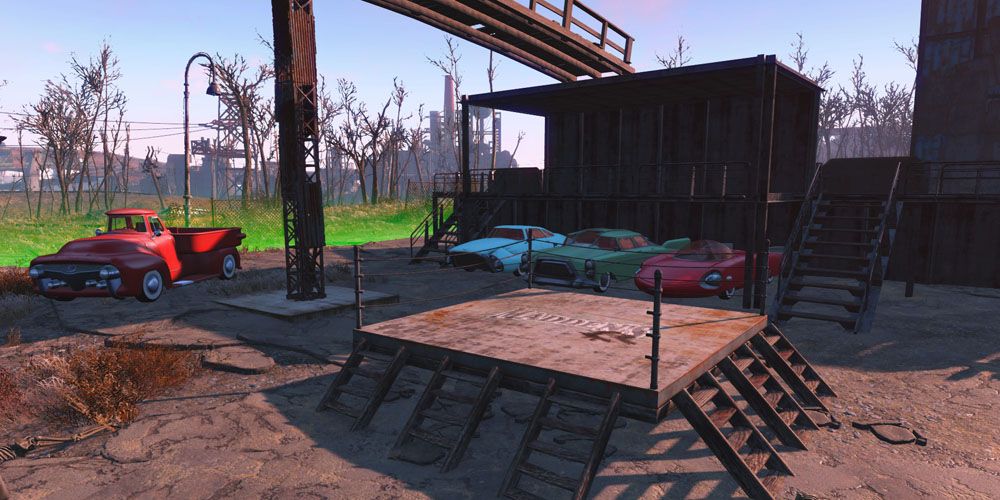 Who doesn't love more decorations? While Fallout 4 mostly provides you with the bare essentials, Settlement Supplies Extended gives you more to work with. You can repurpose tin can traps as hanging decorations, add cars (that haven't been ravaged by two-hundred years of neglect) to brighten the area up, and add more storage or stations. You can even have tanks. With over four hundred new items at your disposal, your only limit for maintaining the perfect settlement is your own imagination—and possibly space. Tanks are pretty big, after all.
6
Robotic Home Defence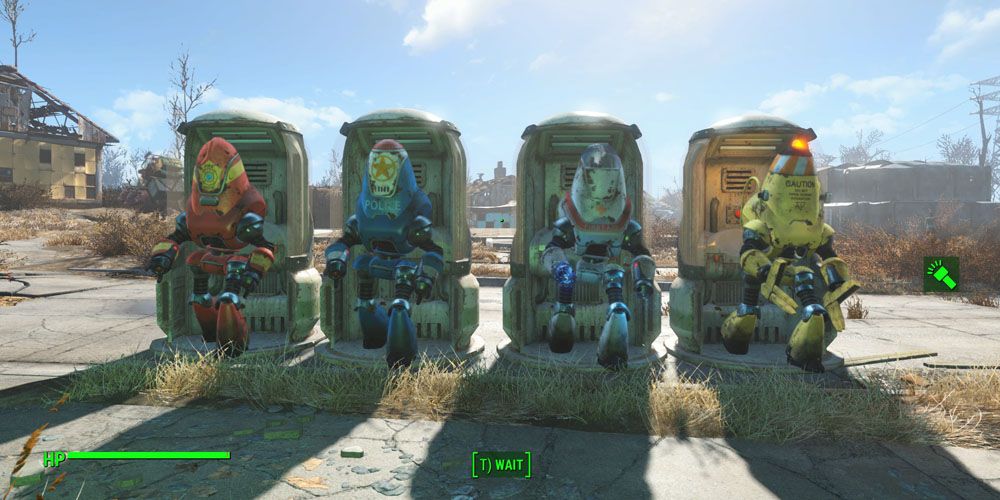 Like everywhere else in the Commonwealth, settlements are susceptible to random raider and monster attacks. These can have a variety of consequences, from impacting the happiness of your settlers to killing them. The game provides you with security measures, but what if you could have more? Like, say, a sentry bot standing guard at the entrance to your settlement?
Related: Fallout 4: The Scariest Horror Mods, Ranked
Robot Home Defence allows you to build a variety of robots to aid settlements. You can have that sentry bot guard, Mr. Handies/Ms. Nannies to help boost settler happiness, Utility Protectrons to help with scavenging, and more. Pre-war America depended on robots to help with a lot of daily tasks, so why shouldn't you, as a settlement leader, get the same advantage?
5
Settlement Management Software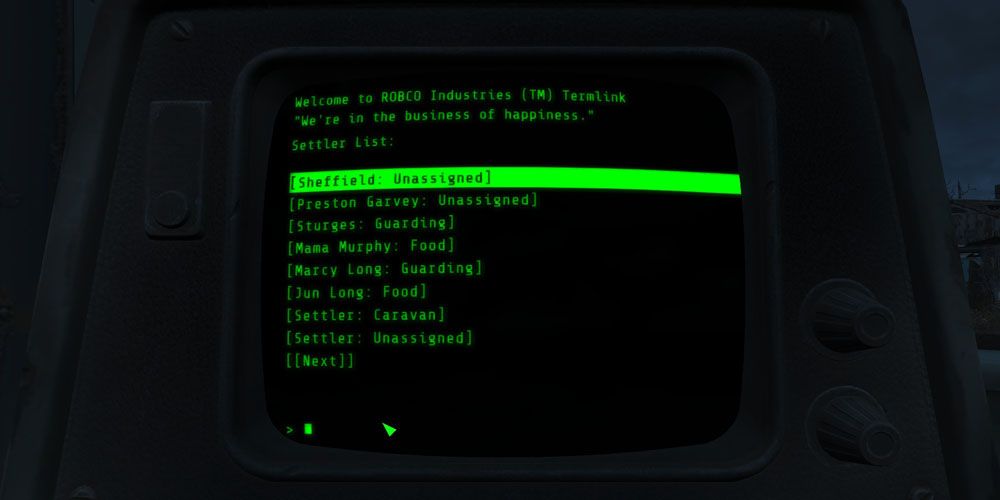 Taking care of settlements can be a somewhat finicky task. You have to do everything by hand _ track down settlers, find out who's not working and assign them somewhere, physically go to the settlement if you want to do something with it, etc. Settlement Management Software is the answer to, "But what if I don't want to do all of that?" Simply take your handy dandy holotape, pop it into any terminal at any settlement, and have instant access to every settlement you manage.
Now you can see every detail you need, right down to settler stats, and make all your changes in one place. You can reassign settlers to new jobs, or move them to different settlements, manage supply lines between settlements, and see all your settlement stats. Technology really is the best.
4
Simply Modular Housing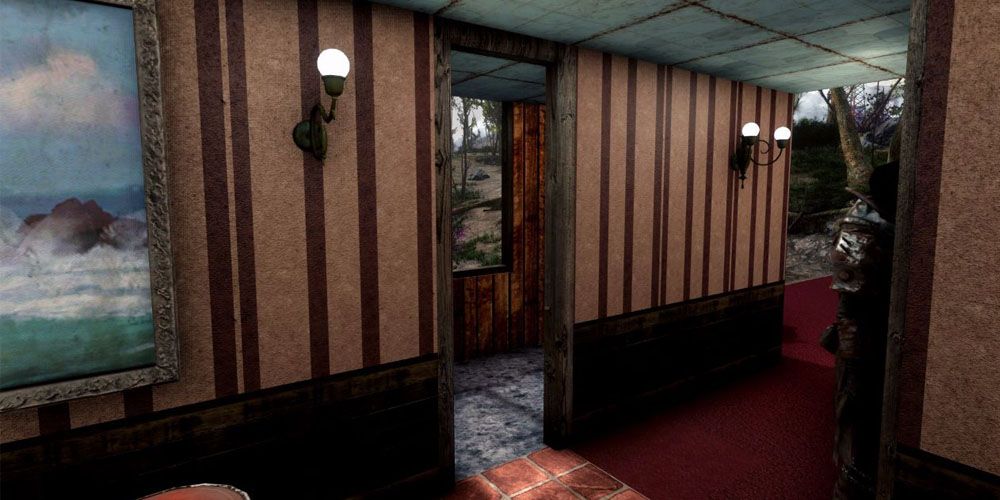 The housing options in Fallout 4 are lackluster, to say the least. There are prefabs included, but they're pretty dull. You can use separate walls and ceilings to build your own house, but even then, your options are pretty bland. Simply Modular Housing has the answer, though. It provides everything you need to build a unique house from the ground up, including different textures to decorate inside and out, and allows you to build something that is fully and uniquely yours. Make it as big or as small as you want, including all the amenities you want; you can even have upper floors and signs. Make your settlement stand out in the dullness of the Wasteland, and build something you're truly proud of.
3
Better Settlement Beds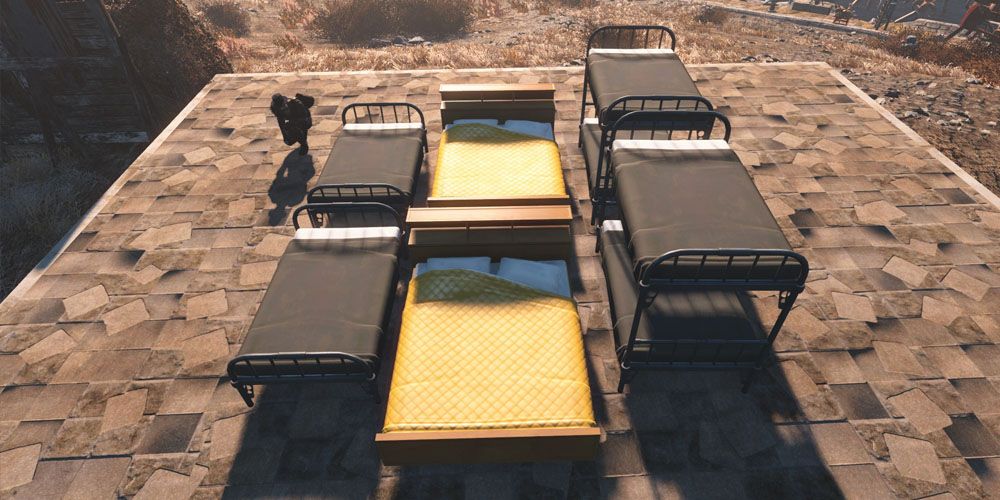 Did you know that beds should be replaced every six to eight years? The mattresses in Fallout are definitely a little overdue. They're dirty and grimy and definitely don't fit the aesthetic of a peaceful, clean settlement. With Better Settlement Beds, you can get rid of the old mattresses with their rickety metal frames and install freshly made beds with different colored sheets, sizes, and headboards. You can get bunk beds. Who doesn't like a good bunk bed? Always check for radioactive bed bugs, though. You can never be too careful.
2
Workshop Plus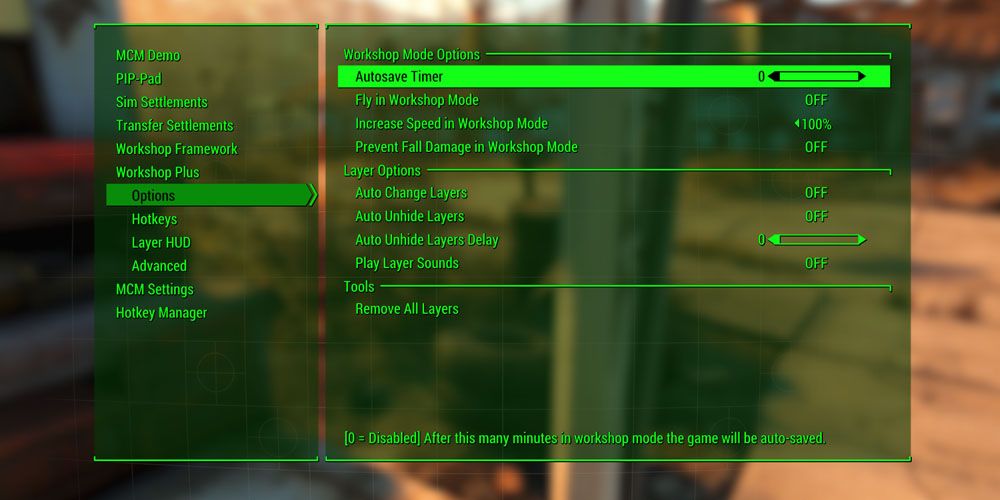 Become God in Workshop mode. Workshop Plus allows you to do just about anything. You can fly, you can fall and not take damage, you can become invisible to the settlers so you can work faster, you can build faster, the list goes on.
Related: Fallout 4: The Top Weapons Mods So Far
Work on layers so you can make changes without affecting other structures or toggle layers on and off, allowing you to see what the area looks like with or without things without the hassle of having to tear down and rebuild. If you're familiar with Photoshop, you'll be right at home with this mod.
1
Unique Prefabs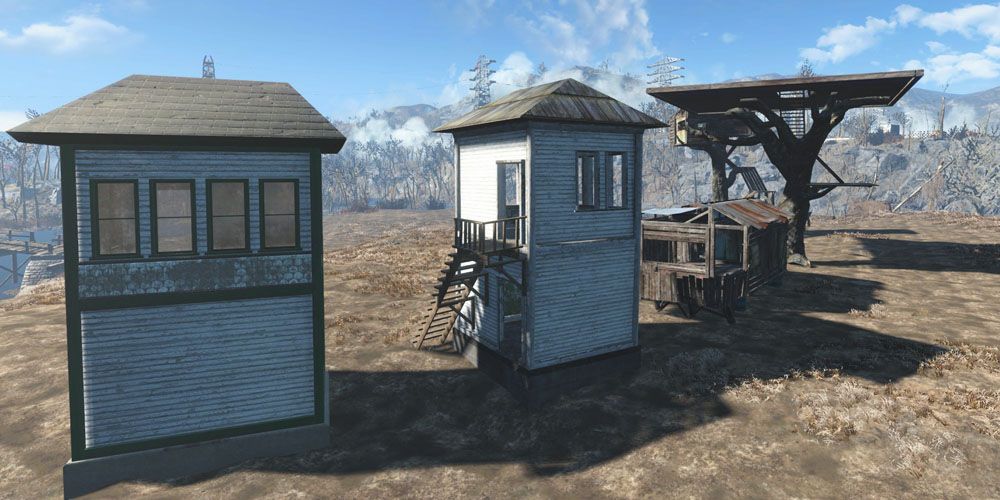 A lot of modders took issue with the lack of distinguishable housing in Fallout 4. Unique Prefabs steps in to help those who are less creatively inclined and provides simple but standout prefab options. There's absolutely nothing wrong with a cookie-cutter neighborhood where all the houses look the same, especially if you have other things you need to focus on – like saving the Commonwealth or finding your long-lost son. Your settlers can take care of themselves in their nice, simple houses while you try to remember what part of the game you were on when you started building.
Next: Best Games That Let You Buy A House