Snap, the company behind Snapchat, has announced that its customizable My AI chatbot is now rolling out to all users within the app. The feature was previously only available to paying Snapchat+ subscribers and was powered by the incredibly popular AI chatbot ChatGPT.
The new tool offers recommendations, will answer questions and help users make plans in seconds, according to the company announcement. Users can bring the chatbot into conversations with friends when mentioned with "@MyAI", though users can also give it a name and give it a custom Bitmoji avatar to personalize it more and give a face to their personal bot.
What can this Snapchat bot do? Well, given the many examples of ChatGPT going off the rails, particularly in Microsoft's Bing search engine, Snapchat has very wisely put some safeguards in place to avoid the possibility of an existential crisis mid-way through users' general conversations.
But, the bot has mainly been put in place to help users plan their social lives. Instead of swiping off Snapchat to look up restaurant or gig times, directions, and ideas for a cheap day out in another app, you can invite the bot into chat and have a three-way conversation. You, your friend group and the bot can plan a whole outing without having to leave the Snapchat app.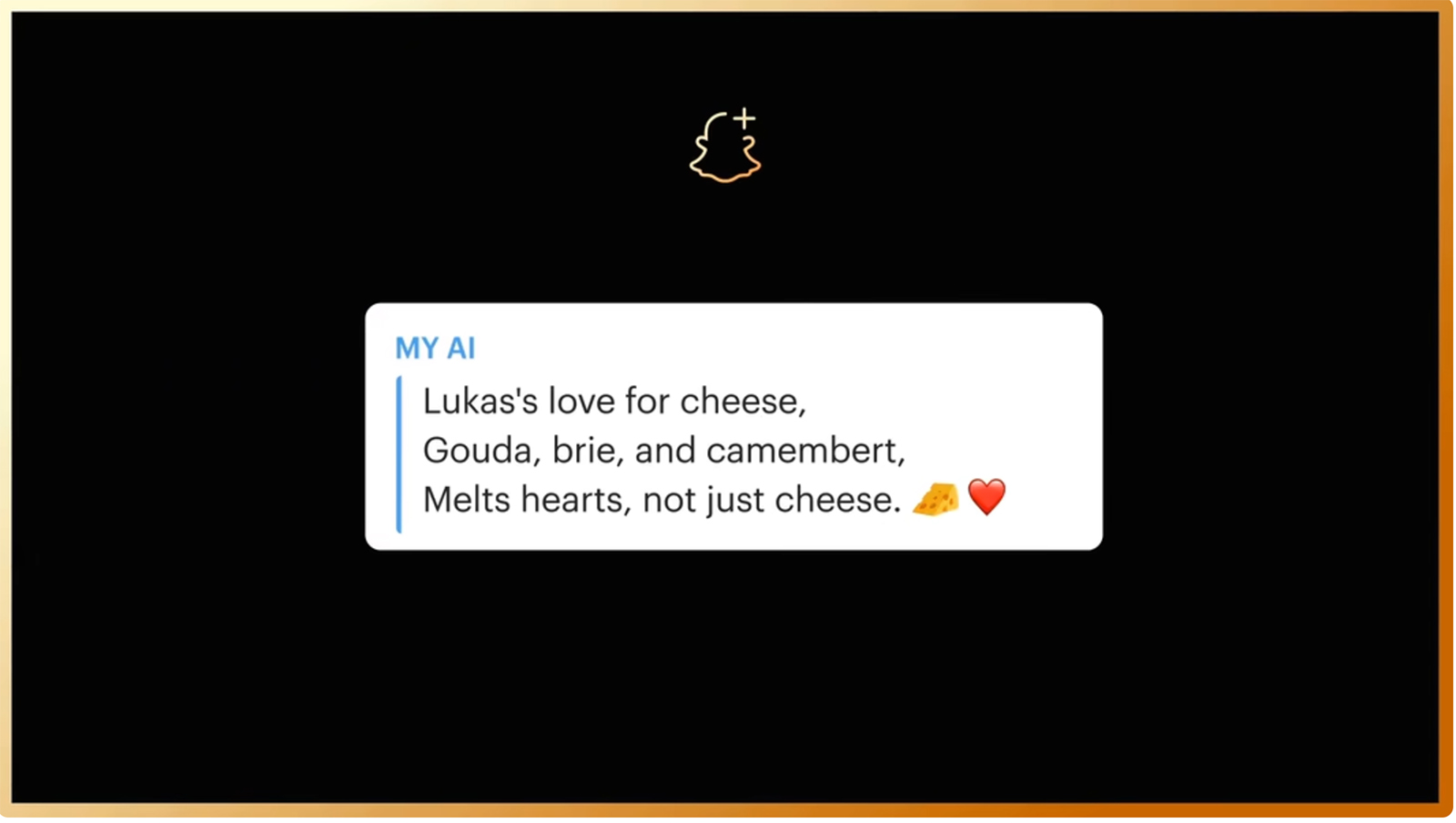 New bestie unlocked 
The fact that it's highly customizable will certainly appeal to a younger generation who are inclined to use the bot a lot more causally than most people (and who are SnapChat's main audience). This is definitely a more family-friendly, everyday causal version of ChatGPT, and one of the less abrasive levels of integration users can have.
Outside of the basic everyday event planning, there doesn't seem to be much scope as to what else the bot can do in the app, though knowing my fellow Gen-Z we'll definitely come out with creative and crazy ways to integrate the bot into everyday life, even if that means memeing the whole ordeal and getting a few free laughs out of it.
Hopefully, other social media apps that plan to mash CHatGPT into their UI will take note and follow Snapchat's non-invasive approach, so we can decide whether or not we want to interact with the chatbot in our own time.