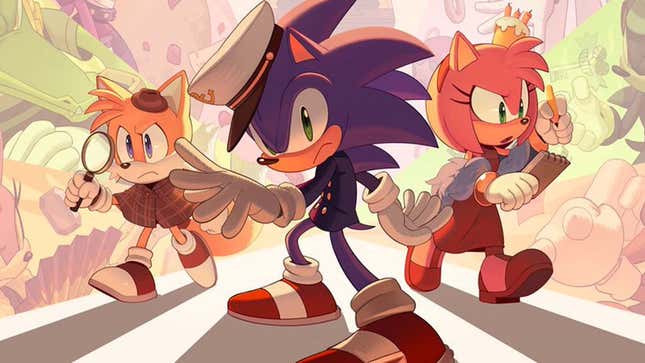 On March 31, the day before April Fools', Sega released an official (and free!) Sonic game on Mac and PC that straight up killed the blue bastard. Now, a week later, the game is blowing up on Steam and is even a hit on Metacritic. So it seems critics and fans alike agree: Killing Sonic was a great choice!
Bayonetta 3's Family-Friendly Naive Angel Mode Would Work Better In Other, Grosser Games
The Murder of Sonic the Hedgehog is a visual novel-like murder-mystery game that has your cute, furry investigator working with various Sonic characters to solve the "murder" of the franchise's iconic blue hero himself. It was easily one of the best jokes on April Fools', not only because the idea of Sega killing Sonic in a video game and releasing it as a playable product is very funny, but because it also ended up being a pretty solid game that Sonic fans have mostly embraced. In fact, it has "overwhelmingly positive" reviews on Steam and the Sonic franchise's social media manager confirmed on April 5, via a tweet, that the game had been downloaded over a million times. Impressive stuff! But not only do fans like it, critics dig this new game in which Sonic gets unmade.
Over on Metacritic, The Murder of Sonic the Hedgehog has racked up five scored reviews from outlets and that's enough to give it an overall aggregate score on the site, which, as of this writing, sits at 87. If that score remains the same as more reviews come in (or goes up, even) it will likely mean that The Murder of Sonic the Hedgehog will go down in history as one of the highest-rated Sonic games ever released. Only about five other Sonic games (not counting various ports) have an 87 or higher Metacritic score. If the score goes up even just two points thanks to a few more positive reviews, it will wind up the third-highest-rated Sonic game ever.
And it's not like there have only been a dozen or so Sonic games over the last few decades. This is a franchise with a massive number of entries, including spin-offs, ports, sequels, and now weird shit like games in which Sega murks its own mascot. So getting to the top of all that is a genuine feat for Sega's unexpected new visual novel.
Sure, it's not surprising that any game is better than the awful—[notices an angry group of Sonic '06 fans outside, cracking their knuckles] uh—the awful…Sonic Shuffle. However, it's wild that all it took for Sega to get its next big Sonic hit was to kill its star character and ask players to solve his murder. Now, where's the Hollywood movie adapting this spin-off?