The $1,000 price point is really the sweet spot when it comes to building a PC; you can't afford the best of the best, but you can still get good quality parts that can play the latest AAA games. Although Intel is generally considered to be the better value vendor this generation for a variety of reasons, going AMD isn't a bad idea and comes with its own advantages. If you're looking to spend about a grand on a new PC and want to do with AMD hardware, here's how we think you should do it.
If you have closer to $1,500 or so in your budget, then you might want to check out our premium AMD PC build guide instead, or our Intel PC build guide if you prefer the blue team. We also have a vendor-agnostic mainstream PC build guide that's focused on chasing the best value regardless of which of the big three makes the CPU or the GPU.
The best parts for a mainstream AMD PC build in 2023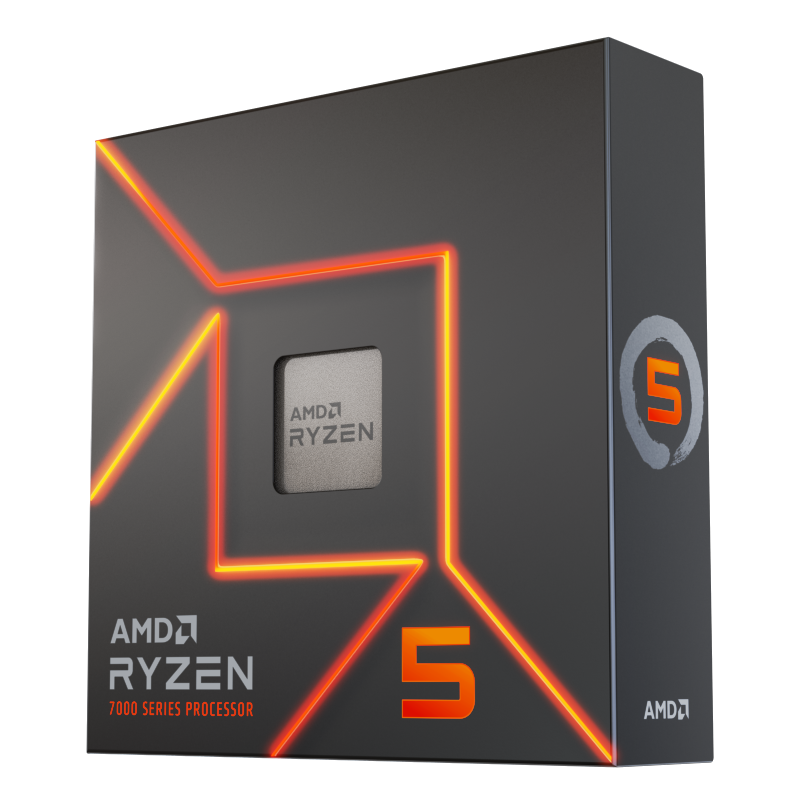 Source: AMD
AMD Ryzen 5 7600
The AMD Ryzen 5 7600 is the new entry-level processor from the company, offering six-core performance at a more affordable price. Capable of boosting up to 5.1GHz, this 65W chip is a mighty package with an efficient architecture for a killer PC build.
Pros
Almost the same as the 7600X and cheaper
Low, 65 watt TDP
Good overall performance
Cons
Relatively expensive, especially with motherboard and RAM
The big dilemma for building an AMD PC for $1,000 or so is the CPU. Last-gen Ryzen 5000 chips are way cheaper than new Ryzen 7000 CPUs, and the savings continue into cheap AM4 motherboards and DDR4 RAM. However, the AM4 platform has a very limited upgrade path since it's end-of-life, not to mention that Ryzen 7000 CPUs have great single-threaded performance and are much faster in games. We're ultimately recommending the Ryzen 5 7600 and at $230 it's one of the key components that allows this build to cost only $100 more than a similar Ryzen 5000 PC.
The 7600 is a midrange six-core CPU that also happens to be the cheapest Ryzen 7000 CPU at the time of writing. Even though it's limited to 65 watts like other non-X Ryzen 7000 chips, it carries a 5.1GHz boost frequency, which is higher than even the fastest Ryzen 5000 chip. You might think the Ryzen 5 7600X would be significantly faster since it has that X and a 105 watt TDP, but its boost clock is only 5.3GHz.
In actual performance tests, the 7600 trails the 7600X by just a few percentage points, and the performance gap can be totally eliminated by enabling Precision Boost Overdrive (or PBO). The 7600 is about as fast as the Ryzen 7 5700X from 2022 in multi-threaded workloads but pulls ahead significantly in single-threaded applications. In games, the 7600 is clearly ahead of Ryzen 5000 and Intel 12th-generation CPUs, and isn't too far behind the faster members of the Ryzen 7000 series and Intel's 13th-generation chips.
The main reason why we recommend the 7600 over the 5700X (or any other Ryzen 5000 CPU) is because the AM4 socket doesn't have much of an upgrade path. If you buy a 5700X, you're saving about $100 overall but your only real upgrade options are the 5900X, 5950X, and 5800X3D. Those are good CPUs, but that leaves you only one or two potential upgrades. AM5 will be around for years and will see at least a couple more generations of Ryzen CPUs.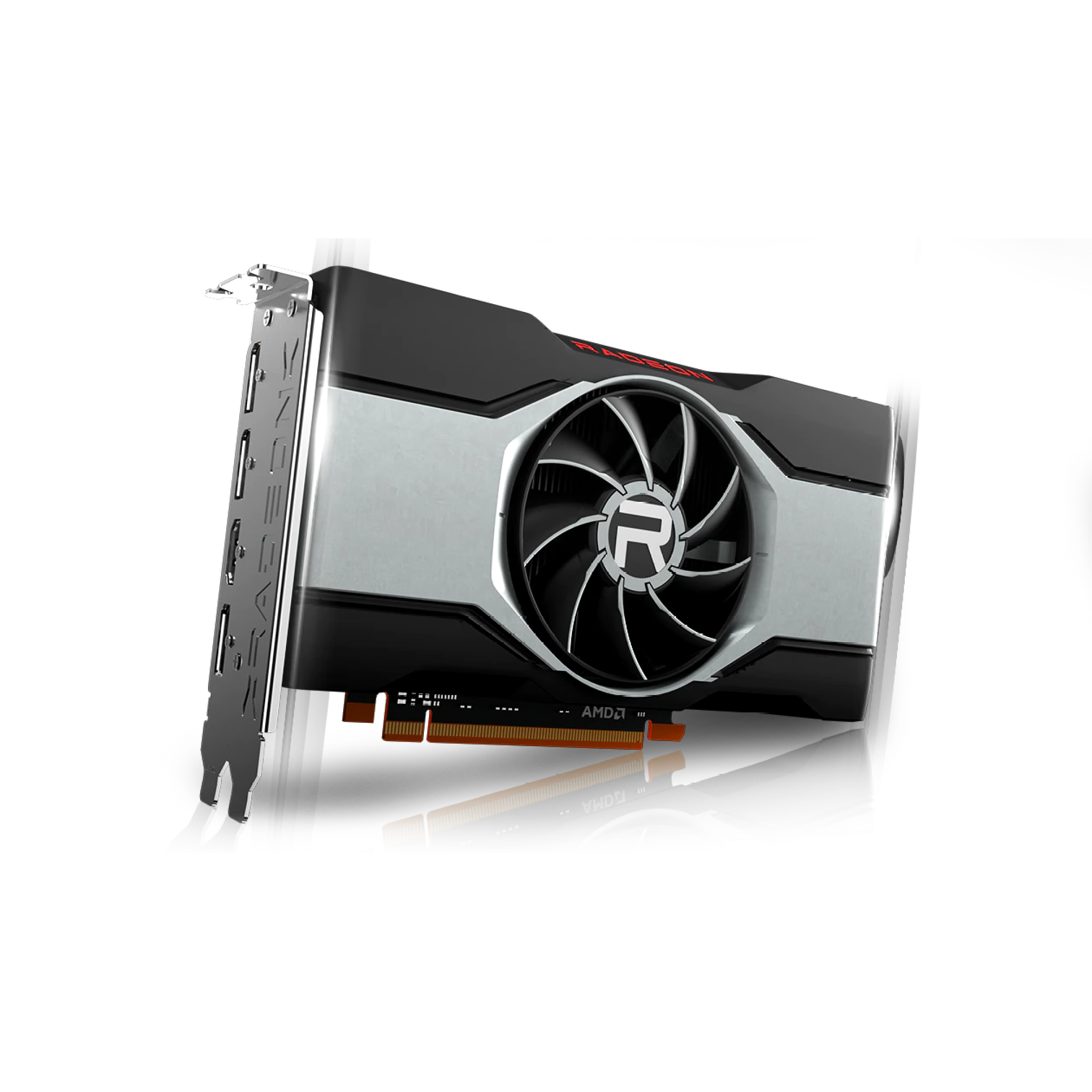 AMD Radeon RX 6600
The AMD Radeon RX 6600 is a budget graphics card geared towards 1080p gamers. It's a solid option to consider for those who're looking to enjoy 1080p gaming without spending too much money on high-end cards.
Pros
Can be found for $250 and sometimes even less
Can game at 1080p and 1440p with good settings
Low power consumption
Cons
Might be hard to find one for $250 from time to time
Thankfully, it's not very difficult choosing a GPU for this build since AMD hasn't launched new RX 7000 GPUs that are affordable for people on a $1,000 budget (and maybe AMD never will). That leaves us with just RX 6000 GPUs, and there's a handful of contenders for which is the best for this PC. The RX 6600 is one of AMD's slower 6000 series cards, but commonly retails at the mid $200 mark, which makes it one of the best value GPUs you can buy today.
The 6600 is AMD's budget champion RX 6000 GPU with 28 Compute Units (or CUs), cut down from the RX 6700 XT's 40. It also comes with 8GB of GDDR6 VRAM and 32MB of Infinity Cache, which is one-third of the 6700 XT. The CU-to-cache ratio here might be a bit concerning, but in real-world testing the RX 6600 has sufficient memory amount and speed to perform as expected. One last note is the power consumption, which is 132 watts for models using the basic AMD specifications and perhaps a few watts higher for overclocked models. Even low-end PSUs can handle the 6600.
In games, the 6600 inevitably loses to the RX 6600 XT and the 6650 XT (which are about 20% faster), and the 6700 XT (50% faster). That being said, these GPUs are also often much more expensive. Even in the best-case scenario, the 6600 XT and 6650 XT cost $300 and the cheapest 6700 XT is at least $370. Compared to Nvidia's offerings, the 6600 is usually right behind the RTX 3060 and about 25% faster than the 3050. The 6660 isn't amazing at ray tracing but it does have FSR, which is in almost as many titles as DLSS.
We can't say if the RX 6600 will continue to stick to the $250 price point in the near future; at the time of writing, one retailer was offering a 6600 for just $225 while others were at or slightly above the $250 mark. If you have a few more dollars to spare, the 6600 XT, 6650 XT, 6700, and 6700 XT are all viable options but also suffer from supply volatility.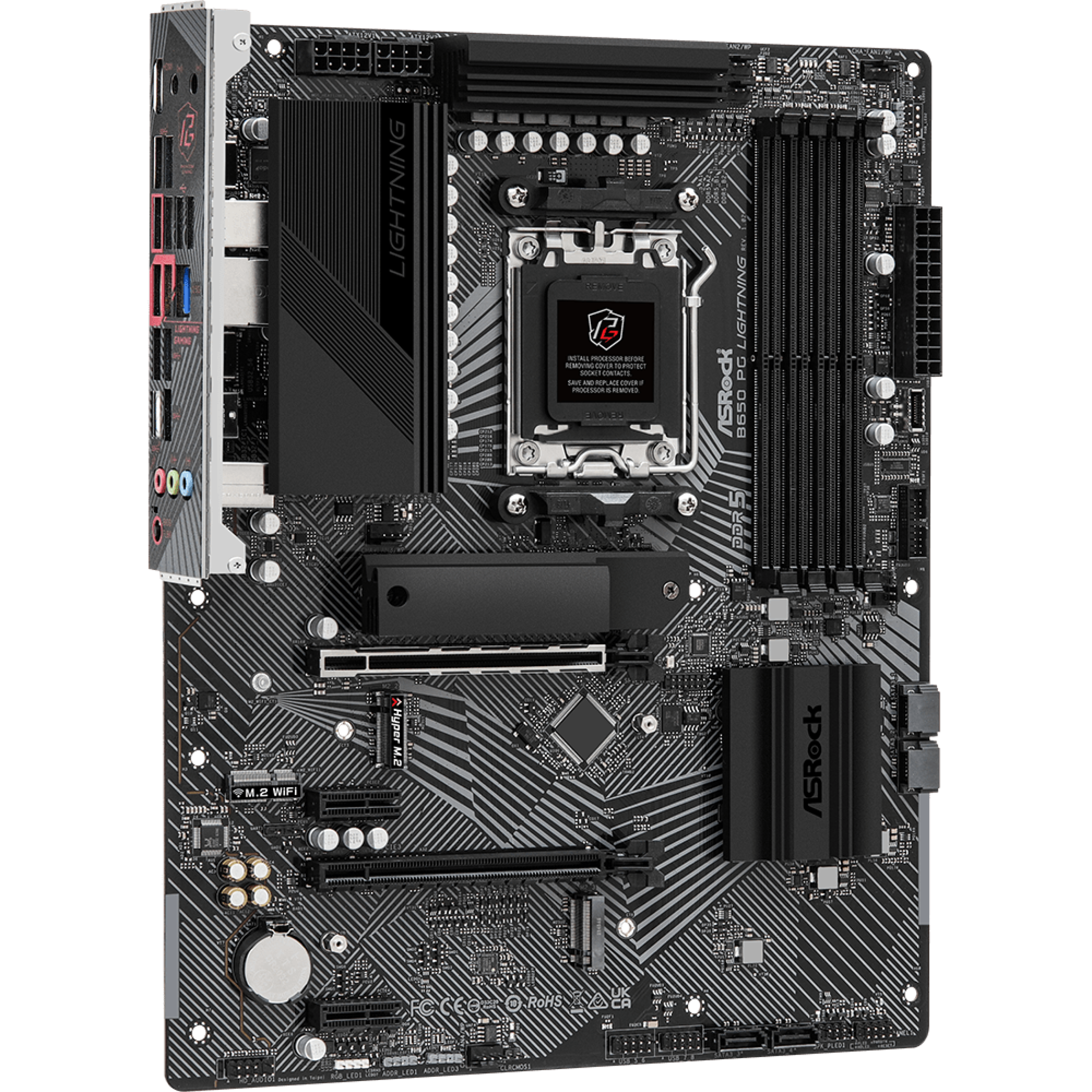 ASRock B650 PG Lightning
Best B650 motherboard with PCIe 5.0
The ASRock B650 PG Lightning is a midrange AM5 motherboard that strikes a balance between features and price. It supports PCIe 5.0 for SSDs and has several USB ports in the rear I/O, but only supports PCIe 4.0 graphics and has a midrange 14-stage VRM.
Pros
Has a good, 14 phase VRM
Good amount of rear I/O ports
PCIe 5.0 support for an NVMe SSD
Cons
Expensive
Only two M.2 slots overall
For whatever reason, finding a good AM5 motherboard below $200 is pretty challenging and lots of supposedly midrange B650 motherboards have low-end specifications. It's just a simple fact that building a Ryzen 7000 PC means you need to more than normal on the motherboard. Thankfully, we were able to find a decent B650 board for $195: ASRock's B650 PG Lightning. This motherboard not only has everything you need to power the components we recommend for this PC, but also higher-end components that you may upgrade to down the line.
When you're buying a motherboard on a budget, it's really important to get one that has a good VRM. A weak VRM is fine for lower-end CPUs, but it won't be able to run higher-end models at full bore. The PG Lightning has a 14+2+1 stage VRM, which is more than enough for the 7600 and could even power a Ryzen 9 7950X, though perhaps not quite at full speed. Additionally, it also has a PCIe 5.0 M.2 slot for NVMe SSDs, which can come in handy if you ever want a PCIe 5.0 drive in the future. There's also an additional M.2 slot with PCIe 4.0, so you could have up to two NVME drives.
Surprisingly, ASRock didn't skimp out on the rear I/O very much. This board has eight USB 3.2 ports (one of which is a Type C port with Gen2x2 speeds) and four USB 2.0 ports, and that's more than enough for anyone. There's also 2.5 Gigabit Ethernet powered by Realtek, and although Intel is the better brand for Ethernet, Realtek works fine too. There's no Wi-Fi chip on the PG Lightning and it doesn't look like ASRock sells a version with it, but since this is a gaming PC you'll probably want to use Ethernet anyways. There is an M.2 port specifically for installing a Wi-Fi chip if you do want one, however.
Compared to older boards, $195 is a higher price than normal for a motherboard like the B650 PG Lightning, but Ryzen 5000 and the AM4 platform just isn't worth it for a PC of this caliber. Besides, there's a lot to like about the PG Lightning and it will provide a solid base for upgrading your PC over the years.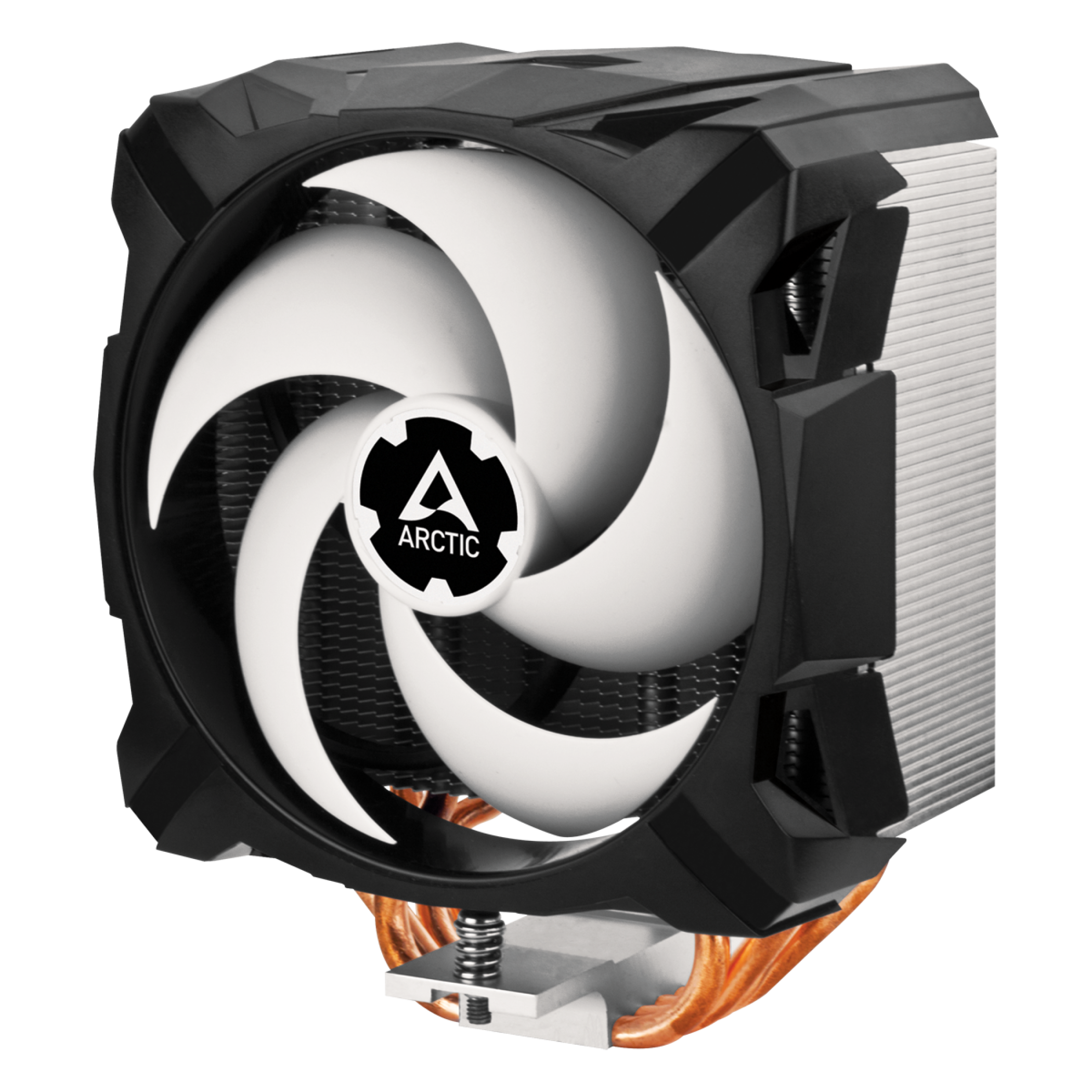 Arctic Freezer A35
Best cheap cooler capable of cooling midrange chips
Arctic's Freezer A35 is a value-oriented CPU air cooler that costs less than $40 but can cool even some higher-end CPUs.
Pros
Extremely cheap at $35
Can cool midrange chips better than stock coolers
Cons
Not sufficient for high-end Ryzen CPUs
Louder than other coolers that only cost $10 to $20 more.
The 7600 and other non-X Ryzen 7000 chips have an included CPU cooler, and if you're getting the 7600 you could save money by simply not buying one and just sticking to AMD's stock cooler. However, the basic Wraith Stealth cooler is as low-end as it gets and for just $32 you could get Arctic's Freezer A35, which is way better than any of AMD's stock coolers.
Since the 7600 is a 65 watt CPU, pretty much any cooler can cool it well enough, but better coolers will operate at lower fan speeds, and loud fans are almost always annoying. The Freezer A35 should be able to handle the 7600 much better than the Wraith Stealth stock cooler can, and there should be enough thermal headroom for overclocking or enabling PBO. Additionally, it's compatible with RAM of pretty much any height and comes with preapplied thermal paste.
Strictly speaking, passing on the Freezer A35 isn't a bad idea. The A35 isn't sufficient for Ryzen 9 CPUs (and maybe not even all Ryzen 7 chips either), so you'll probably end up buying a higher-end cooler if you upgrade to a high-end model. If you know you're going to be sticking with the 7600 and other low power Ryzen models, get the A35. If you plan on upgrading to a higher-end Ryzen CPU in the future and want to save $30, then you can just stick with the Wraith Stealth.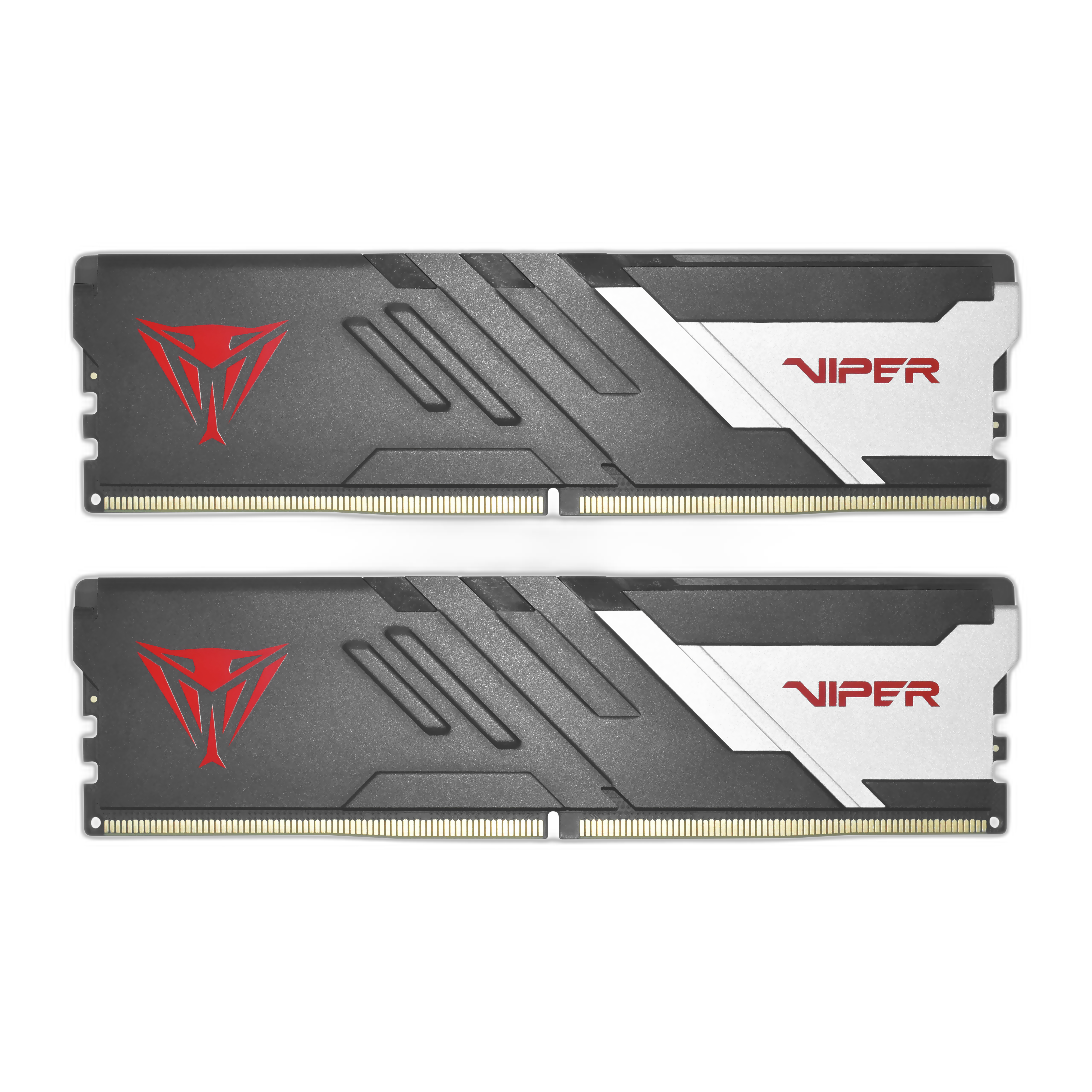 Patriot Viper Venom
Patriot's Viper Venom DDR5 is more affordable than most other DDR5 RAM and comes in a smaller 2x8GB sized kit. Its performance ranges from 5200MHz to 7200MHz, with all kits using a CL40 timing.
Pros
Cheap compared to other DDR5 memory kits
Reasonably good frequency and timings for the price
16GB is enough for gaming
Cons
Much more expensive than DDR4
There's no getting around it: DDR5 is expensive, more expensive than DDR4 per gigabyte. Additionally, there aren't that many 16GB kits of DDR5 memory, and while there's plenty of high-end 16GB DDR4 kits, there's virtually none for DDR5. RAM performance is important because it can sometimes have a noticeable effect on gaming performance, especially for higher-end CPUs. Patriot's Viper Venom DDR5 is able to hit the 5600MHz for $69 and earns our recommendation for this build.
There are several different Viper Venom kits on the market, each with different combinations of frequency and capacity, but we're specifically recommending the 2x8GB kit rated at 5600MHz and CL40 timings. These specs are more than enough to support the 7600 and are sufficient but not ideal for higher-end Ryzen 7000 chips. We weren't able to find any other memory kit with these specs at this price point at the time of writing, though we still recommend looking around in case another company is offering this level of performance for less.
One thing you should not do when buying RAM is to buy a single 16GB stick of the high-end stuff rather than two 8GB sticks. With two sticks of RAM, your CPU has access to dual-channel memory, which basically means the data link between the CPU and the RAM can transfer more data per second. Even the highest-end single stick of RAM can't outperform two slow sticks of RAM operating in dual-channel mode, especially in games.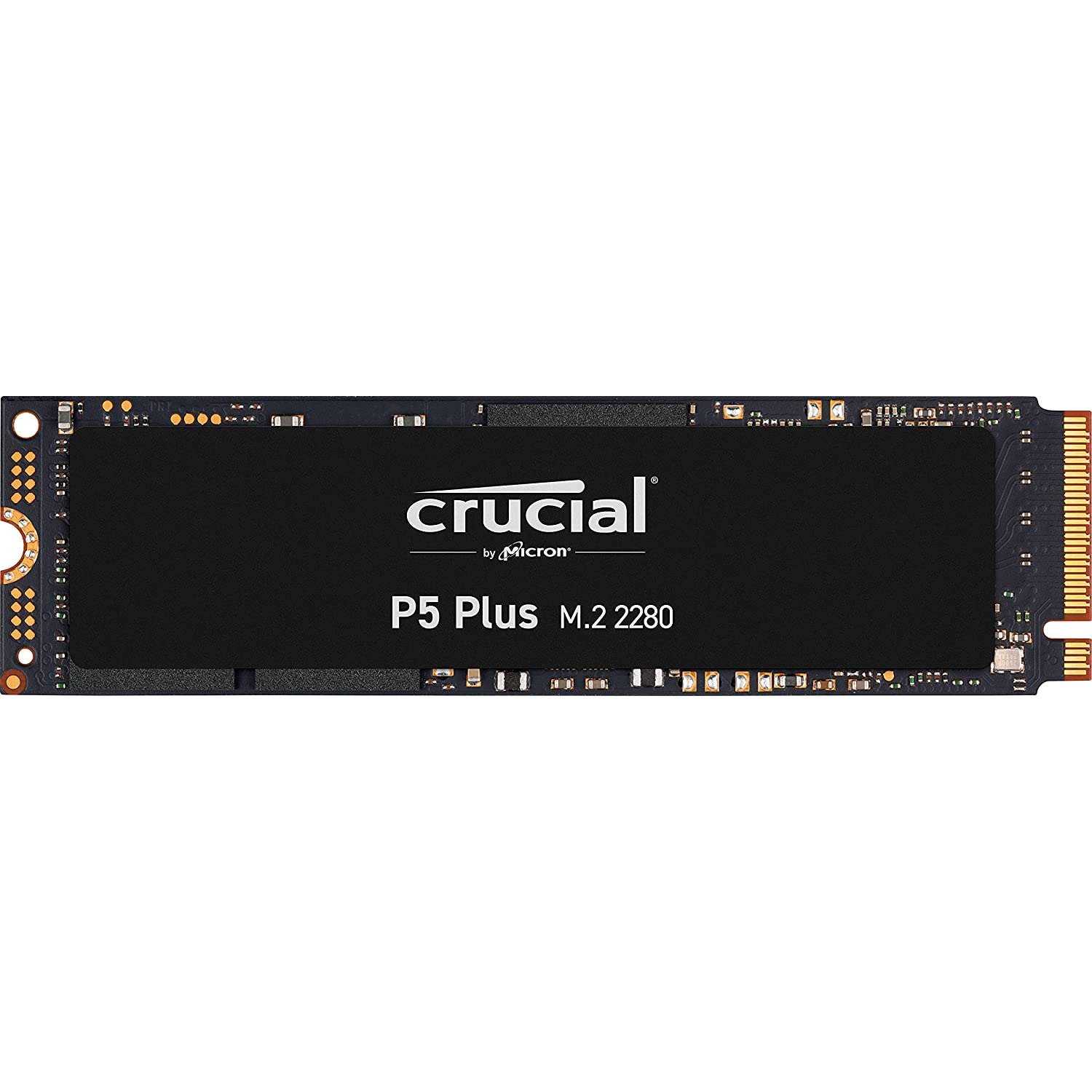 Crucial P5 Plus SSD
The Crucial P5 Plus is not the fastest PCIe 4.0 SSD on the market, but it's priced well for the performance & features it brings to the table.
Pros
Just $80 for the 1TB model, and $130 for the 2TB model
Offers good performance for the price
Cons
Only $20 cheaper than models that have better reads/writes
Although the ASRock B650 PG Lightning has support for PCIe 5.0 SSDs, they're just too expensive at the moment to fit the budget, and you're unlikely to require or even notice the amount of performance they provide anyways. PCIe 4.0 SSDs on the other hand are still really fast and even the midrange models are dirt cheap these days. There are lots of 1TB drives on the market that cost $100 or less, and one of our favorites is Crucial's P5 Plus which at the time of writing is just $80 for 1TB.
With sequential reads and writes of 6,600MB/s and 5,000MB/s respectively, the 1TB and 2TB models of the P5 Plus are a bit slower than other PCIe 4.0 SSDs, but only by a few hundred MB/s, which isn't something you're likely to notice. The 2TB model (which is around $135 at the time of writing) also has somewhat better random read performance, so if you have an extra $50 and want slightly better performance and double the capacity, the 2TB drive is a pretty good deal.
There are other NVMe SSDs on the market that could either save you even more money by sacrificing performance you might not care about. You could also go the other direction and spend an extra $20 or so for a somewhat faster model. For additional storage, you could get another SSD, a higher capacity model, or even try an older SATA SSD, which are much slower than modern NVMe drives but are still fast enough for gaming. The only kinds of SSDs we advise against are those with less than 1TB of storage, as these models often have far inferior performance to 1TB variants.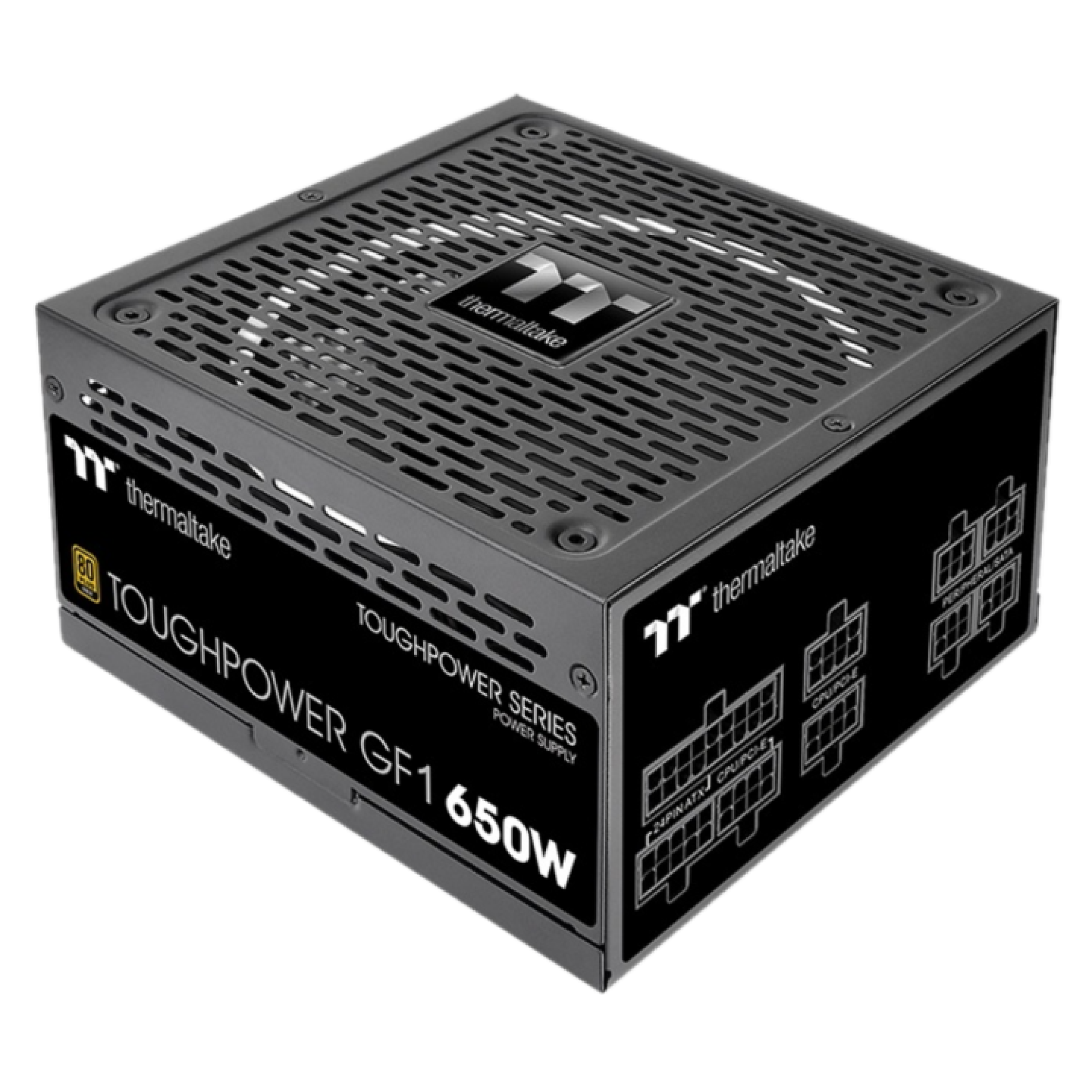 Thermaltake Toughpower GF1 650W
Best value 650 watt Gold rated PSU
Thermaltake's Toughpower GF1 650W is a 650 watt, 80 Plus Gold rated, modular PSU that's ideal for midrange and higher-end PCs.
Pros
Cheaper than other PSUs with similar specs
Modular
Decade long warranty
Cons
Thermaltake isn't as established as other brands
When you're buying a power supply for your PC, it's important to consider several factors. You want a model from a trusted brand that will either last a long time or is backed up by a good warranty, and you also want enough wattage to ensure that you can upgrade to higher-end components. Inevitably, this means spending more on the PSU than you technically need to, but it's definitely worth it. For this kind of build, Thermaltake's Toughpower GF1 650W is a good choice for just $90.
Thermaltake isn't one of the biggest names in the PSU market, but they're a reputable brand overall and offer a decade-long warranty for their PSUs (even EVGA's warranty only extends to seven years). The Toughpower GF1 650W in particular has a total capacity of 650 watts and an 80 Plus Gold efficiency rating. It's also fully modular, which means you only have to use as many cables as your PC requires, and that makes cable management and the building process much more convenient.
Additionally, the Toughpower also has modern features like a zero RPM fan that only spins when the PSU is under load, and ports that can be used for either CPU or GPU power. Interchangeable CPU and GPU power ports allow for more flexibility; you could use a lower-power 8-pin connector for CPU power and two 8-pins for the GPU or vice versa depending on the user's preferences and hardware. EVGA's competing SuperNOVA 650 GT has two dedicated 8-pins for GPU power and one for the CPU, which is fine but can be limited for users who want more CPU power.
Other power supplies from EVGA, Corsair, and Seasonic cost about $20 more at the time of writing and don't seem to offer much more than a more valuable brand name. Thermaltake is still a relatively new player in the world of high-end, high-quality PSUs but for this build, its Toughpower GF1 650W is a good fit.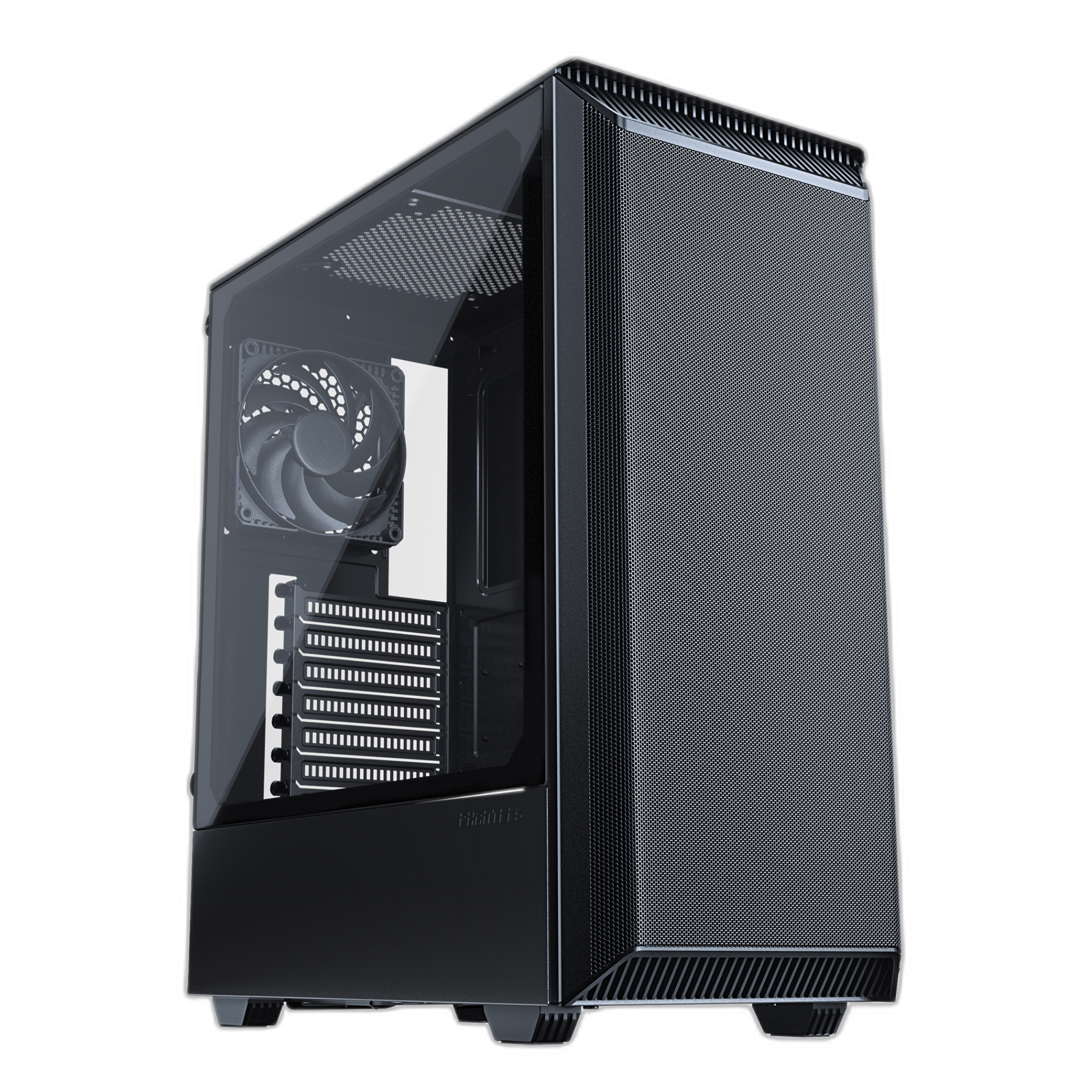 Phanteks Eclipse P300A
Best minimalist PC case under $100
Phanteks' Eclipse P300A is a mid-tower chassis with a mesh front panel and one included fan. It has enough room for a 280mm radiator at the front.
Pros
Tempered glass side panel
Mesh front panel for good airflow
Cheaper than many similar cases
Cons
Only comes with one 120mm fan
Only supports up to a single 280mm radiator
On a technical level, the case is far less important than every other component, and you really only need to care if your components (current and future) will actually fit inside any given chassis. The biggest decisive factor is likely going to be the design, and we can't recommend a case that appeals to everyone. We have a long list of recommendations for PC cases and we'll give an extra one here for this build. With a $1,000 or so budget, you should probably spend about $50 to $100 for the case, and at $70 Phanteks' Eclipse P300A mid-tower has much to offer.
The P300A fulfills many requirements for a PC that's midrange now and could be high-end in the future. Its front panel is mesh rather than solid plastic or metal, which ensures good intake airflow. There's also support for a 240mm or 280mm radiator at the front for liquid coolers, and although that means the top-end 360mm and 420mm liquid coolers aren't an option, there's plenty of high-performance 280mm models on the market. The clearance for the GPU is 355mm and since this is a mid-tower with plenty of vertical space, this case could support even an RTX 4090.
There are some limitations with the P300A, however. The biggest one is the fact that it comes with just a single 120mm exhaust fan, so you'll probably want to buy two extra fans for front intake and maybe a third for top exhaust. Another, more minor one is that this case theoretically supports two 2.5 inch drives (SATA SSDs and small HDDs) but there's only one caddy included with the case, which realistically means you can only install one without relying on tape.
You may or may not like the dark, minimalist design of Phanteks' P300A, but at $75 it's a chassis with good value. It even has a tempered glass side panel, which isn't something you always see in the sub-$100 segment of the market. If you're not sold on the P300A, try and get a case that has similar specs. Support for a 240mm radiator or larger and at least 300mm of clearance for GPUs are key things for a midrange PC.
Mainstream AMD PC build guide: Price breakdown
Finally, we can look at the breakdown of the cost of this PC as well as its total price. The price of each component can vary from time to time, and we can't guarantee that the prices we see at the time of writing will remain forever (and you can count on it that some will change). Of all these components, the 7600 and the 6600 are the most likely to go up at some point, but at least in the case of the 6600 you can browse several models to see if any are going for a good price. The RAM and motherboard may become cheaper eventually, but we can't know for sure.
| Component | Listed Price |
| --- | --- |
| AMD Ryzen 7 7600 processor | $230 |
| AMD Radeon RX 6600 GPU | $250 |
| ASRock B650 PG Lightning motherboard | $195 |
| Arctic Freezer A35 CPU Cooler | $35 |
| Patriot Viper Venom 16GB DDR5 RAM | $70 |
| Crucial P5 Plus 1TB SSD | $81 |
| Thermaltake Toughpower GF1 650W PSU | $90 |
| Phanteks Eclipse P300A mid-tower case | $70 |
| Total | $1,021 |
---
At just over $1,000, this PC build is just barely more than the round $1,000 figure we've been aiming for throughout this guide. You could save about $100 by opting for a Ryzen 7 5700X, a B550 motherboard, and DDR4 RAM and end up with similar performance or put that extra $100 to a faster GPU, but that means your PC is on a dead-end platform with very little in the way of an upgrade path. In the long run, the AM5 platform is worth the extra money.
This guide doesn't cover peripherals since those are a totally separate thing, but we have recommendations for mice, keyboard, and headsets if you're making a completely new gaming setup. You can also join the XDA Computing Forums if you want advice from other members of the community when it comes to building an all-AMD PC.